Der Artikel wurde erfolgreich hinzugefügt.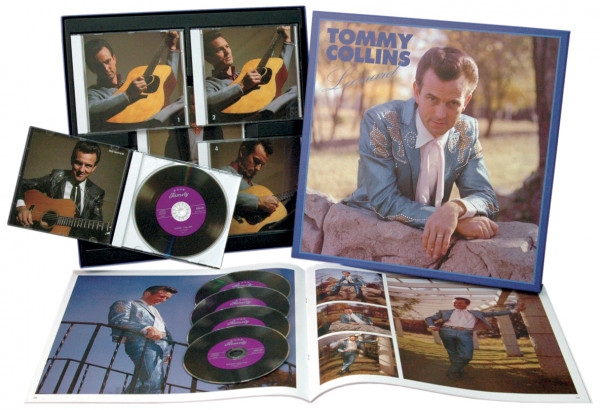 Benachrichtigen Sie mich, sobald der Artikel lieferbar ist.
89,95 € *
94,95 € *
(5,27% gespart)
inkl. MwSt. / zzgl. Versandkosten - Abhängig vom Lieferland kann die MwSt. an der Kasse variieren.
Artikel derzeit nicht verfügbar, Lieferfristen von bis zu 2-3 Wochen sind zu erwarten. (soweit verfügbar beim Lieferanten - kann schneller gehen, manchmal aber leider auch nicht)
Artikel-Nr.:

BCD15577

Gewicht in Kg.:

1.5
5-CD Box (LP-Format) mit 35-seitigem Buch, 144 Einzeltitel. Spieldauer ca. 720 Minuten. Buck...
mehr
Tommy Collins: Leonard (5-CD Deluxe Box Set)
5-CD Box (LP-Format) mit 35-seitigem Buch, 144 Einzeltitel. Spieldauer ca. 720 Minuten.
Buck Owens
hat seinen Anteil bekommen, ebenso
Merle Haggard
. Nun ist es an der Zeit, dass
Tommy Collins
' Rolle entsprechend gewürdigt wird. Tommy Collins gilt als Pate des Bakersfield-Sound. Bear
Family
hat es sich zur Aufgabe gemacht, diese 'klassischen' Aufnahmen der Öffentlichkeit wieder zugänglich zu machen. Wenn sie sich für Buck Owens und Merle Haggard interessieren, so können sie diese CD-Box ohne Bedenken erwerben. Buck Owens spielte über einen vierjährigen Zeitraum bei allen Collins-Sessions mit.
Später nahm er eine
Hommage
, ein komplettes Album mit der Musik von Tommy Collins, auf. Auch Merle Haggard zollte Tommy Collins Respekt und nahm 1981 'Leonard' auf. Sie wussten um die Bedeutung von Tommy Collins und seinen Platten, auch wenn sie viele Jahre lang nicht erhältlich waren. Um Tommy Collins und seiner Bedeutung gerecht zu werden, haben wir seine Aufnahmen für Morgan, Capitol und Columbia zusammengestellt. Unter den 144 Aufnahmen sind
High On A Hilltop, You Better Not Do That, I Guess I'm
Crazy, No Love Have I, All The Monkeys Ain't In The Zoo, A Hundred Years From Now, I Got Mine
und
If You Can't Bite Don't Growl.
Artikeleigenschaften von

Tommy Collins: Leonard (5-CD Deluxe Box Set)
Albumtitel:

Leonard (5-CD Deluxe Box Set)

Genre

Country

Edition 2

Deluxe Edition

Preiscode

EI

Artikelart

Box set

EAN:

4000127155771

Gewicht in Kg:

1.5
Tommy Collins TOMMY COLLINS NACHRUF Der Tod von Tommy Collins am 14. März 2000...
mehr
"Tommy Collins"
Tommy Collins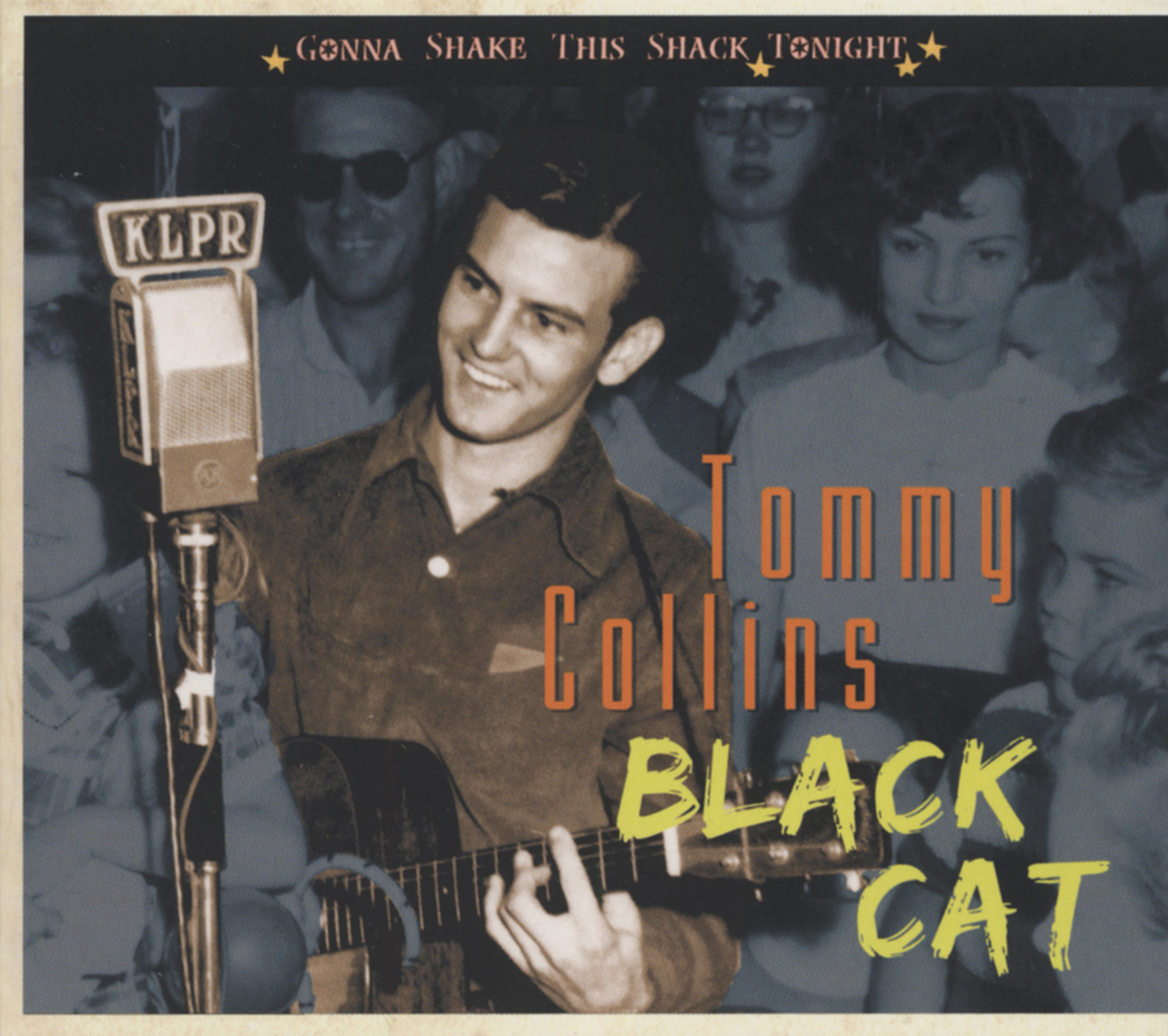 TOMMY COLLINS NACHRUF
Der Tod von Tommy Collins am 14. März 2000 kam nicht überraschend, litt er doch bereits seit langem an einer Lungenkrankheit. Erst kürzlich wurde er in die Nashville Songwriters Hall of Fame aufgenommen.
Zusammen mit seinem Zeitgenossen Wynn Stewart gehörte Tommy Collins zu den Künstlern, die den Bakersfield Sound prägten. Heerscharen von West Coast Country-Künstlern bauen auf dem auf, was Collins in den frühen 50ern etablierte. Wenngleich er relativ wenige Hits hatte, so ist sein Einfluss bis heute spürbar.
Collins (ursprünglich Leonard Raymond Snipes) kam vor den Toren von Oklahoma City zur Welt und verbrachte seine gesamte Jugend in Oklahoma. Bereits als Kind begann er zu singen und Lieder zu schreiben, trat damit auch bald im Radio auf. Auch während seiner Collegezeit war er als Musiker aktiv und spielte seine ersten Singles für das Morgan Label ein.
Zu Beginn der 50er war er kurz in der Armee, bevor er dann nach Bakersfield in Kalifornien zog. Dort freundete er sich mit Ferlin Husky an. Husky überzeigte seine Plattenfirma Capitol davon, Tommy einen Vertrag anzubieten. Mit Unterzeichnung des Vertrages im Juni 1953 nahm Tommy Collins auch seinen Künstlernamen an.
Nach einer ersten, erfolglosen Single veröffentlichte Collins das lebhafte You Better Not Do That, das Anfang 1954 ein Riesenhit wurde. Von dem Erfolg dieses Titels ermutigt, verfolgte Collins weiter einen leichten und fast schlagerhaften Stil. Zwischen Herbst 1954 und Frühling 1955 hatte er drei Top 10 Hits - Whatcha Gonna Do Now, Untied und It Tickles - im Herbst 1955 erreichten I Guess I'm Crazy und You Ouhgta See Pickles Now noch die Top 15. Darüberhinaus hatte Faron Young mit dem von Collins geschriebenen If You Ain't Lovin' einen großen Hit. Einer der vielen Titel, die Tommy zwar schrieb, aber nie selber aufnahm.
So schnell wie Tommy Collins auf die Überholspur ausgeschert zu sein schien, so schnell landete er zunächst auch wieder auf dem Standstreifen. Er machte Anfang 1956 eine religiöse Wandlung durch und für die kommenden sechs Jahre war von ihm in musikalischer Hinsicht nichts zu hören.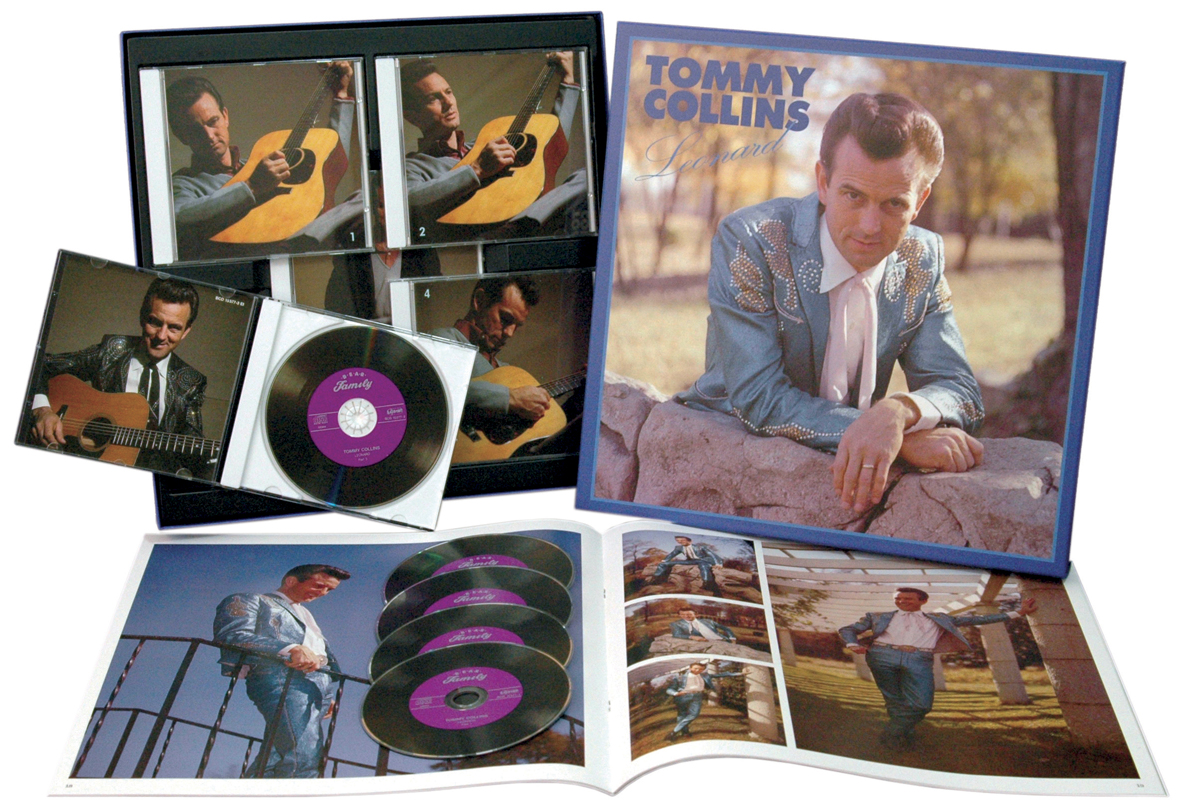 Zu Beginn des Jahres 1963 verließ Collins die Kirche und kehrte nach Bakersfield zurück. Capitol willigte ein, ihn wieder unter Vertrag zu nehmen und 1964 kehrte er mit I Can Do That in die Charts zurück, ein Duett mit seiner Frau Wanda Lucille Shahan. Collins wechselte 1965 zu Columbia. Im darauffolgenden Jahr hatte er abermals einen Top 10 Hit mit I Can't Bite, Don't Growl und in den Jahren danach hatte er eine Reihe weiterer Hits.
In den frühen 70ern lag Collins' persönliches wie berufliches Leben in Folge seiner Drogen- und Alkoholabhängigkeit am Boden. 1971 reichte seine Frau die Scheidung ein und damit stürzte Tommy in eine tiefe Depression.
Collins erholte sich von diesen Tiefschlägen durch seine kontinuierliche Arbeit als Autor zahlreicher Songs. Viele wurden von Merle Haggard aufgenommen, darunter auch Merle's Hits Carolyn und The Roots Of My Raising. 1981 hatte Merle einen weiteren Hit mit Leonard, einem Tribut an Collins. Mit dieser Veröffentlichung richtete sich das öffentliche Interesse auch wieder mehr auf Collins. Tommy setzte seine Tätigkeit als Autor fort, ein weiterer Erfolg war 1984 Mel Tillis' Top 10 Hit New Patches.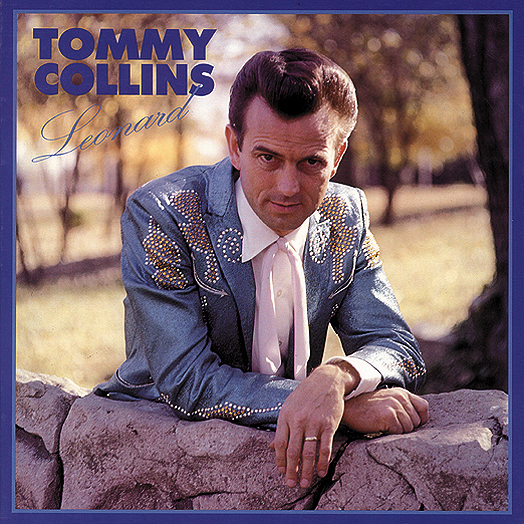 Während der 80er Jahre war nicht viel von Collins zu hören, obwohl seine Songs weiterhin aufgenommen wurden. George Strait landete mit seiner Neuaufnahme von If You Ain't Lovin' einen Nummer 1 Hit in den Country Charts. Seine Karriere als Songwriter setzte Collins aber auch in den 90ern weiter fort.
Bear Family veröffentlichte 1992 eine hochgelobte 5 CD Box (LEONARD, BCD 15577) mit seinen kompletten Morgan, Capitol und Columbia Aufnahmen.
Tommy Collins Black Cat - Gonna Shake This Shack Tonight
Read more at: https://www.bear-family.com/collins-tommy-black-cat-gonna-shake-this-shack-tonight.html
Copyright © Bear Family Records
Bewertungen lesen, schreiben und diskutieren...
mehr
Kundenbewertungen für "Leonard (5-CD Deluxe Box Set)"
The first track of each CD is missing from the Content listed above.
Bewertung schreiben
Bewertungen werden nach Überprüfung freigeschaltet.
Weitere Artikel von Tommy Collins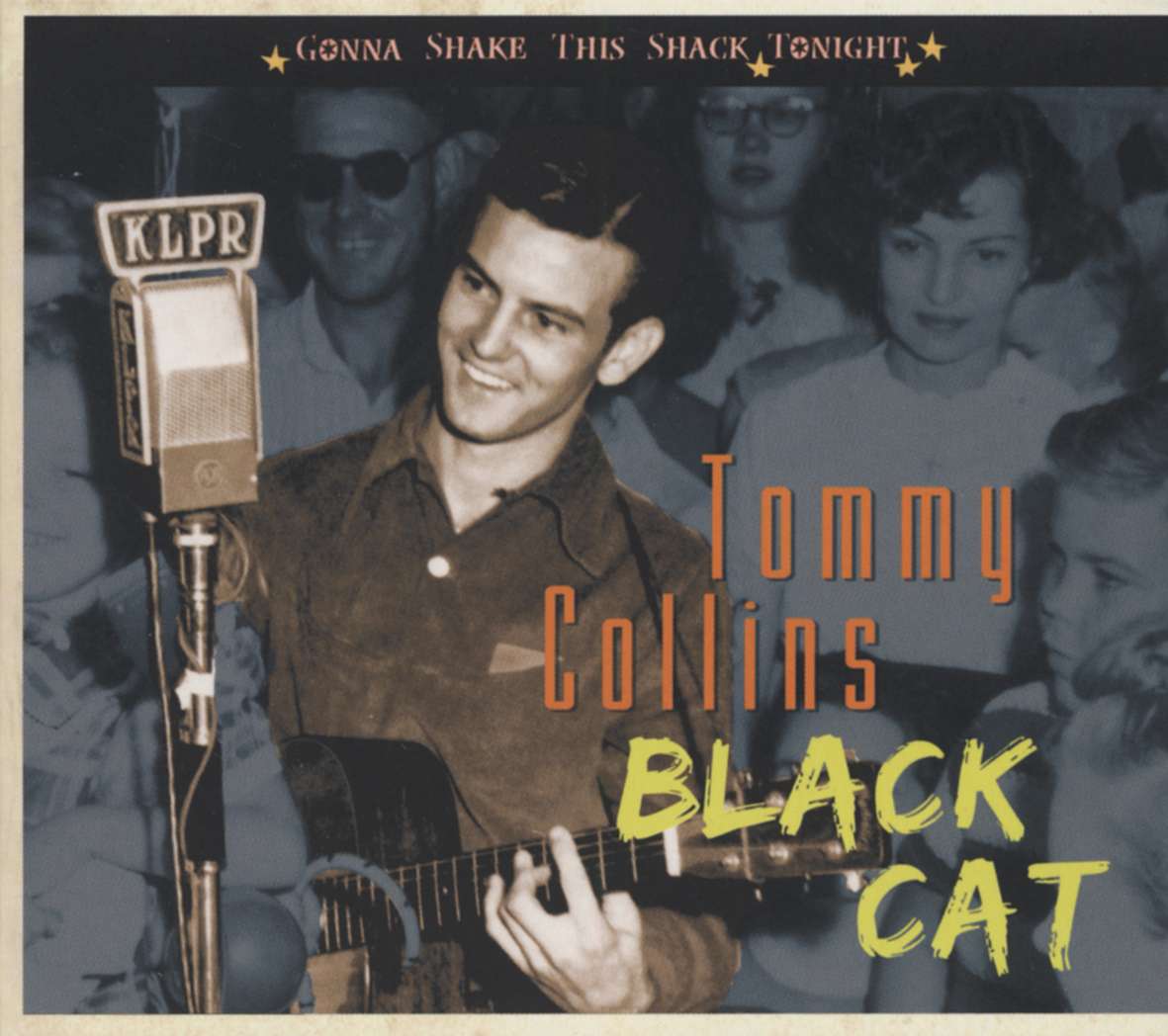 Tommy Collins: Black Cat - Gonna Shake This Shack Tonight
Art-Nr.: BCD16897


Sofort versandfertig, Lieferzeit** 1-3 Werktage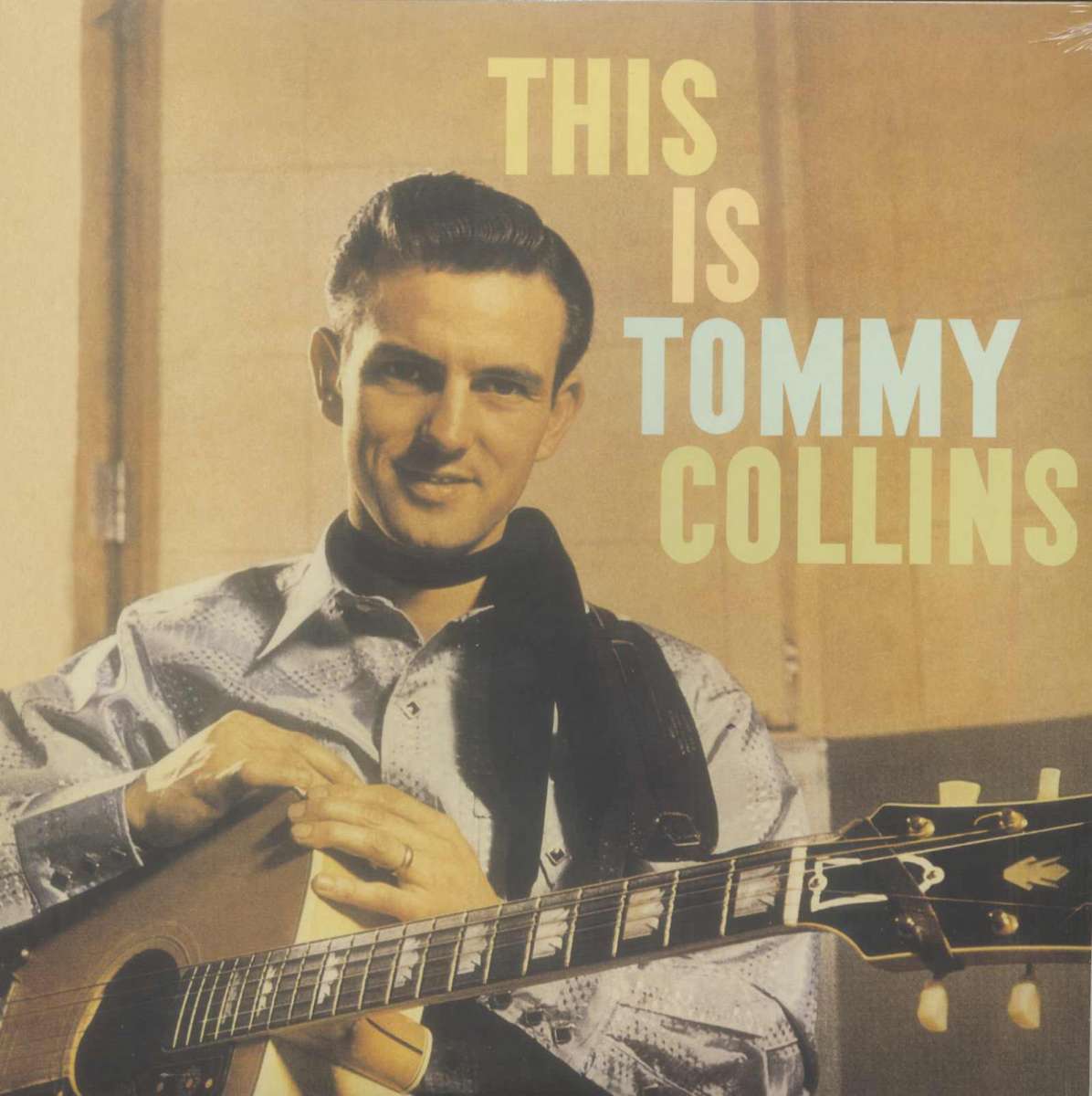 Tommy Collins: This Is Tommy Collins (LP)
Art-Nr.: LP2011094


die letzten 1 verfügbar
Sofort versandfertig, Lieferzeit** 1-3 Werktage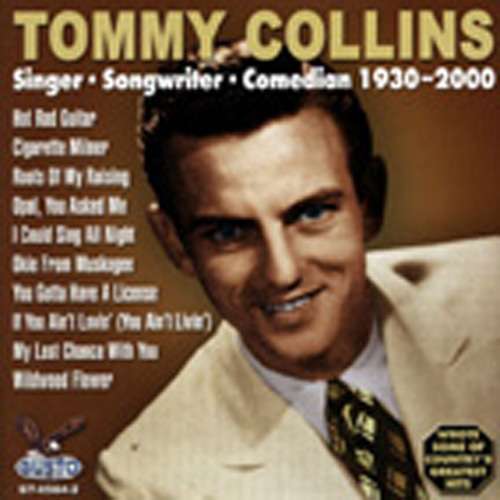 Tommy Collins: Singer Songwriter Comedian
Art-Nr.: CDGT0564


nur noch 2 verfügbar
Sofort versandfertig, Lieferzeit** 1-3 Werktage
Tommy Collins: Best Of Tommy Collins (re-recordings)
Art-Nr.: CD78906


Artikel muss bestellt werden
Tommy Collins: This Is Tommy Collins - Words And Music Country...
Art-Nr.: CDRUR5004


Artikel muss bestellt werden