Der Artikel wurde erfolgreich hinzugefügt.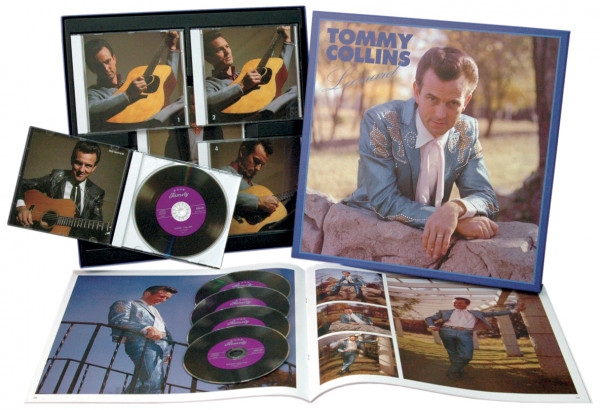 89,95 € *
94,95 € *
(5,27% gespart)
inkl. MwSt. zzgl. Versandkosten
Artikel derzeit nicht verfügbar, Lieferfristen von bis zu 2-3 Wochen sind zu erwarten. (soweit verfügbar beim Lieferanten - kann aber auch schneller gehen)
Artikel-Nr.:

BCD15577

Gewicht in Kg.:

1.5
5-CD Box (LP-Format) mit 35-seitigem Buch, 144 Einzeltitel. Spieldauer ca. 720 Minuten. Buck...
mehr
Tommy Collins: Leonard (5-CD)
5-CD Box (LP-Format) mit 35-seitigem Buch, 144 Einzeltitel. Spieldauer ca. 720 Minuten.

Buck Owens hat seinen Anteil bekommen, ebenso Merle Haggard. Nun ist es an der Zeit, dass Tommy Collins' Rolle entsprechend gewürdigt wird. Tommy Collins gilt als Pate des Bakersfield-Sound. Bear Family hat es sich zur Aufgabe gemacht, diese 'klassischen' Aufnahmen der Öffentlichkeit wieder zugänglich zu machen. Wenn sie sich für Buck Owens und Merle Haggard interessieren, so können sie diese CD-Box ohne Bedenken erwerben. Buck Owens spielte über einen vierjährigen Zeitraum bei allen Collins-Sessions mit.


Später nahm er eine Hommage, ein komplettes Album mit der Musik von Tommy Collins, auf. Auch Merle Haggard zollte Tommy Collins Respekt und nahm 1981 'Leonard' auf. Sie wussten um die Bedeutung von Tommy Collins und seinen Platten, auch wenn sie viele Jahre lang nicht erhältlich waren. Um Tommy Collins und seiner Bedeutung gerecht zu werden, haben wir seine Aufnahmen für Morgan, Capitol und Columbia zusammengestellt. Unter den 144 Aufnahmen sind High On A Hilltop, You Better Not Do That, I Guess I'm Crazy, No Love Have I, All The Monkeys Ain't In The Zoo, A Hundred Years From Now, I Got Mine und If You Can't Bite Don't Growl.
Artikeleigenschaften von

Tommy Collins: Leonard (5-CD)
Albumtitel:

Leonard (5-CD)

Genre

Country

Edition 2

Deluxe Edition

Preiscode

EI

Artikelart

Box set

EAN:

4000127155771

Gewicht in Kg:

1.5
Collins, Tommy - Leonard (5-CD)

Box set 1
01
Too Beautiful To Cry
02
Smooth Sailin'
03
Fool's Gold
04
You Gotta Have A License
05
Let Me Love You
06
There'll Be No Other
07
I Love You More And More Each Day
08
Boob-I-Lak
09
You Better Not Do That
10
I Always Get A Souvenir
11
High On A Hilltop
12
Untied
13
Whatcha Gonna Do Now
14
Love-A-Me, S'il Vous Plait
15
You're For Me
16
I'll Be Gone
17
Wait A Little Longer
18
Let Down (& WANDA COLLINS)
19
It Tickles (& WANDA COLLINS)
20
It's Nobody's Fault But Yours
21
I Guess I'm Crazy
22
You Oughta See Pickles Now
23
Those Old Love Letters From You
24
I Wish I Had Died In My Cradle
25
I'll Never, Never Let You Go
26
I'll Always Speak Well Of You
Collins, Tommy - Leonard (5-CD)

Box set 2
01
No Love Have I
02
All Of The Monkeys Ain't In The Zoo
03
That's The Way Love Is
04
Smooth Sailin'
05
How Do I Say Goodbye
06
A Man We All Ought To Know
07
Are You Ready To Go
08
Think It Over Boys
09
I Think Of You Yet
10
Upon This Rock (& WANDA COLLINS)
11
The Feet Of The Traveller (& WANDA COLLINS)
12
Don't You Love Me Anymore
13
Retirement In Heaven (& WANDA COLLINS)
14
All Of The Monkeys Ain't In The Zoo
15
What Have You Done (& WANDA COLLINS)
16
A Love Is Born
17
I'm Nobody's Fool But Yours
18
O Mary Don't You Weep (& WANDA COLLINS)
19
Did You Let Your Light Shine(& WANDA COLLINS)
20
In The Shadow Of The Cross
21
When I Survey The Wondrous Cross (& COLLINS)
22
Who At My Door Is Standing
23
My Saviour's Love
24
Where Could I Go But To The Lord
25
What A Friend We Have In Jesus
26
Each Step Of The Way
27
Softly And Tenderly
28
That's Why I Love Him
29
Jesus Keep Me Near The Cross
Collins, Tommy - Leonard (5-CD)

Box set 3
01
The Old Rugged Cross
02
Heart's Don't Break
03
You Belong In My Arms
04
A Hundred Years From Now
05
Little June
06
My Last Chance With You
07
Sidewalks Of New York
08
The Last Letter
09
Oklahoma Hills
10
The Great Speckled Bird
11
Broken Engagement
12
Wreck Of The Old 97
13
I'm Just Here To Get My Baby Out Of Jail
14
Have I Told You Lately That I Love You
15
It Makes No Difference Now
16
Let's Live A Little
17
I'll Keep On Loving You
18
I Overlooked An Orchid
19
I Wonder If You Feel The Way I Do
20
Juicy Fruit
21
Black Cat (mono with overdubs)
22
We Kissed Again With Tears
23
Keep Dreaming
24
Don't Let Me Stand In His Footsteps
25
Summer's Almost Gone
26
Take Me Back Tom The Good Old Days
27
Oh What A Dream
28
Let Her Go
29
When Did Right Become Wrong
Collins, Tommy - Leonard (5-CD)

Box set 4
01
I Got Mine
02
You'd Better Be Nice
03
I Can Do That (& WANDA COLLINS)
04
I Got Mine (live)
05
Shindig In The Barn
06
A Million Miles
07
Goody Goody Gumdrop (Klippa Kloppa)
08
The Clock On The Wall
09
The Bee That Gets The Honey
10
It's A Big Jump
11
It's A Pretty Good Ol' World After All
12
Don't Let Me Stand In His Footsteps
13
All Of The Monkeys Ain't In The Zoo
14
Black Cat (stereo re-mix)
15
Take Me Back Tom The Good Old Days
16
Oh What A Dream
17
Klippa Kloppa (Goody Goody Gumdrop)
18
If You Can't Bite, Don't Growl
19
A Man Gotta Do What A Man Gotta Do
20
Man Machine
21
The Girl On Sugar Pie Lane
22
Poor, Broke, Mixed Up Mess Of A Heart
23
Be Serious Ann
24
The Fool's Castle
25
A Little Time For A Little Love
26
I'm Not Gettin' Anywhere With You
27
The Two Sides Of Life
28
You're Everything To Me
29
A Million Miles
Collins, Tommy - Leonard (5-CD)

Box set 5
01
Shindig In The Barn
02
There's No Girl In My Life Anymore
03
Skinny
04
I'm Not Looking For An Angel
05
Don't Wipe The Tears That You Cry
06
Birmingham
07
Put Me In Irons, Lock Me Up ...
08
You Better Not Do That
09
Sam Hill
10
I Got Mine
11
It's Too Much Like Lonesome
12
Watcha Gonna Do Now
13
No Love Have I
14
Wine Take Me Away
15
High On A Hilltop
16
When Did Right Become Wrong
17
General Delivery U.S.A.
18
Roll Truck, Roll
19
If That's The Fashion
20
Piedras Negras
21
Laura (What's He Got That I Ain't Got)
22
Branded Man
23
Cincinnati, Ohio
24
Break My Mind
25
I Made A Prison Band
26
The Best Thing I've Done In My Life
27
Woman You Have Been Told
28
Sunny Side Of Life
29
He's Gonna Have To Catch Me First
Tommy Collins TOMMY COLLINS NACHRUF Der Tod von Tommy Collins am 14. März 2000...
mehr
"Tommy Collins"
Tommy Collins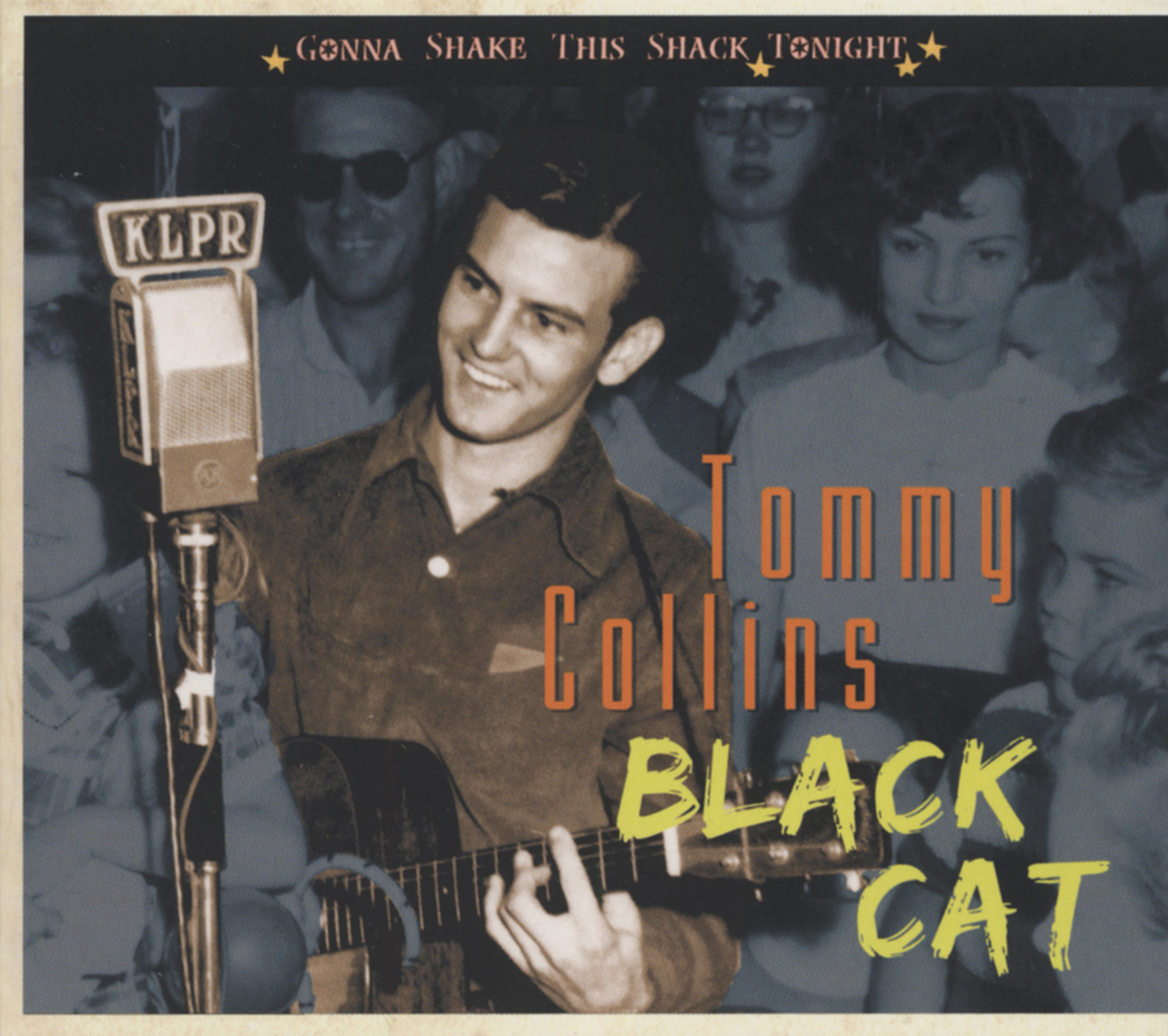 TOMMY COLLINS NACHRUF
Der Tod von Tommy Collins am 14. März 2000 kam nicht überraschend, litt er doch bereits seit langem an einer Lungenkrankheit. Erst kürzlich wurde er in die Nashville Songwriters Hall of Fame aufgenommen.
Zusammen mit seinem Zeitgenossen Wynn Stewart gehörte Tommy Collins zu den Künstlern, die den Bakersfield Sound prägten. Heerscharen von West Coast Country-Künstlern bauen auf dem auf, was Collins in den frühen 50ern etablierte. Wenngleich er relativ wenige Hits hatte, so ist sein Einfluss bis heute spürbar.
Collins (ursprünglich Leonard Raymond Snipes) kam vor den Toren von Oklahoma City zur Welt und verbrachte seine gesamte Jugend in Oklahoma. Bereits als Kind begann er zu singen und Lieder zu schreiben, trat damit auch bald im Radio auf. Auch während seiner Collegezeit war er als Musiker aktiv und spielte seine ersten Singles für das Morgan Label ein.
Zu Beginn der 50er war er kurz in der Armee, bevor er dann nach Bakersfield in Kalifornien zog. Dort freundete er sich mit Ferlin Husky an. Husky überzeigte seine Plattenfirma Capitol davon, Tommy einen Vertrag anzubieten. Mit Unterzeichnung des Vertrages im Juni 1953 nahm Tommy Collins auch seinen Künstlernamen an.
Nach einer ersten, erfolglosen Single veröffentlichte Collins das lebhafte You Better Not Do That, das Anfang 1954 ein Riesenhit wurde. Von dem Erfolg dieses Titels ermutigt, verfolgte Collins weiter einen leichten und fast schlagerhaften Stil. Zwischen Herbst 1954 und Frühling 1955 hatte er drei Top 10 Hits - Whatcha Gonna Do Now, Untied und It Tickles - im Herbst 1955 erreichten I Guess I'm Crazy und You Ouhgta See Pickles Now noch die Top 15. Darüberhinaus hatte Faron Young mit dem von Collins geschriebenen If You Ain't Lovin' einen großen Hit. Einer der vielen Titel, die Tommy zwar schrieb, aber nie selber aufnahm.
So schnell wie Tommy Collins auf die Überholspur ausgeschert zu sein schien, so schnell landete er zunächst auch wieder auf dem Standstreifen. Er machte Anfang 1956 eine religiöse Wandlung durch und für die kommenden sechs Jahre war von ihm in musikalischer Hinsicht nichts zu hören.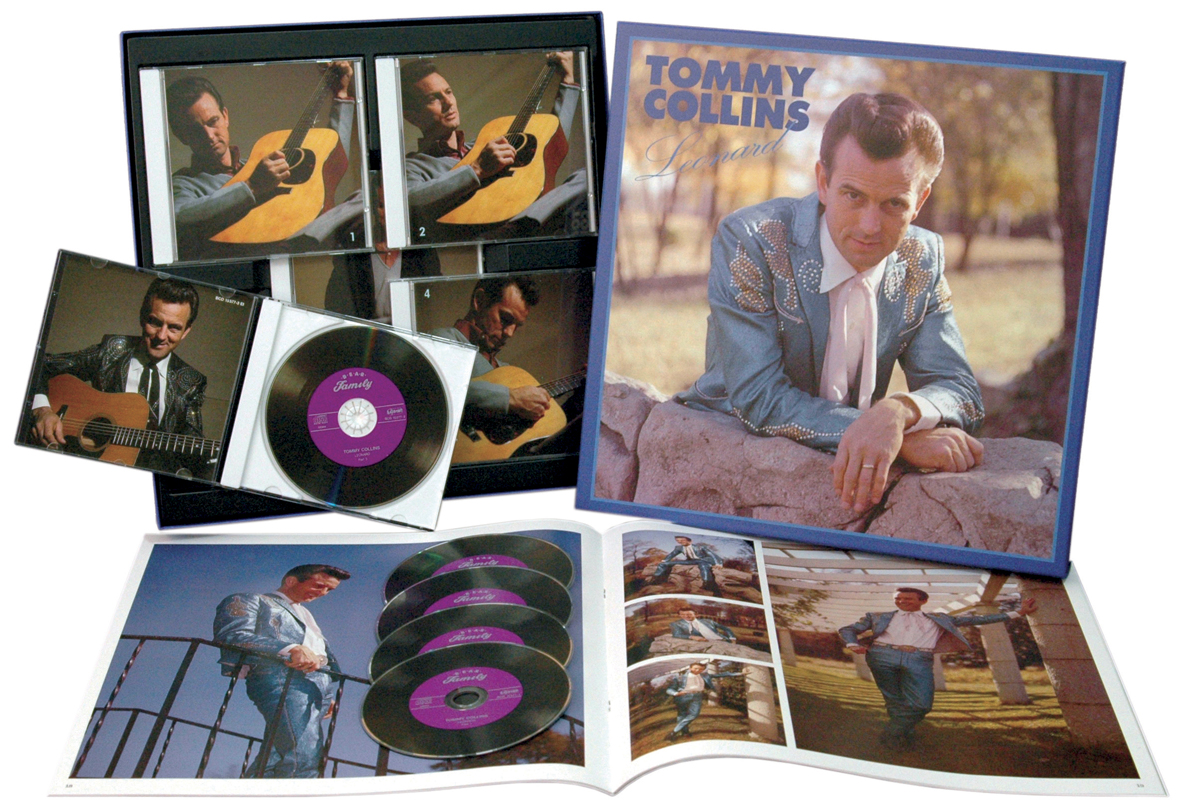 Zu Beginn des Jahres 1963 verließ Collins die Kirche und kehrte nach Bakersfield zurück. Capitol willigte ein, ihn wieder unter Vertrag zu nehmen und 1964 kehrte er mit I Can Do That in die Charts zurück, ein Duett mit seiner Frau Wanda Lucille Shahan. Collins wechselte 1965 zu Columbia. Im darauffolgenden Jahr hatte er abermals einen Top 10 Hit mit I Can't Bite, Don't Growl und in den Jahren danach hatte er eine Reihe weiterer Hits.
In den frühen 70ern lag Collins' persönliches wie berufliches Leben in Folge seiner Drogen- und Alkoholabhängigkeit am Boden. 1971 reichte seine Frau die Scheidung ein und damit stürzte Tommy in eine tiefe Depression.
Collins erholte sich von diesen Tiefschlägen durch seine kontinuierliche Arbeit als Autor zahlreicher Songs. Viele wurden von Merle Haggard aufgenommen, darunter auch Merle's Hits Carolyn und The Roots Of My Raising. 1981 hatte Merle einen weiteren Hit mit Leonard, einem Tribut an Collins. Mit dieser Veröffentlichung richtete sich das öffentliche Interesse auch wieder mehr auf Collins. Tommy setzte seine Tätigkeit als Autor fort, ein weiterer Erfolg war 1984 Mel Tillis' Top 10 Hit New Patches.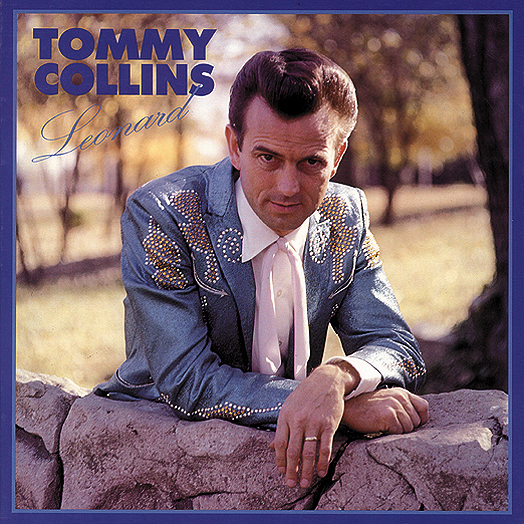 Während der 80er Jahre war nicht viel von Collins zu hören, obwohl seine Songs weiterhin aufgenommen wurden. George Strait landete mit seiner Neuaufnahme von If You Ain't Lovin' einen Nummer 1 Hit in den Country Charts. Seine Karriere als Songwriter setzte Collins aber auch in den 90ern weiter fort.
Bear Family veröffentlichte 1992 eine hochgelobte 5 CD Box (LEONARD, BCD 15577) mit seinen kompletten Morgan, Capitol und Columbia Aufnahmen.
Tommy Collins Black Cat - Gonna Shake This Shack Tonight
Read more at: https://www.bear-family.com/collins-tommy-black-cat-gonna-shake-this-shack-tonight.html
Copyright © Bear Family Records
Bewertungen lesen, schreiben und diskutieren...
mehr
Kundenbewertungen für "Leonard (5-CD)"
The first track of each CD is missing from the Content listed above.
Bewertung schreiben
Bewertungen werden nach Überprüfung freigeschaltet.
Weitere Artikel von Tommy Collins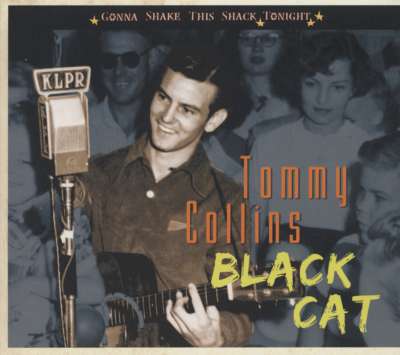 Tommy Collins: Black Cat - Gonna Shake This Shack Tonight
Art-Nr.: BCD16897


Sofort versandfertig, Lieferzeit** 1-3 Werktage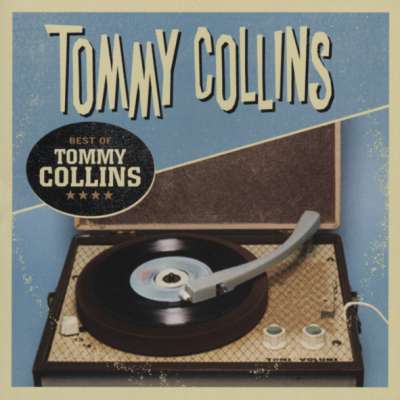 Tommy Collins: Best Of Tommy Collins (re-recordings)
Art-Nr.: CD78906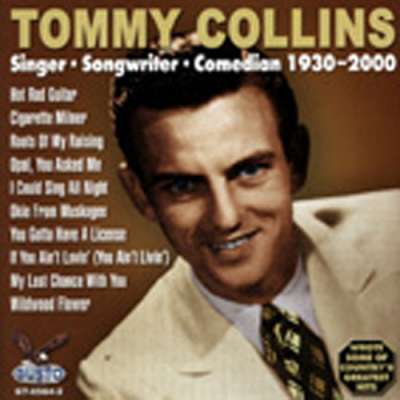 Tommy Collins: Singer Songwriter Comedian
Art-Nr.: CDGT0564


Sofort versandfertig, Lieferzeit** 1-3 Werktage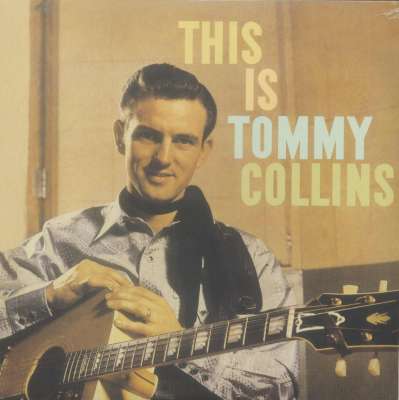 Tommy Collins: This Is Tommy Collins (LP)
Art-Nr.: LP2011094


Sofort versandfertig, Lieferzeit** 1-3 Werktage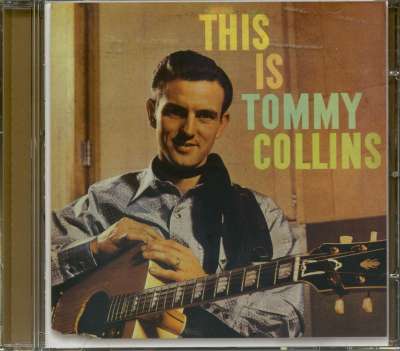 Tommy Collins: This Is Tommy Collins (CD)
Art-Nr.: CDPSAL2357


Sofort versandfertig, Lieferzeit** 1-3 Werktage