Der Artikel wurde erfolgreich hinzugefügt.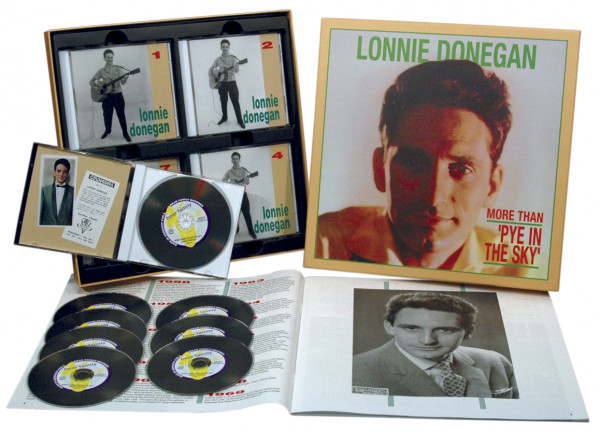 Dieser Artikel ist gestrichen und kann nicht mehr bestellt werden!
129,95 € *
139,95 € *
(7,15% gespart)
inkl. MwSt. zzgl. Versandkosten
Artikel derzeit nicht verfügbar, Lieferfristen von bis zu 2-3 Wochen sind zu erwarten. (soweit verfügbar beim Lieferanten - kann aber auch schneller gehen)
Artikel-Nr.:

BCD15700

Gewicht in Kg.:

2
Das Lonnie Donegan Box Set (LP-Format) mit 8 CDs und einem 60-seitigem Buch, verfügt über 209...
mehr
Lonnie Donegan: More Than 'Pye In The Sky' (8-CD)
Das Lonnie Donegan Box Set (LP-Format) mit 8 CDs und einem 60-seitigem Buch, verfügt über 209 Songs mit einer Gesamtspieldauer von 599 Minuten.

Skiffle war ein Phänomen, Lonnie Donegan war ein Phänomen. Für viele war es ein und dasselbe, bis der Rock'n Roll den Skiffle tötete und Lonnie zu einer Legende in der britischen Musikszene wurde. Diese umrangreiche CD-Box erzählt die gesamte Geschichte von Lonnie Donegan bei Decca und Pye aus den Jahren von 1954 bis 1966.

Demos aus Lonnies eigener Sammlung und Radioaufzeichnungen runden die 209 Songs in diesem CD Set ab. Diese Aufnahmen veränderten das Gesicht populärer Musik in England. Vom bahn brechenden Rock Island Line bis zum triumphierenden World Cup Willie, hier finden sie sämtliche Hits und Flops zusammen mit seltenen und unveröffentlichten Stücken!

Donegan mag der große Star des Skiffle gewesen sein, doch er entwickelte sich weiter und nahm etliche ausgezeichnete Pop- und Country-Titel auf, die ebenfalls auf diesen 8 CDs zu finden sind. Dieses Box Set liefert zudem eine detaillierte Diskografie, eine Biografie, Dutzende von herrlichen Fotos und sonstigen Erinnerungen sowie ein in diue Tiefe gehendes Interview mit Lonnie Donegan selbst.
Artikeleigenschaften von

Lonnie Donegan: More Than 'Pye In The Sky' (8-CD)
Albumtitel:

More Than 'Pye In The Sky' (8-CD)

Genre

Jazz

Preiscode

HI

Edition 2

Deluxe Edition

Artikelart

Box set

EAN:

4000127157003

Gewicht in Kg:

2
Donegan, Lonnie - More Than 'Pye In The Sky' (8-CD)

Box set 1
01
John Henry
02
Nobody's Child
03
Wabash Cannonball
04
Hard Time Blues
05
Nobody's Child
06
You Don't Know My Mind
07
Midnight Special
08
Precious Lord, Lead Me On
09
The Passing Stranger
10
On A Christmas Day
11
Take My Hand, Precious Lord
12
Midnight Special
13
When The Sun Goes Down
14
New Buryin' Ground
15
Worried Man Blues (& DICK BISHOP)
16
Harmonica Blues
17
The Ballad Of Jesse James (& DICK BISHOP)
18
Ol' Riley
19
Railroad Bill
20
Lost John
21
Stewball
22
Stackalee (Stack O' Lee)
23
Bring A Little Water, Sylvie
24
Dead Or Alive
Donegan, Lonnie - More Than 'Pye In The Sky' (8-CD)

Box set 2
01
How Long, How Long Blues
02
Wabash Cannonball
03
I'm A Ramblin' Man
04
I'm Alabammy Bound
05
Wreck Of The Old '97
06
Nobody's Child
07
I Shall Not Be Moved
08
Rock Island Line
09
Don't You Rock Me Daddy-O
10
Cumberland Gap
11
Love Is Strange
12
Theme From Film 'Light Fingers' (soundtrack)
13
Gamblin' Man (soundtrack)
14
Gamblin' Man
15
Puttin' On The Style
16
My Dixie Darling
17
I'm Just A Rolling Stone
18
Jack O'Diamonds
19
The Grand Coulee Dam
20
Hard Travellin'
21
Ham 'N' Eggs
22
Nobody Loves Like An Irish Man
23
Sally Don't You Grieve
Donegan, Lonnie - More Than 'Pye In The Sky' (8-CD)

Box set 3
01
Lonesome Traveller
02
Light From The Lighthouse
03
I've Got Rocks In My Bed
04
I've Got Rocks In My Bed (alt.)
05
Long Summer Day
06
The Sunshine Of His Love
07
Times Are Getting Hard Boys
08
Ain't No More Cane On The Brazos
09
Lazy John
10
Betty, Betty, Betty
11
Whoa Buck (Whoa Back, Buck)
12
Shorty George
13
Hard Travellin'
14
Baby Don't You Know That's Love
15
Lonnie With Alan Freeman
16
Lonnie's Skiffle Party (part 1)
17
Lonnie's Skiffle Party (part 2)
18
Darling Corey
19
Bewildered
20
It Is No Secret
21
Hard Travellin'
22
My Lagan Love
23
Rock O' My Soul
24
Aunt Rhody
25
Tom Dooley
Donegan, Lonnie - More Than 'Pye In The Sky' (8-CD)

Box set 4
01
Kevin Barry
02
My Only Son Was Killed In Dublin
03
Chesapeake Bay
04
Ace In The Hole
05
Fort Worth Jail
06
Battle Of New Orleans
07
Sal's Got A Sugar Lip
08
Just A Closer Walk With Thee
09
Ice Cream
10
Fancy Talking Tinker
11
Gloryland
12
The Goldrush Is Over
13
The House Of The Rising Sun
14
Miss Otis Regrets
15
Take This Hammer
16
San Miguel
17
Jimmie Brown The Newsboy
18
John Hardy
19
John Hardy (alt.)
20
Mr. Froggy
21
You Pass Me By
22
Talking Guitar Blues (US version)
23
Talking Guitar Blues (british version)
24
The Golden Vanity
25
My Old Man's A Dustman
Donegan, Lonnie - More Than 'Pye In The Sky' (8-CD)

Box set 5
01
I Wanna Go Home (The Wreck Of...) (edited)
02
I Wanna Go Home (The Wreck Of The John B.)
03
Take This Hammer
04
Corrine, Corrina
05
In All My Wildest Dreams
06
Beyond The Sunset
07
Nobody Understands Me
08
Junco Partner (Junko Partner)
09
Lorelei
10
The Wreck Of The John B.
11
Sorry, But I'm Gonna Have To Pass
12
Lively!
13
Black Cat (Crossed My Path Today)
14
Banana Split For My Baby
15
Leave My Woman Alone
16
(Bury Me) Beneath The Willow
17
Beyond The Sunset
18
When I Was Young
19
Virgin Mary
20
Just A-Wearying For You
21
Ramblin' Round
22
Have A Drink On Me
23
Seven Daffodils (Seven Golden Daffodils)
24
Keep On The Sunny Side
25
Tiger Rag
26
Michael, Row The Boat (mono)
27
Lumbered
28
Michael, Row The Boat (stereo)
29
Red Berets
Donegan, Lonnie - More Than 'Pye In The Sky' (8-CD)

Box set 6
01
The Comancheros
02
The Party's Over
03
Over The Rainbow
04
I'll Never Fall In Love Again
05
(It Was) A Very Good Year
06
I'll Never Smile Again
07
I'll Never Fall In Love Again (alt.)
08
His Eye Is On The Sparrow
09
Nobody Knows The Trouble I've Seen
10
Steal Away
11
Good News! Chariots A'Comin'
12
Born In Bethlehem
13
Joshua Fit De Battle Of Jericho
14
New Burying Ground
15
No Hiding Place
16
Noah Found Grace In The Eyes Of The Lord
17
Sing Hallelujah
18
This Train
19
We Shall Walk Through The Valley
20
Keep On The Sunny Side
21
Pick A Bale Of Cotton
22
The Market Song (& MAX MILLER)
23
Tit-Bits (& MAX MILLER)
24
Losing By A Hair
25
Trumpet Sounds
26
Rise Up
27
I've Gotta Girl So Fine
28
It's A Long Road To Travel
Donegan, Lonnie - More Than 'Pye In The Sky' (8-CD)

Box set 7
01
Lemon Tree
02
500 Miles Away From Home
03
Cajun Joe (The Bully Of The Bayou)
04
Fisherman's Luck
05
Louisiana Man
06
Interstate Forty
07
Bad News
08
There's A Big Wheel
09
Dianonds Of Dew
10
Nothing To Gain
11
Lovey Told Me Goodbye
12
Beans In My Ears
13
Get Out Of My Life
14
Blistered
15
Bound For Zion
16
Where In This World Are We Going
17
The Doctor's Daughter
18
Reverend Mr. Black
19
Farewell (Fare Thee Well)
20
Wedding Bells
21
Won't You Tell Me
22
My Sweet Marie
23
After Taxes
24
I'm Gonna Be A Bachelor
25
She Was T-Bone Talking Woman
26
World Cup Willie
27
Ding Ding
28
Leaving Blues
29
Auntie Maggie's Remedy
Donegan, Lonnie - More Than 'Pye In The Sky' (8-CD)

Box set 8
01
Leavin' Blues
02
Bury My Body
03
Diggin' My Potatoes
04
When I Move To The Sky (& OTILIE PATTERSON)
05
On A Monday
06
(In The Evening) When The Sun Goes Down
07
Midnight Special
08
Railroad Bill
09
I'm Alabammy Bound
10
Cumberland Gap
11
Don't You Rock Me Daddy-O
12
Bring A Little Water, Sylvie
13
On A Monday
14
Old Hannah (Go Down Old Hannah)
15
Muleskinner Blues
16
Precious Memories (& DICK BISHOP)
17
Brother Moses Smote The Water
18
Ella Speed
19
Glory (false start)
20
Black Girl
21
Glory
Lonnie Donegan Lonnie Donegan's Skiffle Group mit Rock Island Line . Mit dieser...
mehr
"Lonnie Donegan"
Lonnie Donegan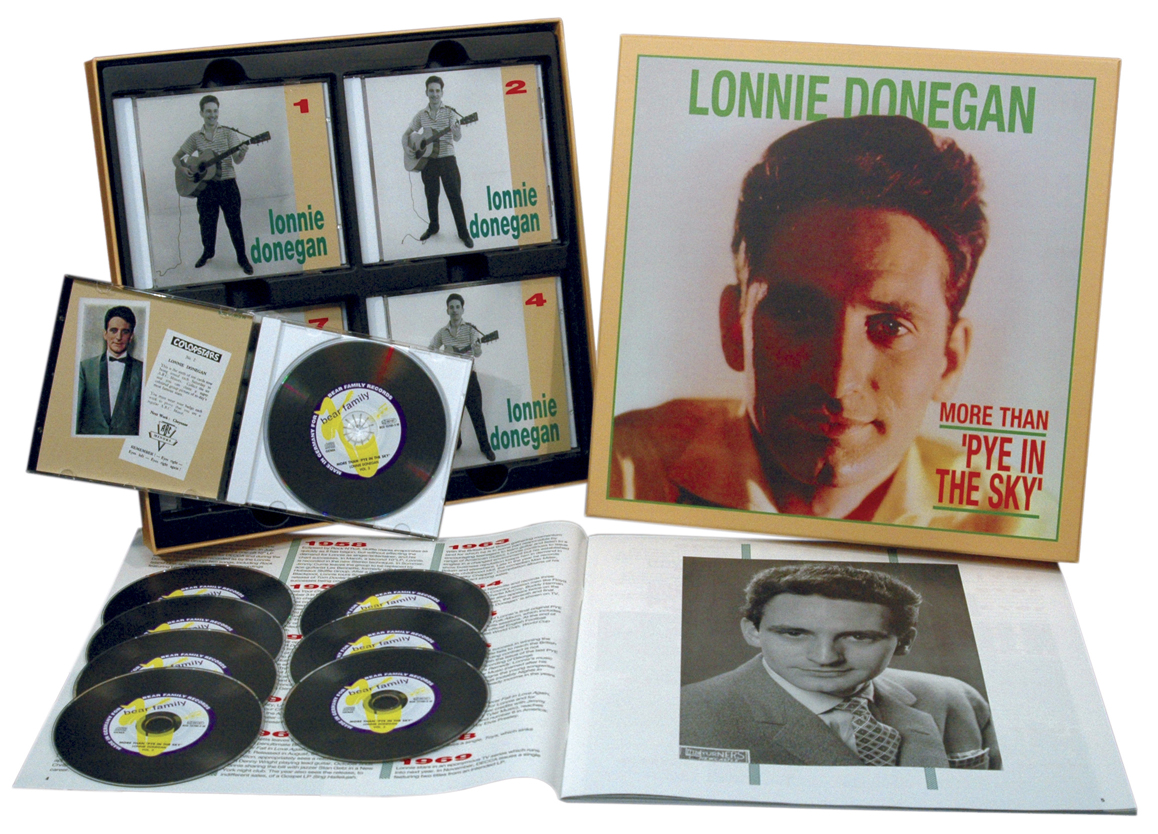 Lonnie Donegan's Skiffle Group mit Rock Island Line. Mit dieser Aufnahme begann für viele die Skiffle-Musik in England. Diese Platte hat aber al­lenfalls eine kleine Skiffle-Mode ausgelöst. 'Mo­de' ist ja in der populären Musik die schnelle und in­tensive industrielle Auswertung von Spiel­wei­sen, Themen und Interpreten. Die erste Skiffle-Mo­de war, an den üb­li­chen Indikatoren der Mu­sik­industrie gemessen, klein.
Rock Island Line erschien auf einer Single im No­vem­ber 1955. Im Januar 1956 kam die Platte in die englische Schlagerparade auf Platz acht, sie stieg auf Platz sechs und fiel dann wieder. Vor Do­ne­gan waren englische Balladen­sänger und ame­ri­ka­ni­sche Musiker plaziert, nämlich Pat Boone, sowie auf Platz drei und Platz eins Bill Haley And The Comets mit Rock-A-Beatin-Boogie und Rock Around The Clock. Donegan erreichte erst über ein Jahr später, im Mai 1957, mit einer anderen Aufnahme den ersten Platz der englischen Schla­gerparade. Chris Barber kam erst 1959 mit einem Titel in die Schlagerparade, mit Petite Fleur.
Dennoch war Chris Barber's Jazzband, zu der Lon­nie Donegan noch gehörte, als die Platte er­schien, ökonomisch nicht unbedeutend. Und die Gruppen, für die Barbers Name nur stellvertretend steht, waren einflußreicher für die musikalische Ent­wicklung in England als die Musiker und Sän­ger, die im Platten­geschäft sehr viel größere Um­sätze machten. Amerikanische Platten sowohl von Rock'n'Roll-Grup­pen wie von Balla­den-Sängern, selbst von einigen Country and Western-Sängern, wa­ren in England 1956 erfolgreicher als die von eng­lischen Skiffle-Gruppen.
Rock'n'Roll kam zur gleichen Zeit wie Skiffle nach England, auch durch die Schall­platten­fir­men. Rock'n'Roll wurde aber weitgehend passiv re­zi­piert, während Skiffle auch eigene musikalische Ak­tivitäten anregte. Skiffle war eine Re-Folk­lori­sierung meist amerikanischer Lieder in England.
Der finanzielle Erfolg von Rock Island Line kam über­raschend, war aber eigentlich nicht er­staun­lich, da Skiffle schon über sechs Jahre lang in Eng­land praktiziert worden war. Die Titel Rock Island Line und John Henry wurden erst auf einer Single veröffentlicht, nachdem es Fragen von Rundfunk­hörern nach den Stücken gegeben hatte. Beide Titel waren auf der ersten Langspielplatte der Barber-Band enthalten. Titel der LP: New Orleans Joys, Chris Barber's Jazz Band And The Lonnie Donegan Skiffle Group, aufgenommen im Juli 1954.
Die Skiffle Group hieß nach Donegan, weil er sang und Gitarre spielte, während Chris Barber Baß und Beryl Bryden Wasch­brett spielten. Do­ne­gan war auch bei den anderen Aufnahmen be­tei­ligt. Er war re­gulärer Banjo-Spieler in der Barber-Band, die Traditionellen Jazz spielte. Und zu ih­rem Programm gehörte es, einige Musiker aus der Band als Skiffle Group auftreten und Blues und andere Lieder spielen zu lassen, so wie es Ken Colyer mit seinen Grup­pen schon einige Jahre praktiziert hatte. Lonnie Donegan hatte seine ersten Schall­platten 1953 aufgenommen, als Mitglied von Ken Colyer's Jazzmen.
Bewertungen lesen, schreiben und diskutieren...
mehr
Kundenbewertungen für "More Than 'Pye In The Sky' (8-CD)"
Von:
Karl M.
Am:
22.09.2017
Bewertung schreiben
Bewertungen werden nach Überprüfung freigeschaltet.
Weitere Artikel von Lonnie Donegan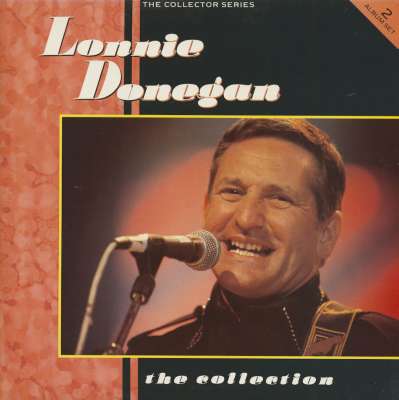 Lonnie Donegan: The Collection (2-LP)
Art-Nr.: LPCCS223


Sofort versandfertig, Lieferzeit** 1-3 Werktage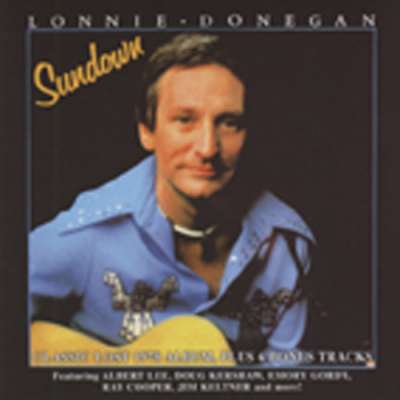 Lonnie Donegan: Sundown (1978)...plus
Art-Nr.: CD2746349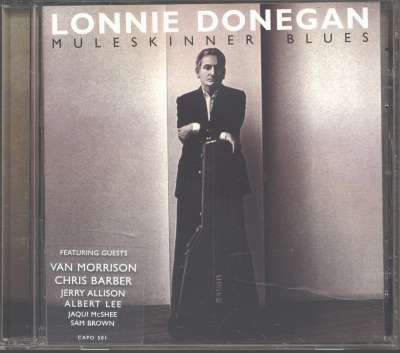 Lonnie Donegan: Muleskinnner Blues (CD)
Art-Nr.: CDCAPO501


Sofort versandfertig, Lieferzeit** 1-3 Werktage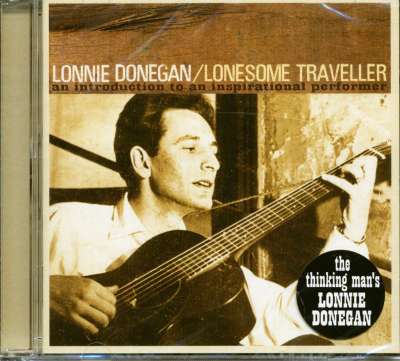 Lonnie Donegan: Lonesome Traveller (CD)
Art-Nr.: CDCMR1224


Sofort versandfertig, Lieferzeit** 1-3 Werktage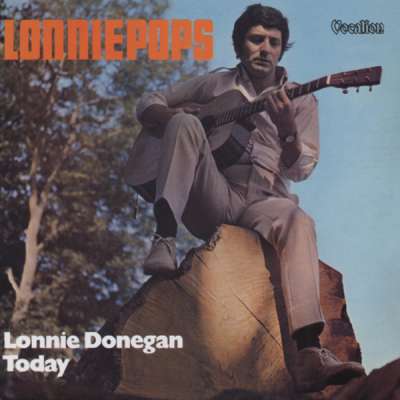 Lonnie Donegan: Lonniepops (1970)
Art-Nr.: CDLF8136


Sofort versandfertig, Lieferzeit** 1-3 Werktage