Der Artikel wurde erfolgreich hinzugefügt.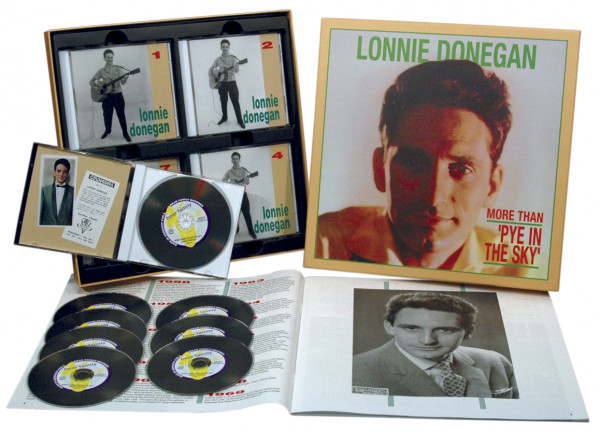 inkl. MwSt. / zzgl. Versandkosten - Abhängig vom Lieferland kann die MwSt. an der Kasse variieren.
Sofort versandfertig, Lieferzeit** 1-3 Werktage
Artikel-Nr.:

BCD15700

Gewicht in Kg.:

2
Das Lonnie Donegan Box Set (LP-Format) mit 8 CDs und einem 60-seitigem Buch, verfügt über 209...
mehr
Lonnie Donegan: More Than 'Pye In The Sky' (8-CD)
Das
Lonnie Donegan
Box Set (LP-Format) mit 8 CDs und einem 60-seitigem Buch, verfügt über 209 Songs mit einer Gesamtspieldauer von 599 Minuten.
Skiffle war ein Phänomen, Lonnie Donegan war ein Phänomen. Für viele war es ein und dasselbe, bis der Rock'n Roll den Skiffle tötete und Lonnie zu einer Legende in der britischen Musikszene wurde. Diese umrangreiche CD-Box erzählt die gesamte Geschichte von Lonnie Donegan bei Decca und Pye aus den Jahren von 1954 bis 1966.
Demos aus Lonnies eigener Sammlung und Radioaufzeichnungen runden die 209 Songs in diesem CD Set ab. Diese Aufnahmen veränderten das Gesicht populärer Musik in England. Vom bahn brechenden
Rock Island Line
bis zum triumphierenden
World Cup Willie
, hier finden sie sämtliche Hits und Flops zusammen mit seltenen und unveröffentlichten Stücken!
Donegan mag der große Star des Skiffle gewesen sein, doch er entwickelte sich weiter und nahm etliche ausgezeichnete Pop- und Country-Titel auf, die ebenfalls auf diesen 8 CDs zu finden sind. Dieses Box Set liefert zudem eine detaillierte Diskografie, eine Biografie, Dutzende von herrlichen Fotos und sonstigen Erinnerungen sowie ein in diue Tiefe gehendes Interview mit Lonnie Donegan selbst.
Artikeleigenschaften von

Lonnie Donegan: More Than 'Pye In The Sky' (8-CD)
Albumtitel:

More Than 'Pye In The Sky' (8-CD)

Genre

Jazz

Preiscode

HI

Edition 2

Deluxe Edition

Artikelart

Box set

EAN:

4000127157003

Gewicht in Kg:

2
Lonnie Donegan Lonnie Donegan's Skiffle Group mit Rock Island Line . Mit dieser...
mehr
"Lonnie Donegan"
Lonnie Donegan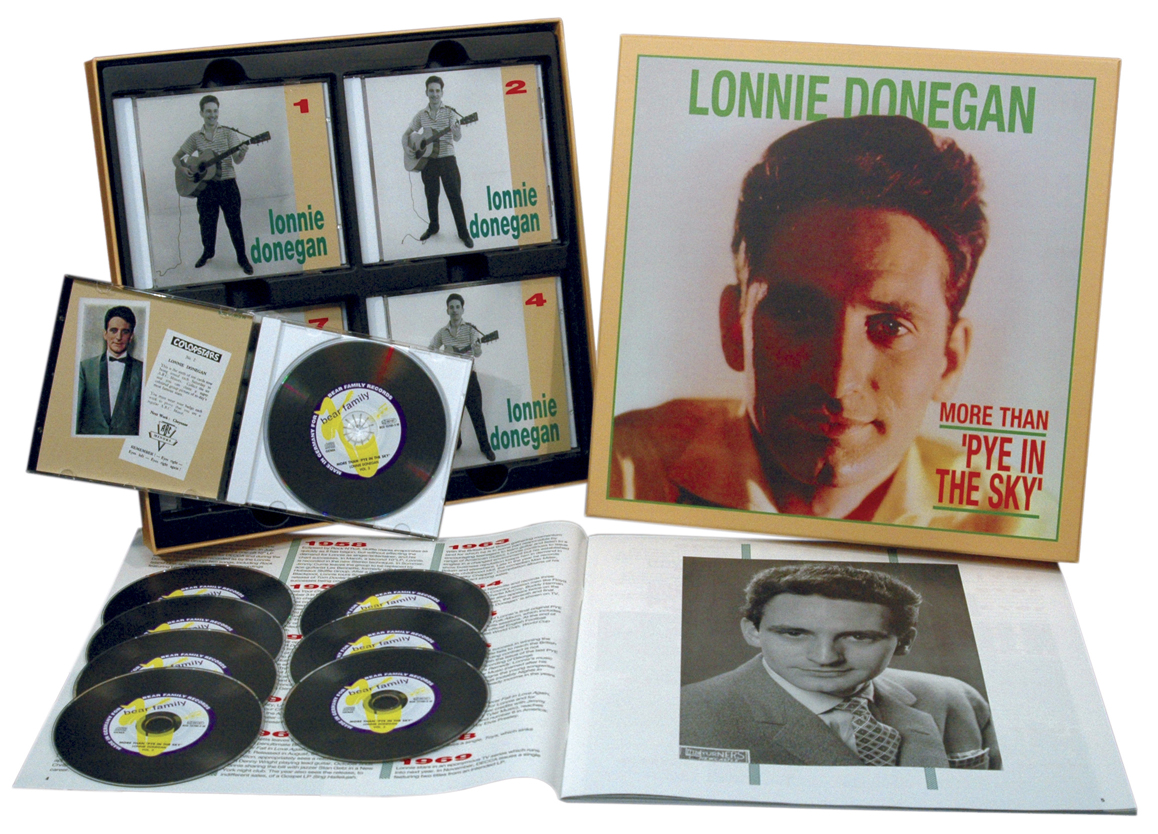 Lonnie Donegan's Skiffle Group mit Rock Island Line. Mit dieser Aufnahme begann für viele die Skiffle-Musik in England. Diese Platte hat aber al­lenfalls eine kleine Skiffle-Mode ausgelöst. 'Mo­de' ist ja in der populären Musik die schnelle und in­tensive industrielle Auswertung von Spiel­wei­sen, Themen und Interpreten. Die erste Skiffle-Mo­de war, an den üb­li­chen Indikatoren der Mu­sik­industrie gemessen, klein.
Rock Island Line erschien auf einer Single im No­vem­ber 1955. Im Januar 1956 kam die Platte in die englische Schlagerparade auf Platz acht, sie stieg auf Platz sechs und fiel dann wieder. Vor Do­ne­gan waren englische Balladen­sänger und ame­ri­ka­ni­sche Musiker plaziert, nämlich Pat Boone, sowie auf Platz drei und Platz eins Bill Haley And The Comets mit Rock-A-Beatin-Boogie und Rock Around The Clock. Donegan erreichte erst über ein Jahr später, im Mai 1957, mit einer anderen Aufnahme den ersten Platz der englischen Schla­gerparade. Chris Barber kam erst 1959 mit einem Titel in die Schlagerparade, mit Petite Fleur.
Dennoch war Chris Barber's Jazzband, zu der Lon­nie Donegan noch gehörte, als die Platte er­schien, ökonomisch nicht unbedeutend. Und die Gruppen, für die Barbers Name nur stellvertretend steht, waren einflußreicher für die musikalische Ent­wicklung in England als die Musiker und Sän­ger, die im Platten­geschäft sehr viel größere Um­sätze machten. Amerikanische Platten sowohl von Rock'n'Roll-Grup­pen wie von Balla­den-Sängern, selbst von einigen Country and Western-Sängern, wa­ren in England 1956 erfolgreicher als die von eng­lischen Skiffle-Gruppen.
Rock'n'Roll kam zur gleichen Zeit wie Skiffle nach England, auch durch die Schall­platten­fir­men. Rock'n'Roll wurde aber weitgehend passiv re­zi­piert, während Skiffle auch eigene musikalische Ak­tivitäten anregte. Skiffle war eine Re-Folk­lori­sierung meist amerikanischer Lieder in England.
Der finanzielle Erfolg von Rock Island Line kam über­raschend, war aber eigentlich nicht er­staun­lich, da Skiffle schon über sechs Jahre lang in Eng­land praktiziert worden war. Die Titel Rock Island Line und John Henry wurden erst auf einer Single veröffentlicht, nachdem es Fragen von Rundfunk­hörern nach den Stücken gegeben hatte. Beide Titel waren auf der ersten Langspielplatte der Barber-Band enthalten. Titel der LP: New Orleans Joys, Chris Barber's Jazz Band And The Lonnie Donegan Skiffle Group, aufgenommen im Juli 1954.
Die Skiffle Group hieß nach Donegan, weil er sang und Gitarre spielte, während Chris Barber Baß und Beryl Bryden Wasch­brett spielten. Do­ne­gan war auch bei den anderen Aufnahmen be­tei­ligt. Er war re­gulärer Banjo-Spieler in der Barber-Band, die Traditionellen Jazz spielte. Und zu ih­rem Programm gehörte es, einige Musiker aus der Band als Skiffle Group auftreten und Blues und andere Lieder spielen zu lassen, so wie es Ken Colyer mit seinen Grup­pen schon einige Jahre praktiziert hatte. Lonnie Donegan hatte seine ersten Schall­platten 1953 aufgenommen, als Mitglied von Ken Colyer's Jazzmen.
Bewertungen lesen, schreiben und diskutieren...
mehr
Kundenbewertungen für "More Than 'Pye In The Sky' (8-CD)"
Von:
Karl M.
Am:
22.09.2017
Bewertung schreiben
Bewertungen werden nach Überprüfung freigeschaltet.
Weitere Artikel von Lonnie Donegan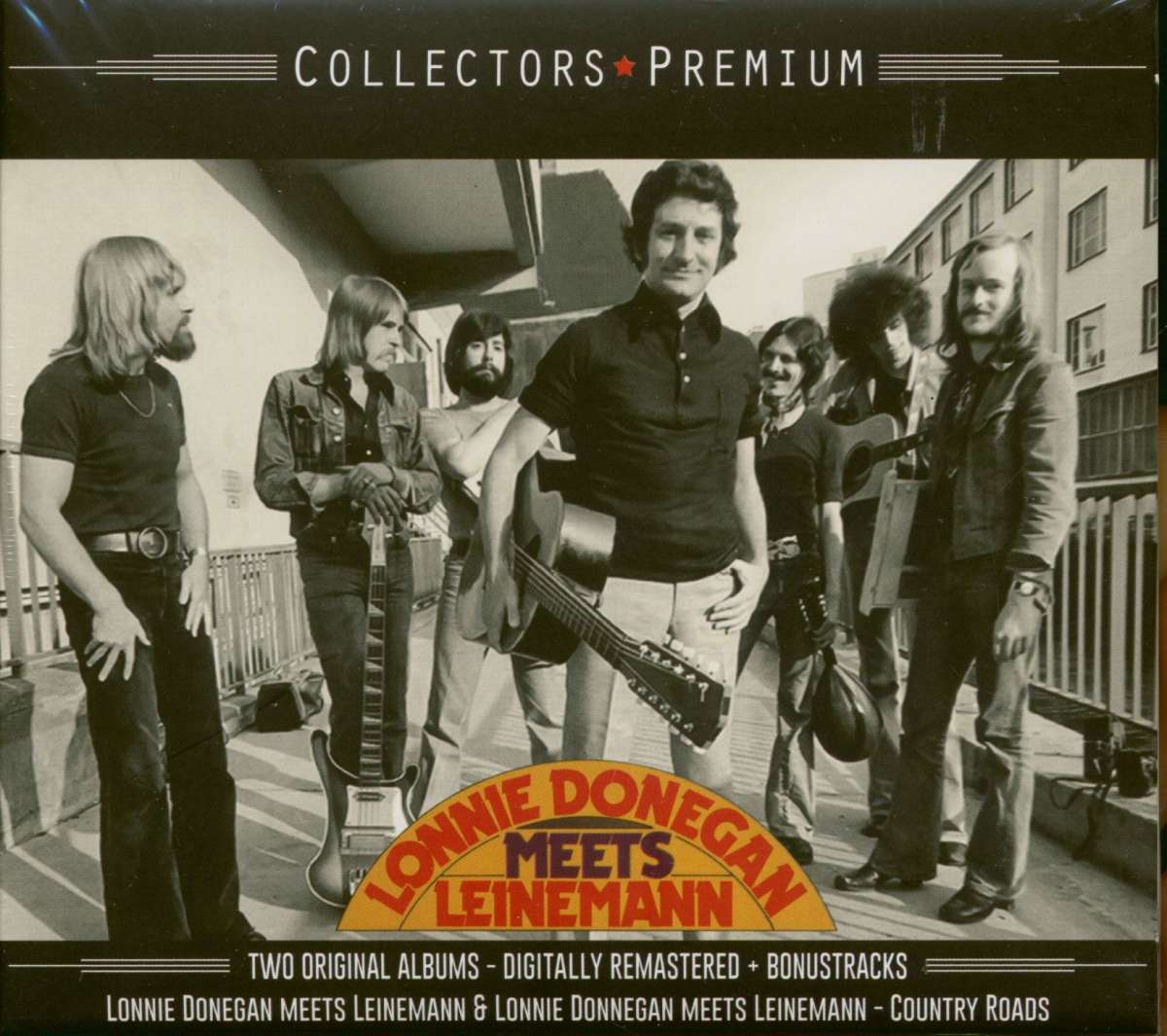 Lonnie Donegan: Lonnie Donegan Meets Leinemann (2-CD)
Art-Nr.: CDMIG01762


Sofort versandfertig, Lieferzeit** 1-3 Werktage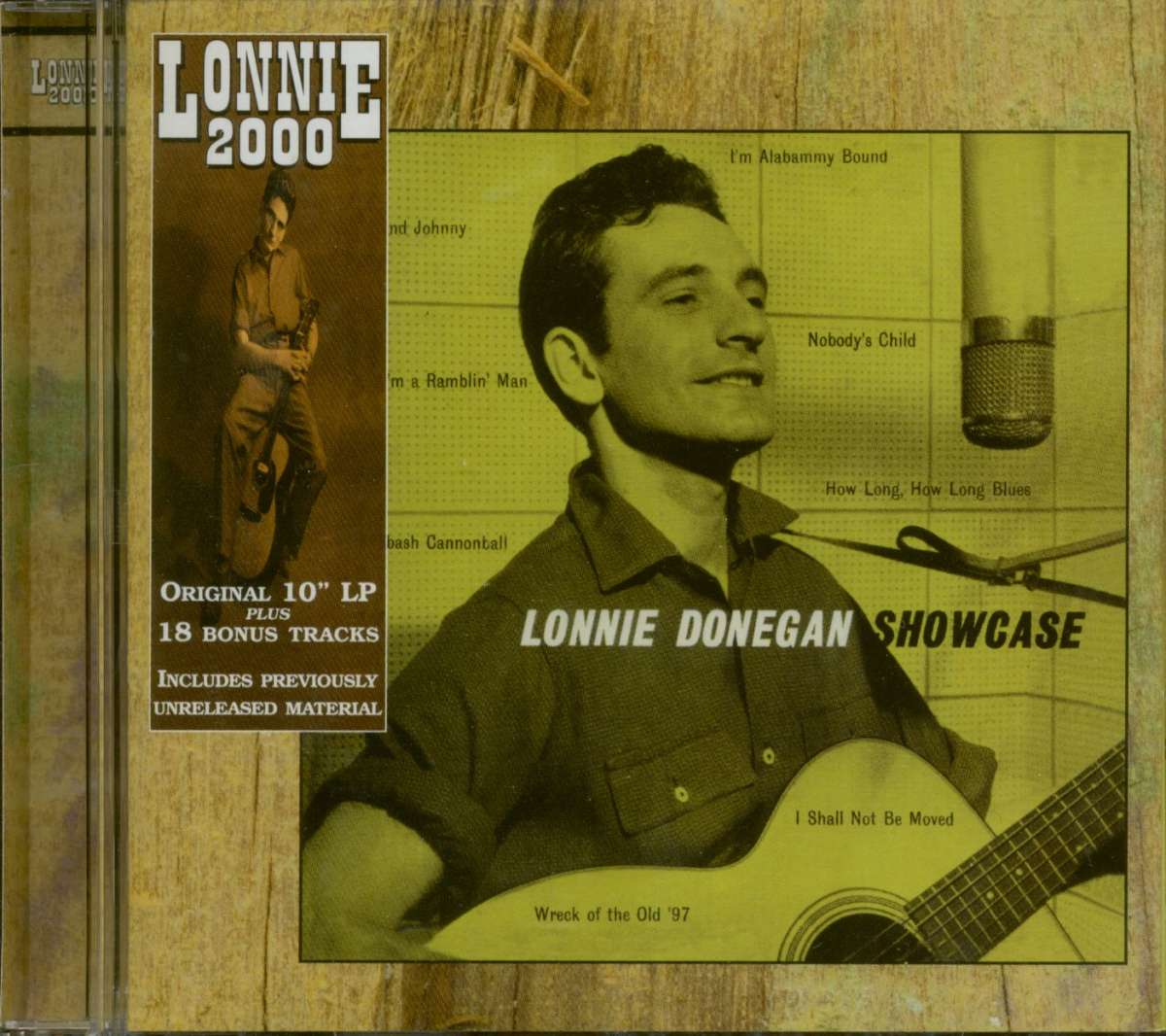 Lonnie Donegan: Showcase...plus (CD)
Art-Nr.: CDNEM342


Sofort versandfertig, Lieferzeit** 1-3 Werktage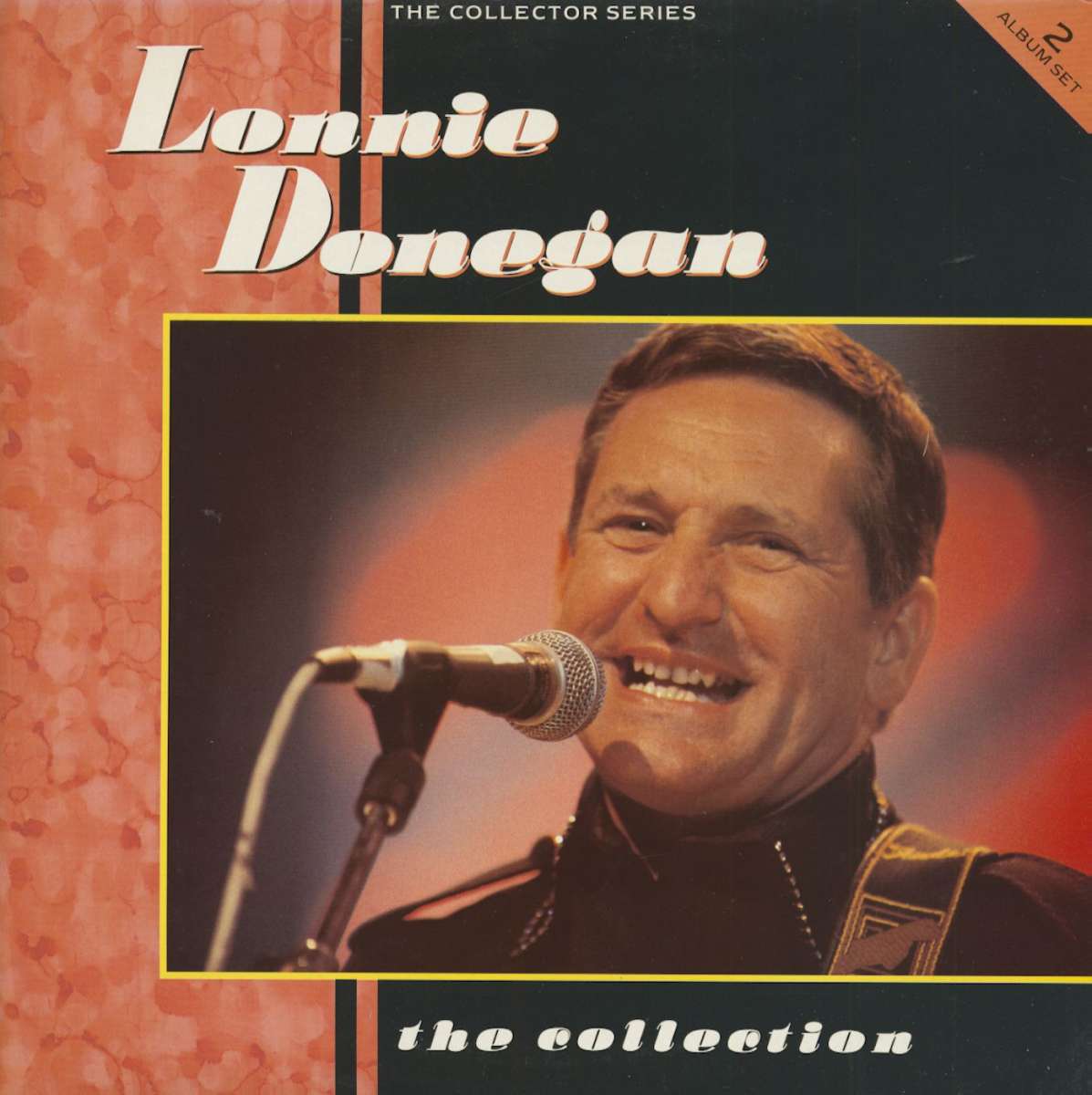 Lonnie Donegan: The Collection (2-LP)
Art-Nr.: LPCCS223


Sofort versandfertig, Lieferzeit** 1-3 Werktage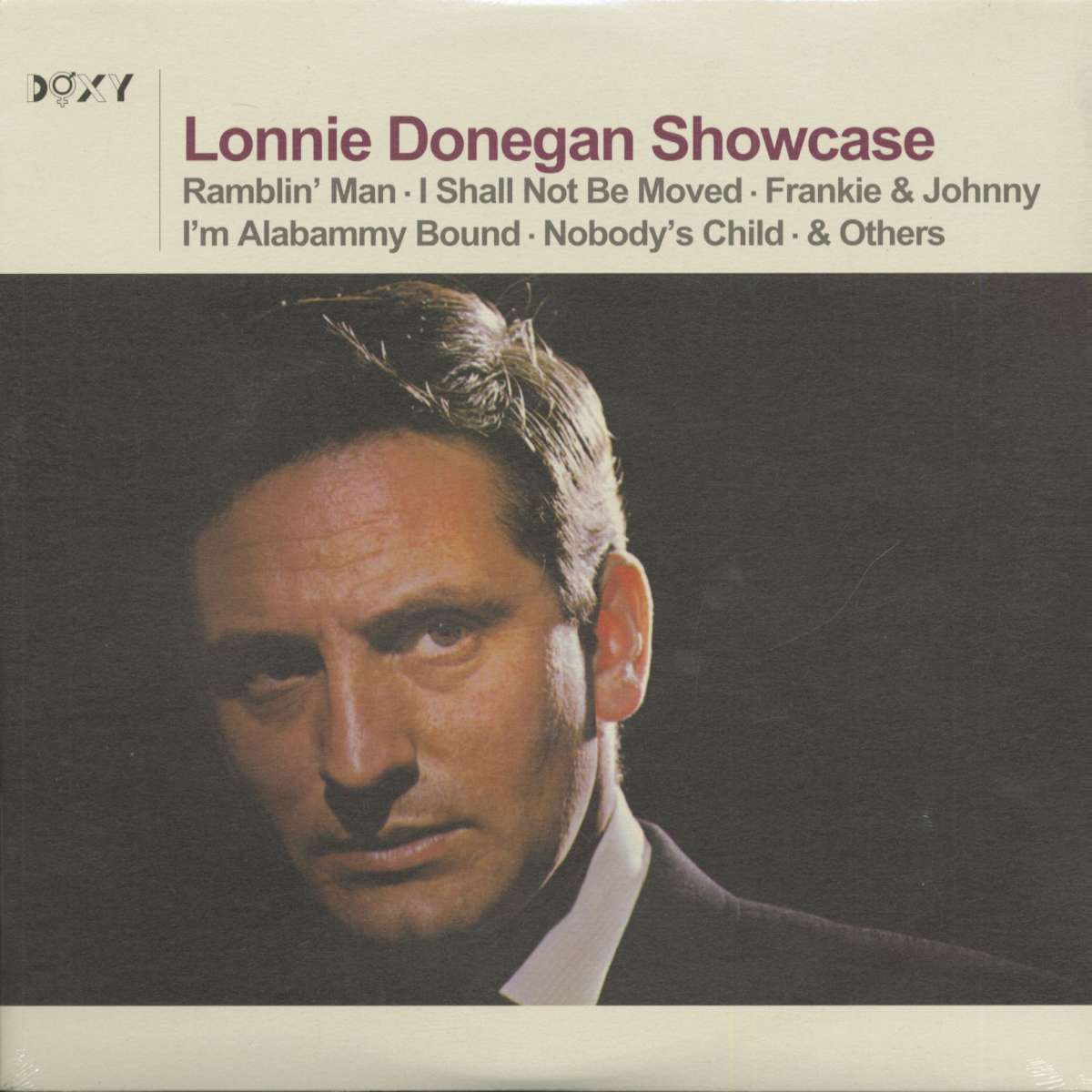 Lonnie Donegan With His Skiffle Group: Lonnie Donegan Showcase (LP, 180g Vinyl)
Art-Nr.: LPDOY611


Sofort versandfertig, Lieferzeit** 1-3 Werktage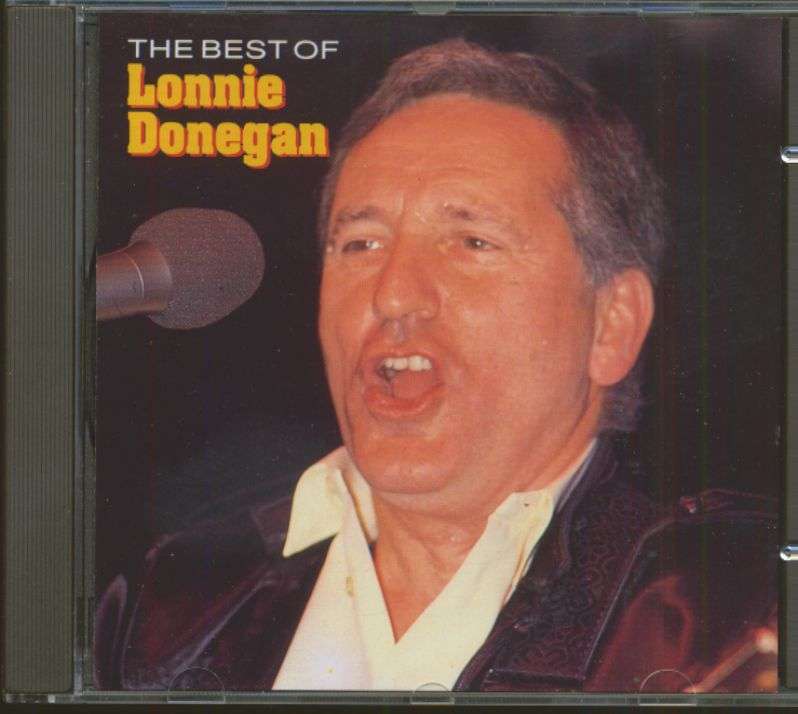 Lonnie Donegan: The Best Of Lonnie Donegan (CD)
Art-Nr.: CDCMA138


Sofort versandfertig, Lieferzeit** 1-3 Werktage