Der Artikel wurde erfolgreich hinzugefügt.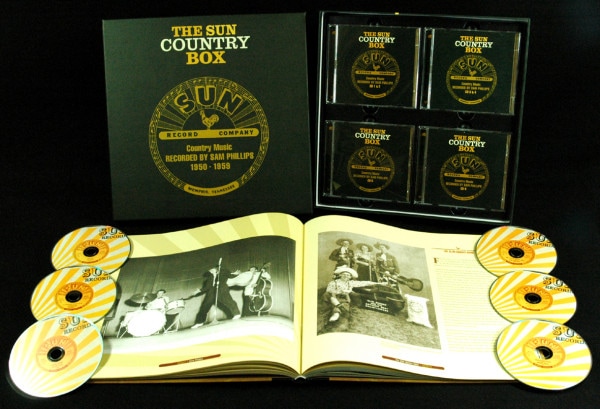 inkl. MwSt. / zzgl. Versandkosten - Abhängig vom Lieferland kann die MwSt. an der Kasse variieren.
Sofort versandfertig, Lieferzeit** 1-3 Werktage
6-CD-Album Boxset (LP-Format) mit 148-seitigem gebundenem Buch, 208 Einzeltitel, Gesamtspielzeit...
mehr
Various - SUN Records: Sun Country Box 1950-1959 (6-CD Deluxe Box Set)
6-CD-Album Boxset (LP-Format) mit 148-seitigem gebundenem Buch, 208 Einzeltitel, Gesamtspielzeit ca. 8 Stunden 50 Minuten.
60 Jahre Sun Records, 38 Jahre Bear Family.
In der Zeit von 1950 bis 1960 entdeckte und produzierte Sam Phillips, Gründer von Sun Records, B.B. King , Howlin' Wolf, Ike Turner, Elvis Presley, Johnny Cash, Carl Perkins, Jerry Lee Lewis, Charlie Rich und Roy Orbison - Künstler, die die Geschichte der Popmusik veränderten.
Zu den anderen Künstlern, die ihre ersten Aufnahmen bei Sun machten, gehören Rufus Thomas, Bobby Bland, Junior Parker, Little Milton, Conway Twitty, Charley Pride und viele andere!
1952, nachdem er mit Jackie Brenston's 'Rocket 88' einen der größten Hits der Vor-Rock 'n' Roll Ära produziert hatte, startete Sam Phillips Sun Records mit einer einzigen lokalen Veröffentlichung und ließ anschließend das Label für ein Jahr ruhen.
1953 dann wurde das Sun-Label wiederbelebt und veröffentlichte Singles bis zur Schließung im Jahr 1968.
Und jetzt, aus Anlass des 60. Jubiläums des Sun-Labels, bringt Bear Family ein Boxen-Trio mit dem Fokus auf drei Genres heraus.
Die Country-Box macht den Anfang. Bear Family veröffentlichte die Originalbox, 'The Sun Country Years' im Jahr 1986 - und jetzt ist sie wieder erhältlich. Nur wenige wußten es, aber die ersten Aufnahmen von Sam Phillips nach der Eröffnung seines Studios waren Country, nicht Blues. Jetzt wird die Geschichte seiner Beziehung zur Country-Musik von 1950 bis 1959 vollständig erzählt. Johnny Cash, Jerry Lee Lewis und natürlich Carl Perkins, sie alle tauchen auf, aber im Kern dreht sich die Geschichte um Künstler wie
Ernie Chaffin
,
Slim Rhodes
,
Charlie Feathers
,
Warren Smith
und viele andere, die es letztendlich nicht schafften, jedoch fabelhafte und unterschätzte Musik gemacht hatten. Hier wird nicht gegeizt: bestechende Tonqualität, neu entdeckte Aufnahmen und neue bisher unentdeckte Fotos machen diese Box zu einer unentbehrlichen Ergänzung zur Blues Box.
Glauben Sie bloß nicht, die Geschichte von Sun Records wäre vollständig erzählt, bevor Sie nicht ein unbezahlbares Klangschnipsel gehört haben, bei dem es sich vielleicht um Sun Nr.176 handeln könnte - die einzige Sun-Aufnahme, die vorher noch keiner zu hören bekam, und die nicht mal auf dem Zettel notiert wurde, auf dem sich Sam Phillips sein geringes Einkommen für das Jahr 1952 ausrechnete - oder hören Sie den afro-amerikanischen schwulen Nachtclubsänger Rudi Richardson, wie er Rock 'n' Roll singt! Dies ist die Geschichte des meistgelobten Labels aller Zeiten, dokumentiert wie nur Bear Family es kann!
Dies ist die Geschichte von Sun Records - zehn Jahre, die die Popkultur veränderten
Video von Various - SUN Records - Sun Country Box 1950-1959 (6-CD Deluxe Box Set)
Artikeleigenschaften von

Various - SUN Records: Sun Country Box 1950-1959 (6-CD Deluxe Box Set)
Albumtitel:

Sun Country Box 1950-1959 (6-CD Deluxe Box Set)

Genre

Country

Edition 2

Deluxe Edition

Preiscode

FK

Artikelart

Box set

EAN:

5397102173110

Gewicht in Kg:

2.1
Various - SUN Records - Sun Country Box 1950-1959 (6-CD Deluxe Box Set)

Box set 1
01
The Slim Rhodes Show WMC Radio Extracts
Rhodes, Slim
02
Skunk Hollow Boogie
Rhodes, Slim
03
Save A Little Love For Me
Rhodes, Slim
04
Memphis Bounce
Rhodes, Slim
05
Sixty Days
Rhodes, Slim
06
Hotfood Rag
Rhodes, Slim
07
Time Marches On
Rhodes, Slim
08
Ozark Boogie
Rhodes, Slim
09
Red, White And Blue
Rhodes, Slim
10
Don't Believe
Rhodes, Slim
11
Uncertain Love
Rhodes, Slim
12
House Of Sin
Rhodes, Slim
13
Are You Ashamed Of Me
Rhodes, Slim
14
Bad Girl
Rhodes, Slim
15
Gonna Romp And Stomp
Rhodes, Slim
16
Take And Give
Rhodes, Slim
17
Do What I Do
Rhodes, Slim
18
I've Never Been So Blue
Rhodes, Slim
19
Swamp Root
Floyd, Harmonica Frank
20
Goin' Away Walkin'
Floyd, Harmonica Frank
21
Step It Up And Go
Floyd, Harmonica Frank
22
Howlin' Tomcat (1)
Floyd, Harmonica Frank
23
She Done Moved
Floyd, Harmonica Frank
24
Howlin' Tomcat (2)
Floyd, Harmonica Frank
25
The Great Medical Menagerist
Floyd, Harmonica Frank
26
Rockin' Chair Daddy
Floyd, Harmonica Frank
27
How Can It Be
Price, Bob
28
Sicks And Stones
Price, Bob
29
Tennessee Drag
Hadley, Red
30
If I Had As Much Money (As I Had Time)
Hadley, Red
31
Boogie Ramble
Hadley, Red
32
Blues Waltz
Ripley Cotton Choppers
33
Silver Bell
Ripley Cotton Choppers
34
Roses And Sunshine
Ripley Cotton Choppers
Various - SUN Records - Sun Country Box 1950-1959 (6-CD Deluxe Box Set)

Box set 2
01
In The Dark
Peterson, Earl
02
Boogie Blues
Peterson, Earl
03
Nothing To Lose But My Heart
Peterson, Earl
04
I'm Leaving My Heart Up To You
Peterson, Earl
05
Make Room In The Lifeboat For Me
Seratt, Howard
06
Jesus Means All To Me
Seratt, Howard
07
Troublesome Waters
Seratt, Howard
08
I Must Be Saved
Seratt, Howard
09
Now She Cares No More For Me
Poindexter, Doug
10
My Kind Of Carryin' On
Poindexter, Doug
11
How Do You Think I Feel
Moore, Scotty & Presley, Elvis
12
Instrumental Medley
Perkins, Carl
13
Honky Tonk Gal
Perkins, Carl
14
Gone Gone Gone
Perkins, Carl
15
Dixie Bop
Perkins, Carl
16
Sure To Fall
Perkins, Carl
17
Tennessee
Perkins, Carl
18
Everybody's Tryin' To Be My Baby
Perkins, Carl
19
Forever Yours
Perkins, Carl
20
Breakin' My Heart
Perkins, Carl
21
Try My Heart Out
Perkins, Carl
22
Drinkin' Wine Spo Dee O Dee
Yelvington, Malcolm
23
Just Rollin' Along
Yelvington, Malcolm
24
Lonely Sweetheart
Taylor, Bill
25
Split Personality
Taylor, Bill & Smokey Joe
26
Hula Bop
Baugh, Smokey Joe
27
She's Woman
Baugh, Smokey Joe
28
The Midnight Ride Of Paul Revere
Baugh, Smokey Joe
29
Listen To Me
Baugh, Smokey Joe
30
The Signifying Monkey
Baugh, Smokey Joe
31
We're Getting Closer To Being Apart
Kesler, Stan
Various - SUN Records - Sun Country Box 1950-1959 (6-CD Deluxe Box Set)

Box set 3
01
The Girl With Green Eyes
Bernero, Johnny
02
Yakety Yak
Yelvington, Malcolm
03
Way Down Blues
Yelvington, Malcolm
04
Rockin' With My Baby
Yelvington, Malcolm
05
It's Me Baby
Yelvington, Malcolm
06
Goodbye Marie
Yelvington, Malcolm
07
Mr. Blues
Yelvington, Malcolm
08
First And Last Love
Yelvington, Malcolm
09
Did I Ask You To Stay
Yelvington, Malcolm
10
Trumpet
Yelvington, Malcolm
11
Goin' To Sea
Yelvington, Malcolm
12
Runnin' Around
Feathers, Charlie
13
I've Been Deceived (1)
Feathers, Charlie
14
Peepin' Eyes
Feathers, Charlie
15
I've Been Deceived (2)
Feathers, Charlie
16
We're Getting Closer To Being Apart
Feathers, Charlie
17
Defrost Your Heart
Feathers, Charlie
18
Wedding Gown Of White
Feathers, Charlie
19
Bottle To The Baby
Feathers, Charlie
20
Man In Love
Feathers, Charlie
21
How Long
Wimberley, Maggie Sue
22
Daydreams Come True
Wimberley, Maggie Sue
23
No More
Haggett, Jimmy
24
They Call Our Love A Sin
Haggett, Jimmy
25
They Who Condemn
Wimberley, Maggie Sue
26
Call Me Anything
Wimberley, Maggie Sue
27
Rock And Roll Cinnamon Tree
Wimberley, Maggie Sue
28
How Come You To Me
Haggett, Jimmy
29
Rhythm Called Rock And Roll
Haggett, Jimmy
30
Rock Me Baby
Haggett, Jimmy
31
Rabbit Action
Haggett, Jimmy
32
Someday You Will Pay
Miller Sisters
33
You Didn't Think I Would
Miller Sisters
34
Look What You've Done
Miller Sisters
35
I Know I Can't Forget You
Miller Sisters
36
There's No Right Way
Miller Sisters
Various - SUN Records - Sun Country Box 1950-1959 (6-CD Deluxe Box Set)

Box set 4
01
You Can Tell Me
Miller Sisters
02
Woody
Miller Sisters
03
Finders Keepers
Miller Sisters
04
My Isle Of Golden Dreams
Miller Sisters
05
Ten Cats Down
Miller Sisters
06
It Only Hurts For A Little While
Miller Sisters
07
Got You On My Mind
Miller Sisters
08
Chains Of Love
Miller Sisters
09
I Can't Find Time To Pray
Miller Sisters & Cast King
10
When You Stop Loving Me
Cast King
11
Like A Wees In A Garden
Cast King
12
Satisfied With Me
Cast King
13
Please Believe Me
Cast King
14
Round And Round
Cast King
15
Destiny
Cast King
16
Baby Doll
Cast King
17
Rock 'n' Roll Ruby
Smith, Warren
18
I'd Rather Be Safe Than Sorry
Smith, Warren
19
Black Jack David
Smith, Warren
20
Ubangi Stomp
Smith, Warren
21
Tonight Will Be The Last Night
Smith, Warren
22
Tell Me Who
Smith, Warren
23
I Couldn't Take TheChance
Smith, Warren
24
The Darkest Cloud
Smith, Warren
25
So Long I'm Gone (1)
Smith, Warren
26
So Long I'm Gone (2)
Smith, Warren
27
So Long I'm Gone (3)
Smith, Warren
28
Who Took My Baby
Smith, Warren
29
Miss Froggie
Smith, Warren
30
Stop The World
Smith, Warren
31
Red Cadillac And A Black Moustache
Smith, Warren
32
Got Love If You Want It
Smith, Warren
33
I Fell In Love
Smith, Warren
34
Hank Snow Medley
Smith, Warren
35
Do I Love You
Smith, Warren
36
I Like Your Kinda Love
Smith, Warren
Various - SUN Records - Sun Country Box 1950-1959 (6-CD Deluxe Box Set)

Box set 5
01
Uranium Rock
Smith, Warren
02
Goodbye Mr. Love( 1)
Smith, Warren
03
Sweet Sweet Girl
Smith, Warren
04
Dear John
Smith, Warren
05
Goodbye Mr. Love (2)
Smith, Warren
06
Feelin' Low
Chaffin, Ernie
07
Lonesome For My Baby
Chaffin, Ernie
08
I'm Lonesome
Chaffin, Ernie
09
Laughin' And Jokin'
Chaffin, Ernie
10
Linda
Chaffin, Ernie
11
Heart Of Me
Chaffin, Ernie
12
I'll Walk Alone
Chaffin, Ernie
13
Be Faithful To Me
Chaffin, Ernie
14
Got You On My Mind
Chaffin, Ernie
15
Born To Lose
Chaffin, Ernie
16
Nothing Can Change My Love...
Chaffin, Ernie
17
Miracle Of You
Chaffin, Ernie
18
Please Don't Ever Leave Me
Chaffin, Ernie
19
Easy To Love
Self, Mack
20
Goin' Crazy
Self, Mack
21
Everyday
Self, Mack
22
Easy To Love (2)
Self, Mack
23
Mad At You
Self, Mack
24
Vibrate
Self, Mack
25
Little One
Self, Mack
26
Lovin' Memories
Self, Mack
27
Willie Brown
Self, Mack
28
I'm Feelin' Sorry (1)
Lewis, Jerry Lee
29
I'm Feelin' Sorry (2)
Lewis, Jerry Lee
30
I'm The Guilty One
Lewis, Jerry Lee
31
Jump Right Out Of This Jukebox (1)
Wheeler, Onie
32
Walkin' Shoes
Wheeler, Onie
33
That's All
Wheeler, Onie
34
Tell 'Em Of
Wheeler, Onie
35
Jump Right Out Of This Jukebox (2)
Wheeler, Onie
36
Bonaparte's Retreat
Wheeler, Onie
Various - SUN Records - Sun Country Box 1950-1959 (6-CD Deluxe Box Set)

Box set 6
01
Train Of Love
Cash, Johnny
02
Home Of The Blues
Cash, Johnny
03
Ballad Of A Broken Heart
Blake, Tommy
04
Story Of A Broken Heart
Cash, Johnny
05
Ballad Of A Teenage Queen
Clement, Jack
06
Ballad Of A Teenage Queen
Cash, Johnny
07
Quinch My Thirst
Clement, Jack
08
Ten Years
Clement, Jack
09
Your Lover Boy
Clement, Jack
10
The Black Haired Man
Clement, Jack
11
Wrong
Clement, Jack
12
Alimony Blues
Steele, Gene
13
Daisy Bread Boogie
Steele, Gene
14
Try Doin' Right
Mississippi Slim
15
Fallen Angel
Hardrock Gunter
16
Gonna Dance All Night
Hardrock Gunter
17
Jukebox Help Me Find My Baby
Rhythm Rockers
18
Fiddle Bop
Rhythm Rockers
19
Honky Tonk Girl
Ballmann, Wanda
20
I'm Gonna Find Her
Dixieland Drifters
21
Maybe Tomorrow
Dixieland Drifters
22
Honky Toonk Gal
Perkins, Carl
23
Perkins Wiggle
Perkins, Carl
24
Y.O.U.
Perkins, Carl
25
Folsom Prison Blues
Cash, Johnny
26
If The Good Lord's Willing
Cash, Johnny
27
I Was There When It Happened
Cash, Johnny
28
Goodnight Irene
Lewis, Jerry Lee
29
Ole PalOf Yesterday
Lewis, Jerry Lee
30
Fools Like Me
Lewis, Jerry Lee
31
I'll Sail My Ship Alone
Lewis, Jerry Lee
32
Settin' The Woods On Fire
Lewis, Jerry Lee
33
So Ashamed
Feather, Charlie
34
Honky Tonk Kind
Feather, Charlie
35
Frankie And Johnny
Feather, Charlie
Bear Family Sun Records CD-Album Sun Records editions by Bear Family Records Sun Records...
mehr
"Various - SUN Records"
Bear Family Sun Records CD-Album
Sun Records editions by Bear Family Records
Sun Records editions by Bear Family Records
Sun RecordsIm Frühjahr 1952 riskierte es Sam Phillips, ein eigenes Plattenlabel zu gründen - Sun Records. Er war damals schon einige Jahre als unabhängiger Produzent tätig gewesen und hatte den größten R&B-Hit von 1951 aufgenommen, Jackie Brenstons Rocket 88.
Folglich wusste Sam Phillips, dass er den richtigen Job gewählt hatte. Aber würde es auch mit Sun Records klappen, wo doch viele unabhängige Labels schnell wieder dichtmachen mussten? Anfangs sah es auch nicht gut aus. Nach nur zwei Veröffentlichungen auf Sun Records gab es bereits eine einjährige Pause.
Doch allmählich stellten sich die Hits ein: Mit Aufnahmen von Rufus Thomas, den Prisonaires, von Junior Parker und natürlich von Elvis Presley. Dann gab es kein Halten mehr. Carl Perkins, Johnny Cash, Jerry Lee Lewis, Charlie Rich, Roy Orbison, Conway Twitty, Carl Mann, Billy Riley, Warren Smith und viele andere kamen hinzu. Sie haben die Welt der Popmusik nachhaltig verändert.
if you're not doing something different, you're not doing anything
Nach dem Verkauf des Labels Sun Records 1969 gab es ungezählte Wiederveröffentlichungen des Materials. Doch nur Bear Family hat sich dabei stets auf hohem Qualitätsniveau bewegt. Einzig und allein diese Neuauflagen von Sun Records sind empfehlenswert. Denn diese CDs und CD-Album Boxsets liefern den besten Klang, die besten Fotos, die besten Begleittexte und die beste Präsentation!
Bewertungen lesen, schreiben und diskutieren...
mehr
Kundenbewertungen für "Sun Country Box 1950-1959 (6-CD Deluxe Box Set)"
Von:
James Hartman
Am:
07.11.2019
Outstanding presentation of great and historically important music
The Sun Country Box and its companion, the Sun Rock Box, offer a broad look at this critical slice of American popular music. Featuring a range of lesser known artists (often idiosyncratic, but consistently interesting), rather than focussing exclusively on the stars, these collections give us a more accurate and comprehensive view of the musical culture of the time. Sound quality is excellent, and the included books are beautifully presented and clearly have been exhaustively researched.
Von:
Schweder
Am:
23.05.2014
This is the best stuff you can get. No doubt!!!
Von:
Redecker
Am:
13.03.2014
Umfangreiche Country-Werkschau des legendären Labels.
Rolling Stone 8/2013 Franz Schöler
Von:
Redecker
Am:
13.03.2014
As ever with Bear Family the sound and presentation are faultless and the fardback book that accompanies the set, a volume worth having on ist own.
Maverick July/August 2013 John Atkins
Von:
Redecker
Am:
13.03.2014
I'm not always overly keen on re-issues but when it comes to Bear Family Records there's always that little extra that is hard to find elsewhere.
Country Music People July 2013 Roland Purdy
Von:
Redecker
Am:
13.03.2014
Die Musik von SUN wird auf einem Bauernhof in Holse-Oldendorf bei Bremen gepflegt.
Die Welt Mai 2013 Michael Pilz
Von:
Redecker
Am:
13.03.2014
Diese prachtvolle Sechs-CD-Box rollt den Hillbilly-Katalog von Sam Phillips' Label von hinten auf und reicht dabei weit über Countrymusik hinaus.
Musikexpress 7/13 Frank Sawatzki
Von:
Redecker
Am:
13.03.2014
Diese neue Veröffentlichung besticht durch ein Hardcoverbuch im LP-Format mit 148 Seiten und vielen bisher nicht veröffentlichten Fotos und neueren und besseren Informationen als die die alte LP-Box noch liefern konnte. Klasse!
R & R Musikmagazin 3/2013 H.G. Hartig
Von:
Redecker
Am:
13.03.2014
This 6CD compilation is a much improved, brilliantly annotated revamp of the 1986 vinyl version and certainly adds to Bear Family's envious reputation.
Mojo 6/2013 Fred Dellar
Von:
Redecker
Am:
13.03.2014
The most revelatory of a three-volume survey of Sun Records (see also Blues Box and Rock Box), this six-CD set comes via Germany's Bear Family, which has arguably done more to preserve country-music history than any U.S. label
Rolling Stone May 8, 2013 Will Hermes
Von:
Redecker
Am:
13.03.2014
6 CDs mit revolutionären Country-Aufnahmen, die immer noch erfrischend wirken und die der Sun-Chef Sam Phillips verantwortete, sind nun in einer massiven Box zu genießen.
KulturSpiegel 4/2013 Christoph Dallach
Von:
Redecker
Am:
13.03.2014
There's so much stuff to consume in this glorious aural history that it's almost pointless to highlight standouts.
Record Collector 4/2013 Terry Staunton
Von:
Redecker
Am:
13.03.2014
It's a stunning set and defintely still a Rolls-Royce!
Now Dig This 3/13 Howard Cockburn
Von:
Ripmeester
Am:
28.04.2013
Best quality in the world
Bewertung schreiben
Bewertungen werden nach Überprüfung freigeschaltet.
Weitere Artikel von Various - SUN Records