Der Artikel wurde erfolgreich hinzugefügt.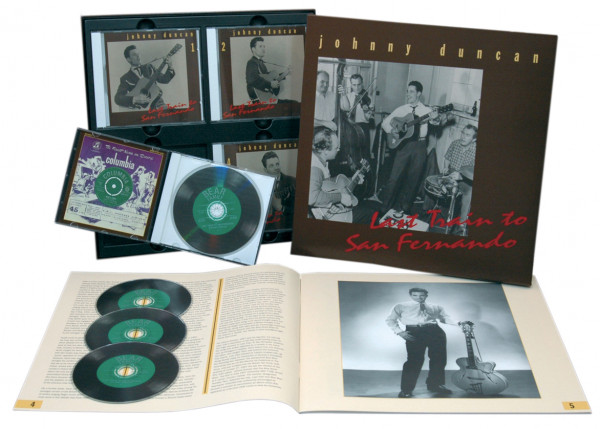 inkl. MwSt. / zzgl. Versandkosten - Abhängig vom Lieferland kann die MwSt. an der Kasse variieren.
Sofort versandfertig, Lieferzeit** 1-3 Werktage
Artikel-Nr.:

BCD15947

Gewicht in Kg.:

1.2
Obwohl er in den 50ern nur einige wenige Songs in den Charts hatte mit Last Train To San...
mehr
Johnny Duncan: Last Train To San Fernando (4-CD Deluxe Box Set)
Obwohl er in den 50ern nur einige wenige Songs in den Charts hatte mit Last Train To San Fernando, Footprints In The Snow und Blue Blue Heartaches, hatte Duncan eine riesige Fangemeinde. Seine späteren Aufnahmen waren mehr country als skiffle doch behielt er einen eigenen Stil bei. Um diesen Mann und seine Musik zu würdigen war dieser Set überfällig.

Er enthält sämtliche Original Aufnahmen für Columbioa England, Pye, Lucky und Decca. Eine detaillierte Discographie und Biographie mit vielen nie vorher gezeigten Fotos ist mit dabei.
Artikeleigenschaften von

Johnny Duncan: Last Train To San Fernando (4-CD Deluxe Box Set)
Albumtitel:

Last Train To San Fernando (4-CD Deluxe Box Set)

Genre

Jazz

Edition 2

Deluxe Edition

Artikelart

Box set

EAN:

4000127159472

Gewicht in Kg:

1.2
Johnny Duncan geb. 7. 9. 1931 in Oliver Springs - TennesseeRecord Labels: Columbia, Pye,...
mehr
"Johnny Duncan"
Johnny Duncan
geb. 7. 9. 1931 in Oliver Springs - TennesseeRecord Labels: Columbia, Pye, Lucky, Decca, Bear Family,AvesErster Top Ten Hit: Last Train To San Fernando (1957)John Franklin Duncan, ein amerikanischer G.l., der nachseiner Dienstzeit in England hängen geblieben war, hattedort starke Bindungen zur Skiffie Szene geknüpft un wurde 1956 Nachfolger von Lonnie Donegan in Chris Barber`s Skiffie Group. Seine erste Solo-Single spielte JohnnyDuncan mitseinen Bluegrass Boys im Frühjahr 1957 ein. Eswar eine Mischung aus Bluegrass und Rockabilly und warwenig erfolgreich. Erst mit ,Last Train To San Fernando"schaffte Johnny Duncan einen Top Ten Erfolg in der britischen Hit Parade. Die Follow-Ups konnten sich ebenfallsnoch gut platzieren, doch als die Skiffie Musik unmodernwurde, ging auch Johnny Duncan's Stern unter. Die 60erJahre liefen schlecht für ihn. Dann wanderte er 1974 nach Australien aus.
Johnny Duncan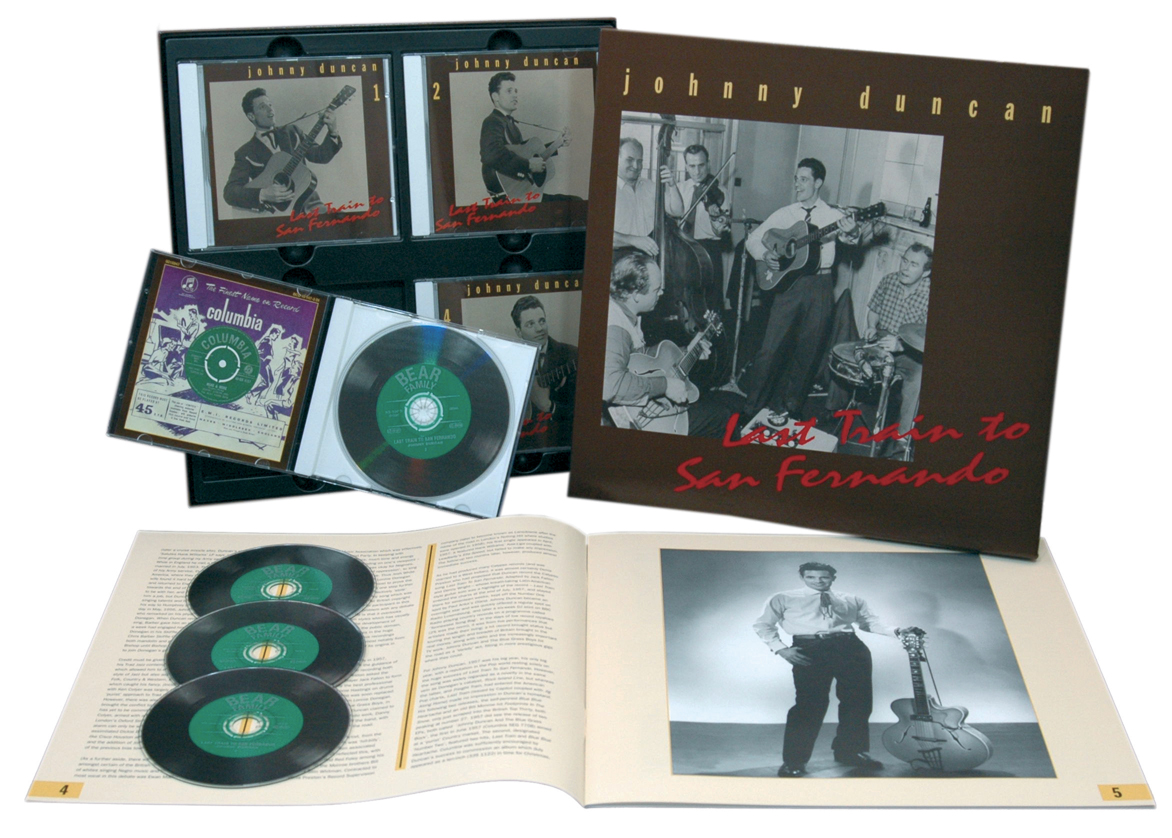 Johnny Duncan
Die vielleicht überraschendste Tatsache am Calypso Craze in England ist, dass der einzige authentische Calypso, der in diesem Jahr einen signifikanten Einfluss auf die britischen Rekord-Charts hatte, ein Calypso war, den nur wenige Menschen überhaupt als Calypso erkennen konnten. Denis Preston, der einflussreiche Produzent hinter so vielen der großen Calypsos, die in den 1950er Jahren für Melodisc hergestellt wurden,[i] entdeckte einen relativ obskuren Straßenmarsch aus dem letzten Jahrzehnt, ländlich, und erzielte damit einen Hit als Teil von Englands Skiffle-Wahn, als Johnny Duncan und der "Last Train to San Fernando" der Blue Grass Boys[Track 21] auf Platz zwei der britischen Rekord-Charts landeten. (Skiffle, der Versuch der britischen Jugend, die Popmusik ihres Landes zu beleben, indem sie sich in den amerikanischen Blues und Folk vertieft, hat sich in den USA trotz seiner amerikanischen Krug-Band-Wurzeln nie wirklich durchgesetzt).
Duncan war aus Michigan, hatte Zeit in Texas verbracht und behauptet, mit Bill Monroe, dem Vater von Bluegrass, gespielt zu haben; er war nach England gegangen, nachdem er in Amerika keinen Erfolg hatte. Bei seiner ersten Studio-Session dort nahm er Songs von Hank Williams und Leadbelly auf, aber sie fingen kein Feuer. Als er ins Studio zurückkehrte, wählte er einen Zug-Song mit einer sanften Melodie - vielleicht mit dem größten Skiffle-Hit des Tages, Lonnie Donnegans Cover von Leadbelly's "Rock Island Line". Paul Pelletier erklärt die Wahl:
Da er viele Calypso-Platten produziert hatte (und mit einem Westinder verheiratet war), war es fast sicher Denis Preston, der vorgeschlagen hatte, dass Duncan den Calypso-Song "Last Train to San Fernando" aufnehmen sollte. Adaptiert von Jack Fallon und Denny Wright, deren atemberaubendes Gitarrensolo im lateinamerikanischen Stil ein Höhepunkt der Platte war, stieg "Last Train" Ende Juli 1957 in die Charts ein und blieb dort für siebzehn Wochen, hielt sich von Paul Anka's "Diana" fern. Johnny Duncan wurde über Nacht zum Star und bekam schnell einen festen Platz bei Radio Luxembourg und später einen sechswöchigen DJ-Start bei BBC Radio mit Country-Records in der Sendung "Tennessee Song Bag".
"Der "Letzte Zug nach San Fernando" hatte sein Leben als Road March-Kandidat 1949 oder 50 für Mighty Dictator (Kenny St. Bernard) begonnen. Auf seiner Oberfläche scheint der Chor des Liedes die Dringlichkeit zu vermitteln, den letzten Zug des Abends von Trinidads Hauptstadt, Port of Spain, in seine zweite Stadt, San Fernando, zu nehmen, bevor der Dienst für die Nacht geschlossen wird. (Zweifellos haben viele, die Duncans Version gehört haben, San Fernando für eine Stadt im Südwesten von Texas und nicht im Südwesten von Trinidad gefunden. Man muss aber nicht tief graben, um eine klassische Trini-Doppelentendre über "Dorothy" zu hören, die der Sängerin eine letzte Chance auf einen Seitensprung ("If you miss this one / You'll never get another one") vor ihrer bevorstehenden Hochzeit bietet ("Be careful of the place you are taking me /Because if you slip"), Ich werde rutschen/ Und ich werde nie eine Braut sein")-aber Duncans hüpfende Lieferung verdeckt den rassigen Subtext.
Tatsächlich trägt Preston wohl einen großen Teil der Verantwortung für die Popularität von Calypso in Großbritannien nach dem Krieg. Laut Richard Noblett hatte Preston, der auch die Produktion von Dutzenden einflussreicher Jazzscheiben für Pye und Columbia in Großbritannien leitete, Freddy Grants Westindische Calypsonians auf die Rechnung eines Jazzkonzertes gesetzt, das er 1945 in London gegeben hatte. Drei Jahre später, als Deccas Repräsentant in New York, entdeckte er die Harlem Calypso-Szene und ging nach England zurück, um die Musik dort zu promoten.
Johnny Duncan: Travelin' Blues
Der transplantierte Amerikaner Johnny Duncan war mit seiner Version des Calypso-Songs Last Train To San Fernando - ein Hit Nr. 2 von 1957 - eine kurze Sensation in England. Nachfolgende Singles und Album-Tracks wie diese machten deutlich, dass Duncans Herz in der Country-Musik lag. Er war ein Bergmannssohn, geboren in Oliver Springs, Tennessee am 7. September 1932, und ging in seiner Jugend nach Texas, wo er Gitarre lernte und mit einem Hillbilly-Trio auftrat. Dann kam der Entwurf. Er kam 1952 als Soldat nach England. Ein Jahr später heiratete er ein Mädchen aus Cambridgeshire, Betty. Nach einer kurzen Rückkehr in die USA brachte sie ihre Krankheit und ihr Heimweh zurück, und er arbeitete kurz am Marktstand ihres Vaters. Es war während des Auftritts im American Club in Bushey Park, dass Duncan die Aufmerksamkeit von Dickie Bishop, Banjoist bei Chris Barber's Jazz Band, auf sich zog. Bishop lud Duncan zu einem Treffen mit Barber ein - und Duncan wurde für £10 pro Woche eingestellt. Er blieb ein Jahr lang beim Barbier, spielte, nahm auf und sendete. Nachdem der letzte Zug nach San Fernando eine allzu ferne Erinnerung geworden war, kehrte er in die USA zurück, bevor er sich in Sunderland, Nordengland, niederließ. Er tourte 1972 durch Australien und wanderte anschließend nach New South Wales aus. Er starb am 15. Juli 2000.
Bewertungen lesen, schreiben und diskutieren...
mehr
Kundenbewertungen für "Last Train To San Fernando (4-CD Deluxe Box Set)"
Von:
Robert
Am:
29.09.2017
Bewertung schreiben
Bewertungen werden nach Überprüfung freigeschaltet.
Weitere Artikel von Johnny Duncan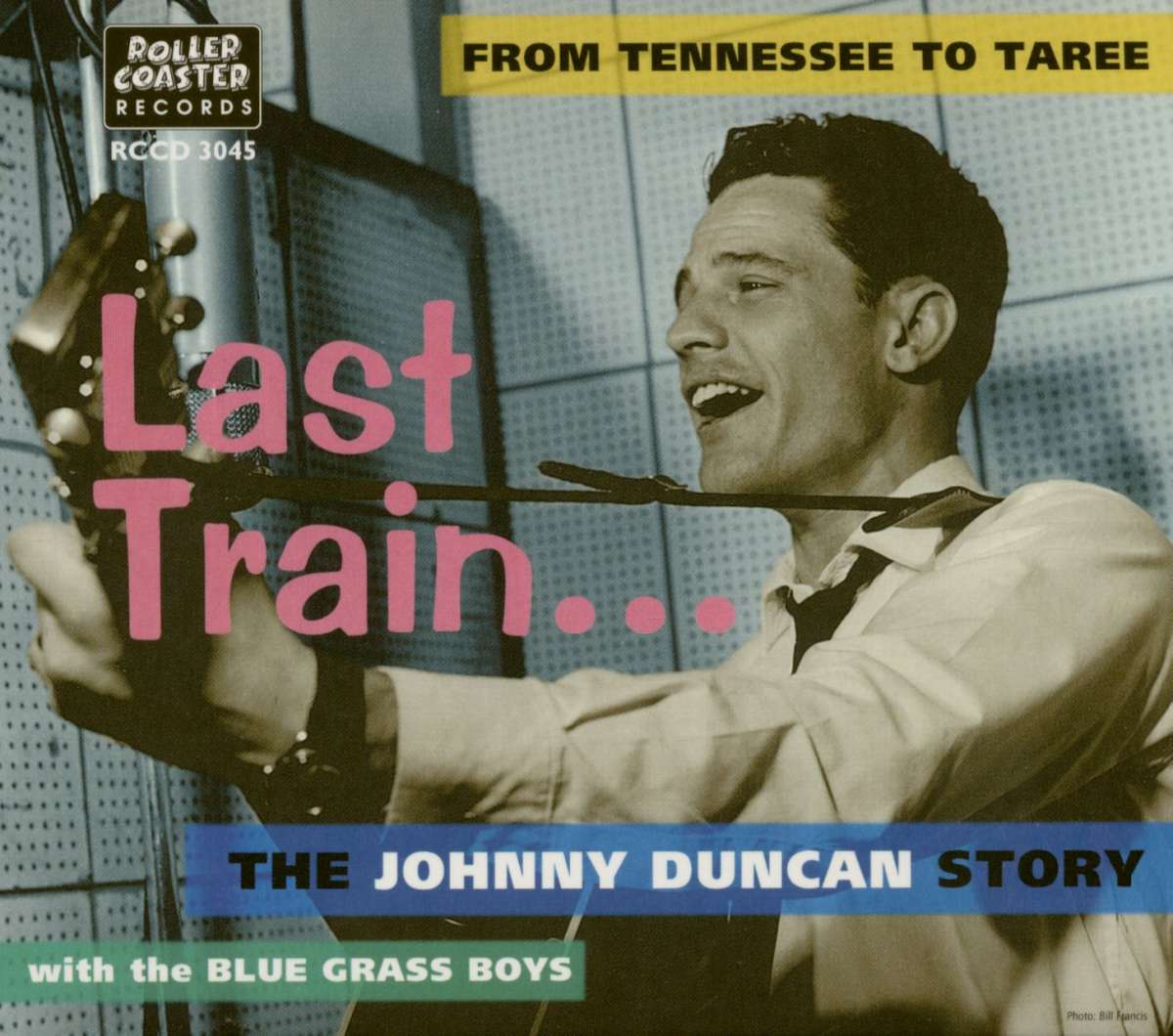 Johnny Duncan: Last Train...From Tennessee To Taree - The...
Art-Nr.: CDROLL3045


Sofort versandfertig, Lieferzeit** 1-3 Werktage