Der Artikel wurde erfolgreich hinzugefügt.
The Flairs
The Ultimate Flairs (feat.Richard Berry) (CD)
Artikel-Nr.:

CDCHD1023

Gewicht in Kg.:

0.1
(ACE Records)) 29 Tracks 1953-63 - 12-seitiges Booklet Die unverzichtbare CD für die Liebhaber...
mehr
The Flairs: The Ultimate Flairs (feat.Richard Berry) (CD)
(ACE Records)) 29 Tracks 1953-63 - 12-seitiges Booklet Die unverzichtbare CD für die Liebhaber von L.A.'s führender Doo-Wop Gesangsgruppe - den Flairs - sowohl im eigenen Namen als auch in anderer Form. Die Flairs wurden unter eigenem Namen und unter Pseudonymen aufgenommen, wie aus dem beiliegenden Tracklisting ersichtlich ist - dies ist das erste Mal, dass sie alle auf einer CD zusammengefasst sind. Dies ist die originale Flair-Gruppe mit Richard Berry als Hauptdarsteller.
Für Plattenfirmenbesitzer war es in den 50er Jahren oft üblich, eine Gesangsgruppe nach einem Ihrer Labels benennen zu lassen.
Die Familie Bihari, Eigentümer der Modern Gruppe von Etiketten, waren da keine Ausnahme. Sie hatten das Label Flair 1953 mit einem Hang zum Hillbilly gegründet, beschlossen dann aber, das musikalische Spektrum des Labels um Blues und R&B zu erweitern. Was gibt es Besseres, als eine Gesangsgruppe namens Flairs als Schaufenster für das Flair-Label zu haben? Die Flairs wurden geboren und entwickelten sich zu einer der angesehensten Gesangsgruppen der West Coast Doo Wop Szene.
Ace hat FLAIRS Tracks schon früher im Rahmen der sechsbändigen Umfrage von Modern Vocal Groups" (CDCHD 698 / 723 / 741 / 764 / 783 / 817) veröffentlicht, aber jetzt ist es an der Zeit, dem Output der Gruppe eine CD zu widmen, sowohl unter ihrem eigenen Namen als auch unter einigen Pseudonymen. Bestehend aus Richard Berry, Cornel Gunter, Obie Jessie, Peter Fox und Beverly Thompson, gründeten sich die Flairs Ende 1952, während viele der Mitglieder an der Jefferson High School in Los Angeles waren. Richard Berry war der Hauptsongwriter und Leadsänger der Gruppe, obwohl Cornel Gunter den Lead-Gesang mit Obie Jesse (alias Young Jessie) teilte.
Die sechs Single-Veröffentlichungen der Gruppe auf dem Flair-Label sind ebenso enthalten wie Ausflüge, bei denen sie sich als die Hunters und möglicherweise als die Whips ausgaben. Es gab eine Überschneidung der Mitgliedschaft zwischen den Flairs und den Gruppen namens Five Hearts und den Rams, so dass auch ihre Tracks enthalten sind. Jeder Track wurde von Gordon Skadberg von Earlybird Records ausführlich kommentiert.
Außerdem werden Tracks aus dem Crown-LP-Ausflug von 1963 gezeigt. Interessanterweise hatte das Crown-Album-Cover ein echtes Fazzio-Malerei". Es stellt sich heraus, dass es sich in Wirklichkeit um eine Farbauffrischung des Flairs Original Flair-Labels handelt, das auf dem Cover der CD abgebildet ist. Es war die Gewohnheit der Leute bei Modern, die Tracklistings der frühen Crown-Veröffentlichungen auf die Rückseite von verworfenen LP-Cover-Slicks oder Promo-Material zu schreiben. Viele sind auf der Rückseite von Red Callender's seltenem Album (Modern LP 1201) abgedruckt, aber das Coverfoto tauchte als Rückseite der Tracklist von "Organ Fantasy in Hi-Fi" von Betty Staples auf Crown 5023 und auf ein paar LPs von Eddie Gomez auf!
Nach der Aufnahme einer faszinierenden Kombination aus Balladen und Up-Tempo-Items trennte sich die Gruppe nach ein paar Jahren. Jeder der Leadsänger hat es geschafft, eine ziemlich gute Karriere zu machen. Richard Berry schrieb und nahm weiter auf, darunter das Wahrzeichen Louie Louie Louie" mit den Pharaonen auf dem Label Flip. Seine Solo-Bemühungen und als Anführer der Pharaonen sind auf CDCH 355 Richard Berry "Get Out Of The Car" sowie CDCHD 977 Richard Berry "Have 'Louie' Will Travel" zu hören. Cornel Gunter fuhr mit späteren Flairs-Gruppen auf Modern (hinter seiner Schwester Shirley) und mit den Ermines auf Loma fort. Er hatte auch eine dreijährige Zusammenarbeit mit den weltberühmten Coasters des Labels Atco. Obie Jessie hatte auch eine erfolgreiche Solokarriere als Young Jessie und auch er hatte einen Zauber bei den Coasters. Seine Soloausgabe ist in CDCHD 607 Young Jessie "I'm Gone" zu sehen. Später wurde der Name Flairs von Platters Manager Buck Ram wiederverwendet. Seine Gruppe hatte andere Mitglieder als die ursprüngliche Gruppe und änderte dann ihren Namen zu den Flares und hatte den Hit'Foot Stompin'. Die Aufnahmen dieser Gruppe sind auf The Flares "Footstomping" (CDCHD 841) erhältlich.
Was die ursprüngliche Gruppe angeht, wären sie eher in den 60er als in den 50er Jahren gegründet worden, hätten sie wahrscheinlich den Namen "Supergruppe" erhalten. Hier, zum ersten Mal in einer legitimen CD-Neuauflage, sind die besten Aufnahmen der Gruppe. Wie Gordon Skadberg in seinen Notizen sagt - sie waren das Ultimative!
Von Peter Gibbon
Artikeleigenschaften von

The Flairs: The Ultimate Flairs (feat.Richard Berry) (CD)
Albumtitel:

The Ultimate Flairs (feat.Richard Berry) (CD)

Genre

Doo-Wop

Artikelart

CD

EAN:

0029667003322

Gewicht in Kg:

0.1
Flairs, The - The Ultimate Flairs (feat.Richard Berry) (CD)

CD 1
01
I Had A Love
02
She Wants To Rock
03
Down At Hayden's
04
Rabbit On The Log
05
Tell Me You Love Me
06
You Should Care For Me
07
She Done Me Wrong
08
Pleadin' Heart
09
The Fine One
10
Please Please Baby
11
Getting High
12
Love Me Girl
13
Baby Wants
14
You Were Untrue
15
This Is The Night For Love
16
Let's Make With Some Love
17
My Heart's Crying For You
18
Love Me Love Me Love Me
19
I'll Never Let You Go
20
Hold Me, Thrill Me, Chill Me
21
Rock Bottom
22
Sweet Thing
23
My Darling, My Sweet
24
She Loves To Dance
25
Real Good Lovin' Man
26
Lonesome Desert
27
I Want You To Be Mine
28
Tell Me You're Mine
29
(Why Do) I Love You
The Flairs The Flairs I Had A Love Even sharp-eared judges of talent like the Bihari...
mehr
"The Flairs"
The Flairs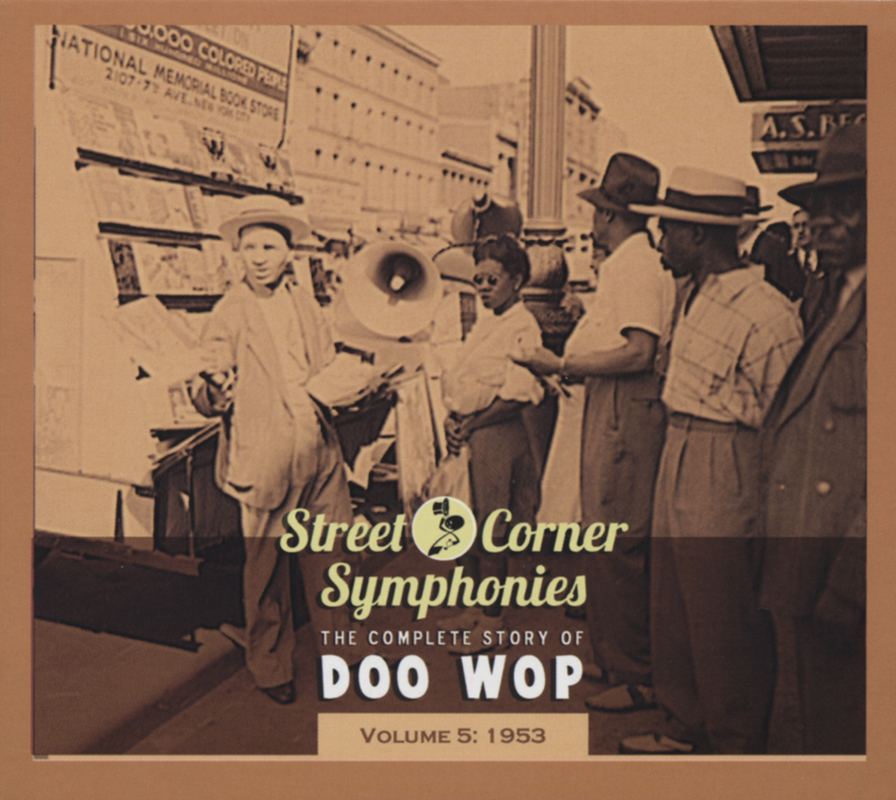 The Flairs
I Had A Love
Even sharp-eared judges of talent like the Bihari brothers, the owners of Modern Records in Los Angeles, may not have fully realized just how much young talent was packed into The Flairs. Three future stars resided in their ranks, though the looseness inherent to the L.A. vocal group scene ensured that a fair amount of unknowns would eventually roll through too.
It all began in 1952 with an outfit called The Debonaires, whose members included lead tenor Cornell Gunter, first tenor Beverly Thompson, tenor Thomas 'Pete' Fox, baritone Obie Jessie, and bass Richard Berry. All except Thompson attended Jefferson High School, located near the charismatic John Dolphin's record store, Dolphin's of Hollywood. The quintet dropped by the shop that December and landed a deal to make their debut platter, coupling a Gunter-fronted I Had A Love and the Berry showcase Tell Me You Love Me, for Dolphin's Recorded in Hollywood label. John released the single the next month, calling them The Hollywood Blue Jays.
When that effort sank without trace, the group tried their luck with better-established Modern in the summer of 1953. A&R man Joe Bihari, youngest of the brothers, convinced the group to rename themselves after the imprint they'd be cutting for, Flair Records. First up that July was a more professional redo of the breathtaking ballad I Had A Love, penned by Jessie and led by Gunter (Berry led the rowdy B-side, She Wants To Rock). 'Billboard' chose both sides as a 'Buy o' the Week' in early September, but the single didn't break nationally.
The Flairs issued a half-dozen followups on Flair stretching into 1955, but the in-demand Berry left to pursue other opportunities, including writing and cutting the original Louie Louie in 1957 for the Flip label. Young Jessie, as he was known by then, had his own '55 West Coast hit for Modern with Mary Lou, and Fox joined The Cadets (aka The Jacks), leaving Gunter the only original Flair when Buck Ram took over their managerial reins and got them a deal in 1956 with ABC-Paramount. The Flairs were still in business under Ram's supervision when Cornell left in '57. He'd join The Coasters the next year, participating on most of their big sellers.
Various - Street Corner Symphonies Vol.05, 1953 The Complete Story Of Doo Wop

Read more at: https://www.bear-family.de/various-street-corner-symphonies-vol.05-1953-the-complete-story-of-doo-wop.html
Copyright © Bear Family Records
Bewertungen lesen, schreiben und diskutieren...
mehr
Kundenbewertungen für "The Ultimate Flairs (feat.Richard Berry) (CD)"
Bewertung schreiben
Bewertungen werden nach Überprüfung freigeschaltet.