Der Artikel wurde erfolgreich hinzugefügt.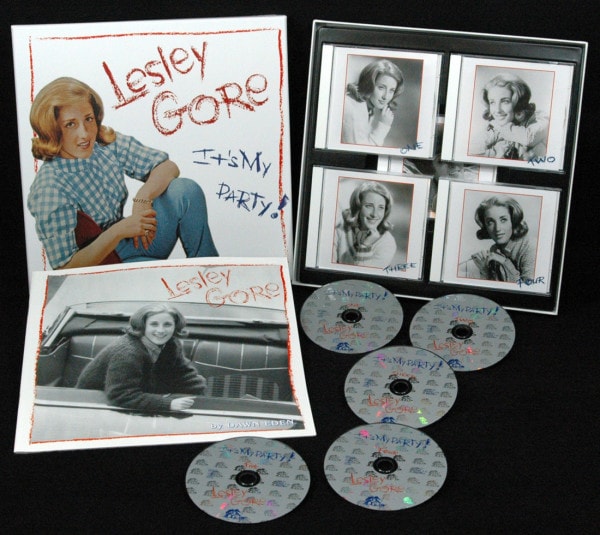 89,95 € *
94,95 € *
(5,27% gespart)
inkl. MwSt. / zzgl. Versandkosten
Sofort versandfertig, Lieferzeit** 1-3 Werktage
Artikel-Nr.:

BCD15742

Gewicht in Kg.:

1.25
5-CD-Album Box Set (LP-Format) mit 32-seitigem Buch, 148 Einzeltitel. Spieldauer ca. 374 Minuten....
mehr
Lesley Gore: It's My Party (5-CD)
5-CD-Album Box Set (LP-Format) mit 32-seitigem Buch, 148 Einzeltitel. Spieldauer ca. 374 Minuten.

Klassischer Pop der frühen Sechzigerjahre von Lesley Gore! Auf diesem Album Box Set finden Sie sämtliche von Lesley Gore zwischen 1963 und 1965 für Mercury gemachten Aufnahmen, die Zusammenfassung einer Ära. It's My Party, Judy's Turn To Cry, She's A Fool, You Don't Own Me sind nur einige der zeitlosen Hits. Lesley Gore erzählt eingehend darüber, wie es ist, mit 17 ein Star zu sein. Die Produzenten erzählen von den Aufnahmen. Ein tiefer Einblick in eine goldene Zeit des amerikanischen Pop auf 5 CDs. Lesley Gore starb am 16ten Februar 2015 im Alter von 68 Jahren in Manhattan, N.Y.!

Video von Lesley Gore - It's My Party (5-CD)
Artikeleigenschaften von

Lesley Gore: It's My Party (5-CD)
Albumtitel:

It's My Party (5-CD)

Genre

Rock'n'Roll

Edition 2

Deluxe Edition

Preiscode

EI

Artikelart

Box set

EAN:

4000127157423

Gewicht in Kg:

1.25
Gore, Lesley - It's My Party (5-CD)

Box set 1
01
Hello Young Lover
02
Something Wonderful
03
It's My Party
04
Danny
05
The Party's Over
06
Judy's Turn To Cry
07
Just Let Me Cry
08
Misty
09
Cry Me A River
10
I Would
11
No More Tears
12
Cry And You Cry Alone
13
I Understand
14
Cry
15
Sunshine, Lollipops And Rainbows
16
What Kind Of Fool Am I?
17
If That's The Way You Want It
18
She's A Fool
19
I'll Make It Up To You
20
The Old Crowd
21
I Struck A Match
22
Consolation Prize
23
Run Bobby Run
24
Young And Foolish
25
Fools Rush In (Where Angels Fear To Tread)
26
My Foolish Heart
27
That's The Way The Ball Bounces
28
After He Takes Me Home (1. voice)
29
After He Takes Me Home (2. voices)
30
You Don't Own Me (mono)
31
You Don't Own Me (stereo)
32
Time To Go
33
You Name It
34
That's The Way Boys Are
35
Boys
36
I'm Coolin', No Foolin'
37
Don't Deny It
38
I Don't Wanna Be A Loser
39
It's Gotta Be You
40
Leave Me Alone
41
Don't Call Me
42
The Look Of Love
43
The Look Of Love
44
Wonder Boy
45
Secret Love
46
Maybe I Know
47
Live And Learn
48
Sometimes I Wish I Were A Boy
49
Hey! Now
50
I Died Inside
51
Movin' Away
52
It's Just About That Time
53
Little Girl Go Home
54
Say Goodbye
55
You've Come Back
56
I Just Don't Know If I Can
57
That's The Boy
58
All Of My Life
59
What's A Girl Supposed To Do
60
Before And After
61
I Cannot Hope For Anyone
62
I Don't Care
63
You Didn't Look Around
64
Baby That's Me
65
No Matter What You Do
66
Sunshine And Lollipops
67
What Am I Gonna Do With You
68
It's All In The Game
69
Love Look Away
70
Let It Be Me
71
When Sunny Gets Blue
72
What Am I Gonna Do With You
73
A Girl In Love
74
Just Another Fool
75
My Town, My Guy And Me
76
Let Me Dream
77
The Things We Did Last Summer
78
Start The Party Again
79
I Can Tell
80
I Won't Love You Anymore
81
I Just Can't Get Enough Of You
82
Only Last Night
83
Any Other Girl
84
I Can Tell
85
To Know Him Is To Love Him
86
Young Love
87
Too Young
88
Will You Love Me Tomorrow
89
We Know We're In Love
90
Yeah Yeah Yeah That Boy Of Mine
91
That's What I'll Do
92
Lilacs And Violets
93
Off And Running
94
Happiness Is Just Around The Corner
95
Hold Me Tight
96
Cry Like A Baby
97
Treat Me Like A Lady
98
Maybe Now
99
The Bubble Broke
100
California Nights
101
I'm Going Out The Same Way I Came
102
Bad
103
Love Goes On Forever
104
Summer And Sandy
105
I'm Fallin' Down
106
Brink Of Desaster
107
On A Day Like Today
108
Where Can I Go
109
You Sent Me Silver Bells
110
I'm Fallin' Down
111
He Won't See The Light
112
Magic Colors
113
How Can I Be Sure
114
To Sir With Love
115
It's A Happening World
116
Small Talk
117
Say What You See
118
He Gives Me Love (La La La)
119
Brand New Me
120
I Can't Make It Without You
121
Look The Other Way
122
Take Good Care (Of My Heart)
123
I'll Be Standing By
124
Ride A Tall White Horse
125
98.6/Lazy Day
126
Summer Symphony
127
All Cried Out
128
One By One
129
Wedding Bell Blues
130
Got To Get You Into My Life
131
Goodbye Tony (You Don't Own Me)
132
Musikant (Time To Go)
133
So sind die Boys alle
134
Nur du allein
135
Hab ich das verdient
136
Der erste Tanz
137
Little Little Liebling
138
Sieben Girls
139
Tu T'En Vas
140
Je Ne Sais Plus
141
Je N'Ose Pas
142
Si Ton Coeur Le Desire
143
Je Sais Qu'Un Jour
144
C'Est Trop Tard
145
Eh! Non
146
Te Voilà
147
Judy's Turn To Cry (italian)
148
You Don't Own Me (italian)
Lesley Gore Geboren am 2. 5. 1946 in New York City als Lesley Goldstein. Lesley Gore ist...
mehr
"Lesley Gore"
Lesley Gore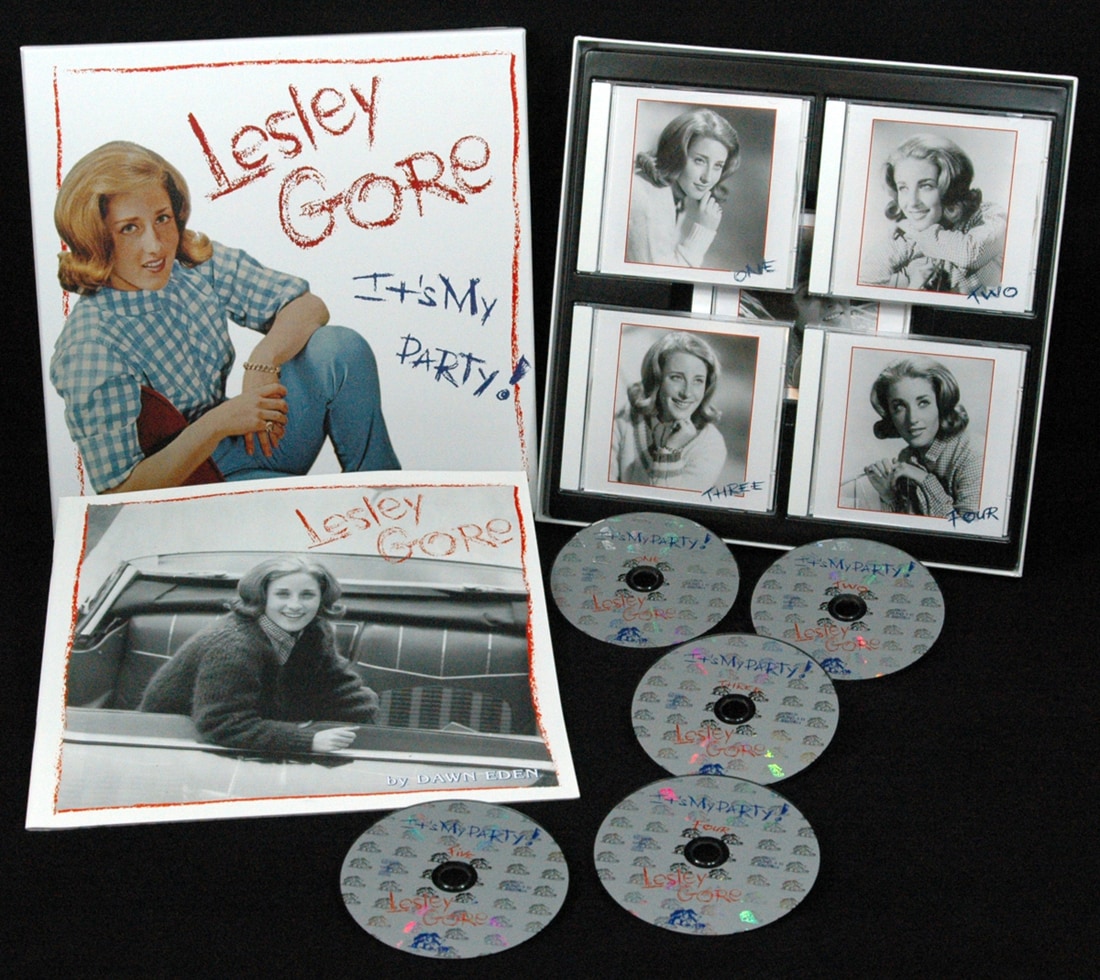 Geboren am 2. 5. 1946 in New York City als Lesley Goldstein. Lesley Gore ist am 16.02.2015 an Krebs in New York gestorben. Hatte ihre Hoch-Zeit während des Girl-Group-Booms- konnte sich aber, im Gegensatz zu fast allen Kolleginnen, auch noch Jahre danach mit mehreren Aufnahmen im Vorderfeld der Hitlisten behaupten.

Im Mai 1963 gelang ihr mit 'It's My Party' ein 6Os-Klassiker (Nr.1 in den USA), 18 weitere Chart-Einträge folgten bis 1967. Viele ihrer Top-Titel auf Mercury wurden von Quincy Jones produziert. Gore war außerdem Darstellerin in diversen Spielfilmen wie 'Girls On The Beach' (kein deutscher Verleih), wirkte in Musicals wie 'Half A Sixpence' und "Funny Girl' sowie einigen TV-Serien (z. B. 'Batman') mit. Sie komponierte später mit ihrem Bruder Michael Musik für den Kinofilm 'Fame'. 1999 sang sie den Titel 'All One Family' auf der Benefiz-CD 'Sounds For The Soul' für Wohltätigkeitsprojekte in New Jersey. Im selben Jahr spielte sie die Hauptrolle im Broadway-Musical 'Smokey Joe's Café'. Der amerikanische Kabelsender A & E strahlte am 7.1.2001 eine TV-Biographie der Sängerin aus. 2002 begann sie mit ihrem Bruder mit Arbeiten an 'Fame 2002', einem Projekt des Senders ABC.

Aus dem Bear Family Buch - 1000 Nadelstiche von Bernd Matheja - BFB10025 -
Bewertungen lesen, schreiben und diskutieren...
mehr
Kundenbewertungen für "It's My Party (5-CD)"
Von:
Tom Richards
Am:
12.03.2018
Complete Mercury Recordings 1963-1969
Lesley Gore's complete Mercury recordings from 1963 through the end of her contract in 1969. Many of these wonderful recordings were unearthed by Bear Records and had been buried in the vaults until the initial release of this master set in 1994.

Some of the pictures could be better (more representative) and the narrative by Dawn Eden is good, but not always completely accurate. Had this been written by several fans with experience in writing, the accompanying book could have been much more engaging.

But who can argue with the powerful, delightful, and sophisticated sound of Lesley Gore? All of these songs are gems to be treasured for the next centuries. Bear has done a great job in bringing them all together, and releasing them in the order they were recorded. It's too bad there weren't more between session conversations or "takes" that had been left on the tapes, but Mercury was apparently cheap and erased that bit of history. The big star in all of this is Lesley herself -- her voice rings out supreme and many of the songs, particularly at the beginning and the end, have "hit" written all over them. One of the sad sagas of the Lesley Gore era is that Lesley had so many great singles at her disposal, but the record company chose to release the weaker (non-commercial) sides as singles. Thankfully, we have 11 top 40 hits and 18 hits that made the hot 100 -- there could have been many more, as you'll hear if you listen to the unreleased sides on this Bear Records set. I don't think there will ever be another LESLEY GORE. Buy this 5 CD set. It is well worth it and you will find it captivating.
Von:
michael
Am:
21.02.2015
Eine grossartige Zusammenstellung
Eine grossartige Zusammenstellung, darf in keiner Sammlung fehlen.
Bewertung schreiben
Bewertungen werden nach Überprüfung freigeschaltet.
Weitere Artikel von Lesley Gore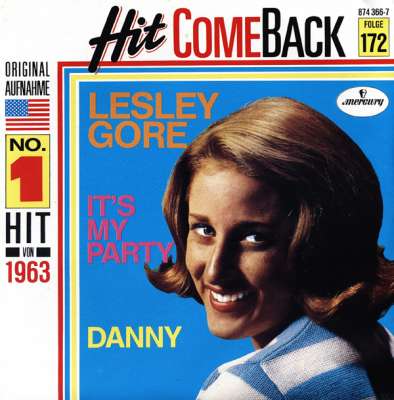 Lesley Gore: It's My Party - Danny 7inch, 45rpm ps
Art-Nr.: 874366


Artikel muss bestellt werden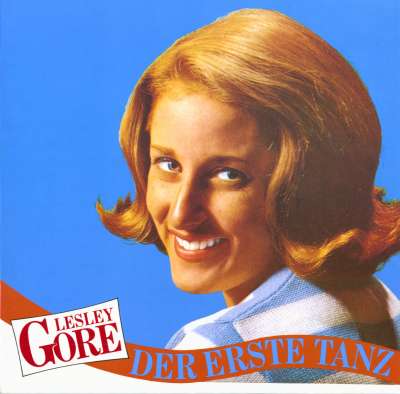 Lesley Gore: Der erste Tanz - Die deutschen Aufnahmen von...
Art-Nr.: BF15264


Sofort versandfertig, Lieferzeit** 1-3 Werktage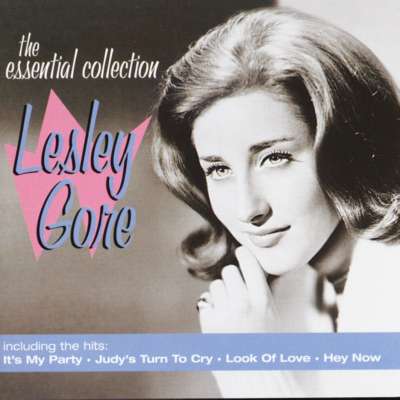 Lesley Gore: Essential Collection
Art-Nr.: CD554764


Artikel muss bestellt werden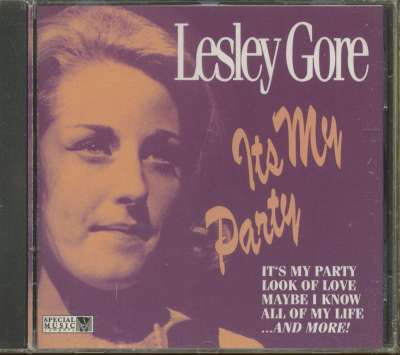 Lesley Gore: It's My Party (CD)
Art-Nr.: CD836688


Artikel muss bestellt werden
Lesley Gore: Magic Colors - The Lost Album...plus
Art-Nr.: CDCHD1307


Sofort versandfertig, Lieferzeit** 1-3 Werktage