Der Artikel wurde erfolgreich hinzugefügt.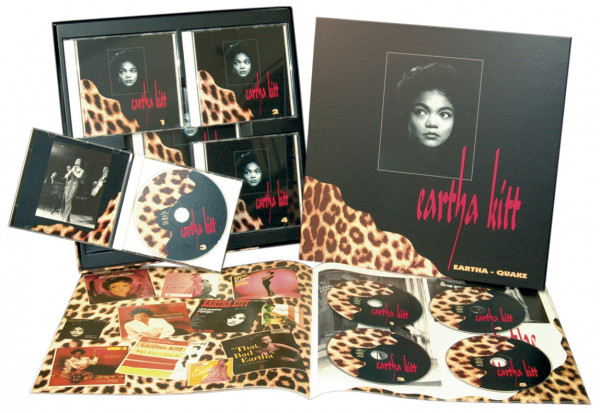 Dieser Artikel ist gestrichen und kann nicht mehr bestellt werden!
Benachrichtigen Sie mich, sobald der Artikel lieferbar ist.
Artikel-Nr.:

BCD15639

Gewicht in Kg.:

1.4
5-CD Box (LP-Format) mit 40-seitigem Buch, 132 Einzeltitel. Spieldauer ca. 380 Minuten. Sie...
mehr
Eartha Kitt: Eartha-Quake (5-CD)
5-CD Box (LP-Format) mit 40-seitigem Buch, 132 Einzeltitel. Spieldauer ca. 380 Minuten.

Sie muss man wirklich nicht vorstellen. Zu sagen bleibt nur, dass diese Zusammenstellung alle Studioaufnahmen aus Earthas erstem Jahrzehnt als Sängerin mit Plattenvertrag enthält: die hochgelobten RCA-Aufnahmen sowie ihre Kapp- und Seeco-Einspielungen. Wir haben auch die Songs ihrer amerikanischen Broadway-Show, "New Faces of 1952", sowie ihre ersten Aufnahmen aus Paris von 1950 dazu gepackt. Weitere Zugaben sind ihre ungeheuer seltenen schwedischen Aufnahmen und ihre Songs aus dem Musical "Mrs. Patterson" sowie der W.C. Handy-Filmbiografie. 'Kitt Klassics' dieser Box sind u.a.: I Want To Be Evil, C'Est Si Bon, Uska Dara, African Lullaby, Santa Baby, Let's Do It, My Heart Belongs To Daddy, Apres Moi, Mink Schmink, Dinner For One Please James, Just An Old Fashioned Girl, There's No Cure For L'Amour, Thursday's Girl, Toujours Gai, Mack The Knife... und viele, viele andere
Artikeleigenschaften von

Eartha Kitt: Eartha-Quake (5-CD)
Albumtitel:

Eartha-Quake (5-CD)

Genre

Pop

Edition 2

Deluxe Edition

Preiscode

EI

Artikelart

Box set

EAN:

4000127156396

Gewicht in Kg:

1.4
Kitt, Eartha - Eartha-Quake (5-CD)

Box set 1
01
-
02
Annie Doesn't Live Here Any More
03
Lilac Wine
04
I Want To Be Evil
05
C'est Si Bon
06
Two Lovers
07
Mountain High, Valley Low
08
Angelitos Negros
09
Uska Dara
10
Avril Au Portugal (April In Portugal)
11
African Lullaby
12
Senor
13
Santa Baby
14
Under The Bridges Of Paris
15
Oh John! (Please Don't Kiss Me)
16
Let's Do It
17
Salangadou
18
Sandy's Tune
19
Smoke Gets In Your Eyes
20
The Blues
21
My Heart Belongs To Daddy
22
Lovin' Spree
23
Somebody Bad Stole De Wedding Bell
24
Looking For A Boy
25
Lonely Girl
26
Easy Does It
27
I Wantcha Around
28
Apres Moi
29
Mink Shmink
30
This Year's Santa Baby
31
Hey Jacque
32
Strangers In The Starlight
33
Do You Remember
34
The Day That The Circus Left Town
35
The Heel
36
Mambo De Paree
37
I've Got That Lovin' Bug Itch
38
Dinner For One Please, James
39
My Heart's Delight
40
Freddy (& PEREZ PRADO)
41
Sweet And Gentle (& PEREZ PRADO)
42
Sho-Jo-Ji (The Hungry Racoon)
43
Nobody Taught Me
44
Nothin' For Christmas
45
Je Cherche Un Homme (I Want A Man)
46
If I Can't Take It With Me
47
Just An Old Fashioned Girl
48
Mademoiselle Kitt
49
Oggere
50
No Importa Si Menti
51
Lazy Afternoon
52
There Is No Cure For L'Amour
53
Lisbon Antigua
54
Lullaby Of Birdland
55
Jonny
56
There Is No Cure For L'Amour
57
Fascinating Man
58
Thursday's Child
59
Le Danseur De Charleston
60
Honolulu Rock And Roll
61
Vid Kajen (swedish)
62
Rosenkyssar (swedish)
63
Put More Wood On The Fire
64
Enough
65
I'm A Funny Dame
66
A Woman Wouldn't Be A Woman
67
Toujour Gai
68
Waydown Blues
69
Proceed With Caution
70
Yomme, Yomme
71
Take My Love, Take My Love
72
Careless Love
73
Beale Street Blues
74
Hesitating Blues
75
The Memphis Blues
76
Atlanta Blues
77
Friendless Blues
78
Yellow Dog Blues
79
Chantez Les Bas
80
St. Louis Blues
81
Long Gone
82
Steal Away
83
Hist The Window, Noah
84
Shango
85
Sholem
86
Torah Dance (Kim'tzion)
87
Tierra Va Temblar
88
Mack The Knife
89
I'd Rather Be Burned As A Witch
90
Independent
91
Love Is A Gamble
92
Yellow Bird
93
Jambo Hippopotami
94
In The Evening (When The Sun Goes Down)
95
Lamplight
96
Apres Moi
97
My Heart Belongs to Daddy
98
Let's Do It
99
Lilac Wine
100
C'est Si Bon
101
I Want to Be Evil
102
A Wantcha Around
103
Uska Dara
104
Santa Baby
105
Just An Old Fashioned Girl
106
Angelitos Negros
107
April In Portugal
108
Johnny With The Gentle Hands (take 7)
109
Johnny With The Gentle Hands (take 8)
110
Monotonous
111
Love Is A Simple Thing
112
Bal Petit Bal
113
Overture
114
Dialogue: Mrs. Patterson
115
Mrs. Patterson
116
Devil Scene
117
If I Was A Boy
118
The Fantasy
119
I Wish I Was A Bumble Bee
120
Card Game Scene
121
Be Good, Be Good, Be Good
122
Tea Party Scene
123
Tea In Chicago
124
Tea Party Scene (cont.)
125
My Daddy Is A Dandy
126
Finale
127
Tea In Chicago (reprise)
128
I Can't Give You Anything But Love
129
Solitude
130
Since I Feel For You
131
What Is This Thing Called Love
132
Tierra Va Temblar
133
Callete (Caliente)
Eartha Kitt Eartha-Quake (5-CD) Orson Welles called her "the most exciting woman in...
mehr
"Eartha Kitt"
Eartha Kitt
Eartha-Quake (5-CD)
Orson Welles called her "the most exciting woman in the world." Singer, dancer, actress, writer, activist and icon, the world was Eartha Kitt's cultural playpen. Willfully exotic, a multilingual, genetically engineered sex-kitten with an IQ to match any Harvard cat, her international celebrity wasn't simply American fame exported overseas - like Elvis or Peggy Lee or Lena Horne. Eartha bathed herself in the cultures of the world - hobnobbed with Churchill, Nehru and Einstein - and emerged a star scented with far-flung trappings, who was at the same time, fundamentally, unmistakably American.
The public knew her as a glamorous star who in the 1950s and '60s, inhabited Broadway, movies, nightclubs and television with equal élan and ferocity (to a generation, her portrayal of Catwoman on the TV series 'Batman' cemented her legend), while recording novelty hits like Santa Baby and C'est si bon.
There were two Earthas come through in her dual persona: stylized purring for jewelry and mink in the preponderance of records that seemed to dwell on that topic, and her outspoken remarks against the Vietnam war that alienated enough of the establishment so that she had to head for Europe to ride out her career derailment. On this compelling CD - originally released in 1958 as the album 'St. Louis Blues,' with the trumpeter Shorty Rogers and his orchestra, Bear Family has captured a musical side of Kitt all too often overlooked - the soulful singer of formidable artistic versatility and heart.
It features selections from the Paramount movie, 'St. Louis Blues', about the life of W. C. Handy, in which Eartha starred with Nat Cole (as Handy), and an all-star African-American cast. The songs here are not all technically blues, though all are credited to Handy's authorship, and these are some of the most satisfying and artfully rendered cuts of Eartha's career. They show that even if grown over with the trappings of international glamour, the singer's southern roots always remained.
She was born Eartha Mae Keith, on January 17, 1927, in the small town of North, South Carolina - sharecropper country, amid what once had been cotton plantations. A childhood oppressed by soul-crushing, rural privation and abandonment gave way to adolescence in the cosmopolitan air of New York City (shuttled among relatives and friends). Her re-invention would begin early, as a member of Katherine Dunham's dance troupe. Orson Welles cast her on Broadway in his production of 'Dr. Faustus,' and her breakout performance came in the Broadway revue, 'New Faces Of 1952,' which Hollywood filmed two years later as the movie, 'New Faces.' She continued to acquire the polish of stage, nightclub, recording and movie stardom - her standout career film appearance being her role as the nightclub singer Gogo Germaine.
This CD shows Eartha refreshingly down-to-earth, as she insinuates her way around Hesitating Blues (originally popularized by Blossom Seely), Yellow Dog Blues (which Eartha sang in the movie) and Memphis Blues, Handy's first hit, and the first published blues to be documented (homage here, to Leonard Feather, who wrote this album's original liner notes).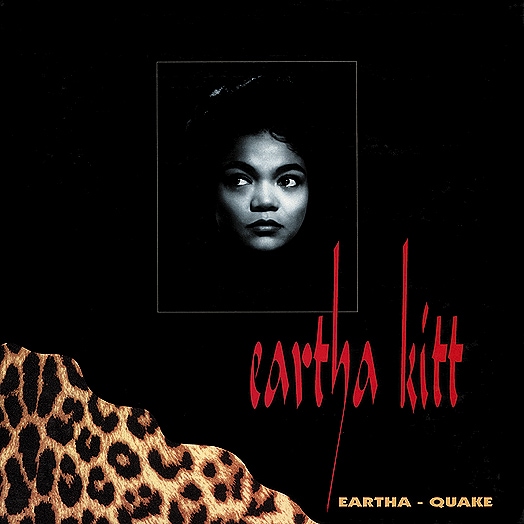 Her artistic cohort on this album is trumpeter Shorty Rogers, who was one of the leading creators of West Coast Jazz. Born Milton Michael Rajonsky in Great Barrington, Massachusetts in 1924, Rogers was an alumnus of Woody Herman's and Stan Kenton's bands, and had also worked early on with vibraphone pioneer Red Norvo. Based in Los Angeles, he performed with his own group (as Shorty Rogers and His Giants), and recorded a series of albums for RCA Victor and Atlantic. But he also became (perhaps best) known as a composer and arranger for numerous television shows, from 'Looney Tunes' and 'Mr. Magoo' to 'The Partridge Family;' and most significantly for the movies, where he helped bring jazz to the big screen in films like 'The Man With The Golden Arm' and 'The Wild One.'
Here, both the band, and the arrangements (mostly by Julian 'Matty' Matlock) are sublime. Eartha parries throughout with Rogers' trumpet and with a male vocal group on tracks like Beale Street Blues, St. Louis Blues and the sensational Long Gone (a true tale of a bank robber's daring escape from a Kentucky jail - Handy wrote the song with Chris Smith, who also wrote Ballin' The Jack). The two spirituals, Steal Away and Hist The Window, Noah, sung in the movie by Mahalia Jackson, are arranged here by Jester Hairston, and Eartha is backed by his spectacular gospel choir.
Blues or not, the result can only be described as joyful, from the first track to the last.
Deborah Grace Winer
Eartha Kitt Eartha-Quake (5-CD)
Read more at: https://www.bear-family.com/kitt-eartha-eartha-quake-5-cd.html
Copyright © Bear Family Records
Bewertungen lesen, schreiben und diskutieren...
mehr
Kundenbewertungen für "Eartha-Quake (5-CD)"
Bewertung schreiben
Bewertungen werden nach Überprüfung freigeschaltet.
Weitere Artikel von Eartha Kitt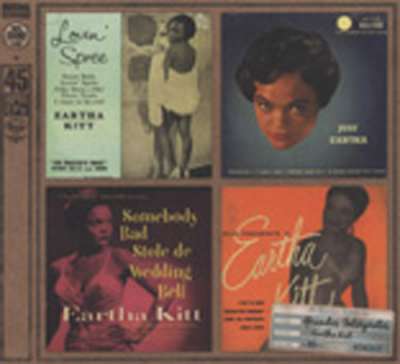 Eartha Kitt: Music Ages EP Series
Art-Nr.: CD34262


Artikel muss bestellt werden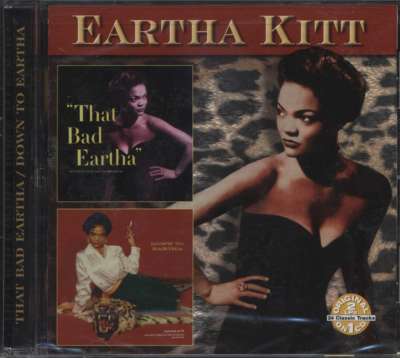 Eartha Kitt: That Bad Eartha - Down To Eartha
Art-Nr.: CDCOL2840


Artikel muss bestellt werden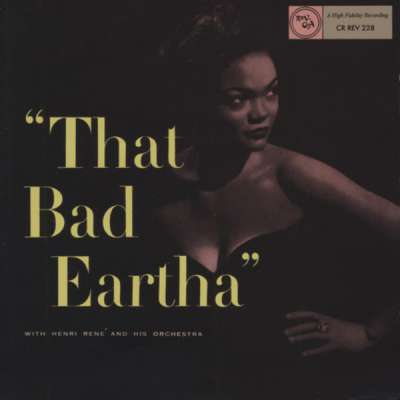 Eartha Kitt: That Bad Eartha
Art-Nr.: CDREV228


Artikel muss bestellt werden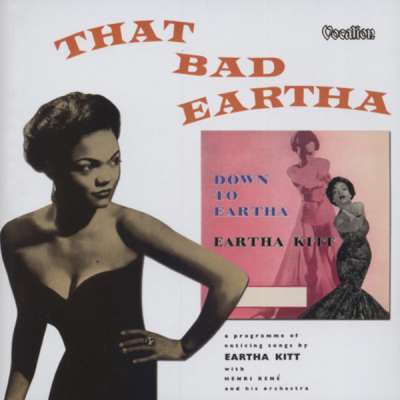 Eartha Kitt: That Bad Eartha & Down To Eartha
Art-Nr.: CDVS1955


Artikel muss bestellt werden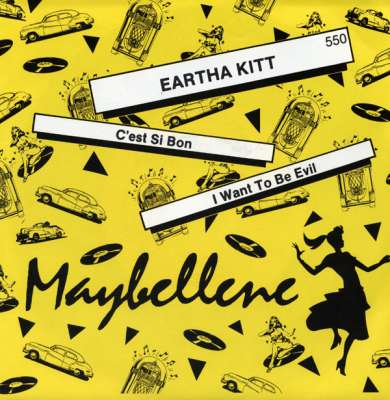 Eartha Kitt: C'est Si Bon - I Want To Be Evil 7inch, 45rpm
Art-Nr.: MB45550


Artikel muss bestellt werden