Der Artikel wurde erfolgreich hinzugefügt.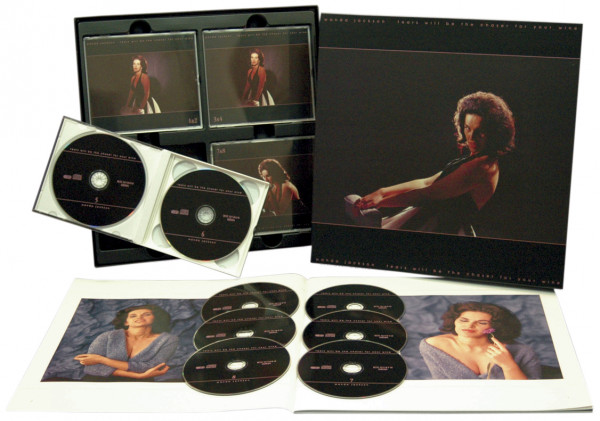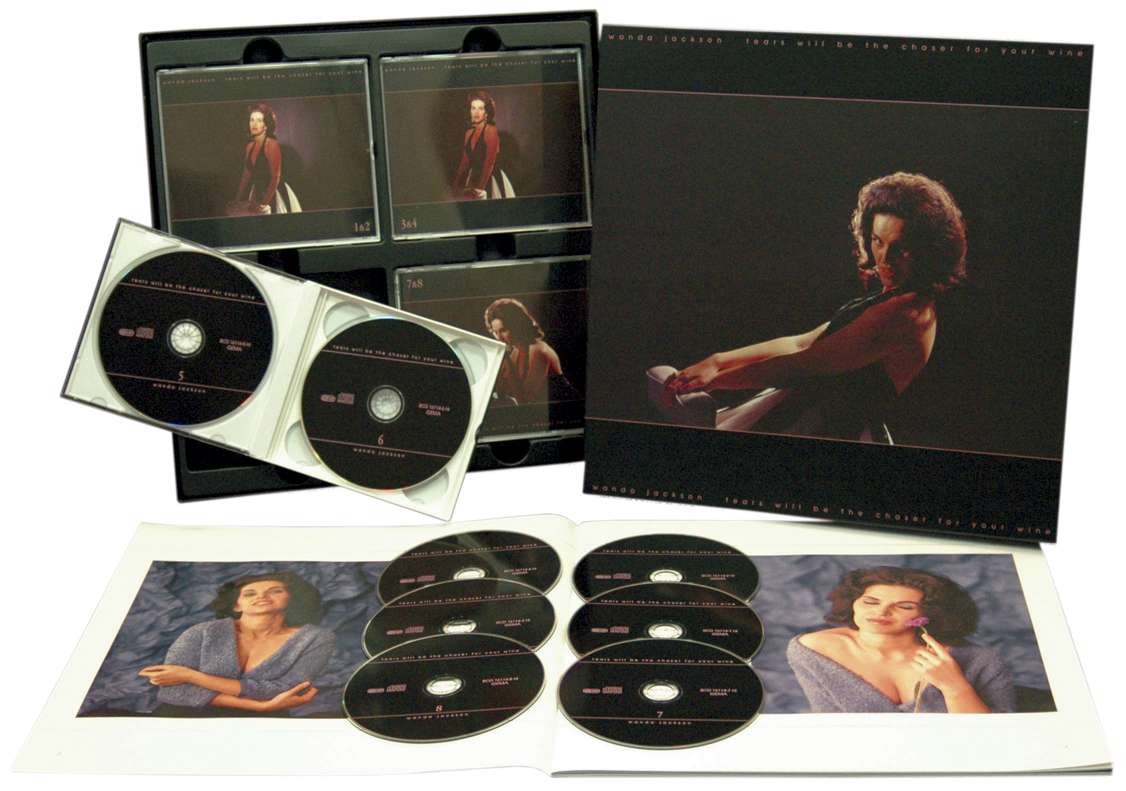 119,95 € *
139,95 € *
(14,29% gespart)
inkl. MwSt. / zzgl. Versandkosten - Abhängig vom Lieferland kann die MwSt. an der Kasse variieren.
Sofort versandfertig, Lieferzeit** 1-3 Werktage
Artikel-Nr.:

BCD16114

Gewicht in Kg.:

2
Wanda Jackson Box Set (LP-Format) mit 8 CDs, 48-seitigem Buch und 219 Songs. Spieldauer ca. 578...
mehr
Wanda Jackson: Tears Will Be The Chaser..(8-CD Deluxe Box Set)
Wanda Jackson
Box Set (LP-Format) mit 8 CDs, 48-seitigem Buch und 219 Songs. Spieldauer ca. 578 Minuten.
Dieses 8-CD-Box Set enthält die Capitol-Aufnahmen aus den Jahren von 1963 bis 1973 von Wanda Jackson, darunter allein neun Hits, die in den Country-Charts unter die besten 30 kamen:
The Box It Came In, Because It's You
,
Tears Will Be The Chaser For The Wine, Both Sides Of The Line, A Girl Don't Have To Drink To Have Fun, My Big Iron Skillet, A Woman Lives For Love, Fancy Satin Pillows
und
Back Then
.
Dazu kommen unveröffentlichte Aufnahmen und einige Songs von Wanda Jackson, die es nur auf Singles gab. Die 8 CDs umfassen alle Country- und Rock 'n' Roll-Alben von 1963-1973 einschließlich des Grammy-Gewinners 'Two Sides Of' sowie 'Blues In My
Heart
' und 'Salutes The Country Music Hall Of Fame'. Abgerundet wird diese Zusammenstellung von den Wanda Jackson Songs in Deutsch, Holländisch und Japanisch, wie
Santo Domingo
und
Morgen Ja Morgen
, dem
Live
-Album 'In Person', sowie Photos aus Ihren privaten Alben. Das CD Set enthält zudem eine neue Biografie von
Colin Escott
und eine komplette Discografie von Wanda Jackson.
Video von Wanda Jackson - Tears Will Be The Chaser..(8-CD Deluxe Box Set)
Artikeleigenschaften von

Wanda Jackson: Tears Will Be The Chaser..(8-CD Deluxe Box Set)
Albumtitel:

Tears Will Be The Chaser..(8-CD Deluxe Box Set)

Genre

Country

Preiscode

HI

Edition 2

Deluxe Edition

Artikelart

Box set

EAN:

4000127161147

Gewicht in Kg:

2
Wanda Jackson Geboren am 20. 10. 1937 als Wanda Jean Goodman in Maud, U5-Staat Oklahoma....
mehr
"Wanda Jackson"
Wanda Jackson
Geboren am 20. 10. 1937 als Wanda Jean Goodman in Maud, U5-Staat Oklahoma. Arbeitete ab 1952 für den Sender KLPR in Oklahoma City. 1954 erhielt Wanda Jackson, auf Empfehlung des Country-Sängers Hank Thompson, einen Plattenvertrag bei Decca. Zwei Jahre später traf sie Elvis Presley, der ihr einen stilistischen Wechsel vom Country & Western zum Rock'n'Roll empfahl.

Ab 1956 nahm Wanda Jackson für das Capitol-Label auf und brachte in den folgenden Jahren rund 30 Titel in die C&W- Charts der USA. In den Pop-Hitlisten war sie dagegen lediglich fünfmal vertreten, darunter 1960 mit 'Let's Have A Party' (Platz 37). In den Kölner Electrola-Studios im Maarweg spielte Wanda Jackson zwischen 1965 und 1970 neun deutschsprachige Singles ein- vier schafften den Sprung in die Charts, am besten platzierte sich "Santo Domingo' (1965, Rang 5).

Während der 70er Jahre widmete sich die Amerikanerin auch christlicher Musik. Heute ist Wanda Jackson vereinzelt bei Revival-Tours zu hören, kommt aber zu gefeierten Kurzgastspielen in eigener Sache über den Teich - wie im Herbst 2002, als sie ihren 65. Geburtstag in Deutschland feierte.

Aus dem Bear Family Buch - 1000 Nadelstiche von Bernd Matheja - BFB10025 -
Wanda Jackson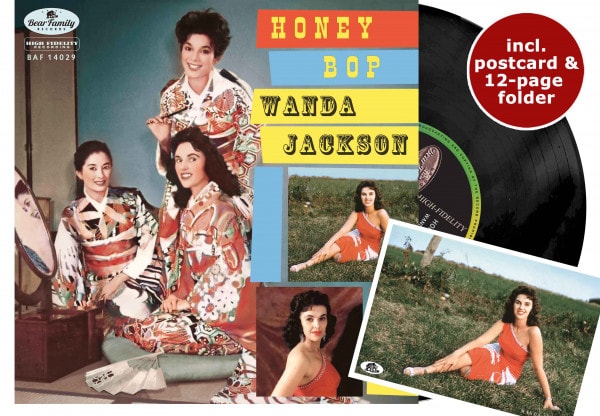 Ohne den weisen Rat ihres guten Freundes Elvis Presley wäre Wanda Jackson vielleicht bei der guten alten Country-Musik geblieben. Schließlich hatte sie bereits 1954 mit You Can't Have My Love, einem ansprechenden traditionellen Country-Duett mit Billy Gray, einen großen Hit für Decca gelandet. Aber The Hillbilly Cat verstand intuitiv, dass sich im Süden ein neuer Sound zusammenbraute, mit dem er die Mädchen im Teenageralter verrückt machte. Als er 1955 mit Wanda auf Tournee ging, sorgte Elvis überall, wo sie auftraten, für Aufruhr.
Zwischen den Auftritten riet er Wanda, auf den Rockabilly-Zug aufzuspringen, da ihre röhrenden Pfeifen wie geschaffen für diesen feurigen Stil waren. So wie Elvis den Thron als König des Rockabilly wie eine Rakete im Flug bestieg, sollte Wanda schließlich als Königin des Idioms herrschen. Anders als viele ihrer Altersgenossen hatte Wanda nicht mit der Missbilligung ihrer Eltern zu kämpfen - sie förderten sie aktiv. Ihr Vater, Tom Jackson, war Gitarrist und Fiddler, und ihre Mutter Nellie war ebenso wichtig für ihre Karriere. "Die Tatsache, dass ich ein Einzelkind bin, hat mir sehr geholfen", sagt Wanda. "Sie konnten ihre ganze Aufmerksamkeit und ihre Bemühungen auf mich konzentrieren. Meine Karriere war wirklich eine Familienangelegenheit. Meine Mutter hat meine Kleider gemacht. Ich habe sie entworfen, sie hat sie genäht. Sie war eine professionelle Näherin und hat fast alles, was ich auf und hinter der Bühne trug, selbst genäht. Sie konnte mich wie ein Handschuh anziehen.

Und dann gab mein Vater seinen Job auf, um mit mir zu reisen und sich unterwegs um mich zu kümmern. Meine Eltern opferten also ihre gemeinsame Zeit, jedes soziale Leben, das sie hätten haben können. Sie investierten ihre ganze Energie in mich." Wanda wurde am 20. Oktober 1937 in Maud, Oklahoma, geboren und war fünf Jahre alt, als sie mit ihren Eltern nach Kalifornien zog, wo sie sich zunächst in Los Angeles und dann außerhalb von Bakersfield niederließ. Tom drückte seiner Tochter eine Gitarre in die Hand, als sie erst sechs Jahre alt war. An der Westküste war der Western Swing angesagt, und die Jacksons nahmen ihn mit Freude in sich auf. "Sie liebten es zu tanzen. Sie waren wunderbare Tänzerinnen", sagt Wanda. "Damals hatten die Leute noch keine Babysitter. Wenn ein Paar etwas unternahm, dann waren die Kinder dabei. Und in diesen Tanzlokalen in Kalifornien gab es einen Bereich zum Tanzen und einen anderen für den Biergarten. Meine Mutter ist eine Abstinenzlerin, und einige ihrer Freunde tranken etwas. Aber sie blieb bei mir. Sie gingen ihre Drinks trinken und kamen dann zurück. "Sie sagten, ich würde den ganzen Abend lang mit zurückgelegtem Kopf vor der Bühne stehen und zusehen und zuhören, seit ich sechs Jahre alt war. Die Leute werden fragen: 'Was willst du werden, wenn du groß bist? Und ich habe immer gesagt: 'Eine Sängerin! Vielleicht dachte ich, ich hätte die Wahl zwischen einem Mädchen und einem Jungen, ich weiß es nicht. Die Mädchen sahen so hübsch aus in ihren auffälligen Kleidern." Rose Maddox machte einen starken Eindruck. "Sie war so temperamentvoll, und ihre Musik war so gut. Ich habe in den ersten Tagen einige ihrer Lieder gesungen", sagte Wanda. "Ich mochte die Jodlerinnen.

Ich mochte die Bob Wills Band. So ziemlich jede Western Swing Band hatte mindestens eine Sängerin, und die meisten von ihnen waren Jodlerinnen. Wenn man in einer Band sein wollte, musste man jodeln. Also lernte ich sehr früh, wie man jodelt." Als Wanda neun Jahre alt war, zogen die Jacksons zurück in den Bundesstaat Sooner und ließen sich diesmal in Oklahoma City nieder. Ein spontanes Vorsprechen bei KLPR Radio führte zu ihrer eigenen Radiosendung, als Wanda 14 war. "Nur 15 Minuten, nur ich und meine Gitarre", sagt sie. "Jeden Tag, nach der Schule, ging ich zum Sender und machte meine Sendung. Dann holten mich meine Eltern ab und fuhren nach Hause. Dann habe ich meine Hausaufgaben gemacht." Eines Tages rief der in Oklahoma City ansässige Country-Musik-Star Hank Thompson sie im Sender an. "Er hörte meine Sendung im Radio und sagte, er sei von meinem Stil und meinem Gesang beeindruckt", erzählt sie. "Ich wäre beinahe auf der Stelle in Ohnmacht gefallen. Er sagte: 'Das ist Hank Thompson!' Und er lud mich ein, mit ihm und den Brazos Valley Boys an jenem Samstagabend im Trianon zu singen.

Ich war wahrscheinlich etwa 14 Jahre alt. Ich weiß noch, dass ich sagte: 'Oh, das würde ich gerne tun, Mr. Thompson, aber ich muss meine Mutter fragen! Aber sie nahmen mich mit, und das war der Beginn einer großartigen Freundschaft und einer Beziehung zu Hank Thompson. Er wurde mein Mentor und verhalf mir zu meinem ersten und zweiten Plattenvertrag." Schon bald war Wanda ein festes Mitglied von Hanks Truppe. Aber selbst seine Unterschrift konnte den A&R-Mann von Capitol Records, Ken Nelson, nicht davon überzeugen, sie bei dem Label unter Vertrag zu nehmen, für das Thompson so viele Erfolge verbucht hatte - Nelson hielt sie für zu jung. Also brachte Hank sie zu Decca Records, wo der Produzent Paul Cohen empfänglicher war. Am Ende von Wandas erstem Decca-Termin im März '54 in Hollywood überredete Thompson sie, You Can't Have My Love als Duett mit seinem Bandleader Gray aufzunehmen. "Ich war sehr verärgert. Ich wusste in meinem Kopf, dass ich nicht mit einem Mann verbunden sein wollte. Ich wollte kein Team", sagte Wanda. "Ich wollte es nicht einmal aufnehmen, aber sie haben mich irgendwie dazu gedrängt. Ich war den Tränen nahe, als ich es sang, so wütend war ich."
Der Song wurde ein landesweiter Hit, was den Schock etwas abschwächte. Im März 1955 reiste Jackson für eine Decca-Session nach Nashville, wo sie ihr Debüt in der "Grand Ole Opry" gab. Was eigentlich ein früher Karrierehöhepunkt hätte sein sollen, entpuppte sich als alles andere als das...

Auszug/Excerpt: Wanda Jackson
Lesen Sie mehr unter: https://www.bear-family.com/jackson-wanda/?c=128600
Copyright© Bear Family Records®
Bewertungen lesen, schreiben und diskutieren...
mehr
Kundenbewertungen für "Tears Will Be The Chaser..(8-CD Deluxe Box Set)"
Von:
Kristian Kober
Am:
03.10.2017
Bear-Family-üblich exzellent-!
Was Wanda Jackson nach "Party" nicht noch alles gesungen hat - sehr schön, diese Box; ich werde brauchen, bis ich das alles richtig durch habe. Einfach grossartig wieder...
Bewertung schreiben
Bewertungen werden nach Überprüfung freigeschaltet.
Weitere Artikel von Wanda Jackson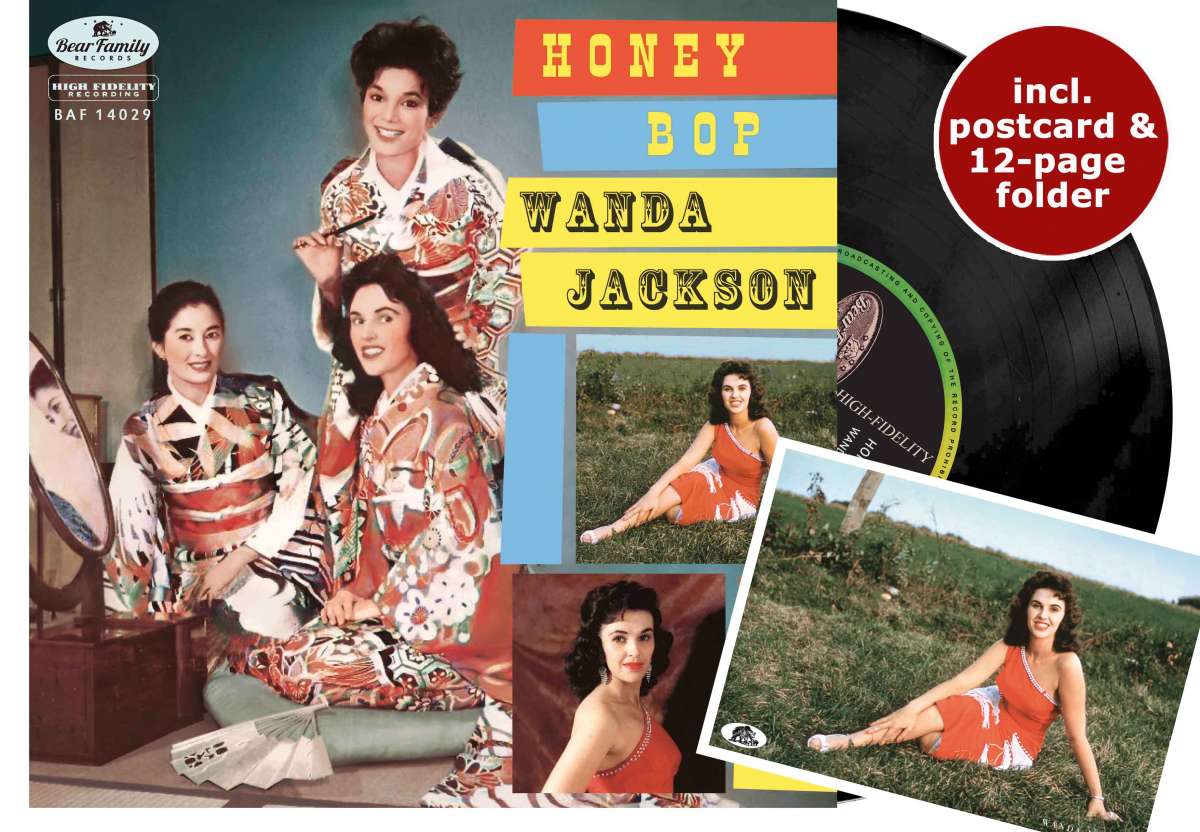 Wanda Jackson: Honey Bop (LP, 10inch, 45rpm)
Art-Nr.: BAF14029


Sofort versandfertig, Lieferzeit** 1-3 Werktage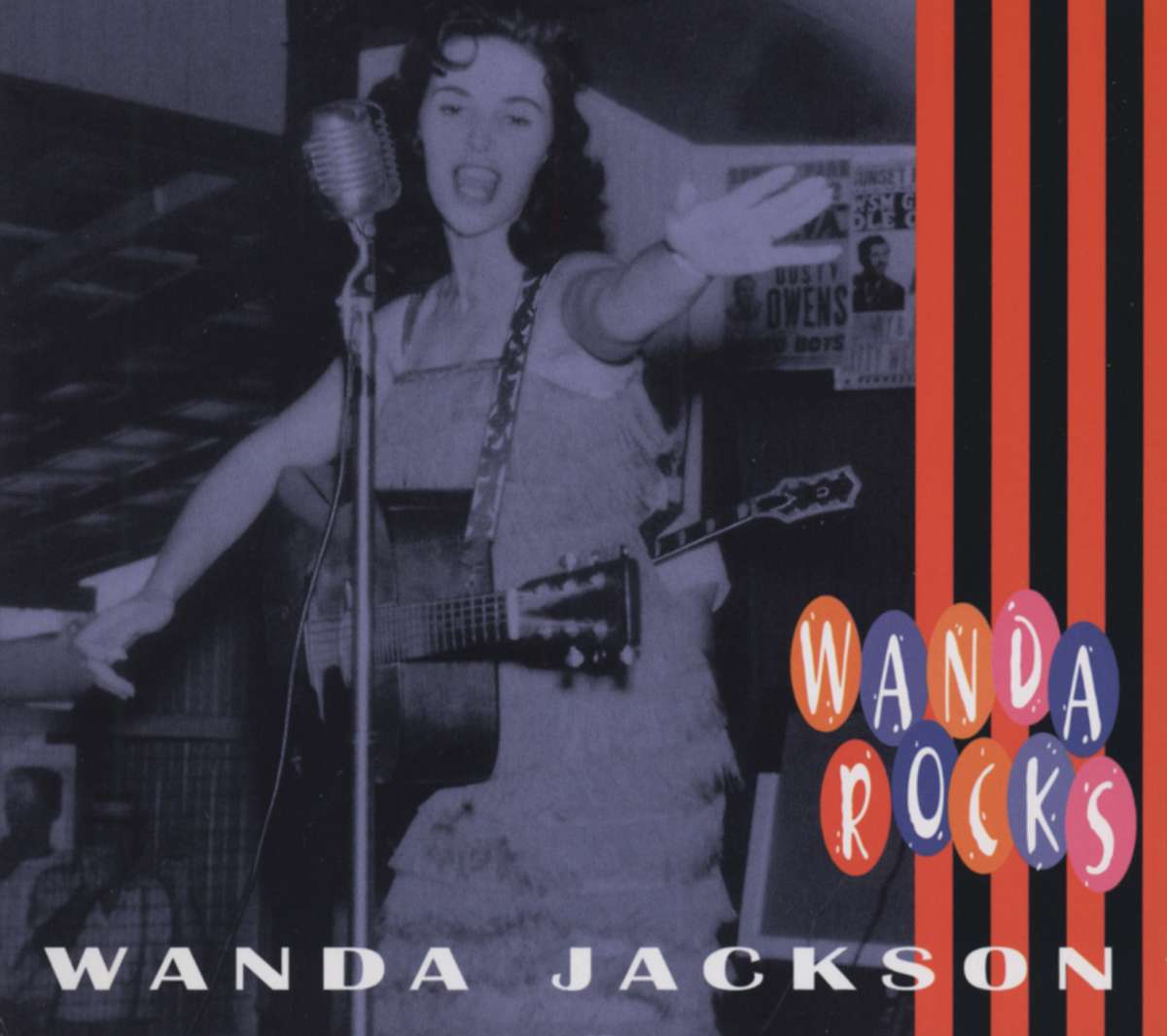 Wanda Jackson: Wanda Jackson - Wanda Rocks (CD)
Art-Nr.: BCD16631


Sofort versandfertig, Lieferzeit** 1-3 Werktage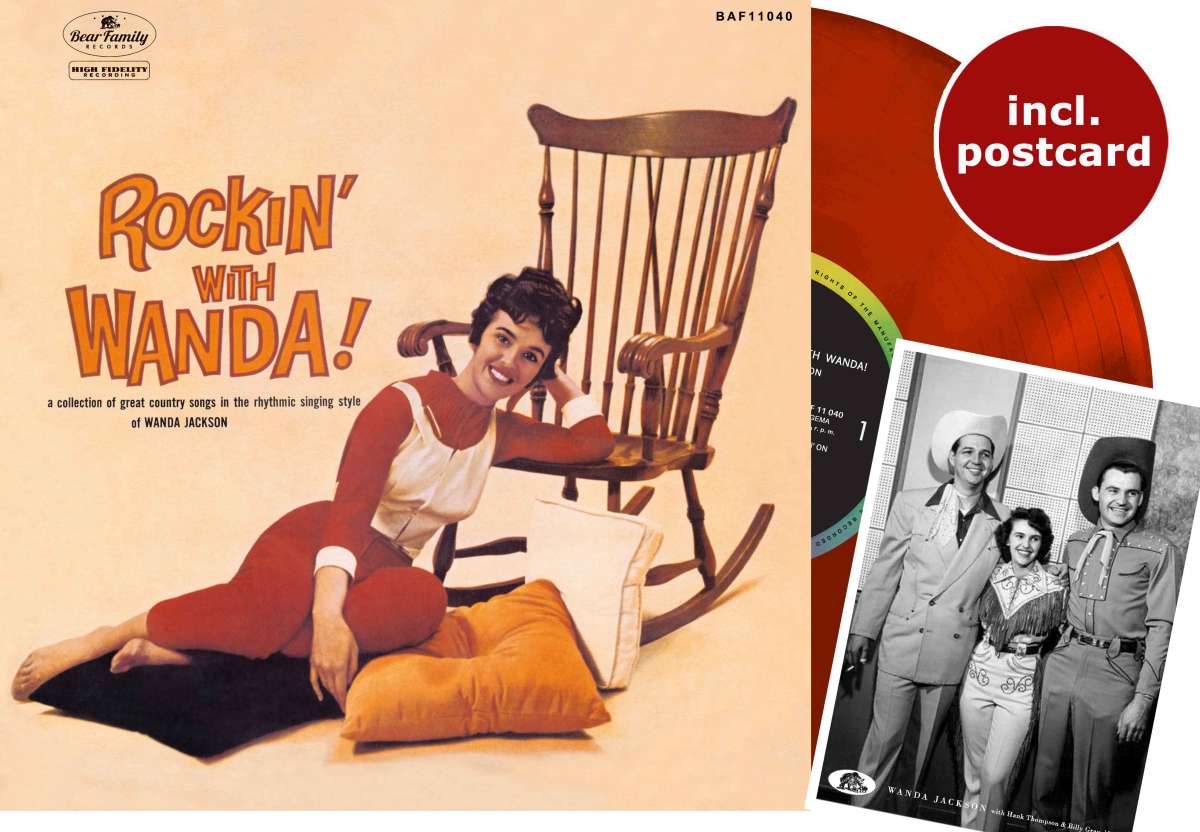 Wanda Jackson: Rockin' With Wanda (LP, 10inch, Ltd.)
Art-Nr.: BAF11040


Sofort versandfertig, Lieferzeit** 1-3 Werktage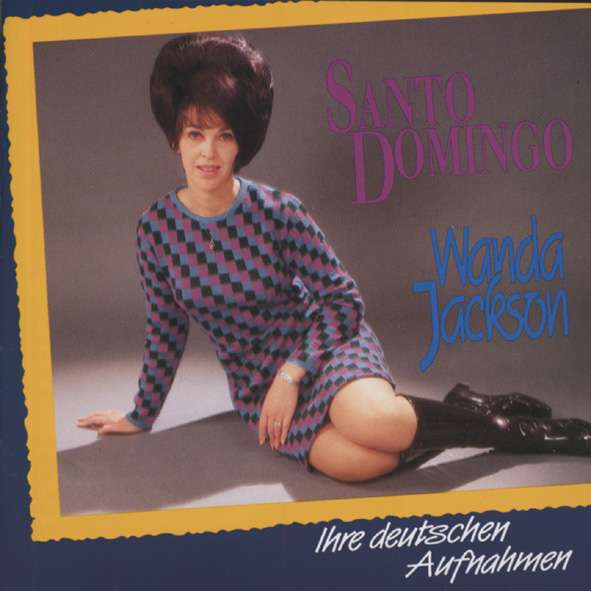 Wanda Jackson: Santo Domingo - Ihre deutschen Aufnahmen (CD)
Art-Nr.: BCD15582


Sofort versandfertig, Lieferzeit** 1-3 Werktage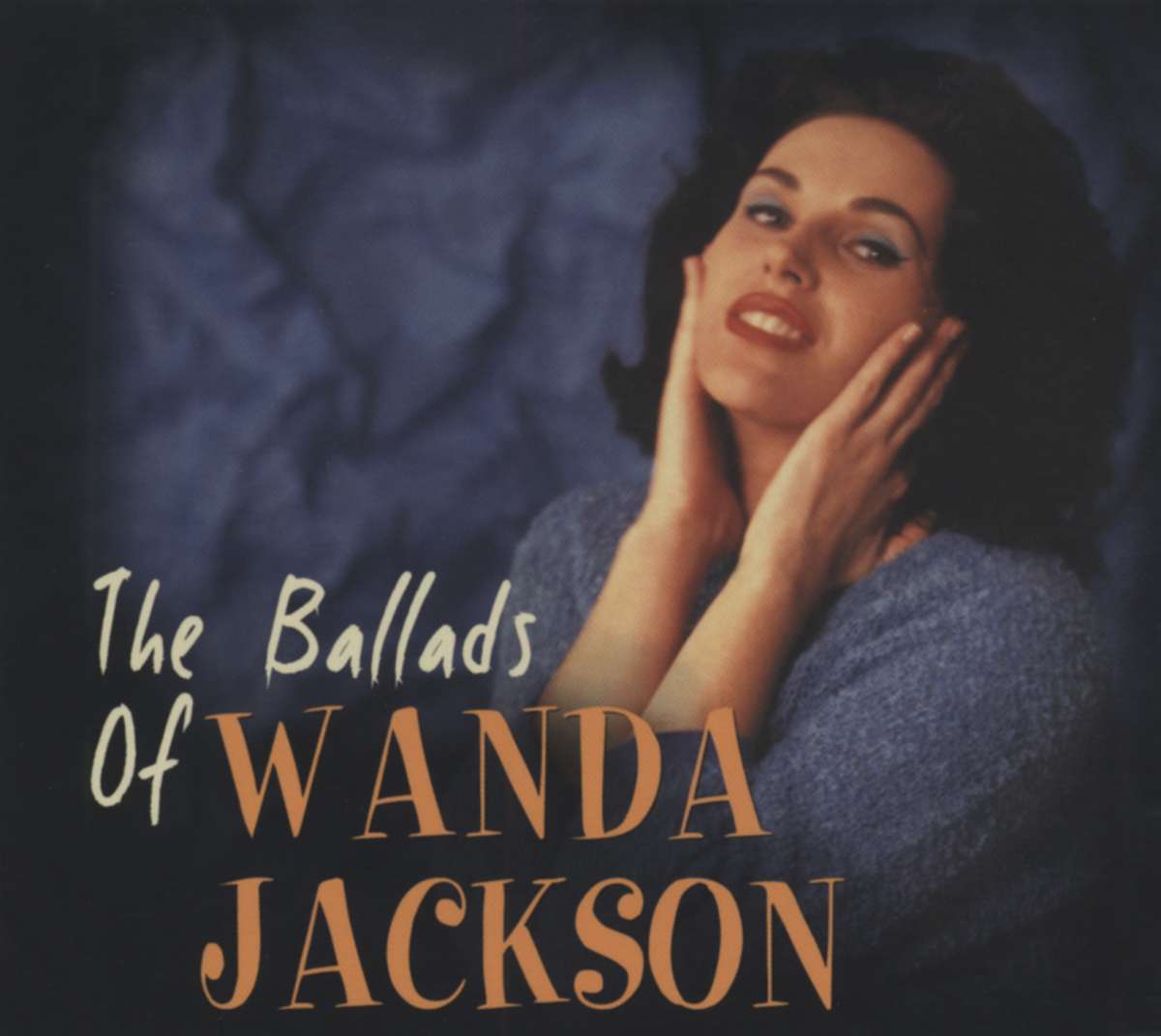 Wanda Jackson: The Ballads of Wanda Jackson (CD)
Art-Nr.: BCD16848


Sofort versandfertig, Lieferzeit** 1-3 Werktage