Der Artikel wurde erfolgreich hinzugefügt.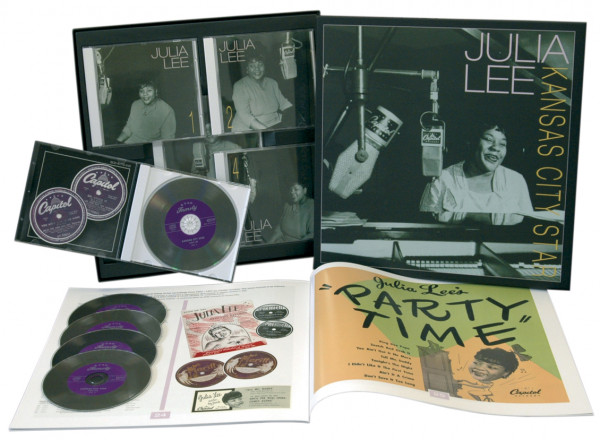 Dieser Artikel ist gestrichen und kann nicht mehr bestellt werden!
Benachrichtigen Sie mich, sobald der Artikel lieferbar ist.
Artikel-Nr.:

BCD15770

Gewicht in Kg.:

0.5
5-CD Box (LP-Format) mit 32-seitigem Buch, 109 Einzeltitel. Spieldauer ca. 309 Minuten. Niemand...
mehr
Julia Lee: Kansas City Star (5-CD)
5-CD Box (LP-Format) mit 32-seitigem Buch, 109 Einzeltitel. Spieldauer ca. 309 Minuten.

Niemand konnte einen deftigen Blues so wie Julia Lee bearbeiten. Doch man täte ihr Unrecht, würde man sie auf eine Sängerin schmuddeliger Songs reduzieren. Als gute Pianistin umgab sie sich ihr Leben lang mit den besten Musikern aus ihrer Heimatstadt Kansas City. Diese Aufnahmen stammen aus der Blütezeit des R&B, wunderschön arrangierter Jazz/Blues.

Die 'klassischen' Capitol-Hits sind dabei wie Snatch It And Grab It, Gotta Gimme Whatcha Got, King Size Papa und dazu alle weiteren Aufnahmen für Capitol (1944 - 1952), Merritt (1927), Brunswick (1929), Premier (1945), Damon (1954/66) und Fourmost (1956/57). Zusätzlich gibt es eine komplette Übungs-Session. Dies ist Julia Lee, komplett! Eine Fundgrube für jeden, der nicht ganz salonfähigen Blues, Kansas City Jazz oder Jazzgesang mit kleiner Gruppe mag.
Artikeleigenschaften von

Julia Lee: Kansas City Star (5-CD)
Albumtitel:

Kansas City Star (5-CD)

Genre

R&B, Soul

Edition 2

Deluxe Edition

Preiscode

EI

Artikelart

Box set

EAN:

4000127157706

Gewicht in Kg:

0.5
Lee, Julia - Kansas City Star (5-CD)

Box set 1
01
Down Home Syncopated Blues
02
Meritt Stomp
03
If I Could Be With You One Hour Tonight
04
Paseo Street
05
Ruff Scufflin'
06
St. James Infirmary
07
He's Tall And Dark And Handsome
08
Won't You Come Over To My House?
09
Come On Over To My House
10
Trouble In Mind
11
If It's Good
12
Show Me Missouri Blues
13
Lotus Blossom
14
Dream Lucky Blues
15
Wee Baby Blues
16
If It's Good
17
I've Got A Crush On The Fuller Brush Man
18
Two Loves Have I
19
Some Of These Days
20
St. Louis Blues
21
Shake That Thing
22
Shake It And Break It
Lee, Julia - Kansas City Star (5-CD)

Box set 2
01
Julia's Blues
02
Lies
03
Gotta Gimme Whatcha' Got
04
When A Woman Loves A Man
05
Oh Marie
06
I'll Get Along Somehow
07
A Porter's Love Song To A Chambermaid
08
Have You Ever Been Lonely?
09
Since I've Been With You
10
Out In The Cold Again
11
Young Girl's Blues
12
On My Way Out
13
There Goes My Heart
14
Snatch And Grab It
15
If You Hadn't Gone Away
16
Nobody Knows You When You're Down And Out
17
The Curse Of An Aching Heart
18
Bleeding Hearted Blues
19
Living Backstreet For You
20
Wise Guys (You're A Wise Guy)
Lee, Julia - Kansas City Star (5-CD)

Box set 3
01
Mama Don't Allow It
02
Doubtful Blues
03
Ain't It A Crime
04
Knock Me A Kiss (& JOE ALEXANDER)
05
Cold-Hearted Daddy
06
My Sin (take 1,2,3,4)
07
When You're Smiling
08
I Was Wrong
09
Pagan Love Song
10
All I Ever Do Is Worry
11
Take It Or Leave It
12
That's What I Like
13
King Size Papa
14
Blues For Someone
15
I'm Forever Blowing Bubbles
16
Breeze (Blowing My Baby Back To Me)
17
The Spinach Song
18
Crazy World
19
Tell Me, Daddy
20
Christmas Spirits
21
Until The Real Thing Comes Along
Lee, Julia - Kansas City Star (5-CD)

Box set 4
01
Charmaine
02
Lotus Blossom
03
Marijuana
04
Sit Down And Drink It Over
05
Away From You
06
The Glory Of Love
07
Tonight's The Night
08
My Man Stands Out
09
Do You Want It?
10
It Comes In Like A Lion
11
Don't Come Too Soon
12
Ugly Papa
13
Don't Save It Too Long (The Money Song)
14
After Hours Waltz
15
You Ain't Got It No More
16
When Your Lover Has Gone
17
Oh Chuck It (In A Bucket)
18
Decent Woman Blues
19
Dragging My Heart Around
Lee, Julia - Kansas City Star (5-CD)

Box set 5
01
It Won't Be Long
02
You're Gonna Miss It
03
Can't Get Enough Of That Stuff
04
When A Man Has Two Women
05
Scream In The Night
06
I Know It's Wrong (The Diet Song)
07
Music, Maestro Please
08
Pipe Dreams
09
When Jennie Does That Lowdown Dance
10
If I Didn't Care
11
Lazy River
12
All This Beef And Big Ripe Tomatoes
13
Can't Get You Off My Mind
14
I Got News For You
15
Goin' To Chicago Blues
16
Last Call For Alcohol
17
Kansas City Boogie
18
Love In Bloom
19
Keep `em Barefoot And Busy
20
Baby I'm Through
21
Scat You Cats
22
I Can't See How
23
King Size Papa
24
Bop And Rock Lullaby
Julia Lee Die am 31. Oktober 1902 in Boonville, Missouri geborene Sängerin wuchs in...
mehr
"Julia Lee"
Julia Lee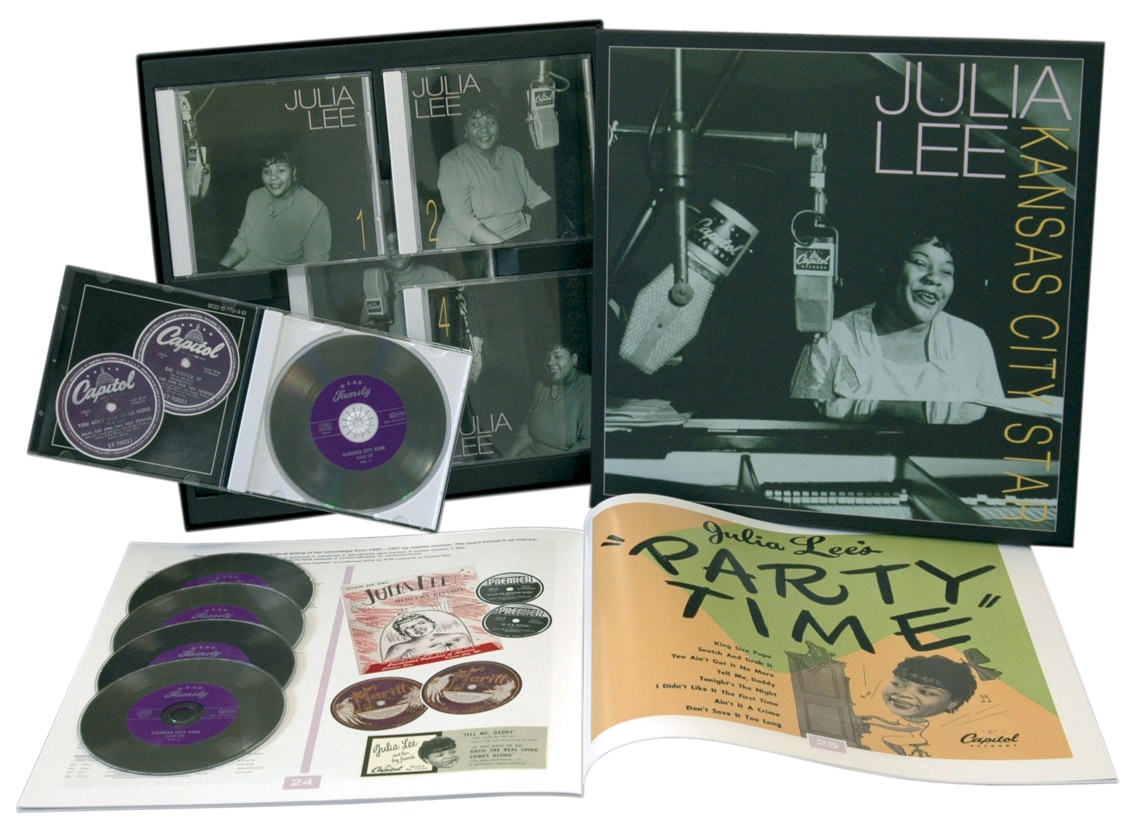 Die am 31. Oktober 1902 in Boonville, Missouri geborene Sängerin wuchs in Kansas City auf und gilt bis heute als die berühmteste Jazz und Rhythm & Blues Sängerin aus Kansas City, Missouri.
Bereits im Kindesalter trat sie mit ihrem Vater in einem Gitarren-Trio in der örtlichen Kirchengemeinde und bei Hausparties auf. Gegen Ende des 1. Weltkrieges begann Julia Lee als Sängerin und Pianistin zu arbeiten, zunächst als Ragtime Künstlerin und Kino-Pianistin zur Begleitung von Stummfilmen. Um 1920 stieg sie in das Orchester ihres Bruders George E. Lee ein und 1927 machte sie erste Aufnahmen für das Merritt Label, unter Mithilfe von Arrangeur Jesse Stone. Nach 15 Jahren Orchester-Arbeit mit ihrem Bruder, startete sie 1935 ihre Solokarriere. Sie avancierte zum Star des lokalen Kansas City Jazz.
1944 wurde Capitol Records auf sie aufmerksam und vermarktete sie zunächst im Rahmen der Capitol 'History of Jazz'-Reihe. Sie trat nun vermehrt zusammen mit bekannten Rhythm & Blues Künstlern in Combos mit kleiner Besetzung auf und das führte zur Gründung von Lees eigener kleiner Band, den 'Boyfriends'. Mit dabei waren recht bekannte Musiker, wie etwa Benny Carter, Red Norvo, Tommy Douglas, Red Nichols und viele andere. Als 'Julia Lee & Her Boyfriends' landete sie mit 'Come On Over To My House, Baby' und 'Gimme Whatcha Got' ihre ersten Jukebox- und Radio-Hits, die ihr 1946 einen festen Vertrag mit Capitol sicherte. Nun schüttelte sie die Hits aus dem Ärmel: 'Snatch It And Grab It', 1947 für 12 Wochen auf Platz 1 der R&B Charts! 1948 explodierte der nächste Nummer 1 Hit in den R&B Charts und hielt sich in der Position für 9 Wochen: 'King Size Papa'! 1949 folgte 'I Didn't Like It The First Time (The Spinach Song)' (#4 R&B Charts) und sie spielte sogar auf Einladung des ebenfalls aus Missouri stammenden damaligen US-Päsidenten Harry S. Truman im Weißen Haus.
Obgleich sie sich musikalisch stärker am Rhythm & Blues orientierte, als je zuvor, ließ ihr Erfolg mit dem Aufkommen des Rock'n'Roll Mitte der 50er Jahre allmählich nach. Dennoch produzierte sie weiter und spielte 1957 eine Nebenrolle in dem Film 'The Delinquence', den Regisseur Robert Altman in Kansas City drehte. Julia Lee starb am 8. Dezember 1958 im Alter von nur 56 Jahren an einer Herzattacke. Sie gehört zu den populärsten Stars, die Kansas City hervorgebracht hat und sie schaffte den nahtlosen Übergang vom Kansas City Jazz zum Rhythm & Blues. Sie ist ein Meilenstein in der Geschichte der populären Musik!
Julia Lee Kansas City Star (5-CD)
Read more at: https://www.bear-family.de/lee-julia-kansas-city-star-5-cd.html
Copyright © Bear Family Records
Bewertungen lesen, schreiben und diskutieren...
mehr
Kundenbewertungen für "Kansas City Star (5-CD)"
Von:
Franz Furrer
Am:
09.11.2017
Ein Juwel in Sache der133b5 Aufmachung und Qualität der Musik
Von:
Sarah
Am:
22.08.2017
Bewertung schreiben
Bewertungen werden nach Überprüfung freigeschaltet.
Weitere Artikel von Julia Lee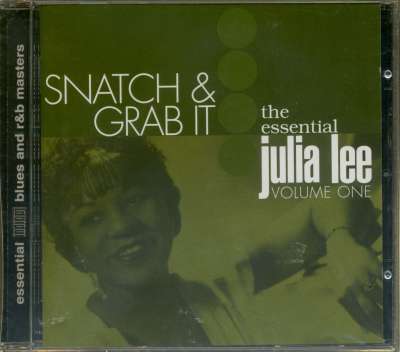 Julia Lee: Snatch & Grab It - The Essential Vol.1 (CD)
Art-Nr.: CDIGO2514


Sofort versandfertig, Lieferzeit** 1-3 Werktage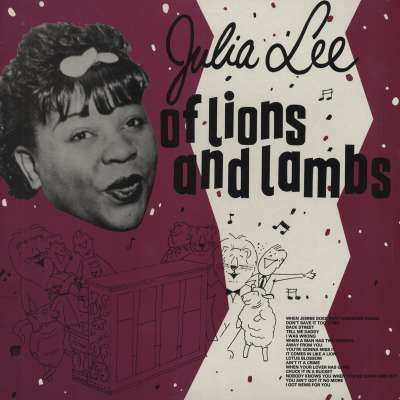 Julia Lee: Of Lions And Lambs
Art-Nr.: LPCRB1175


Sofort versandfertig, Lieferzeit** 1-3 Werktage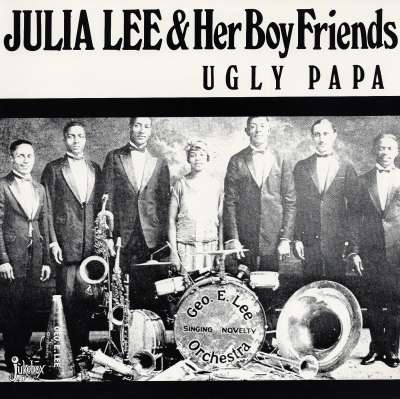 Julia Lee: Ugly Papa 1945-1957
Art-Nr.: JB603


Artikel muss bestellt werden
Julia Lee: A Porter's Love Song (1945-47)
Art-Nr.: JB614


Artikel muss bestellt werden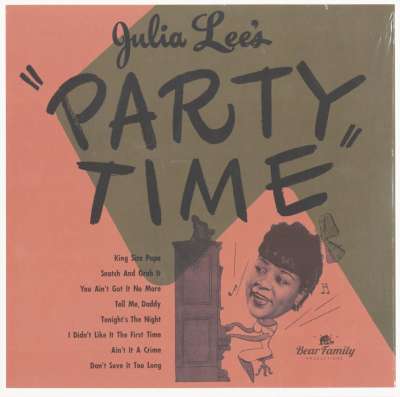 Julia Lee: Party Time (LP, 10inch, Ltd.)
Art-Nr.: BAF11002


Sofort versandfertig, Lieferzeit** 1-3 Werktage