Wer war/ist

Jimmy Dean

? - CDs, Vinyl LPs, DVD und mehr
Jimmie Dean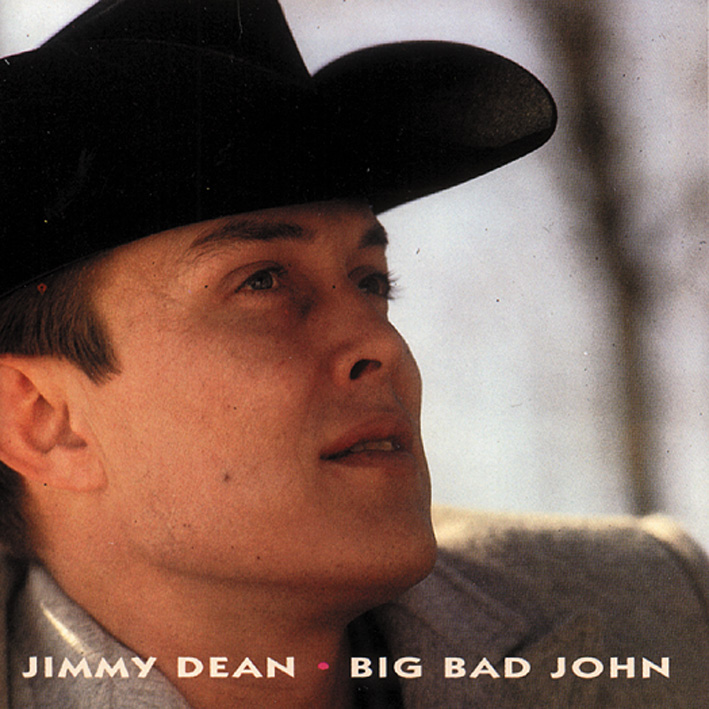 Songwriter Pete Graves scheint das Leben gelebt zu haben, von dem er gesungen hat. Er wurde an vielen Stellen gesichtet und auf den Fotos war ein lächelnder Mann mit einer Gitarre zu sehen. Er war in Fort Smith, Arkansas, verschiedenen Nachtlokalen in Texas, dem pazifischen Nordwesten, und "Billboard" berichtete, dass er in Lancaster, Kalifornien war, als Bumming Around brach. "Ich ritt früher um White Salmon, Washington", sagte er zu Dorothy Horstman. "Ich hatte ein paar Rodeo-Songs geschrieben, bevor ich'Bumming Around' schrieb." Ich hob einen Teil des Textes aus einem meiner Rodeo-Songs auf, fügte eine neue Melodie hinzu und erfand 1946 "Bumming Around".
Als ich eine Tanzband hatte, war die Melodie noch tanzbarer. Ich bin jetzt Holzfäller[1973], also passt'Bumming Around' irgendwie in mein Leben." Er war der erste, der Bumming Around aufnahm und es erschien auf 4-Sterne'X' Experimental Serie um 1952. 4-Star's Bill McCall sah eine bessere Zukunft für das Lied, wenn jemand anderes als Graves es sang, und Dean's Platte erschien im August 1952, obwohl sie erst im März des folgenden Jahres aufgenommen wurde.
Ob Country-Musik oder Country-Wurst, Jimmy Dean (Jimmie auf dem Label) scheint zu wissen, was sein Publikum will. Geboren am 10. August 1928 in Olton, Texas, lernte er von seiner Mutter Klavier und Akkordeon spielen. Sein Vater, G.O. Dean, war ein baptistischer Prediger, ein Sänger und Erfinder, der seine Hoffnungen auf eine Bewässerungspumpe setzte und die Familie verließ, als Dean elf war. 1944, ein Jahr vor dem Abitur, meldete sich Dean in der Handelsmarine und machte eine Reise nach Südamerika, bevor er nach Plainview zurückkehrte, um für eine Bewässerungsfirma zu arbeiten. Im Jahr 1946 wurde er eingezogen und auf die Bolling Air Force Basis in Washington, DC versetzt. So wie er es erzählt, begann seine musikalische Karriere, als einer seiner Freunde, der mit einer Countryband spielte, ihn bat, eine Nacht auf Akkordeon zu spielen.
Dean beschloss, nach seiner Entlassung 1948 in der Gegend um D.C. zu bleiben, und gab wahrscheinlich um 1948-9 sein Debüt auf der Polka der Howington Brothers' Dub auf dem DC-Label. Irgendwann in den frühen 50er Jahren lernte Jimmy Dean Ben Adelman kennen, der das einzige Studio in der Stadt betrieb. Adelman stellte ihn Bill McCall bei 4-Star vor. Es war der einzige Hit, den Dean acht Jahre lang sehen würde. Nach Deans Angaben erhielt er insgesamt 35 Dollar an Tantiemen. Wir werden die Geschichte 1961 aufgreifen. Und was ist mit Pete Graves? Wie Dean ist er zerknittert, aber immer noch da. Im Jahr 2005 wurde er auf einem Cowboy Poetry Festival in Columbia River, in Kennewick, Washington (Bundesstaat) fotografiert.
Jimmy Dean Big Bad John
Lesen Sie mehr unter: https://www.bear-family.com/dean-jimmy-big-bad-john.html
Copyright © Bear Family Records
Jimmy Dean Big Bad John
Read more at: https://www.bear-family.com/dean-jimmy-big-bad-john.html
Copyright © Bear Family Records
Für die Filterung wurden keine Ergebnisse gefunden!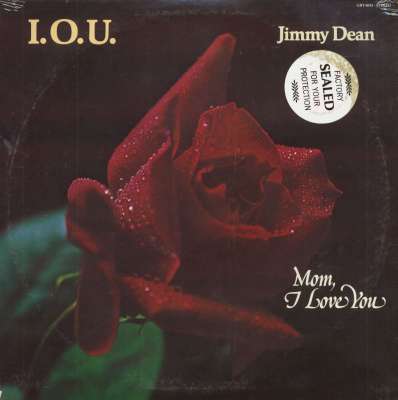 Jimmy Dean: I.O.U. - Mom, I Love You (LP)
Art-Nr.: LPGRT8014


Sofort versandfertig, Lieferzeit** 1-3 Werktage
(Casino Records) 11 Tracks - LP von 1977 I.O.U. Sie wissen, dass die meisten Leute durch ihre Brieftaschen oder ihre Taschenbücher schauen und unten auf dem Boden, vorbei an den Kreditkarten und Babyfotos, grünen Stempeln - Sie finden...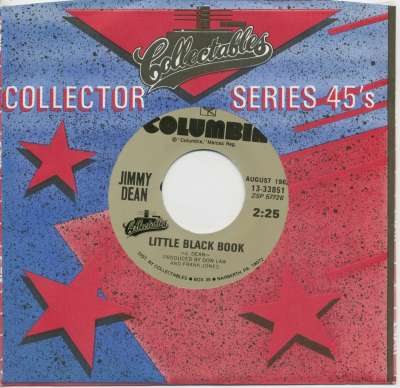 Jimmy Dean: Big Bad John - Little Black Book (7inch, 45rpm,...
Art-Nr.: 45COL33051

A - Big Bad John B - Little Black Book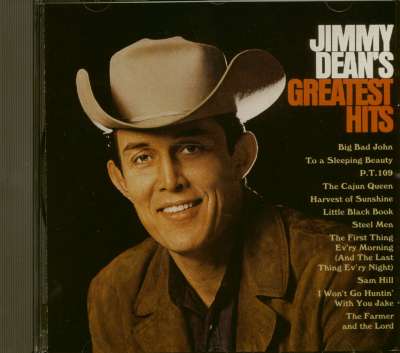 Jimmy Dean: Greatest Hits (CD)
Art-Nr.: CD9830002

(Columbia) 11 tracks - Big Bad John, Steel Man, Sam Hill, The Farmer And The Lord and more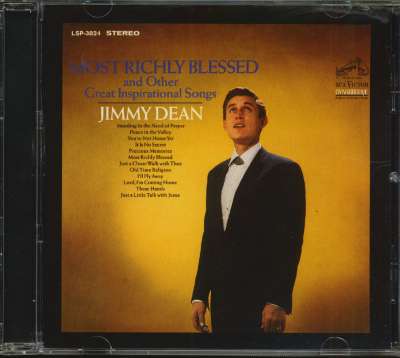 Jimmy Dean: Most Richly Blessed & Other Great Inspirational...
Art-Nr.: CDSNY39582


Sofort versandfertig, Lieferzeit** 1-3 Werktage
(Sony-Custom) 12 Tracks - Original RCA Victor 1967 - Note: This product is an authorized licensed CD-R and is manufactured on demand!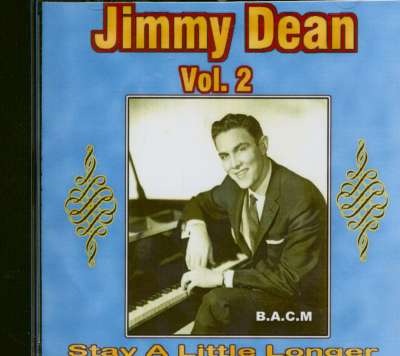 Jimmy Dean: Stay A Little Longer Vol.2 (CD)
Art-Nr.: CDD484

(2015/BACM) 30 tracks.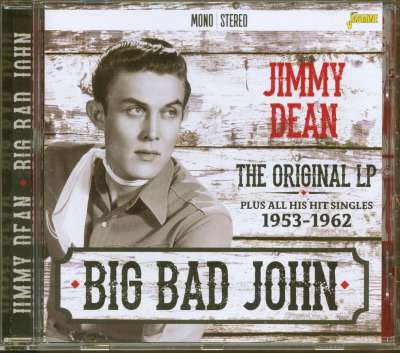 Jimmy Dean: Big Bad John (CD)
Art-Nr.: CDJAS3697


Sofort versandfertig, Lieferzeit** 1-3 Werktage
(2016/Jasmine) 24 Tracks - 2 Original LPs plus Hit Singles auf einer CD!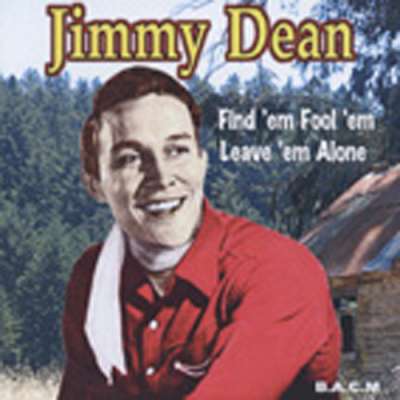 Jimmy Dean: Find 'em Fool 'em Leave 'em Alone (1952-58)
Art-Nr.: CDD252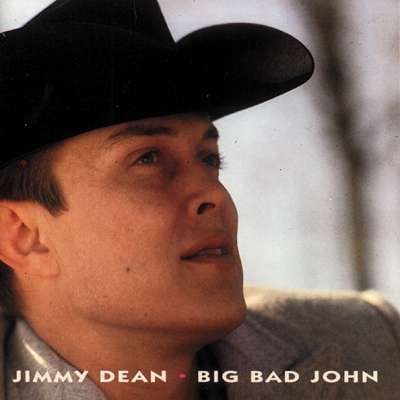 Jimmy Dean: Big Bad John
Art-Nr.: BCD15723


Sofort versandfertig, Lieferzeit** 1-3 Werktage
1-CD mit 24-seitigem Booklet, 26 Tracks. Spieldauer ca. 79 Minuten. Ein Album mit den wirklich allerbesten Titeln von Jimmy Dean, einem großen, innovativen und sehr erfolgreichen Country-Star der Sechziger. Auf dem Weg zum Crossover...