Für die Filterung wurden keine Ergebnisse gefunden!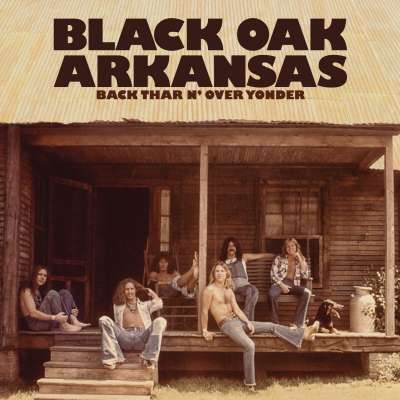 BLACK OAK ARKANSAS: Back Thar n' Over Yonder
Art-Nr.: CD535984

(2013/Atlantic) 15 tracks (60 Min.) digipac with 36 page booklet. 2013 release from the Southern Hillbilly Psycho-Boogie band. Back Thar N' Over Yonder is a goldmine of new and undiscovered Black Oak, containing five new songs from a...
Wer war/ist

Black Oak Arkansas

? - CDs, Vinyl LPs, DVD und mehr

In Deutschland weitgehend unbekannt, ist Black Oak Arkansas in den USA eine der erfolgreichsten Gruppen der zweiten Hard-Rock-Generation. Die Band ist offen gegenüber den verschiedensten Musikformen. Folk-, Soul- und vor allem Blues-einflüsse zeigen sich in einigen Songs, auch wenn der harte Rock sehr oft - vor allem Live - dominiert. Black Oak Arkansas bietet dem Hörer eine kraftvolle, ungebrochene und daher glaubhafte Musik, deren Originalität sonst gegenwärtig kaum anzutreffen ist. Die Gruppenmitglieder des Sextetts sind Jim Mangrum (Leadgitarre und Washboard), Harvey Jett (Leadgitarre, Banjo, Piano und Orgel), Stanley Knight (Leadgitarre, Steel-Gitarre, Piano und Orgel), Rick Reynolds (12-String), Pat Daugherty (Schlagzeug, Bass, Vocals) und Tommy Aldridge zur besonderen Verwendung. An originellen Einfällen mangelt es der Truppe selten. So verschenkten sie einen Berg durch Zertifikate an ihre US-Mitbürger. Ob allerdings der Satz, den eine bekannte amerikanische Zeitung über Black Oak geschrieben hat, volle Gültigkeit besitzt, mag bezweifelt werden: "Black Oak Arkansas ist das, was die Rolling Stones gern wären.' Original Presse-Info: WEA Music GmbH

Weitere Informationen zu Black Oak Arkansas auf de.Wikipedia.org