Wer war/ist

Dave Bartholomew

? - CDs, Vinyl LPs, DVD und mehr

DAVE BARTHOLOMEW
A member of the Rock 'N' Roll Hall of Fame, even if Dave Bartholomew never plays another note, his place in the annals of popular music is assured via his association with Fats Domino. JOHNSON A native of Edgard, Louisiana, trum-peter Bartholomew was leading the city's best and most popular bands when the Brauns came to New Orleans look-ing for talent. 'The Brauns were just going around town looking for tal-ent,' said Bartholomew, in 1982. 'They told me they were interested in recording my band. So we went down to Cosimo's [actually the J&M Studio] and cut.' Bartholomew would have several releases on De Luxe before coming up with 'Country Boy' which is reissued here. ''Country Bo-
was the biggest thing I ever did on myself,' recalled Bartholo-mew. 'It did about 100,000, but that was pretty good for 1949. I still get checks on it.' Like several of Bartholomew's compositions 'Country Boy' contained playful, slightly risque lyrics with a catchy arrange-ment which would soon be referred to as rhythm and blues. The other two selections contained here are 'Girt Town Blues,' a neighborhood that contained Al's Starlight Room where Bartholomew's band was a regular, and 'Mister Fool,' a full blown big band blues.
—JEFF HANNUSCH, NEW ORLEANS, JULY 2000 (author of I Hear You Knockin'• The Sound of New Orleans Rhythm and Blues and the forthcoming The Right Place: The New Orleans Beat)
Sources: Whiskey Woman and...#9 and #10 — A De luxe and Regal Feast! by Bill Daniels, Walkin' To New Orleans by John Broven, & I Hear You Knockin' by Jeff Hannusch




Weitere Informationen zu Dave Bartholomew auf de.Wikipedia.org
Für die Filterung wurden keine Ergebnisse gefunden!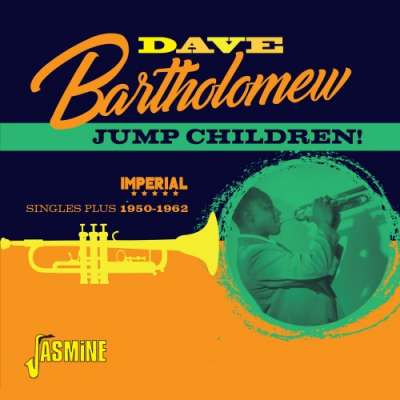 Dave Bartholomew: Jump Children! - Imperial Singles Plus...
Art-Nr.: CDJAS845


Sofort versandfertig, Lieferzeit** 1-3 Werktage
(Jasmine) 57 Tracks - Sein unverwechselbares Trompetenspiel und seine bemerkenswerten Leistungen als einer der Hauptarchitekten von New Orleans R&B in den späten 40er und frühen 50er Jahren als Produzent (insbesondere von Fats Domino)...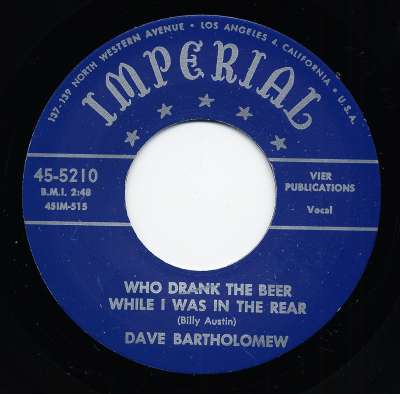 Dave Bartholomew: Who Drank The Beer While I Was In The Rear -...
Art-Nr.: REP02082


Sofort versandfertig, Lieferzeit** 1-3 Werktage
Killer double decker! With the original version of 'My Ding A Ling' long before Checuk Berry had a worldwidehit with this song!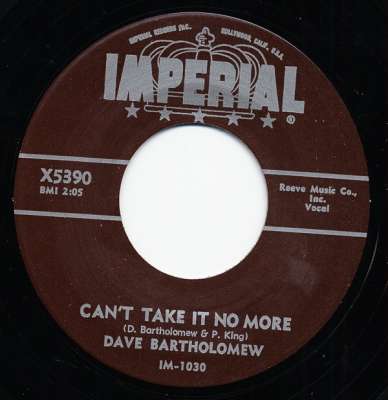 Dave Bartholomew: Turn Your Lamps Down Low & Can't Take It No...
Art-Nr.: REP02073

(2012/REPRO)