Wer war/ist

Esther Phillips

? - CDs, Vinyl LPs, DVD und mehr
Esther Phillips
Esther Phillips: Geboren in Galveston, Texas 1935, starb 1984 in Los Angeles. Ihre Eltern schieden sich, als Esther ziemlich jung war.
Ihr Vater wechselte nach Houston, und ihre Mutter zog nach Kalifornien.
In den späten 1940er Jahren lebte Esther in Los Angeles, als sie 1949 auf den legendären R & B-Bandleader Johnny Otis aufmerksam wurde, indem er 1949 eine Talent-Show in seinem Nachtclub gewann. Sie war erst dreizehn Jahre alt und hatte sich nach Dinah Washington gemustert.

Er war ordentlich beeindruckt und engagierte sie, um sich seiner Revue anzuschließen, indem sie ihren "Kleinen Esther" taufte.
Otis brachte sie zu Modern Records und dann zu Savoy Records, wo ihre erste Veröffentlichung für das Label Double Crossin 'Blues die R & B Charts im Jahr 1950 überstieg. Ihre Zeit mit Otis


War kurz
Sie verließ 1951, aber sie verließ mit einer Heroin-Gewohnheit (das gleiche Schicksal traf eine weitere Otis-Entdeckung, Etta James, ein paar Jahre später).
Sie hatte in den 1950er Jahren (wie Little Esther) eine Reihe von erfolgreichen Platten mit Liedern wie Mistrustin 'Blues, Misery, Cupid Boogie und Deceivin' Blues für Labels wie Savoy, Federal, Decca, Modern und Warwick.


In den späten 1950er Jahren waren die Hits ausgetrocknet und ihre Drogengewohnheit hatte ihr Leben übernommen.
Entschlossen, gerade zu bekommen, checkte sie in Drogenreha in Lexington, Kentucky im Jahr 1961 und war sauber, als Popstar Kenny Rogers sie in einem Houston, Texas Nachtclub hörte.
Kenny hat sie 1962 zum Lenox-Label seines Bruders unterschrieben. Für ihr Comeback ließ sie das "Kleine" fallen und wurde Esther Phillips.
Sie schaltete eine Country-Soul-Version des C & W-Standards Release Me und hatte einen großen Hit, der in den Pop- und R & B-Charts die Top Ten verlief, aber Lenox Records ging 1963 kaputt. Sie unterzeichnete 1964 mit Atlantic und entschied sich dafür
Kenne sie mit bluesigen, string-beladenen Produktionen sehr ähnlich wie Etta James bei Chess tat.
Ihre Version von The Beatles und ich liebe ihn war ein R & B-Hit im Jahr 1965. Beeindruckt, die Beatles flog sie nach Großbritannien in diesem Jahr für ihre ersten Übersee-Aufführungen.
Im nächsten Jahr veröffentlichte Atlantic einen Jazz LP 'Esther Phillips Sings', aber es war ihr 45 Cover von Percy Sledge's, wenn eine Frau einen Mann liebt, der die Charts traf.


Sie versuchte mehrere verschiedene Stile, aber ohne einen weiteren Hit Atlantic ließ sie im Jahr 1967. Ihre Heroin Gewohnheit war zurück und wieder sie überprüft in Reha.
Sie


Schneide ein paar Dinge für Roulette im Jahr 1969 und später in diesem Jahr wieder unterzeichnet mit Atlantik.
Atlantic veröffentlichte ein nervöses Live-Album zu großem Kritik, aber sie waren immer noch entschlossen, sie in eine Pop-Richtung zu schieben, obwohl ohne viel Erfolg.
Sie wurde ein zweites Mal fallen gelassen und unterzeichnet mit Creed Taylors Kudu Etikett im Jahr 1971. Im Jahr 1972 veröffentlichten sie die klassische 'From A Whisper To A Scream' LP, dass die Standout Track Home Is Where The Hatred ist.
Sie nahm mehrere Alben für Kudu auf und wurde in der Jazz-Welt bekannt und spielte an renommierten Konzert- und Jazz-Festivals.
Es schien ihre Karriere war endlich auf dem richtigen Weg.
Im Jahr 1975 hatte sie ein Hit-Album und Single mit einem Disco Cover von Dinah Washington's Was ein Unterschied Ein Tag macht, ihr größter Erfolg noch.
Im Jahr 1977 unterschrieb Phillips mit Mercury Records und verzeichnete vier mäßig erfolgreiche Alben für das Label, bevor ihr Vertrag mit ihnen seinen Kurs belegte.
Ihre letzte R & B-Chartrekord war Turn Me Out für das kleine Winning-Label im Jahr 1983. Jahre der Drogen- und Alkoholmissbrauch hatten ihren Tribut getroffen, und Esthers Gesundheit gab schließlich das folgende Jahr heraus.
Weitere Informationen zu Esther Phillips auf de.Wikipedia.org
Für die Filterung wurden keine Ergebnisse gefunden!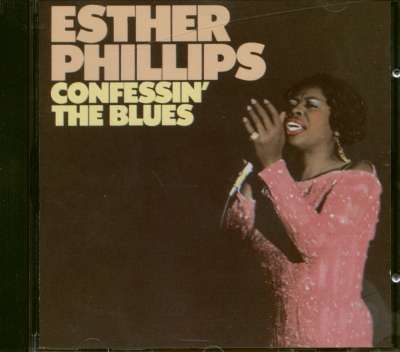 Esther Phillips: Confessin' The Blues (CD)
Art-Nr.: CDRSA807


Sofort versandfertig, Lieferzeit** 1-3 Werktage
(Sequel) 13 Tracks - Neuauflage auf CD des Original-LP-Albums von 1976 `Atlantic?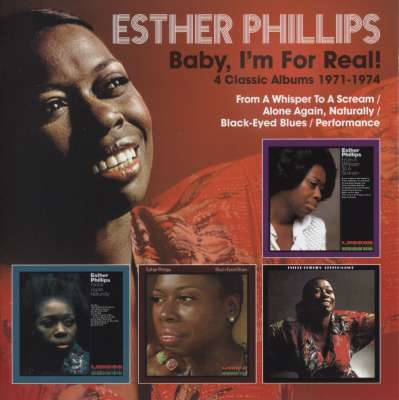 Esther Phillips: Baby, I'm For Real - 4 Classic Albums (2-CD)
Art-Nr.: CDRV374

(2014/Raven) 35 tracks, On great value Double CD, Baby, I'm for Real 1971-1974 combines four classic albums Esther Phillips recorded for Kudu Records: From a Whisper to a Scream (1971), Alone Again, Naturally (1972), Black-Eyed Blues...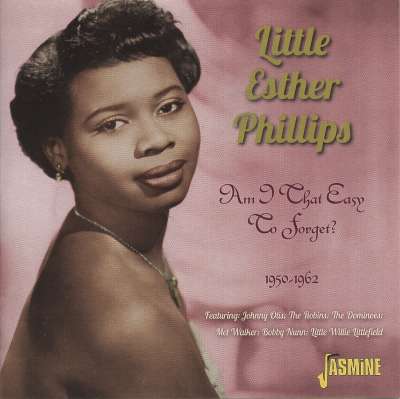 Esther Phillips: Am I That Easy To Forget? 1950-1962
Art-Nr.: CDJAS3006

(2013/Jasmine) 28 tracks 1950-1962 feat. Johnny Otis, The Robins, The Dominoes, Little Willie Littlefield a.o.
Esther Phillips: Alone Again, Naturally
Art-Nr.: LPKUDU9

(1972 'Kudu') (?)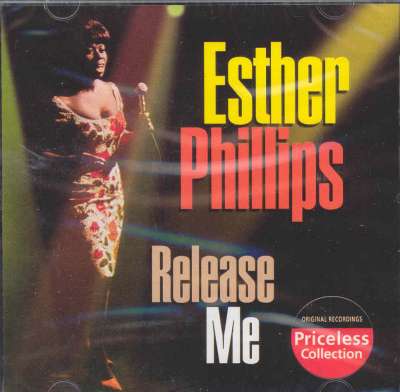 Esther Phillips: Release Me
Art-Nr.: CDCOL9985

CD on COLLECTABLE RECORDS by Esther Phillips - Release Me
Esther Phillips: Here's Esther - Good Black Is Hard To Crack
Art-Nr.: CDSMCR5007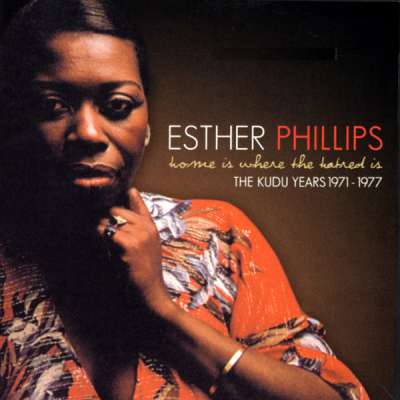 Esther Phillips: Home Is Where The Hatred Is 1971-1977
Art-Nr.: CDRV174

(2004/RAVEN) 18 tracks - original CTI/KUDU recordings 1971-1976 Comprehensive anthology of Ester's CTI/Kudu recordings. 18 sophisticated, smouldering soul/jazz/R&B/funk masterpieces; includes the hits 'From A Whisper To A Scream and What...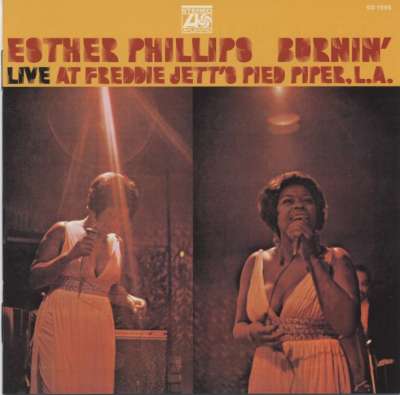 Esther Phillips: Burnin' - Live At freddie Jett's Pied Pier
Art-Nr.: CD7412700

(1970 'Wea International') (41:28/09)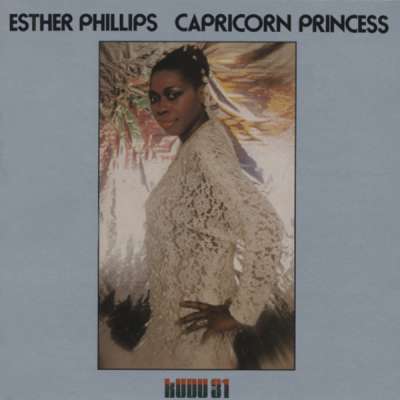 Esther Phillips: Capricorn Princess (1976)
Art-Nr.: CD78020

(2010/REEL/SONY) 8 tracks (32:49) the final KUDU album 1976 with 16 page booklet.