Wer war/ist

Marmalade

? - CDs, Vinyl LPs, DVD und mehr

Marmalade - Dean Ford, Lead-Gesang (geb. 5. September 1946); Junior Campbell, Lead-Gitarre (31. Mai 1947); Pat Fairlie, Rhythmus-Gitarre (14. April 1946); Graham Knight, Bass (8. Dezember 1946) und Raymond Duffy, Schlagzeug - erstmals erschienen als Dean Ford und die Gaylords. Eine führende schottische Gruppe seit 1963 - auf Augenhöhe mit den Poets and the Beatstalkers - britischer Einfluss entzog sich ihnen trotz unterhaltsamer und origineller Singles wie "The Name Game" und "Little Egypt". Als Marmelade brach `Loyin' Things' (CBS) 1968 den Zauber, und ein Cover der Beatles' Ob La Di Ob La Ob La Da' brachte sie in diesem Jahr auf Platz eins. Duffy wurde durch Alan Whitehead ersetzt, den ersten in einer Reihe von Änderungen.

Ernster war der Abgang von Junior Campbell, Co-Autor mit Dean Ford, von ihrem besten Hit, "Reflections Of My Life" (Derain). Er machte selbst hochkommerzielle Tamlaesque Singles, während sein Nachfolger in Marmalade, Hughie Nicholson, bald den viel gelobten Blue bildete, zusammen mit anderen Ex-Poets wie ihm selbst. Reduziert auf ein vierstimmiges Stück, Ford und Knight, plus Duggie Henderson (Schlagzeug) und Mike Japp (Lead-Gitarre), machten weiterhin polierte Singles, wenn auch mit weniger Glück, ihre Marke von angenehmem Pop veraltet. Dean Ford veröffentlichte 1975 ein Soloalbum bei EMI.
Für die Filterung wurden keine Ergebnisse gefunden!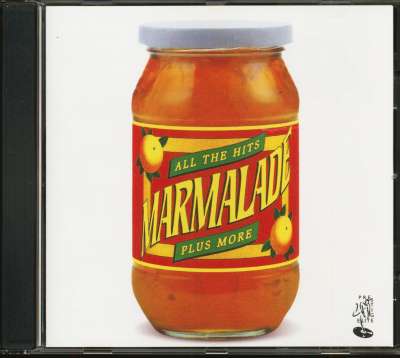 Marmalade: All The Hits Plus More (CD)
Art-Nr.: CDSGP0218


Sofort versandfertig, Lieferzeit** 1-3 Werktage
(Prestige-Elite) 18 Tracks - Re-Recordings -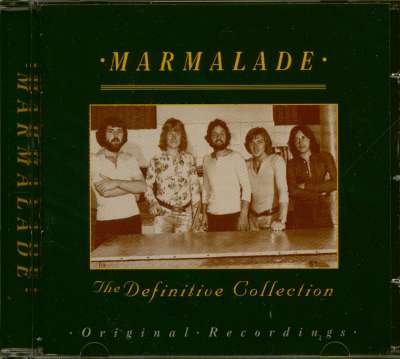 Marmalade: The Definitive Collection (CD)
Art-Nr.: CDCCS436

(Schloss) 20 Songs (77:49), Original Decca-Aufnahmen 1968-72 mit 8-seitigem Booklet.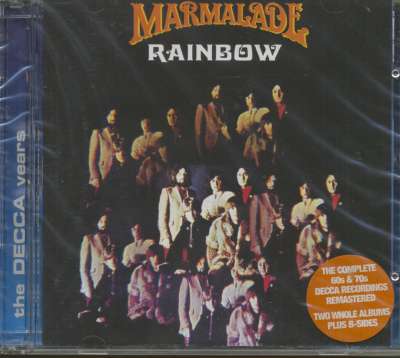 The Marmalade: Rainbow - The Decca Years 2-CD
Art-Nr.: CDNEE335

(2000/Sequel) 32 tracks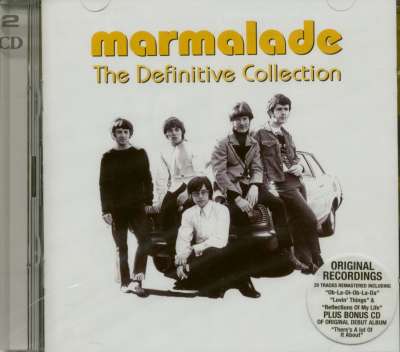 Marmalade: The Definitive Collection (2-CD)
Art-Nr.: CDCCS825

(1998/Castle) 34 tracks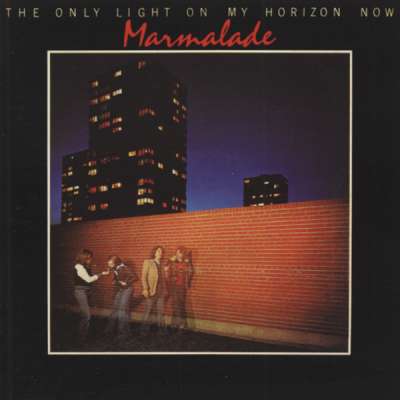 Marmalade: The Only Light (1977)...plus
Art-Nr.: CDGLAM101