Wer war/ist

Joe Goldmark

? - CDs, Vinyl LPs, DVD und mehr

JOE GOLDMARK

Joe Goldmark hat eine einzigartige Vision für die Steelgitarre. Er begann 1980 mit den Aufnahmen und hat neun eigene Alben (drei Schallplatten, sechs CDs) mit Rock, Pop, Soul und Weltmusik auf diesem "Country"-Instrument. Er hat viele melodische und lustige Songs erfolgreich an den angenehmen Klang der Pedal Steel Gitarre angepasst und viele seiner eigenen interessanten Originale geschrieben.

Joe war schon immer ein Musikkenner. Aufgewachsen in Tucson, Arizona, spielte er ab dem Alter von neun Jahren Cello, nahm aber auch Gitarre und spielte in Garagenbands. Er zog für die High School nach San Francisco und begann Bass in Soulbands zu spielen. Das war in den späten 60ern, und Joe war begeistert vom San Francisco Sound und sah viele der Großen, darunter Hendrix, Cream, Doors, Big Brother, etc. Während Jerry Garcia mit den New Riders Of The Purple Sage spielte, die für die Grateful Dead eröffnet wurden, wurde Joe von dem Pedal Steel Bug gebissen. Bald verließ er das College, um Vollzeit auf der Steelgitarre zu spielen, was er in den nächsten fünfzehn Jahren tat. Nachdem er Mitte der 80er Jahre geheiratet und einen Sohn gehabt hatte, hatte Joe das Glück, einen Tagesjob zu bekommen und ins Pizzageschäft einzusteigen. Zehn Jahre später schloss sich der Kreis, indem er Partner bei Amoeba Music wurde und sich ganz dem Musikgeschäft widmete. Allerdings hat er nie aufgehört, den Pedalstahl zu spielen, den er als das einzige Instrument beschreibt, das das Üben angenehm macht, weil sich die Akkorde ineinander biegen.

Die Kritiker nannten den Pedal Steel Gitarristen Joe Goldmark "den legendären Kosher Kowboy, den König des psychedelischen Stahls", "den weltbesten Rock and Roll Pedal Steel Gitarristen" und "einen sehr talentierten und progressiven Steel Gitarristen". Joe bringt die Pedal-Steel-Gitarre in neues musikalisches Terrain und spielt hochenergetische Neuinterpretationen von Rock- und Soulmusik, schreibt und spielt eigene Instrumentalstücke.

Joe's Aufnahmen: "Blue Steel" (2018), "The Wham of That Steel Man" (2012), "Seducing the 60s" (2007), "Strong Like Bull....But Sensitive Like Squirrel" (2001), "All Hat - No Cattle" (1999), "Steelin' the Beatles" (1997), "All Over the Road" (1994), "Rockin' It" (1981 LP), "Vertigo" (1978 LP), "Pickin' My Pleasures" (1977 LP) und "The Goldmark Round-Up", eine Neuauflage seiner 20 Lieblingsstücke aus den drei LPs (1996). Seine drei Alben Ende der 90er Jahre mit Jim Campilongo und den 10 Gallon Cats gelten als bahnbrechende Klassiker in einer aktualisierten Speedy West und Jimmy Bryant Ader. Er hat auch mit anderen Künstlern wie "True Stories" mit David Byrne, "Restless Rambling Heart" mit Laurie Lewis und neun Alben mit "The Usual Suspects", einem Projekt mit Mike Bloomfield, Taj Mahal, Peter Rowan, Norton Buffalo und Maria Muldaur, aufgenommen. Neben seiner Aufnahmearbeit hat Joe The International Steel Guitar and Dobro Discography -- 8th Edition geschrieben und veröffentlicht.
Für die Filterung wurden keine Ergebnisse gefunden!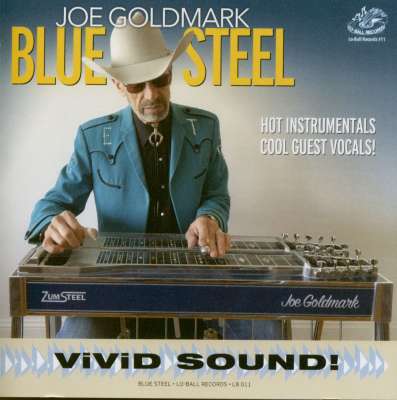 Joe Goldmark: Blue Steel - Hot Instrumentals Cool Guest...
Art-Nr.: CDLBR11


Sofort versandfertig, Lieferzeit** 1-3 Werktage
(Lo-Ball Records) 13 Titel Blue Steel ist Joe Goldmarks bisher aufregendstes Album. Er mischt originelle Instrumentalstücke mit ungewöhnlichen Gesangsausschnitten und schafft so eine echte Americana-Mischung. Dallis Craft steuert...