Der Artikel wurde erfolgreich hinzugefügt.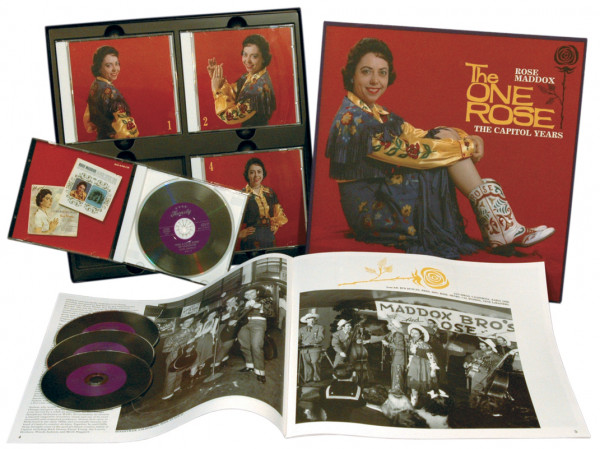 Dieser Artikel ist gestrichen und kann nicht mehr bestellt werden!
Benachrichtigen Sie mich, sobald der Artikel lieferbar ist.
Artikel-Nr.:

BCD15743

Gewicht in Kg.:

1.2
4-CD Box (LP-Format) mit 16-seitigem Buch, 112 Einzeltitel. Spieldauer ca. 290 Minuten. Rose...
mehr
Rose Maddox: The One Rose (4-CD Deluxe Box Set)
4-CD Box (LP-Format) mit 16-seitigem Buch, 112 Einzeltitel. Spieldauer ca. 290 Minuten.
Rose Maddox
, klein und großmütterlich zugleich, konnte bis zu ihrem Tod am 15. April 1998 stimmgewaltig mit den Besten mithalten. Von 1959 bis 1965 nahm
Rose Maddox
eine Serie von Langspielplatten für Capitol auf, die hier vollständig und zusammen mit vielen seltenen Singles und fünfzehn zuvor in den Archiven vergessenen Aufnahmen wiederveröffentlicht werden. Diese Art von Country Music muss sich nicht dafür entschuldigen, schlicht Country zu sein. Einige der Maddox-Brüder waren noch verfügbar und verliehen diesen Aufnahmen die Intensität und das Feuer der alten Sessions mit den Maddox Brothers & Rose. Für Roses 'Sings
Bluegrass
'-LP kamen
Bill Monroe
und
Reno & Smiley
ins Studio. Hier finden Sie insgesamt 112 Aufnahmen mit dem tollen Sound von
Rose Maddox
auf dem Höhepunkt ihrer Karriere.
Artikeleigenschaften von

Rose Maddox: The One Rose (4-CD Deluxe Box Set)
Albumtitel:

The One Rose (4-CD Deluxe Box Set)

Genre

Country

Preiscode

DI

Edition 2

Deluxe Edition

Artikelart

Box set

EAN:

4000127157430

Gewicht in Kg:

1.2
The Maddox Brothers & Rose Die Maddox Brüder & Rose Von Hank Williams,...
mehr
"Rose Maddox"
The Maddox Brothers & Rose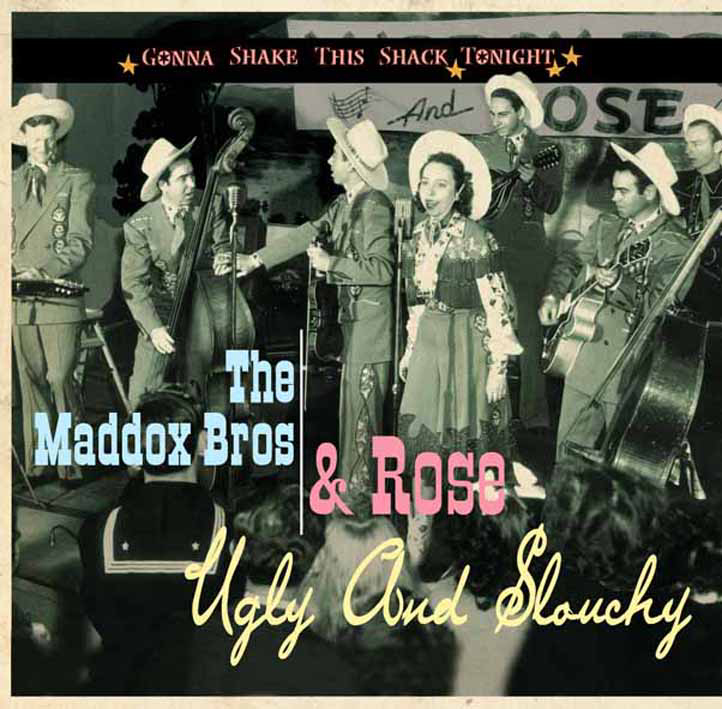 Die Maddox Brüder & Rose
Von Hank Williams, Johnny Cash und Elvis Presley geliebt, wäre es schwer, eine einflussreichere Musikgruppe zu finden als die Maddox Bros & Rose, die in den 50er Jahren in der unzüchtigen Geburt des Rock'n' Rolls auftauchte.
Was an den Maddox Bros & Rose wahr ist, ist, dass ihre Musik, eine raue und raue Mischung aus Hillbilly-Boogie, westlichen Songs und Medizinshow-Hokum, ein mächtiger Funke der Inspiration für die erste Welle von Rockabillies und Rock'n' Rollern war - von ihren wilden Bühnenkostümen bis zu ihrer Flotte von Cadillacs, die Maddox Bros & Rose waren Rockstars, bevor es so etwas gab.
In einer höchst ironischen Wendung des Schicksals ist ihre Platte von The Death Of Rock And Roll (hier enthalten), die Elvis parodieren soll, zu ihrer am meisten verehrten Aufnahme in Rockabilly-Kreisen geworden, die zu Recht als exzellentes Beispiel des Genres gilt!
Die hier vorgestellte Zusammenstellung ist eine Auswahl der heißesten Aufnahmen von Maddox Bros & Rose für Columbia Records, von ihrer allerersten Columbia-Session im Januar 1952 bis zur letzten weltlichen Aufnahme, die die Gruppe jemals im August 1957 gemacht hat, bevor Rose solo ging und die Familienversammlung aufgelöst wurde.
Für Rockabilly und Hillbilly Boogie Fans ist dies die ultimative Kollektion. Wenn Sie eine vollständigere Darstellung dessen wünschen, was die Maddox Bros & Rose wirklich waren, ist es empfehlenswert, dass Sie sich die Bear Family Box "The Most Colorful Hillbilly Band In America" (BCD 15850) ansehen, eine 4-CD-Sammlung, die ihr gesamtes Columbia-Album enthält. Wenn Sie ein Fan sind, der absolut alles hören will, ist es auch empfehlenswert, die früheren Aufnahmen des 4-Sterne-Labels (die viele Fans für ihre besten Aufnahmen halten) und ihre Live-Radiotranskriptionen, die vom Label Arhoolie fachmännisch neu aufgelegt wurden, zu lesen. Schließlich hat Bear Family auch ein exzellentes Box-Set veröffentlicht,'The One Rose' (BCD 15743), das Rose Maddox's gesamte Solo-Ausgabe aus den Capitol-Jahren der späten 1950er und 1960er Jahre enthält.
Die Maddox Familiensaga ist eine, die schon oft erzählt und wiedererzählt wurde, und ist der Stoff der Legende. Wie der Schriftsteller Robert K. Oermann schrieb: "Sie mussten nicht John Steinbecks'Die Trauben des Zorns' lesen, sie lebten es."
Der Maddox Clan (und in der Tat, sie waren mehr ein Clan als eine Familie) hagelte aus der buschigen Bergregion von Nordost-Alabama, wo ihr Vater Charlie und ihre Mutter Lula in der Nähe der kleinen Stadt Boaz (nur 39 Meilen von Sektion entfernt) ihr Lager aufschlugen und aufschlugen, Alabama, Geburtsort der Louvin Brothers, und nur 70 Meilen von Hank Williams Geburtsort des Mount Olive West, Alabama entfernt).
Cliff war der älteste Sohn, geboren 1912, gefolgt von der älteren Schwester Alta 1914, Calvin 1915, Fred 1919, Don 1922, die kleinste Schwester Rose 1925 und schließlich der kleine Bruder Henry 1928. Die Familie lebte in den ärmsten Verhältnissen, die man sich vorstellen kann, wenn auch nicht untypisch für das immer noch wirtschaftlich angeschlagene Gebiet. Sie führten eine Hand zum Mund Existenz der Bearbeitung des Landes, ohne den Nutzen von fließendem Wasser oder Strom.
Was diese Familie von den Zehntausenden ähnlich armer, südlicher Familien dieser Zeit unterschied, war die Matriarchin des Maddox-Haushalts. Lula Maddox war ganz einfach einzigartig unter ihren Altersgenossen und beherrschte den Haushalt mit einer Dominanz, die sich nicht nur auf die finanziellen Aspekte des Familienunternehmens erstreckte, sondern auch darauf, ihre Kinder davon abzuhalten, zu heiraten oder die Herde zu verlassen.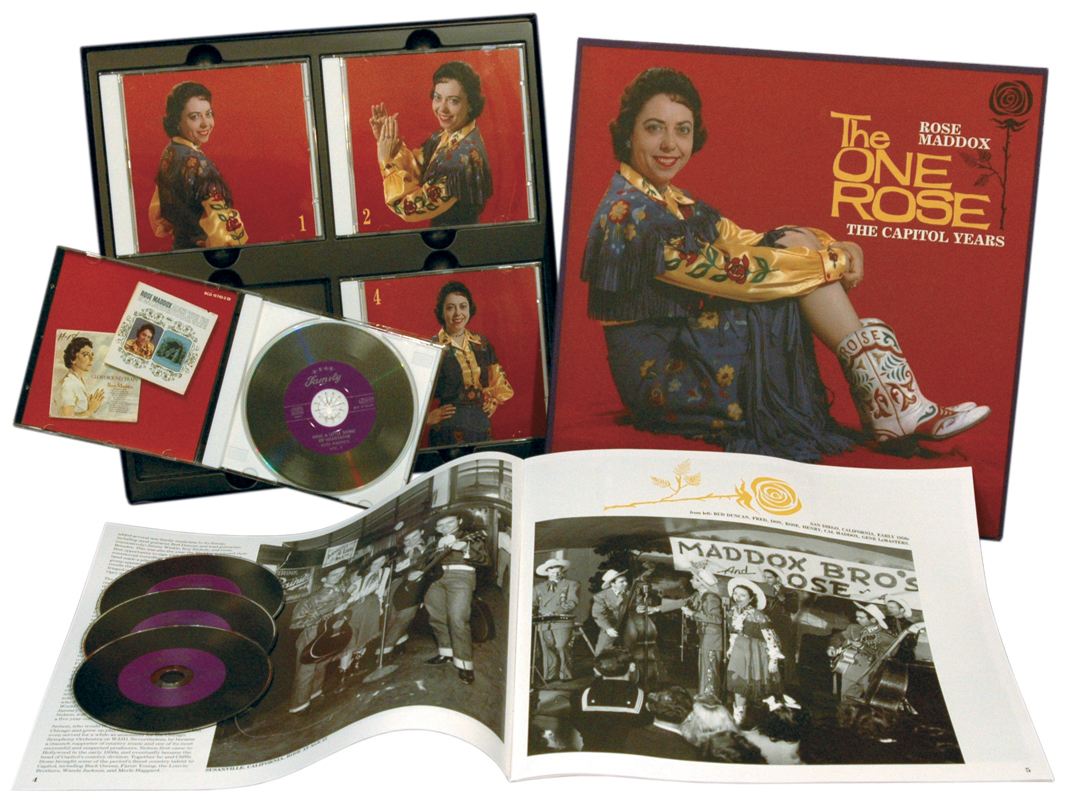 Lula kam auf die Idee, vor allem aus dem Lesen von Groschenromanen, dass die Familie an einen mythischen Ort namens Kalifornien ziehen sollte, wo Gold buchstäblich auf Bäumen wuchs, und sie hielt an diesem Gedanken jahrelang fest, bis sie schließlich 1933 die Familie überzeugte, sich nach Westen zu wagen.
Die Familie Maddox, die die riesige'Okie'-Migration um mehrere Jahre vorwegnahm, machte sich mit 35 Dollar aus dem Verkauf der wenigen Besitztümer, die sie besaßen, auf den Weg nach Westen. Die Maddoxes schafften es in ein paar Wochen nach Los Angeles, wo sie mit Hitching-Fahrten, Spaziergängen und vor allem in Güterwagen mit Hobos und Driftern unterwegs waren, um die Familie für den nächsten Abschnitt der Reise ausreichend zu ernähren. Von Los Angeles aus ging die Familie in den Norden, um Lulas Traum zu erfüllen, die "Goldfelder von Sonora" zu bearbeiten.
Was sie stattdessen fanden, waren eher verarmte Familien wie sie selbst, die alle auf der Suche nach dem Versprechen eines besseren Lebens waren. Die Maddoxen lebten bald in einem Phänomen aus der Depressionszeit, bekannt als Pipe City of Oakland, einem Baugebiet mit vielen großen Dränagerohren, in dem Familien innerhalb der gebogenen Abschnitte ungenutzter Rohre Wohnräume einrichteten.
Ein berühmtes Bild aus dieser Zeit wurde am 11. April 1933 in der'Oakland Tribune' veröffentlicht. Die Notlage der Familie wurde mit einem charakteristischen Dust Bowl Sepiatone-Foto der fünf Kinder mit Charlie und Lula und einer Bildunterschrift mit dem Titel "Family roams U.S. for Work" veröffentlicht.
Von hier aus siedelte sich die Familie in der Nähe ihrer nächsten Wahlheimat Modesto an.
MADDOX BROTHERS & Rose Ugly And Slouchy - Gonna Shake This Shack Tonight
Read more at: https://www.bear-family.com/maddox-brothers-und-rose-ugly-and-slouchy-gonna-shake-this-shack-tonight.html
Copyright © Bear Family Records
Bewertungen lesen, schreiben und diskutieren...
mehr
Kundenbewertungen für "The One Rose (4-CD Deluxe Box Set)"
Bewertung schreiben
Bewertungen werden nach Überprüfung freigeschaltet.
Weitere Artikel von Rose Maddox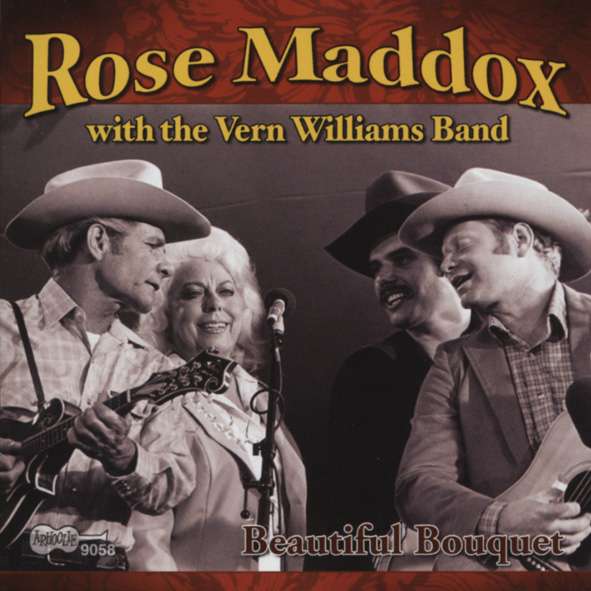 Rose Maddox: Beautiful Bouquet (& The Vern Williams Band)
Art-Nr.: CDARH9058


Artikel muss bestellt werden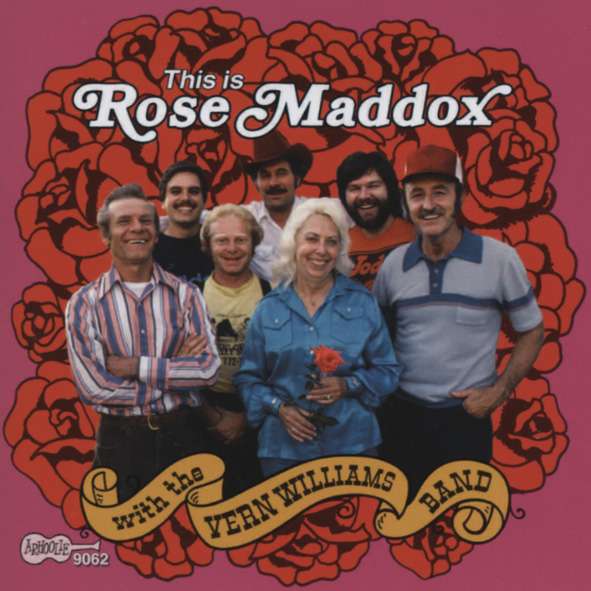 Rose Maddox: This Is Rose Maddox (& Vern Williams Band)
Art-Nr.: CDARH9062


Artikel muss bestellt werden
Rose Maddox: Rosie!
Art-Nr.: CDGT0871


Artikel muss bestellt werden
Rose Maddox: Live - On The Radio
Art-Nr.: CDARH467


nur noch 1 verfügbar
Sofort versandfertig, Lieferzeit** 1-3 Werktage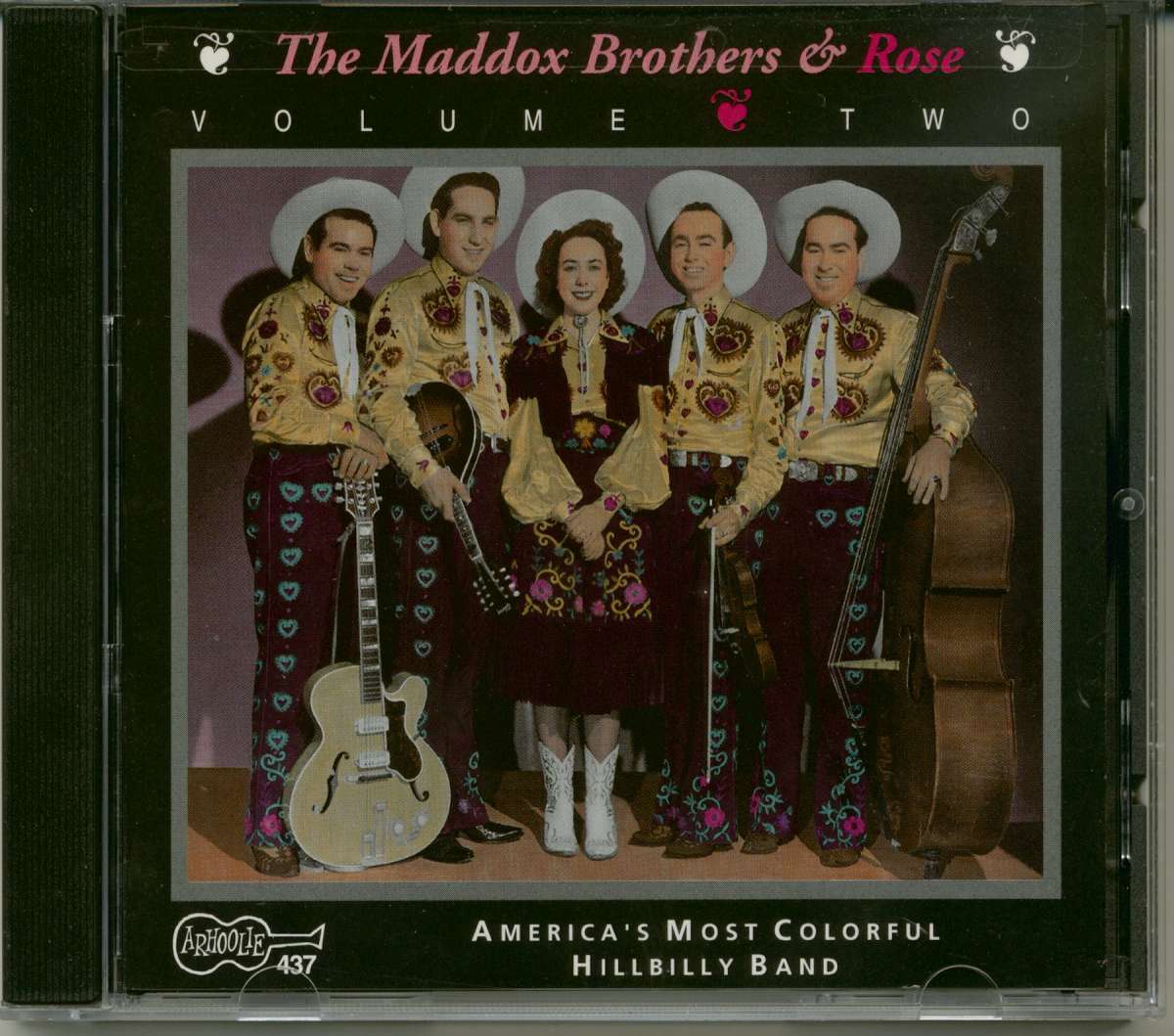 Rose Maddox: Vol.2, 1947-51 (CD)
Art-Nr.: CDARH437


die letzten 1 verfügbar
Sofort versandfertig, Lieferzeit** 1-3 Werktage