Der Artikel wurde erfolgreich hinzugefügt.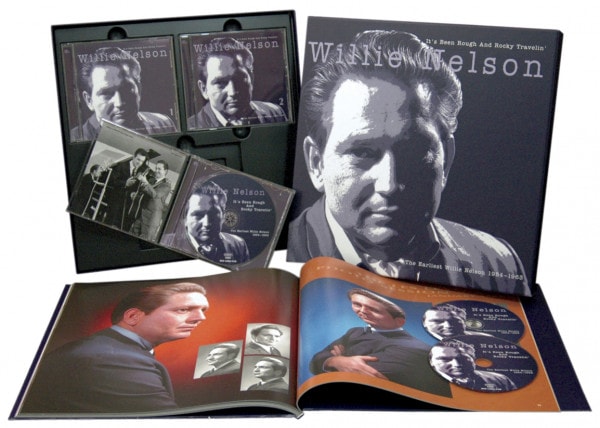 Artikel-Nr.:

BCD16664

Gewicht in Kg.:

1.95
3-CD Box (LP-Format) mit 68-seitigem gebundenen Buch, 77 Einzeltitel. Spielzeit ca. 188...
mehr
Willie Nelson: It's Been Rough ... (3-CD)
3-CD Box (LP-Format) mit 68-seitigem gebundenen Buch, 77 Einzeltitel. Spielzeit ca. 188 Minuten.

Kein Künstler aus der amerikanischen Musikgeschichte ist produktiver und einfallsreicher als Willie Nelson. Die jetzt vorliegenden Titel zählen zu seinen rarsten – sie stammen aus einer Zeit, als er noch darum betteln mußte, daß jemand seine Songs aufnimmt. Es ist eine Geschichte von kleinen Labels, lokal begrenzten Hits und Auftritten in Kneipen, die Willie Nelson von Texas nach Washington führten, wieder zurück nach Texas und schließlich 1960 nach Nashville: 'Dort liefen die Geschäfte', schrieb er später mal, 'wenn ich überhaupt was loswerden konnte, dann dort.' Dieses 3-CD-Set enthält alle seine offiziellen Aufnahmen aus den Jahren 1954 bis 1963. Seine Verbindungen zu Klein-Labels begannen mit Sarg Records in Texas 1954.

Danach gründete er seine eigenen Willie Nelson Records (1957), Songs aus einer erst kürzlich entdeckten, eigenproduzierten Session gibt es hier erstmals zu hören. 1959 war er wieder in Texas und spielte Songs für 'D' Records ein – alle diese Songs sind hier vertreten, darunter seine seltene, allererste Version (und verfügbare Alternativ-Takes) von Nite Life , das später bei Rx Records erschien. Dann ging Willie Nelson als Songschreiber nach Nashville, wo er auch einige Erfolge verbuchen konnte, und erhielt anschließend einen Vertrag von Liberty Records. 1962 schaffte er es erstmalig in die Country Top 10 mit Willingly und Touch Me . Seine kompletten Liberty-Einspielungen sind hier integriert. Dazu gehören Willie Nelsons Original-Fassungen von Crazy, Funny How Time Slips Away, Hello Walls, Mister Record Man und Three Days. Diese Klassiker hat er im Lauf seiner schon sechs Jahrzehnte andauernden Karriere immer wieder gespielt – hier sind die definitiven Originalversionen!

Dieses Set ist die perfekte, unverzichtbare Ergänzung zu 'NASHVILLE WAS THE ROUGHEST', der 8-CD-Box mit Willie Nelsons Einspielungen für Monument und RCA Victor (sie beginnen dort, wo dieses Dreier-Set endet). Zusammen decken sie 18 Jahre der unglaublichsten Karriere der amerikanischen Musikgeschichte ab. Die 3-CD-Box enthält außerdem ein 68-seitiges Buch von Rich Kienzle sowie eine Komplett-Discographie von Richard Weize und eine Fülle bislang unveröffentlichter Fotos und Illustrationen.
Artikeleigenschaften von

Willie Nelson: It's Been Rough ... (3-CD)
Albumtitel:

It's Been Rough ... (3-CD)

Genre

Country

Edition 2

Deluxe Edition

Preiscode

CK

Artikelart

Box set

EAN:

4000127166647

Gewicht in Kg:

1.95
Nelson, Willie - It's Been Rough ... (3-CD)

Box set 1
01
When I've Sang My Last Hillbilly Song
02
The Storm Has Just Begun
03
No Place For Me
04
Lumberjack
05
Man With The Blues
06
The Storm Has Just Begun
07
What A Way To Live
08
Misery Mansion
09
Nite Life
10
Rainy Day Blues
11
No Place For Me (alt 1)
12
No Place For Me (alt 2)
13
No Place For Me (alt 3)
14
Lumberjack (alt 1)
15
Lumberjack (alt 2)
16
Nite Life (alt)
17
Rainy Day Blues (alt)
18
Attention Songwriters (promot. announcement)
Nelson, Willie - It's Been Rough ... (3-CD)

Box set 2
01
The Part Where I Cry
02
Touch Me
03
Mr. Record Man
04
Go Away
05
The Waiting Time
06
Where My House Lives
07
Country Willie
08
How Long Is Forever (vers. 1)
09
Three Days
10
Darkness On The Face Of The Earth
11
One Step Beyond
12
Undo The Right
13
Crazy
14
Funny How Time Slips Away
15
Hello Walls
16
Wake Me When It's Over
17
Our Chain Of Love (& SHIRLEY COLLIE)
18
Is This My Destiny (& SHIRLEY COLLIE)
19
Willingly (& SHIRLEY COLLIE)
20
You Dream About Me (& SHIRLEY COLLIE)
21
There Goes A Man
22
There's Gonna Be Love In My House Tonight
23
You Wouldn't Even Cross The Street
24
How Long Is Forever (vers. 2)
25
Half A Man
26
Take My Word (vers. 1)
27
The Last Letter
28
Home Motel
29
Take My Word (vers. 2)
Nelson, Willie - It's Been Rough ... (3-CD)

Box set 3
01
Right Or Wrong
02
Roly Poly
03
Let Me Talk To You
04
The Things That Might Have Been
05
The Way You See Me
06
Columbus Stockade (vers. 1)
07
Together (& SHIRLEY COLLIE)
08
You Took My Happy Away (vers. 1)
09
Second Fiddle
10
Opportunity To Cry
11
Lonely Little Mansion
12
You Took My Happy Away (vers. 2)
13
Feed It A Memory
14
I Hope So
15
This Cold War With You
16
Blue Must Be The Color Of The Blues
17
Seasons Of My Heart
18
At The Bottom
19
I'll Walk Alone
20
River Boy
21
Am I Blue
22
Take Me As I Am (Or Let Me Go)
23
There'll Be No Teardrops Tonight
24
Tomorrow Night
25
Columbus Stockade Blues (vers. 2)(& S.COLLIE)
26
Columbus Stockade Blues (vers. 3)(& S.COLLIE)
27
You Wouldn't Even Cross The Street
28
River Boy
29
At The Bottom
30
I Hope So
Willie Nelson Geboren am 30. 4. 1933 in Abbott, Texas, USA. Willie Nelson spielte bereits...
mehr
"Willie Nelson"
Willie Nelson
Geboren am 30. 4. 1933 in Abbott, Texas, USA.
Willie Nelson spielte bereits als Kind und Jugendlicher in Country-Bands. Er ist einer der größten Stars des Genres überhaupt und war bis heute mit über 100 Singles in den US-Country-Charts vertreten.
Nach der Veröffentlichung seiner Debüt-45er 'Lumberjack' 1956 siedelte er nach Nashville über, wo er eigene Demos verkaufte und damit seine Autoren-Karriere einläutete. 1961 spielte er mit Ray Price bei den Cherokee Cowboys. Er schrieb erste Hits für Roy Orbison, Patsy Cline und Faron Young. Nelson ließ sich nach seiner Heirat mit Shirley Collie als Schweinefarmer in Ridgetop, Tennessee, nieder. Er trat bis heute mit stilistisch so unterschiedlichen Kollegen wie Bob Dylan, Carlos Santana, Neil Young und Julio Iglesias in Duetten auf.
Mit Johnny Cash, Waylon Jennings und Kris Kristofferson spielt er, neben seiner Solo-Karriere, unter dem Namen The Highwaymen. 1978 Gründung des eigenen Labels Lone Star. Nelson stand Anfang der 90er Jahre mit rund 16 Millionen Dollar Schulden bei der US-Steuerbehörde in der Kreide. 1991: Hochzeit mit Annie D'Angelo. Die Zahl von Nelsons eingespielten Songs liegt jenseits der 1000er-Marke.

Aus dem Bear Family Buch - 1000 Nadelstiche von Bernd Matheja - BFB10025 -
Willie Nelson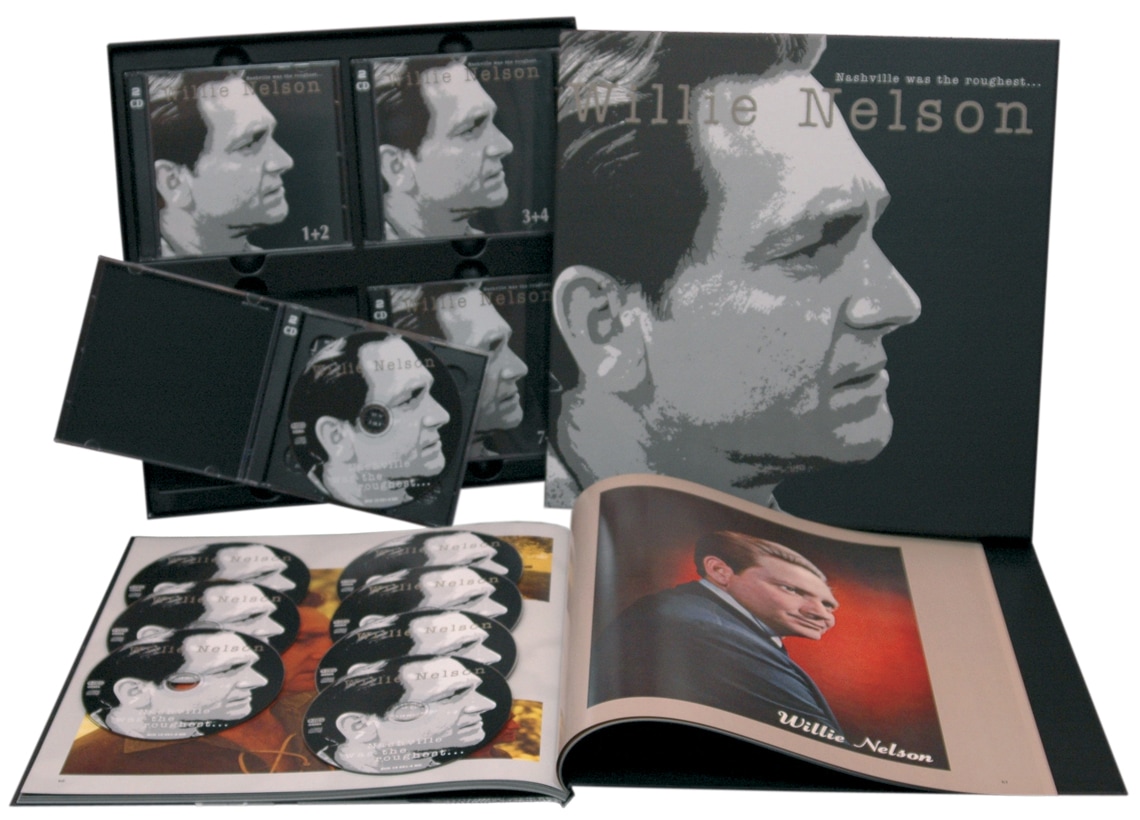 1964 through 1972 were eight of Nashville's more unsettled years.The pop-oriented 'Nashville Sound' pioneered by Chet Atkins and Owen Bradley had been adopted by much of the industry. In the late 1950s, after rock 'n' roll knocked the entire Nashville music industry off its shaky foundation, that smoother, more sophisticated sound had saved Nashville by expanding country records to grab pop record buyers. It made Don Gibson, Jim Reeves and Patsy Cline greater stars than they'd been singing hard country alone. By 1964, that initial rush of creativity had slowed. Plane crashes claimed two top exponents, Cline in 1963, Reeves in the summer of 1964. At that point, Eddy Arnold, whose string of massive hits diminished in the wake of Elvis, was about to make a dramatic comeback with elaborately orchestrated ballads like Make The World Go Away, light years from the intimate dignity of his 1940s hits. Ray Price had already begun to occasionally wrap a string quartet around the Cherokee Cowboys on many of his recording sessions, attracting new fans but sending many older ones stomping off in disgust.
Not even a honkytonk giant of George Jones's stature was immune from Nashville sound production. Onstage, it was Texas honkytonk business as usual, the fiddle and steel whining behind him. The recording studio was another matter. Pappy Daily, his discoverer and only producer, forced Jones into the softer mold at United Artists and later at Musicor Records. He continued in that mode with Billy Sherrill after joining Epic in 1970.
A few wild cards counteracted the syrupy side of things, since the country audience divided as it expanded. As Price slithered out of his rhinestone skin into tuxes, a West Coast honky-tonk cyclone, unstoppable as the dust storms that drove Texans and Okies to California in the first place, roared out of Bakersfield. The success of Buck Owens, followed by the rise of Merle Haggard, reflected the belief of many fans that some of the pop stuff was going too far afield, that Nashville needed an alternative. A second alternative came from within Music City with the rise of Johnny Cash. Popular for nearly a decade, his no-frills music and phenomenally successful 1967 'Folsom Prison' LP weren't as surprising to Nashville as his acceptance by pop audiences.
On 16th Avenue South, Atkins and Bradley continued setting the pace. At Columbia, Don Law was retiring, and though Bob Johnston was his immediate successor, the label's rising star was clearly Billy Sherrill, the former R&B musician and Sam Phillips' engineer who took over much of the production for Columbia's Epic subsidiary. Nearly all Nashville producers saw the softer sound as the strongest and simplest formula for putting across a new artist quickly. It explained why artists were counseled to trust their producer, who usually picked material (unless the singer was one potent writer) and offered 'direction'. If a producer happened to have written some of the recommended songs, or at least own an interest in publishing songs they pushed on artists, it was a conflict of interest routinely winked at around 16th Avenue South.
There was one huge problem. Assuming that one sound could fit any singer was an idea that didn't always work out in practice. Convincing the men in the control room that ooh-aah choruses and muted strings just didn't work with everyone was quite another matter.
That was the world Willie Nelson faced in 1964.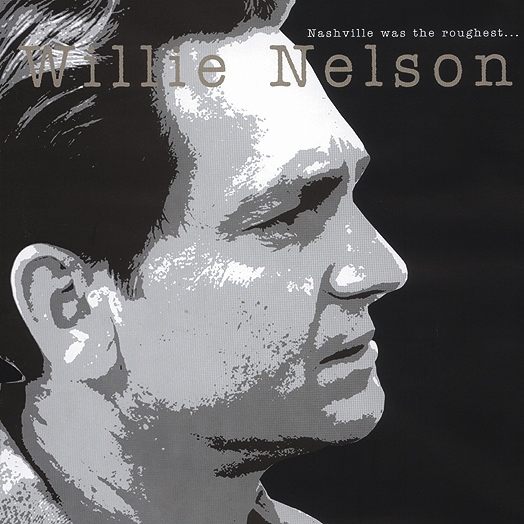 At 31, he was one of Nashville's top writers, whose songs had been hits for many, including Patsy Cline, Billy Walker and Faron Young. Like other writers of his generation, Harlan Howard and Hank Cochran among them, his recording career had been less impressive. He'd started his singing career before Hank Williams died. His early recordings in Washington State and Houston went unnoticed. Only after moving to Nashville in 1960 and crafting such standards as Crazy, Funny How Time Slips Away and Hello Walls did he land a major label deal with Liberty. After a Top Ten duet single and a solo Top Ten hit, both in 1962, his success on records quickly faded while he continued writing brilliant songs for others.
Song royalties gave Willie a farm in Ridgetop, Tennessee, northwest of Nashville, where he played the eccentric artist, living with an extended family, sustained by writers' royalties and frequent touring. That would have satisfied many. But he still believed he had potential as a singer if someone gave him a chance. He still wanted to record, knowing he had it in him to succeed, even if many in Nashville regarded his weird vocal phrasing and unconventional attitude, disdain for spangled suits and mile-high pompadours, as a bit off base.It wasn't like a successful, eccentric songwriter couldn't become a recording star on his own terms. In 1964, Willie's longtime pal Roger Miller had done just that, scoring big with Dang Me and Chug-A-Lug that year after unsuccessful stints on Mercury, Decca and RCA. King Of The Road in 1965 would take Roger far beyond the country crowd.
Willie spent a brief two-session period with Monument in 1964 before beginning eight years with RCA. Over those years, he'd enter the RCA Nashville studios for 44 solo sessions. Guitarist Chet Atkins, RCA's Vice President in charge of Nashville Operations, probably understood unconventionality better than just about anyone in Nashville at the time. He appreciated Willie's uniqueness. His challenge was to sell Nelson to a wider audience by integrating that uniqueness into the usual trends to make it acceptable, just as he had with Gibson and Reeves.
In Willie's case, Atkins admittedly didn't do very well. During those years, with himself or Felton Jarvis producing, a total of 15 Willie Nelson RCA singles charted, only two, One In A Row in 1965 and Bring Me Sunshine in 1968, breaking into 'Billboard's' country Top Twenty. Eight of his LPs made it to the magazine's Top Country Albums chart, only three rising into the Top Ten. At the time, the only area Willie enjoyed consistent popularity with his records was his home state of Texas.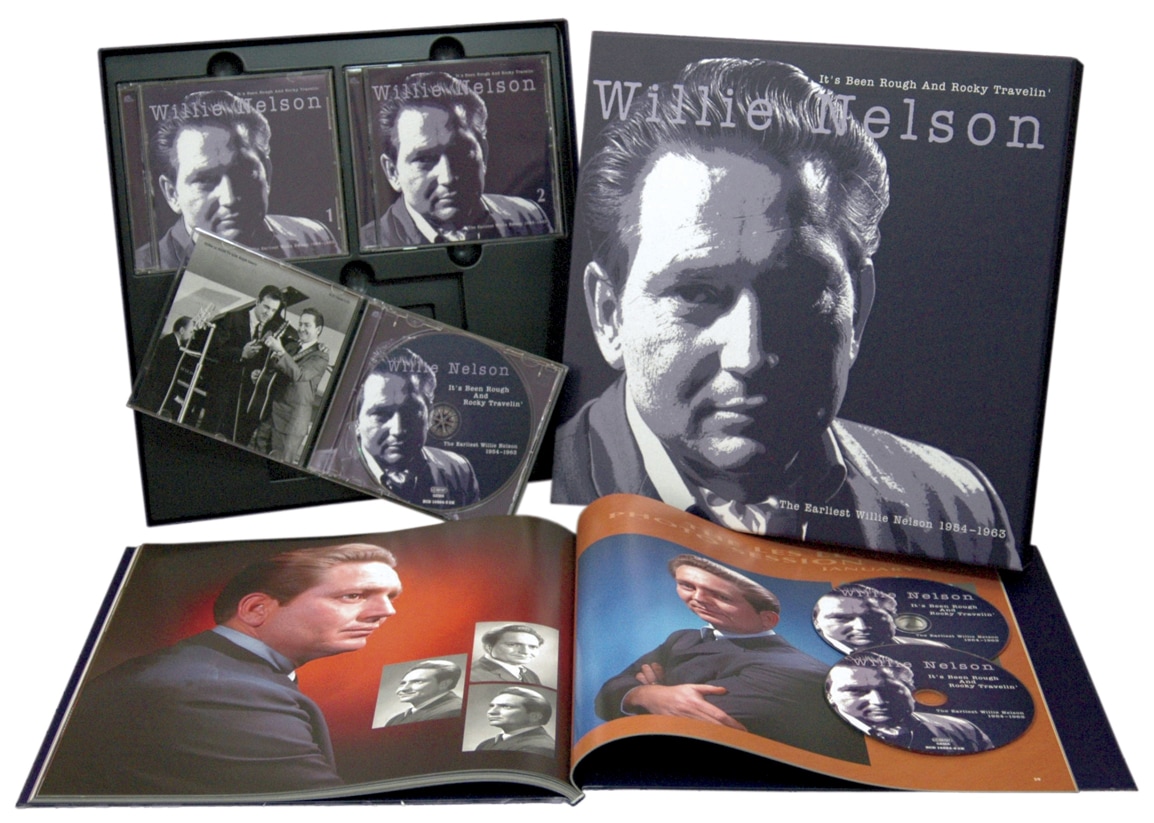 Those eight years would leave the singer frustrated, a frustration that would ferment and expand, drilling into his mind the idea that he could produce better records on himself than anyone in Nashville could. He was not alone among RCA artists sick of the label's assembly-line approach. His friend and fellow RCA artist Waylon Jennings, another who'd enjoyed only moderate success, had a similar idea. In the mid-1970s, Nashville would call it 'Outlaw', then act as if it were their idea all along and package old Waylon and Willie material with newer recordings. They'd also give country music its first platinum LP with the 1976 release 'Wanted! The Outlaws'. Today, it's easy to see he and Waylon were right, and just as easy to blame Atkins and Jarvis for not knowing how to produce either one.
Would Willie have fared any better at any other major label in those years? That's doubtful. Atkins correctly characterized Willie as being "ahead of his time." From 1964 through 1972, Nelson hadn't a snowball's chance in hell of being understood anywhere but Texas. Today, the world understands the Lone Star State's quirky musical eclecticism at the heart of Willie's repertoire. 30 years ago, few outsiders and most of Nashville didn't get it at all. True, Nashville accepted Texas singers, but ignored the culture that produced them, preferring to shove them into the mold.
That's why it isn't likely that results would have been any better for Willie artistically or commercially, had he been recording with Don Law at Columbia, for Ken Nelson or Marvin Hughes at Capitol, for Billy Sherrill at Epic, Owen Bradley at Decca or Jerry Kennedy at Mercury. The only Nashville producers in that era who stood a remote chance of understanding him would have been mavericks like Bob Johnston, who produced Johnny Cash at Columbia or Jack Clement, with his lifelong flair for the unconventional. Would an independent label have been the answer? Hardly, given the non-results during his brief stay at Monument.
Taken in the context of that era, Willie didn't break a couple of Nashville rules. He broke a slew of them. At RCA, production of his records was usually formulaic even if his songs were unconventional. While recording his own tunes wasn't a reach, at RCA he laid down a crazy quilt of material, mostly Nelson originals with country and pop standards mixed in. He occasionally covered others' hits, with a few contemporary pop and rock songs and whatever else he liked thrown in for good measure. After he became an established force in both country and popular music, Willie's varied repertoire and musical settings would be viewed as marvelous eclecticism. When he was recording for RCA, such variety was seen as eccentric at best.
Willie Nelson Nashville Was The Roughest..(8-CD)
Read more at: https://www.bear-family.com/nelson-willie-nashville-was-the-roughest..8-cd.html
Copyright © Bear Family Records
Bewertungen lesen, schreiben und diskutieren...
mehr
Kundenbewertungen für "It's Been Rough ... (3-CD)"
Von:
Ernst Schulz
Am:
27.04.2017
Sehr gut
Die meisten Songs waren mir tatsächlich unbekannt und das als Willie Nelson Fan. Danke Bear Family für dieses Box Set !!
Bewertung schreiben
Bewertungen werden nach Überprüfung freigeschaltet.
Weitere Artikel von Willie Nelson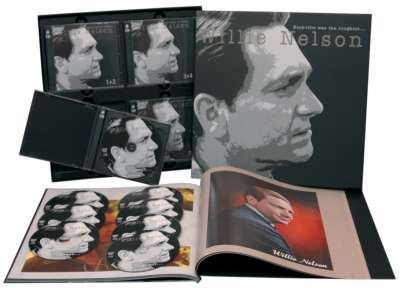 Willie Nelson: Nashville Was The Roughest..(8-CD)
Art-Nr.: BCD15831


Sofort versandfertig, Lieferzeit** 1-3 Werktage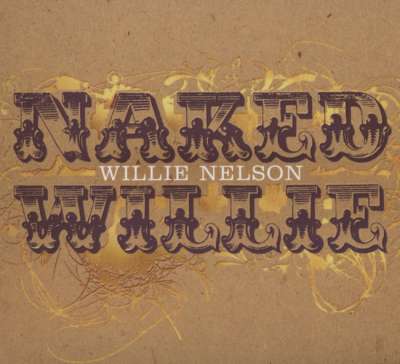 Willie Nelson: Naked Willie (US)
Art-Nr.: CD0914002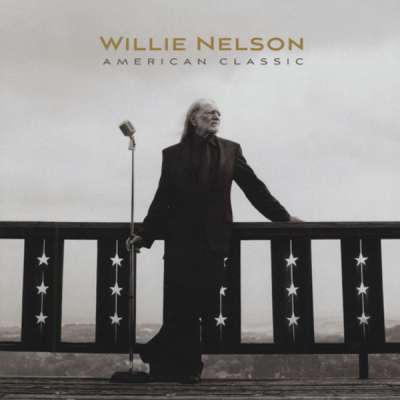 Willie Nelson: American Classic (US)
Art-Nr.: CD0914003


Sofort versandfertig, Lieferzeit** 1-3 Werktage
Willie Nelson: Lost Highway
Art-Nr.: CD1325402


Sofort versandfertig, Lieferzeit** 1-3 Werktage