Der Artikel wurde erfolgreich hinzugefügt.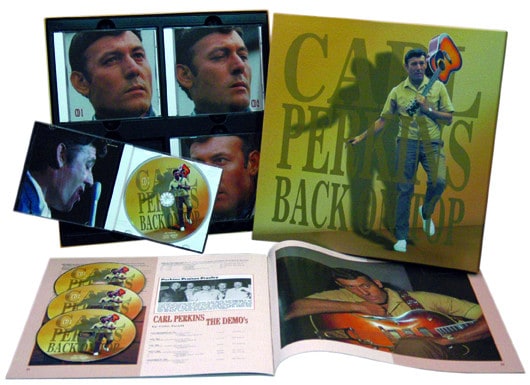 inkl. MwSt. / zzgl. Versandkosten - Abhängig vom Lieferland kann die MwSt. an der Kasse variieren.
Sofort versandfertig, Lieferzeit** 1-3 Werktage
Artikel-Nr.:

BCD16422

Gewicht in Kg.:

1.1
Kurz nach der Rückkehr von Carl Perkins zum Columbia-Label 1968 veröffentlichte Carl Perkins...
mehr
Carl Perkins: Back On Top (4-CD Deluxe Box Set)
Kurz nach der Rückkehr von
Carl Perkins
zum Columbia-Label 1968 veröffentlichte Carl Perkins eine der besten Aufnahmen seiner Karriere,
Restless
. Derweil er immer noch ein Star in der
Johnny Cash Show
war, mit der er ausgiebig tourte, war Carl Perkins jetzt auch wieder zurück in den Charts und sein Karrierebarometer zeigte wieder nach oben. ,
Die 4 CDs diesem Album Boxset enthalten alle Aufnahmen Carl Perkins zweiten Vertrages bei Columbia (1968 bis 1972) und seiner Zeit bei Mercury (1973 bis 1975). Zwanzig Aufnahmen sind hier erstmalig auf CDs als Album-Boxset veröffentlicht. ,
Ebenfalls enthalten:
- Carl Perkins gesamten Aufnahmen mit NRBQ und die komplette 'My Kind Of Country' Session, die allgemein als seine beste Langspielschallplatte (LP) angesehen wird.
- Sein vielgelobtes Elvis-Tribut, The E.P. Express und sein Hit für Johnny Cash, Daddy Sang Bass
- Eine komplette CD mit Demo-Aufnahmen, darunter einiges, was man als Carl Perkins besten Aufnahmen überhaupt bezeichnen kann!
-Treibende und packende Musik aus den 60ern und 70ern, , Original-Demos , von
So Wrong
(ein Hit für
Patsy Cline
) und
A Man On His Own
(ein Hit für
George Strait
). Alle bislang unveröffentlicht!
- ein 36-seitiges Buch mit einer neu recherchierten Biographie von
Colin Escott
und einer komplette Diskographie. Viele zuvor nicht veröffentlichte Fotos von Carl Perkins runden das Album Boxset ab.
Video von Carl Perkins - Back On Top (4-CD Deluxe Box Set)
Artikeleigenschaften von

Carl Perkins: Back On Top (4-CD Deluxe Box Set)
Albumtitel:

Back On Top (4-CD Deluxe Box Set)

Genre

Rock'n'Roll

Preiscode

DI

Edition 2

Deluxe Edition

Artikelart

Box set

EAN:

4000127164223

Gewicht in Kg:

1.1
Carl Perkins Als Carl Perkins im Herbst 1954 das Haus 706 Union Avenue in Memphis, Tennessee,...
mehr
"Carl Perkins"
Carl Perkins
Als Carl Perkins im Herbst 1954 das Haus 706 Union Avenue in Memphis, Tennessee, betrat, war er noch so viel Country wie ein Heuschober. Carl hatte Elvis Presley's Musik im Radio gehört und er wusste, dass Sam Phillips' Erfolg versprechendes Sun Label die Quelle dieses Sounds war. 
Perkins und seine Brüder machten dieselbe Art von Hillbilly Bop und wenn ein Presley damit Erfolg haben konnte, warum nicht auch er? Zur richtigen Zeit amrichtigen Ort, denn die Rockabilly Revolution hatte gerade begonnen. Hier sind die mächtigen Wurzeln des Rockabilly zu finden. Carls Gitarren-Spiel und die Art Songs zu schreiben, sollten ihn in Kürze etablieren.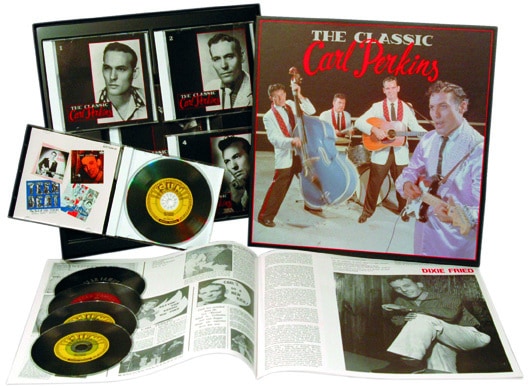 Carl Perkins fühlte sich auf dem richtigen Weg, unabhängig in die gleiche Richtung, wie Presley zu gehen. In einer Hinsicht lag er jedoch falsch: Er konnte mit seinem kantigen Country Boy Image keine Teenage Girls zum Dahinschmelzen bringen. Er war eben nicht aus dem Holz, aus dem man Idole schnitzt. Presley hingegen war gut aussehend, sexy und gefährlich wirkend. Carl war verheiratet, bekam langsam eine Glatze und ein Alkohol-Problem.
Nichtsdestotrotz war Carl Perkins ein Handwerker in seinem Metier, der sein Handwerkszeug beherrschte. Zudem besaß Perkins eine soulig-emotionale Stimme, die in den Bann zog. Sam Phillips erkannte dieses Potenzial und brachte Carl und seine Brüder Clay und Jay mit dem Schlagzeuger W.S. 'Fluke' Holland zu einer Session im kleinen Sun Studio zusammen. Nachem anfängliche nervöse Schüchternheiten abgelegt waren, begann man damit, das Repertoire von alten Country Standards zu "befreien" und dem Ganzen mehr Pep zu geben. Sam Phillips wusste, was er hören wollte – und Millionen von Teenagern auch. 
Rhythmus musste her, Phillips wollte seine Tonbänder nicht mit gecovertem Nashville Sound verschwenden. Eine der wenigen Ausnahmen, die Phillips machte, war der Titel 'Turn Around'. Phillips mochte zwei Dinge daran. Zum Einen konnte Perkins bei dieser Nummer seine soulige Stimme voll ausfahren und zum zweiten, für Phillips wichtigeren Aspekt: Es war ein Original. Perkins hatte den Song selbst geschrieben und Phillips konnte ihn in seinem Musikverlag herausbringen. Das bedeutete ein paar extra Einnahmen beim Verkauf der Platte und sollte die Platte zum Hit werden, würden Perkins und Phillips daran mitverdienen und nicht irgend jemand, dessen Song gecovert wurde. Zusätzliche Tantiemen würden Phillips und Perkins zufließen, sollte ein anderer Entertainer eben diesen Song covern.
Sam Phillips war ständig auf der Suche nach neuen Sounds, die Teenager Augen zum Glänzen bringen konnten. Mit diesem Produzenten, der Elvis Presley entdeckt hatte und der selbst geschriebene Songs von Carl forderte, die vielleicht einmal auf einer der gelben Sun Schallplatten erscheinen würde, konnte Carl seiner eigenen Kreativität freien Lauf lassen. Viel besser, als noch zu Zeiten in denen er Country Music in den Honky Tonks von Mississippi zum Besten gab.
Die von Phillips zusammengebrachte Band probte den ganzen Herbst bis in den Winter 1954 hinein und die ersten Songs waren im Kasten. Darunter 'Turn Around' und der Hillbilly Bopper 'Movie Magg'. Letzterer ist ein cleverer Song, beschreibt er doch die damalige Pop Kultur rund um die populären Film-Magazine (Movie Magazines). Magg ist hier die Kurzform für Maggie, ein Mädchen, das Carl nur Samstags sehen konnte, wenn er mit ihr ins Kino ging.
Dass die selbst geschriebenen Songs von Carl Perkins einen durchschlagenden Erfolg hatten, lag nicht zuletzt daran, dass die Texte aus dem Leben gegriffen waren. Der berühmteste seiner vielen Hits, gleichzeitig auch der erste Millionen-Hit für Sun Records, kam Anfang 1956 mit 'Blue Suede Shoes'. Laut Perkins, schrieb er ihn bereits 1955, innerhalb von nur 5 Minuten, nachdem er einen Haufen Teenager auf der Straße beobachtet hatte, wie sie über ihre Schuhe sprachen. Mit dieser Nummer kam er Presley am Nahesten, nachdem dieser 'Blue Suede Shoes' coverte und auf RCA Victor Records erneut zum Hit machte.
Es gibt unzählige Hit-Songs aus Perkins' Feder, 'Honey Don't', 'Everybody's Tryin' To Be My Baby', 'Glad All Over', 'Matchbox', 'Put Your Cat Clothes On', 'Boppin' The Blues', und Unzählige mehr.
Sicherlich hatte Carl Perkins zu dieser Zeit ein anderes Publikum als etwa Chuck Berry. Perkins blieb trotz Allem mehr Country. Aber er stand im Windschatten von Elvis Presley und seine Qualitäten als Songschreiber und Rockabilly Künstler ließen ihn zu einer Legende werden. Er war richtungsweisend an der Entstehung des Memphis-Rockabilly Sounds beiteiligt. Dass Elvis Presley und die Beatles Carl Perkins' Songs aufgenommen haben, spricht für sich!
Bewertungen lesen, schreiben und diskutieren...
mehr
Kundenbewertungen für "Back On Top (4-CD Deluxe Box Set)"
Von:
Joe Conneely
Am:
12.10.2019
Excellent box set of Carl's hard to find later Columbia recordings
Usual excellent Bear Family production - especially audio quality - of Carl Perkins latter period recordings. The set including accompanying booklet complements brilliantly the earlier Perkins Sun Classic 5 CD box set & Dollie Masters CD
Von:
Matthew Sweney
Am:
02.01.2019
Outstanding
Absolutely indispensable for Perkins fans.

This deluxe boxed set represents Carl's 1968-1975 studio output PLUS demo recordings (!), digitally remastered from the original tapes. Accompanying the CDs is a handsome, very informative 32-page LP-sized booklet by Colin Escott about the recordings, featuring a complete discography and full-color promotional photography of Carl Perkins from the period.

Don't wait too long to buy it - you'll never forgive yourself once it's sold out.
Bewertung schreiben
Bewertungen werden nach Überprüfung freigeschaltet.
Weitere Artikel von Carl Perkins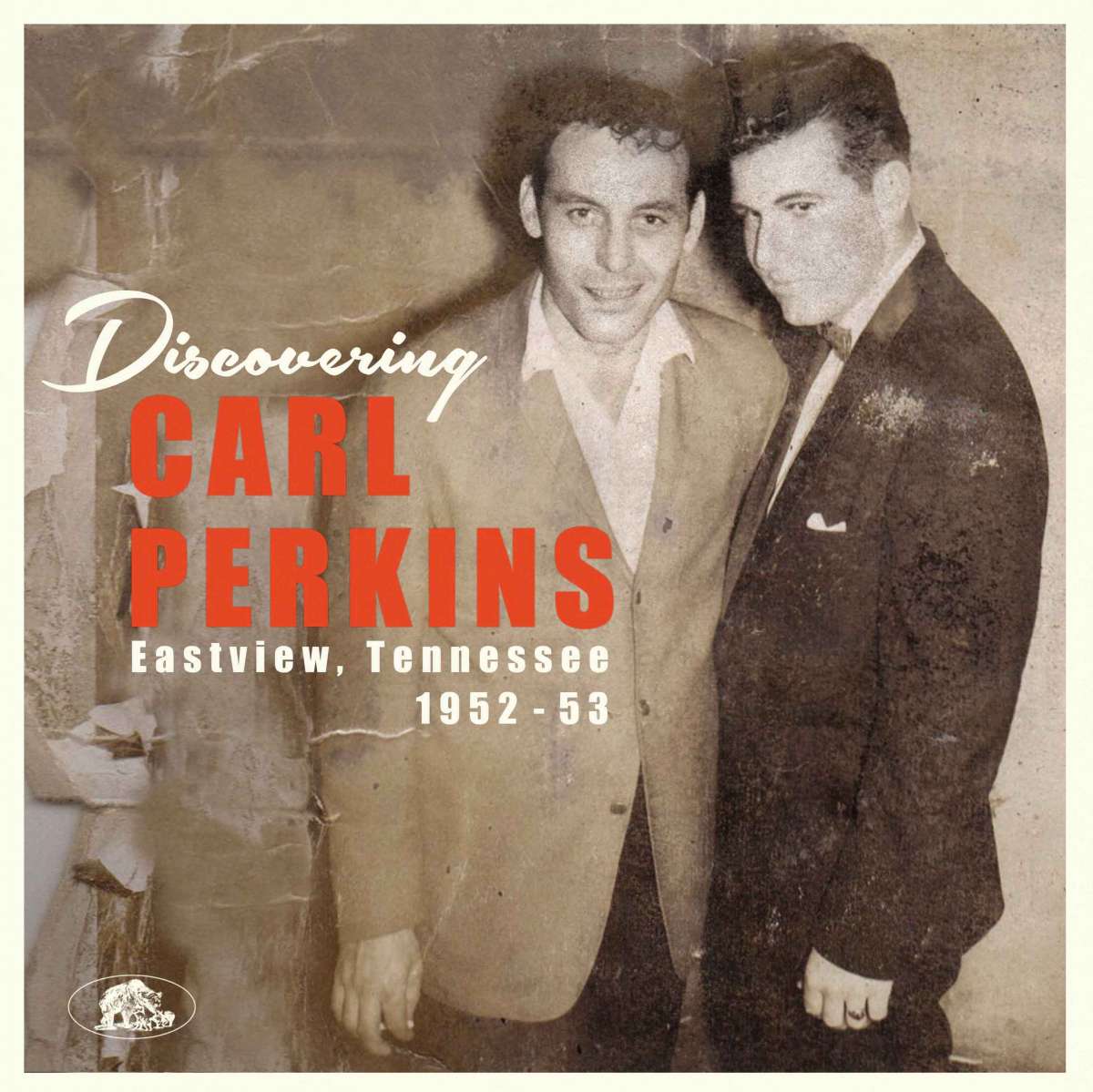 Carl Perkins: Discovering Carl Perkins - Eastview, Tennessee...
Art-Nr.: BAF14007


Sofort versandfertig, Lieferzeit** 1-3 Werktage
Carl Perkins: Carl Perkins - Carl Rocks
Art-Nr.: BCD16752


Sofort versandfertig, Lieferzeit** 1-3 Werktage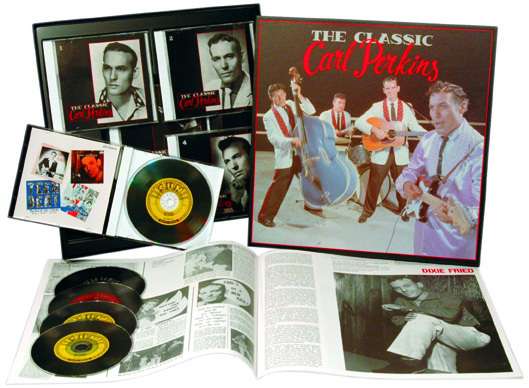 Carl Perkins: The Classic Carl Perkins (5-CD Deluxe Box Set)
Art-Nr.: BCD15494


Artikel muss bestellt werden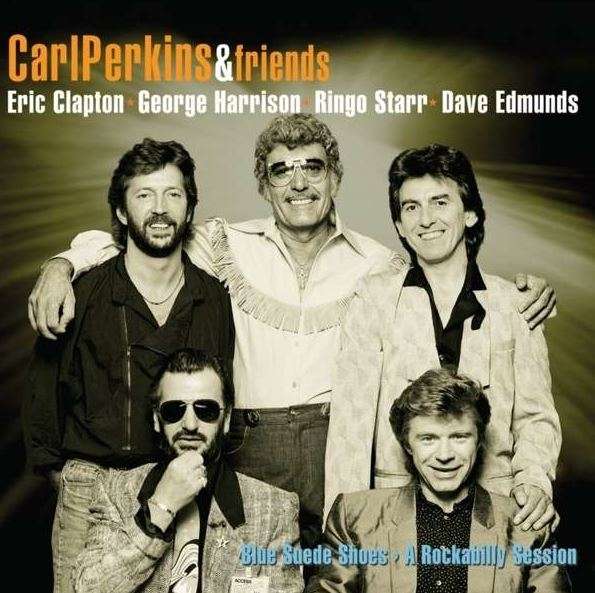 Carl Perkins & Friends: Carl Perkins & Friends: Blue Suede Shoes - A...
Art-Nr.: LPSMA1032


Artikel muss bestellt werden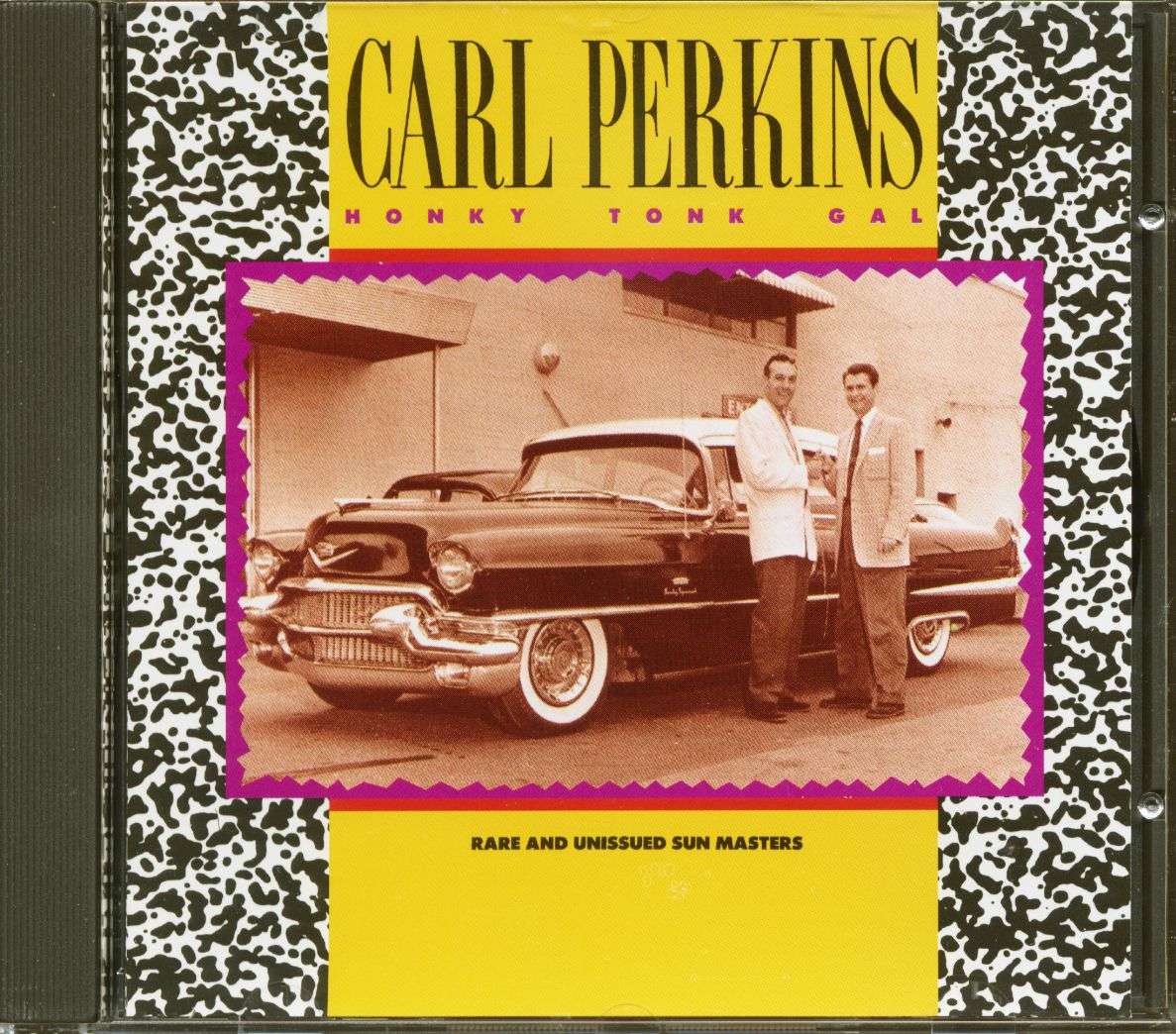 Carl Perkins: Honky Tonk Gal - Rare And Unissued Sun Masters...
Art-Nr.: CDROUSS27-C


Sofort versandfertig, Lieferzeit** 1-3 Werktage