Der Artikel wurde erfolgreich hinzugefügt.
Chuck Berry
Rock And Roll Music - Any Old Way You Choose It - The Complete Studio Recordings ... Plus! (16-CD De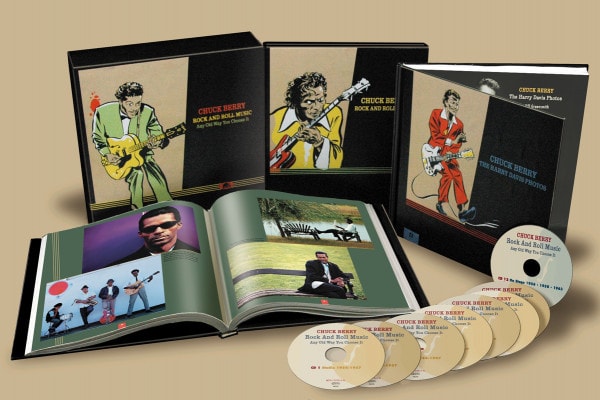 251,95 € *
299,95 € *
(16% gespart)
inkl. MwSt. / zzgl. Versandkosten - Abhängig vom Lieferland kann die MwSt. an der Kasse variieren.
Sofort versandfertig, Lieferzeit** 1-3 Werktage
Chuck Berry 18. Oktober 1926 in Saint Louis&nbsp, 18. März 2017 in Saint Charles 16-CD Box (28...
mehr
Chuck Berry: Rock And Roll Music - Any Old Way You Choose It - The Complete Studio Recordings ... Plus! (16-CD De
18. Oktober 1926 in Saint Louis&nbsp,
18. März 2017 in Saint Charles
16-CD Box (28 x 28 x 6 cm) mit 2 gebundenen Büchern (zus. 356 Seiten) im großformatigen leinengebundenen Schuber, 396 Einzeltitel. Gesamtspieldauer ca. 21 Stunden und 11 Minuten. 'Sollten Sie nach einem anderen Namen für Rock And Roll suchen, so könnten Sie ihn auch 'Chuck Berry' nennen.' (
John Lennon
)&nbsp,
Seit der Gründung von Bear
Family
im Jahre 1975 wollten wir Chuck Berry und sein Lebenswerk würdigen. Chuck Berry-Zusammenstellungen gab es zu jeder Zeit wie Sand am Meer, mehr als man wird jemals zählen können. Wir jedoch wollten Maßstäbe setzen mit unserer Edition
Inhalt:
Jede einzelne auf Single oder LP erschienene Aufnahme, beginnend mit der seltenen Single von Joe Alexander (1954) die entstand, bevor Chuck Berry zu Chess ging.
All die berühmten und legendären Single- und LP-Veröffentlichungen auf Chess von 1955 bis 1966 und von 1969 bis 1974.
Alle Aufnahmen für Mercury und das Album auf Atco und zusätzlich jede erhalten gebliebene alternative Version.
Live-Klassiker von 1956 bis 1972.
Exklusive Einleitung, geschrieben von Sir Paul McCartney.
&nbsp,... und es geht noch weiter:
Der aus Großbritannien in die USA ausgewanderte Fotograf Bill Greensmith lebt in St. Louis. Vor ein paar Jahren entdeckte er das Fotoarchiv von Harry Davis, Chuck Berrys Onkel. Diese Edition zeigt erstmals eine Vielzahl von zuvor nicht veröffentlichten Fotos , Bilder von Chucks Auftritten in St. Louis und Fotos, die ihn zusammen mit Familie und Freunden zeigen. Chuck Berry wirkt hier entspannt und unbeobachtet.
Wir erleben ihn ebenso bei Auftritten zu Beginn seiner Karriere in Blues-Nachtlokalen in der Gegend von St. Louis. Diese Fotosammlung haben wir in einem 104-seitigen gebundenen Buch zusammengefasst. Entdecken Sie Chuck Berry, so wie Sie ihn noch nie gesehen haben!
Zwei gebundene Bücher
Außerdem können Sie im zweiten gebundenen Buch über 252 Seiten den neusten Essay des Chuck Berry-Biografen Bruce Pegg lesen sowie zusätzliche Ausführungen von Mike Snow und Roger Fairhurst, die ausführliche Diskografie von Fred Rothwell studieren und hunderte von bekannten und bislang unveröffentlichten Fotos entdecken, darunter etliche Motive des angesehenen französischen Fotografen Jean-Marie Perrier aus dem Jahr 1964.
Mit anderen Worten: hier finden Sie alles, was Sie jemals von Chuck Berry haben wollten!
Wenn es um den größten Namen im Rock 'n' Roll geht...
In seiner 'Liste der Unsterblichen' die 100 größten Musiker aller Zeiten', führt der Rolling Stone Chuck Berry an Position Nr.5
Sechs seiner Songs sind bei 'Die 500 besten Songs aller Zeiten' des Rolling Stone gelistet.
Die Rolling Stone-Liste der 'Großartigsten Gitarrensongs aller Zeiten' wird von Johnny B. Goode angeführt.
Chuck Berry erhielt 2000 den Ehrenpreis des Kennedy Centers. Bereits 1984 bekam er einen Grammy für sein Lebenswerk.
Rock 'n' Roll Hall of Fame
Als er 1986 unter den Ersten war, die in die Rock 'n' Roll Hall of Fame aufgenommen wurden, konnte man über ihn Folgendes lesen: Auch wenn man nicht behaupten kann, dass einer allein den Rock And Roll erfunden hat, so kommt Chuck Berry als derjenige, der alle wichtigen Einzelteile zusammengefügt hat, der Sache näher als alle anderen Bewerber.&nbsp,
Seinem Genie haben wir die Verknüpfung von Licks der Country &amp,
Western
Music mit einem Chassis aus Rhythm 'n' Blues zu verdanken&nbsp,- wie bei seiner allerersten Single, Maybellene.
Pressestimmen:
Bear Family hat mit seiner massiven Box inklusive zweier dicker, leinengefasster Bildbände und der gewohnt minutioesen Dokumentation ein Monument erstellt. Nicht billig, aber unermesslich gut.&nbsp,
&nbsp,
TIP, Nov. 2014 Hagen Liebing
&nbsp,Die absurde Opulenz dieses in schwarzen Leinen gebundenen Boxsets ist eigentlich das Mindeste was man für Chuck Berry tun kann.&nbsp,
&nbsp,
Süddeutsche Zeitung 18.11.14 Jens-Christian Rabe&nbsp,
Bear Family hat sich hiermit selbst übertroffen!&nbsp,
&nbsp,
Dynamite 1/2015 &nbsp,G. Leuchtenträger
Bären lieben Beeren! Gleich zwei großformatige Bücher liefern die hochwertige optische Begleitung für ein unendliches Hörmarathon - in gesäuberter aber nicht überzüchteter Klangqualität. Ein Vorwort von Paul McCartney gerät da fast zur Nebensache.&nbsp,
&nbsp,
Good Times
6/14&nbsp,
Auch wenn sie 300 Euro kosten, diese sieben Pfund Chuck Berry sind unbedingt empfehlenswert.&nbsp,
&nbsp,
R &amp, R Musikmagazin 6/14 Dietmar Rudolph&nbsp,
Ein prachtvolle bleischwere Werkschau-Box mit allen Studiosongs auf 16 CDs plus Coffeetable-Buch.&nbsp,
&nbsp,
KulturSPIEGEL 12/14 Christoph Dallach
Mehr Pressestimmen:
This is a superb, not to mention long overdue, tribute to one of rock 'n' roll's premier originators. His back catalogue has been reissued and reissued over and over again, but this has to be the most adventurous configuration of it to date. Plus, of course, the two books will knock your beret into the creek.&nbsp,
&nbsp,
Now Dig This 12/14 Trevor Caijao&nbsp,
Reissue of the Year # 5: Here is rock's Book of Genesis - 16 CDs of prime and rare Chuck Berry from 1954 - 79. Paul McCartney wrote the liner-notes intro.
Rolling Stone Dec. 18, 2014 David Fricke
Welches Label hätte besser für diese Veröffentlichung in Frage kommen können als Bear Family Records?
Fidelity 1/15 Bernhard Galler
Fast überflüssig zu erwähnen, dass die Klangqualität der Aufnahmen, wie von Bear Family nicht anders zu erwarten, exquisit ist und die Aufmachung der Box luxuriös.&nbsp,
&nbsp,
FAZ , 12.01.2015 Rolf Thomas&nbsp,
Klang und Aufmachung sind brilliant, was nicht weiter wundert, stammt sie doch aus dem bewährten Hause Bear Family
Concerto 12/14 Dietma Hoscher&nbsp,
Wie alles aus dem Hause Bear Family ist vorliegende Retrospektive die ultimative Würdigung eines großartigen Musikers und lässt den Liebhaber vor Ehrfurcht die Hose offenstehen.
Guitar 1/15 Stephan Hildebrand&nbsp,
It's simply some of the most glorious pop music ever produced.
Uncut 1/15 Luke Torn&nbsp,
Bislang war die von Erick Labson gemasterte "Anthology" von 2000 klanglich das Maß aller Dinge. Auf diesem Niveau wird auch hier das Vermächnis von Chuck Berry beim Label Bear Family präsentiert - ein Monument.
Stereo 1/15&nbsp,
In dieser monumentalen Box findet man nicht nur alle sogenannten Final Masters seine Studioaufnahmen für Chess und Mercury versammelt, sondern auch viele Stereo-Remixes und die letzte LP von 1979 für Atlantic, allesamt in exzellenten Neuüberspielungen.
Rolling Stone 1/15 Franz Schöler
Video von Chuck Berry - Rock And Roll Music - Any Old Way You Choose It - The Complete Studio Recordings ... Plus! (16-CD De
Artikeleigenschaften von

Chuck Berry: Rock And Roll Music - Any Old Way You Choose It - The Complete Studio Recordings ... Plus! (16-CD De
Albumtitel:

Rock And Roll Music - Any Old Way You Choose It - The Complete Studio Recordings ... Plus! (16-CD De

Genre

Rock'n'Roll

Edition 2

Deluxe Edition

Preiscode

PL

Artikelart

Box set

EAN:

5397102172731

Gewicht in Kg:

4