Der Artikel wurde erfolgreich hinzugefügt.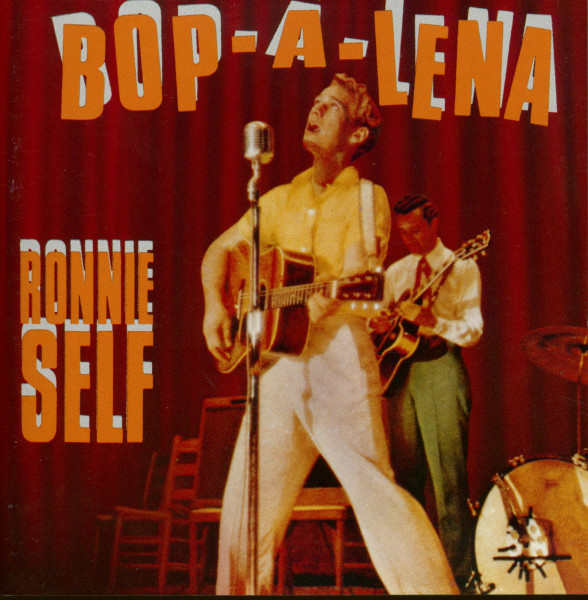 13,95 € *
15,95 € *
(12,54% gespart)
inkl. MwSt. zzgl. Versandkosten
Sofort versandfertig, Lieferzeit** 1-3 Werktage
Artikel-Nr.:

BCD15436

Gewicht in Kg.:

0.115
1-CD mit 24-seitigem Booklet, 30 Einzeltitel. Spieldauer ca. 69 Minuten. Vermutlich das...
mehr
Ronnie Self: Bop-A-Lena (CD)
1-CD mit 24-seitigem Booklet, 30 Einzeltitel. Spieldauer ca. 69 Minuten.

Vermutlich das Wildeste und Aufsehenerregendste, was jemals an Musik aus Nashville oder sonst wo her gekommen ist! Ronnie Self lebte ein Leben auf der Überholspur, nachdem 1956 seine Plattenkarriere mit Pretty Bad Blues begonnen hatte. 1957 und 1958 nahm er Rockabilly-Klassiker wie Bop-A-Lena, Ain't I'm A Dog, Date Bait und die Originalfassung von Big Blon' Baby auf. Wir haben CD-Ausgabe mit seinen Decca/Kapp-Aufnahmen der Jahre 1956 bis 1963 abgerundet, die etwas ruhiger doch immer noch wild und aufregend klingen. Versuchen Sie Ugly Stick, So High, Go Go Cannibal oder Moon Burn.
Artikeleigenschaften von

Ronnie Self: Bop-A-Lena (CD)
Albumtitel:

Bop-A-Lena (CD)

Genre

Rock'n'Roll

Preiscode

AH

Artikelart

CD

EAN:

4000127154361

Gewicht in Kg:

0.115
Self, Ronnie - Bop-A-Lena (CD)

CD 1
01
Bop A Lena
02
I Ain't Goin' Nowhere
03
You're So Right For Me
04
Ain't I'm A Dog
05
Too Many Lovers
06
Date Bait
07
Big Blon' Baby
08
Petrified
09
Flame Of Love
10
Big Fool
11
Black Night Blues
12
Pretty Bad Blues
13
Three Hearts Later
14
Rocky Road Blues
15
Do It Now
16
Bless My Broken Heart
17
This Must Be The Place
18
Big Town
19
Some Other World
20
Instant Man
21
Oh Me, Oh My
22
Whistling Words
23
Past, Present And Future
24
So High
25
I've Been There
26
Moon Burn
27
Some Things You Can't Change
28
Houdini
29
Go Go The Cannibal
30
Ugly Stick
Ronnie Self We covered Ronnie Self's early career in the notes accompanying BCD 16722....
mehr
"Ronnie Self"
Ronnie Self
We covered Ronnie Self's early career in the notes accompanying BCD 16722. He was signed to Columbia Records on February 10, 1957, and the first Columbia single, Big Fool is on our earlier volume. The follow-up, recorded in June, had a little more originality. Ain't I'm A Dog had a proto punk snarl and lyrics to match ("Forget about the danger and think of the fun.."). The writers were Wayne Walker (of whom more below) and George Sherry. The latter was a Knoxville area country songwriter who wrote several huge hits (Kisses Don't Lie for Carl Smith and Crying My Heart Out Over You, originally recorded by Smith but later a #1 country hit for Ricky Skaggs) as well as the bluegrass classic Twenty Twenty Vision. Ain't I'm A Dog sold well on a regional basis and encouraged Columbia to shelve the two remaining cuts from the June session and bring Self back in December to cut Bop A Lena, for which we refer you again to BCD 16722. In March 1958, Self returned to Nashville for another session. The line-up was augmented by black Memphis saxophonist, Andy Goodrich, then studying in Nashville. Date Bait was recorded together with Wayne Walker and Mel Tillis's Petrified, modelled after Otis Blackwell's exclamation songs like Great Balls Of Fire and Breathless. With that, Ronnie Self and Columbia Records parted company. The surprise was that so few songs Ronnie Self had recorded to that point had been his own compositions. Once on Decca, he began recording his own work, and the songs he wrote for Brenda Lee, Sweet Nothin's and I'm Sorry, would fund the eccentricities that would consume the latter half of his all-too-short life. He died August 28, 1981, leaving such tantalizing unrecorded or little known songs as Bad Girls Don't Have Suntans, Before I Take It Out On The World, Here Comes Authority, and I Got A Kid By A Woman Somewhere.
For the basic biography of Ronnie Self, we can best refer you to the earlier volumes of our Columbia 'Flat Git It's, as well as our definitive Ronnie Self CD, 'Bop-a-Lena' (BCD 15436). You're So Right For Me came from the same session as Bop-a-Lena. Producer Don Law, who'd been recording since the 1930s and was a notoriously heavy drinker, must have reached for the Scotch early on this session. Self never came closer to capturing rockabilly's manic overstatement. Early punk? Perhaps. A chart contender? Not a prayer. Big Blon' Baby was the original version of the song later recorded by Jerry Lee Lewis. Jerry's record wasn't really a cover version as Self's record appeared in May 1958 and was dead in the water by the time Jerry Lee's record was released in March 1959. Also, Jerry's version wasn't really a cover because it was originally written for him at the request of Paul Case at Hill & Range Music. Presumably, it was submitted to Sun as a potential follow-up to Great Balls Of Fire. "Goodness gracious, great balls of fire"... "Jumpin Jehosophat, big blon' baby." The song was written by Rhoda Roberts (real name Rhoda Ribot) and Kenny Jacobson, a pair of New York pop tunesmiths who were in the charts with a hit record by Canadian jazzman Moe Koffman, Swinging Shepherd Blues, at the time this was recorded. Later in '58, they hit the brass ring again, this time with the equally Canadian and equally bland Four Lads singing Put A Light In The Window. Rock 'n' roll wasn't really Roberts and Jacobson's bag: they were aiming their stuff at Ella Fitzgerald, Peggy Lee, and Broadway. Jacobson has no idea how Big Blon' Baby reached Ronnie Self, but Self's recording sounded as if it was cut on a cassette deck in a toilet.
Ronnie Self Bop-A-Lena (30 Classsics 1957-63)
Read more at: https://www.bear-family.com/self-ronnie-bop-a-lena-30-classsics-1957-63.html
Copyright © Bear Family Records
Bewertungen lesen, schreiben und diskutieren...
mehr
Kundenbewertungen für "Bop-A-Lena (CD)"
Von:
rock_the_universe
Am:
08.05.2017
Boom!
This 'Rockabilly Wild Man' man has recorded much more than the great 'Bop-A-Lena' tune. He was the 'mad man' of the Nashville scene , completely underrated and nearly without any commercial success as an musician. On this CD you'll find all his rocking' hymns like 'You're So Right For Me' (Mitch Miller, one of his label mates, must have been close to a heart attack, when he's had listen to this), 'Petrified', Big Blon' Baby', 'Three Hearts Later', 'Big Fool' and tons more! All his ABC-Paramount, Columbia and Decca sides are included on this ass-kickin' CD album!
Bewertung schreiben
Bewertungen werden nach Überprüfung freigeschaltet.
Weitere Artikel von Ronnie Self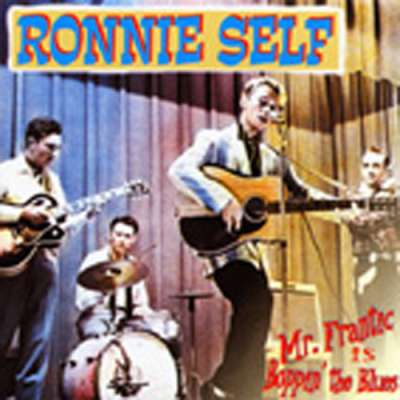 Ronnie Self: Mr.Frantic Is Boppin The Blues - Complete
Art-Nr.: CDBCK27113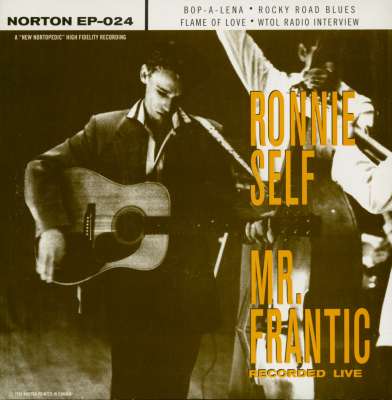 Ronnie Self: Mr. Frantic Recorded Live (7inch EP, 45rpm, PS)
Art-Nr.: 45NREP024


Sofort versandfertig, Lieferzeit** 1-3 Werktage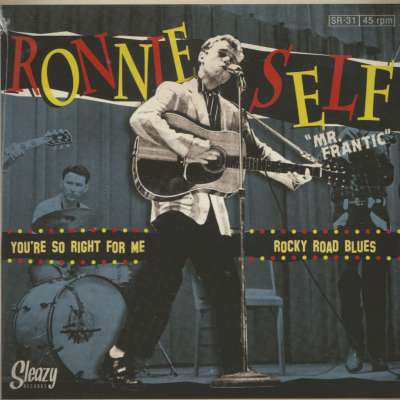 Ronnie Self: You're So Right For Me - Rocky Road Blues...
Art-Nr.: 45SR31


Sofort versandfertig, Lieferzeit** 1-3 Werktage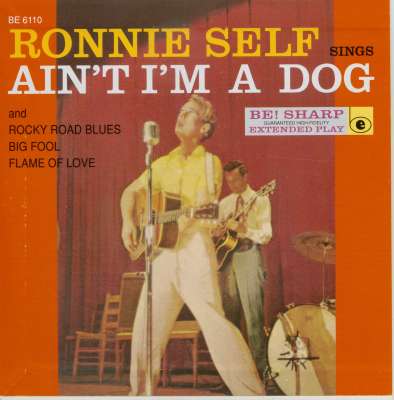 Ronnie Self: Ain't I'm A Dog 7inch EP, 45rpm, Picture...
Art-Nr.: 45BE6110B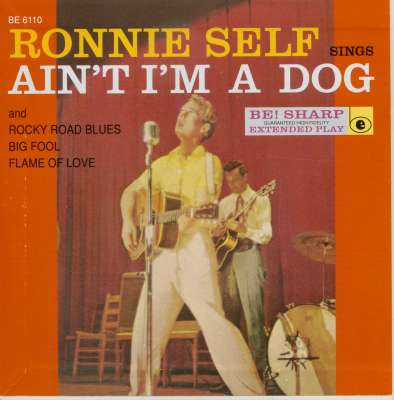 Ronnie Self: Ain't I'm A Dog 7inch EP, 45rpm, Picture...
Art-Nr.: 45BE6110C


Sofort versandfertig, Lieferzeit** 1-3 Werktage