Der Artikel wurde erfolgreich hinzugefügt.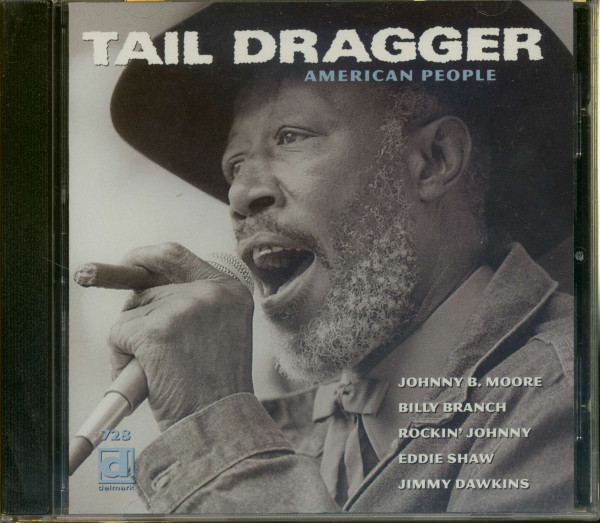 inkl. MwSt. / zzgl. Versandkosten - Abhängig vom Lieferland kann die MwSt. an der Kasse variieren.
nur noch 1x verfügbar
Sofort versandfertig, Lieferzeit** 1-3 Werktage
Artikel-Nr.:

CDDE728

Gewicht in Kg.:

0.107
(1998 'Delmark') (60:02/11) Mit seiner ungeschliffenen Art, den Blues zu singen,...
mehr
TAIL DRAGGER: American People
(1998 'Delmark') (60:02/11) Mit seiner ungeschliffenen Art, den Blues zu singen, erinnert er entfernt an
Howlin' Wolf
. Sein Blues ist rauh, seine Texte bissig. In 'American People' setzt er sich mit der sozio-kulturellen Situation in den U.S.A. auseinander. Ein gutes Album
Tail Dragger
(born James Yancy Jones in Altheimer, Arkansas) strides into Smokedaddy's on Division Street like a politician greeting his loyal constituency. He towers over the crowd in his cowboy boots and Stetson, shaking hands and shouting his trademark 'Whatchusay!' welcome. 'American People' is the second number of the set, and he hits it off with obvious relish. He pleads on behalf of Bill Clinton and admits to some indiscretions of his own. He asks people for understanding on both of their accounts.
We all have done wrong, says the Tail Dragger. Forgive Bill. Forgive me. Mercy! Tail Dragger has remained a presence on
Chicago
's west side blues circuit for many years, playing at The 5105 Club, The Rat Trap, Dave and Thelma's, Mary's Lounge, The Delta Fishmarket, at 345 S. Pulaski and others. He's often been compared to Howlin' Wolf and after listening to American People you'll understand why the Wolf himself once said of Tail Dragger, 'One day this boy gonna take my place.'
Artikeleigenschaften von

TAIL DRAGGER: American People
Albumtitel:

American People

Genre

Blues

Preiscode

VCD3

Artikelart

CD

EAN:

0038153072827

Gewicht in Kg:

0.107
Tail Dragger Tail Dragger born James Yancy Jones, hadn't seriously begun to make a career of...
mehr
"TAIL DRAGGER"
Tail Dragger
Tail Dragger born James Yancy Jones, hadn't seriously begun to make a career of singing before these recordings, his very first. He was 42 years old and had made appearances for years with other bands—most notably the band of Nowlin' Wolf—whom he amused and impressed. eliciting an "anointment" of sorts when Wolf declared, "One day this boy gonna take my place". Dragger earned his living as a truck mechanic and long-distance hauler. but soon before this recording he had helped his friend Oliver Davis get the music scene started at Da-vis' Delta Fishmarket on Chicago's west side.
Dragger had been performing at the Fishmarket and hauling catfish from Mississippi for him, and they had used the truck bed for a stage before a bandstand was built, eventually attracting blues musicians from all over the city for weekly shows that lasted all day and into the night. Drummer Larry Taylor, bassist Willie Kent and guitar-ist Johnny B. Moore lived near the Fishmarket, as did Dragger himself. In fact, all the musicians accompa-nying Dragger on this recording—Eddie lewtown" Burks. Little Mac Simmons and the rest—were part of that scene (except perhaps pianist Lafay-ette Leake, who was overdubbed by Dawkins on two tracks, and guitarist Jesse Williams of whom little is known and who died a few months after this session at age 36). This is the sound of genuine west side Chicago blues from the 1980s—a melding of tradi-tional blues with some rule-bending rawness, long on groove and with a restless touch of youthful soul from Moore and Taylor.
Tail Dragger's stage hook was (and still is) his physi-cally over-the-top take on Wolf's delivery, distorting his voice into a semblance of Wolf's booming rasp, and crawling on the floor to howl and plead the blues. But by the time of these recordings he had expanded on this routine, using it as a base to build a body of work that combined the Wolf-like antics with his own personal brand of moralistic blues narratives, which he continues to compose and perform to this day. His original compositions—as well as between song raps—are quasi-instructive stories, 'public service messages' and ribald proposals, often mixed with a good dose of self-deprecating humor. "I'm not per-fect," he croons to in particular the females in the audience, "but will you still take me home?" And, "you men out there, don't be crackin' jokes. you need to take care of business." There is something com-pelling about these bluesy harangues that. taken in the context of Chicago's chaotic and crumbling west side, seem to take on a peculiar logic. And at the very least, they are hilariously outrageous. not to mention intense.

Of this set of nine tracks, only two, So Ezee and My Head is Bald, were issued back in the '80s as a 45. They were also issued in 2010 on JIMMY DAWKINS PRESENTS THE LERIC STORY (Delmark 808). Only now are the other seven finally seeing daylight, reunited with their two brethren tracks.
All of these numbers receive the full, unmistakable Dragger treatment. From his Nowlin' Wolf repertoire. Where Did You Go is set to a grooving Smokestack Lightning backdrop. Don't Trust Your Woman recalls How Many More Years. Whereas Ain't Gonna Cry No Mo is a pat-ented example of one of Dragger's customary stage directives, Slow in A!, Don't You Want A Good Man and Stop Lyin'are straight Chicago uptempo shuffles. Alabama Bound dusts off the Elmore James' classic riff and lyrical theme, and Please Mr. Jailer is a title he will return to in his later recordings. While many of these songs have long been part of Dragger's repertoire, this was the first time these now familiar themes were preserved on tape. As a bonus Tail's Tale gives a palpable sense of the time and place in which these musicians performed and persevered. Dragger provides frank accountings of the murder of his business partner, Iron Jaw Harris, of pervasive drugs, crime and violence. but also cites a litany of musicians both great and small who com-prised the west side blues scene of the time and kept the blue flame burning. The vintage tracks and forthright stories from Tail Dragger make this yet another important historical document from Delmark which throws more illumina-tion on a little explored corner of Chicago's west side blues scene in the 1980s.
—Justin O'Brien. February 2013


Bewertungen lesen, schreiben und diskutieren...
mehr
Kundenbewertungen für "American People"
Bewertung schreiben
Bewertungen werden nach Überprüfung freigeschaltet.
Weitere Artikel von TAIL DRAGGER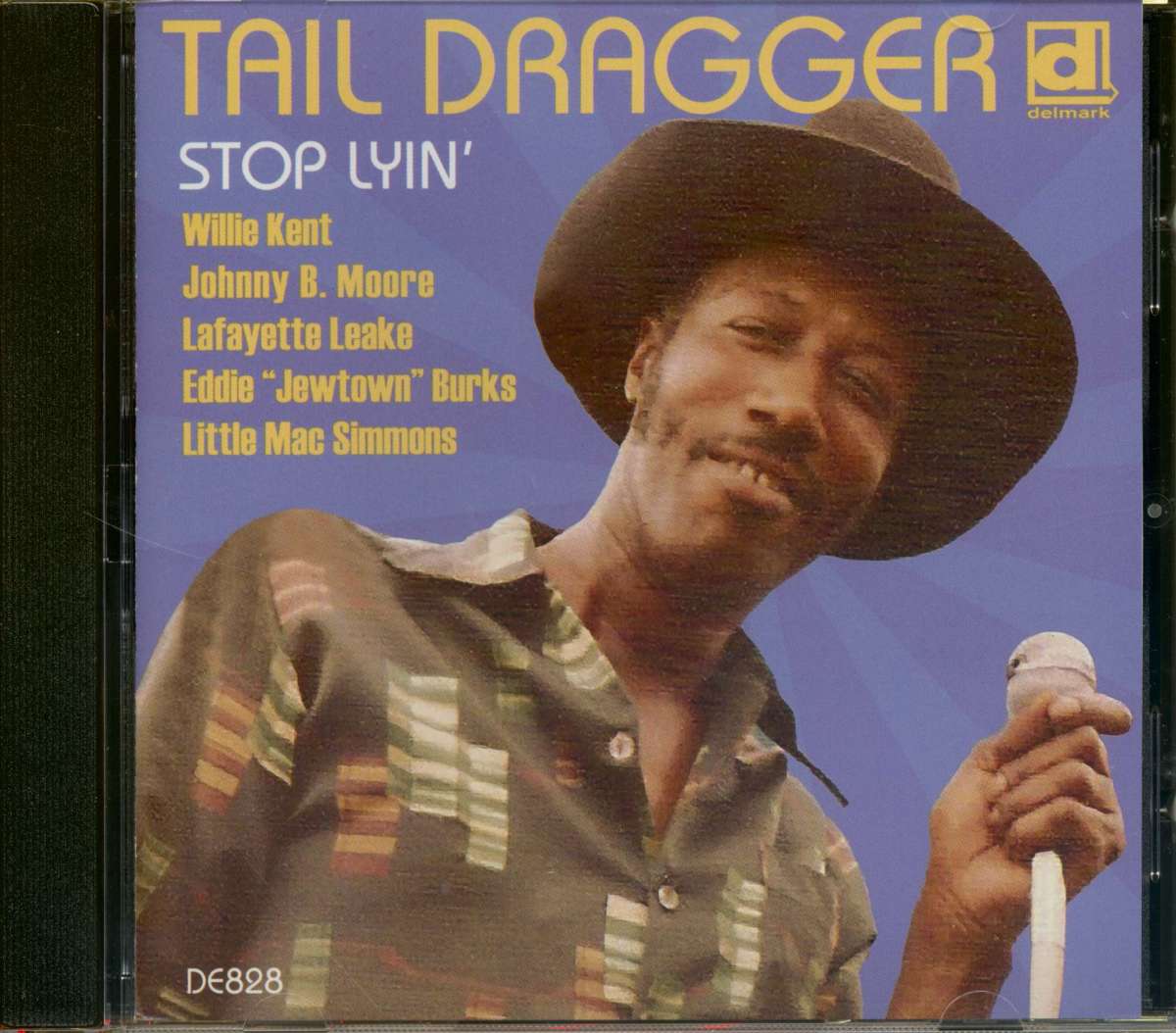 TAIL DRAGGER: Stop Lyin' - The Session (CD)
Art-Nr.: CDDE828


Artikel muss bestellt werden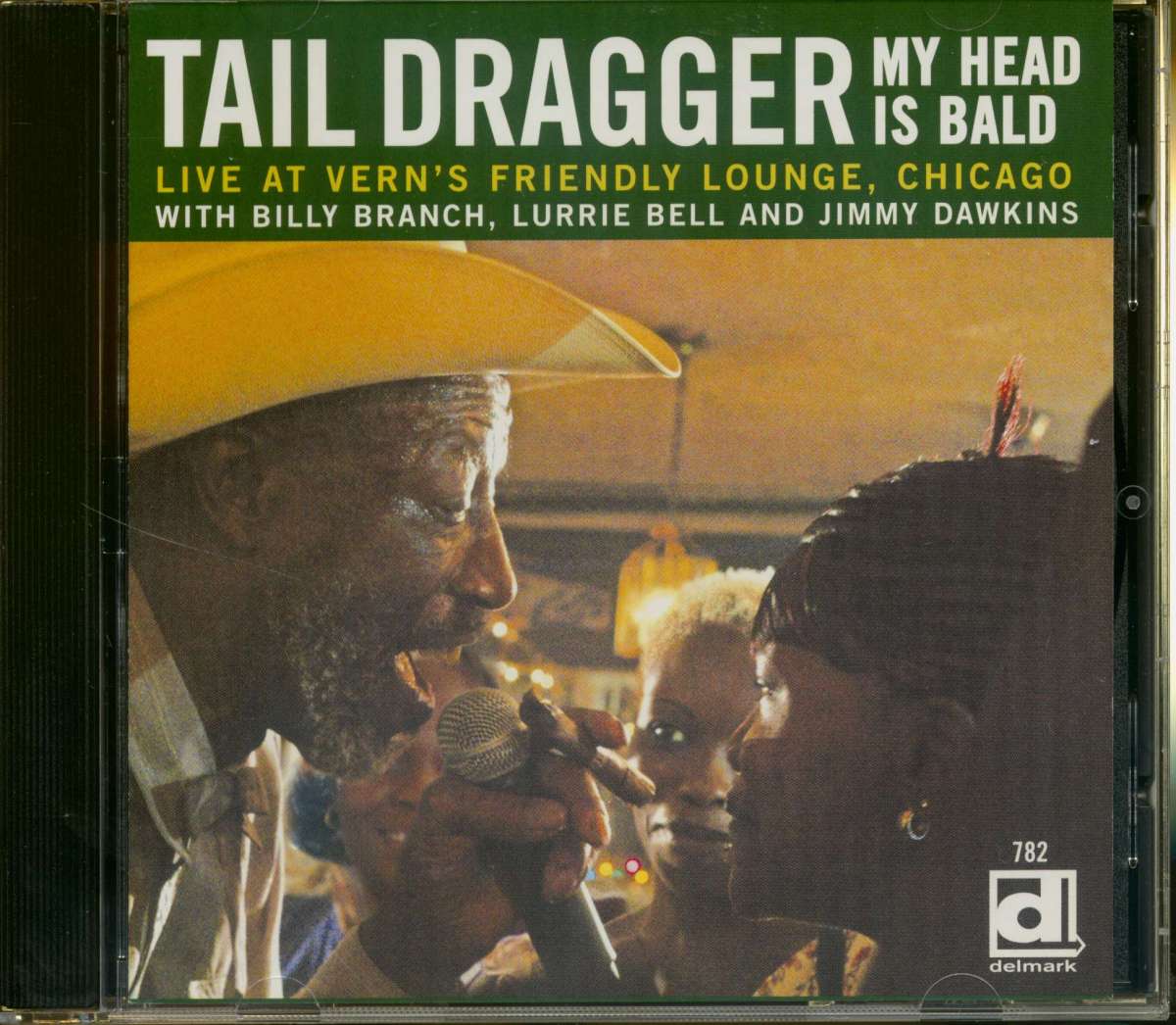 TAIL DRAGGER: My Head Is Bald
Art-Nr.: CDDE782


Artikel muss bestellt werden