Der Artikel wurde erfolgreich hinzugefügt.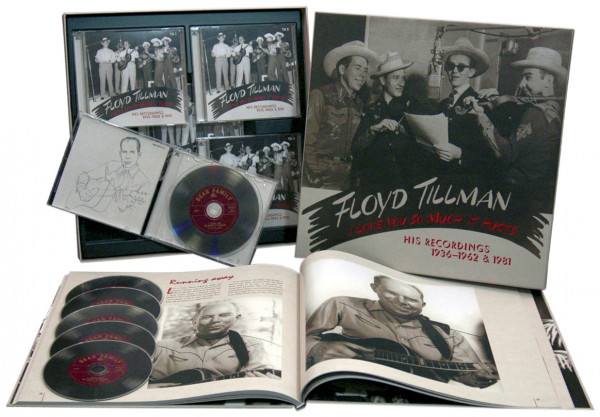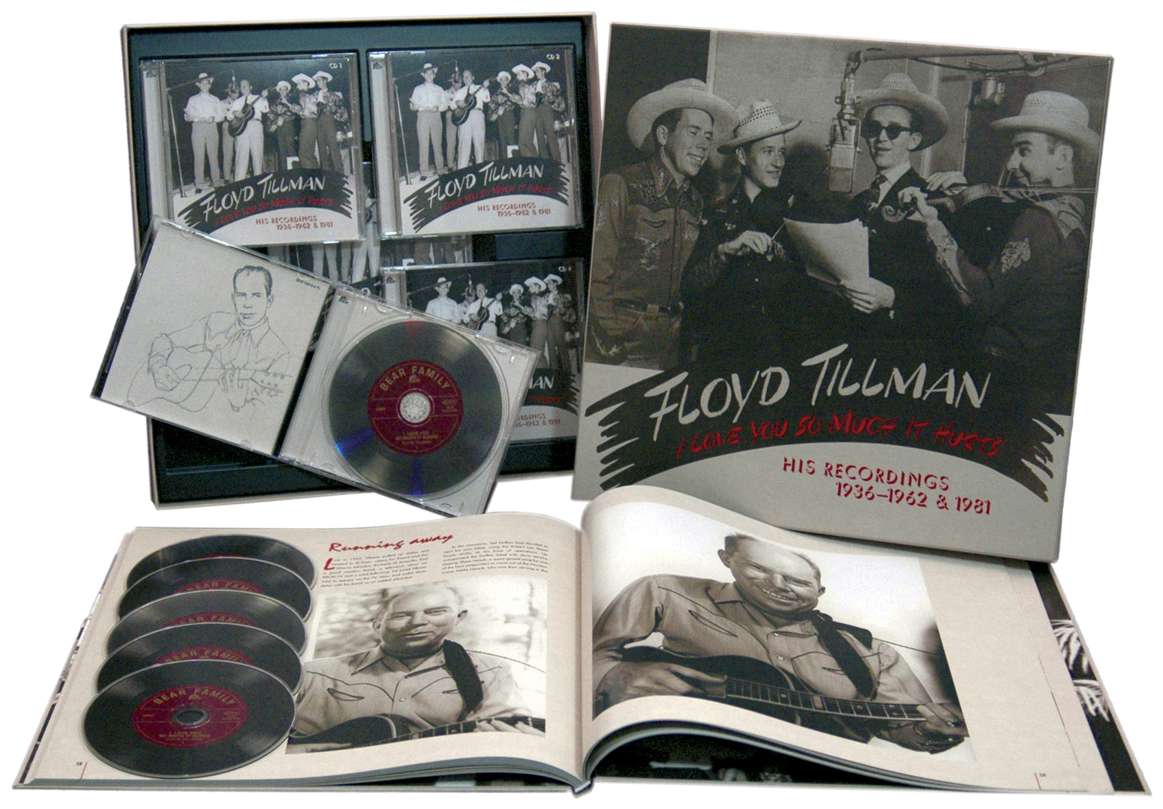 129,95 € *
139,95 € *
(7,15% gespart)
inkl. MwSt. / zzgl. Versandkosten - Abhängig vom Lieferland kann die MwSt. an der Kasse variieren.
Sofort versandfertig, Lieferzeit** 1-3 Werktage
6-CD Box (LP-Format) mit 80-seitigem gebundenen Buch, 175 Einzeltitel. Spielzeit ca. 458...
mehr
Floyd Tillman: I Love You So Much It Hurts (6-CD Deluxe Box Set)
6-CD Box (LP-Format) mit 80-seitigem gebundenen Buch, 175 Einzeltitel. Spielzeit ca. 458 Minuten. 
'Wahrscheinlich bin ich der größte Floyd Tillman-Fan - weltweit.' (
Willie Nelson
) 
Floyd Tillman
war einer der überragenden Country-Music-Stilisten und gehörte zu den besten Songschreibern überhaupt. Sein Repertoire umfaßte
Western
Swing, Honky Tonk und Jazz – etliche seiner Kompositionen avancierten zu Pop-Klassikern. Obwohl in Oklahoma geboren, war er der Pionier texanischer Musik, indem er all das verkörperte, was die Musik dieses Staates so einmalig macht. Er war einer der ersten, der die elektrische Gitarre in die Country- Music integrierte, darüber hinaus sang wohl niemand sonst mit derartiger Eigentümlichkeit Country-Songs wie Floyd Tillman. Sein Einfluß auf andere, stilbildende Interpreten – wie etwa Willie Nelson – ist unschätzbar. 'Man konnte sofort erkennen, daß seine Songs kaum etwas mit der bis dahin üblichen Country-Music zu tun hatten', erklärte Willie Nelson 'In seinem Gitarrespiel gab es diese Django-Reinhardt-Rhythmen, und er sang über Themen, die vor ihm noch niemand verarbeitet hatte.'
Floyd Tillman schrieb Country-Standards, darunter It Makes No Difference Now, They Took The Stars Out Of Heaven, Each Night At Nine, Slippin' Around, I'll Keep On Loving You und I
Love
You So Much It Hurts . Unterm Strich sind seine Kompositionen auf rund 50 Millionen Schallplatten vertreten und wurden von so unterschiedlichen Künstlern wie
Gene Autry
,
Tex Ritter
,
Perry Como
,
Bing Crosby
, den Supremes und
Ray Charles
aufgenommen. Außerdem gibt es in seinem musikalischen Nachlaß verkannte Hits und unspektakuläre Klassiker wie This Cold War With You, Driving Nails In My Coffin und I Gotta Have My Baby Back , die in seiner Interpretation zu Standards wurden.
Diese Box wird eröffnet mit seinen ersten Einspielungen als Gitarrist und Gelegenheits-Sänger der Blue Ridge Playboys aus dem Jahr 1936 – und sie enthält seine sämtlichen Aufnahmen aus der Decca- (1939 – 1944) und der Columbia-Zeit (1946 – 1955). Ferner Einspielungen für kleinere Labels zwischen 1955 und 1957 sowie seine RCA-Victor-LP. Und: zwei Sessions für Liberty (1960 und 1961), seine Cimarron-Aufnahmen von 1962 sowie die hochgelobte Gilleys-LP (1981) – sie enthält Duette mit
Ernest Tubb
,
Merle Haggard
, Willie Nelson und Gilley selbst. Zu Floyd Tillmans Begleitmusikern zählen hier Texas-Legenden wie
Moon Mullican
,
Bob Dunn
,
Johnny Gimble
, Herbie Remington und
Ted Daffan
. Insgesamt werden 173 Aufnahmen präsentiert, und ein 80-seitiges, gebundenes Begleitbuch von Kevin Coffey rundet diese Veröffentlichung ab. Leider hat Floyd Tillman diese Verbeugung vor seinem Werk und Wirken nicht mehr miterleben können, er ist im August 2003 verstorben. Als er 1984 in die Country Music Hall of Fame aufgenommen wurde, brachte Willie Nelson es auf den Punkt: 'Ich danke ihm dafür, daß er mir Worte und Töne geschenkt hat, die meine eigenen Gefühle treffend ausdrückten – und wohl auch die von Millionen anderer Menschen.'
Video von Floyd Tillman - I Love You So Much It Hurts (6-CD Deluxe Box Set)
Artikeleigenschaften von

Floyd Tillman: I Love You So Much It Hurts (6-CD Deluxe Box Set)
Albumtitel:

I Love You So Much It Hurts (6-CD Deluxe Box Set)

Genre

Country

Edition 2

Deluxe Edition

Preiscode

FL

Artikelart

Box set

EAN:

4000127164155

Gewicht in Kg:

2.1
Floyd Tillman " …[ A ] mong his contemporaries, only Floyd Tillman and Lefty...
mehr
"Floyd Tillman"
Floyd Tillman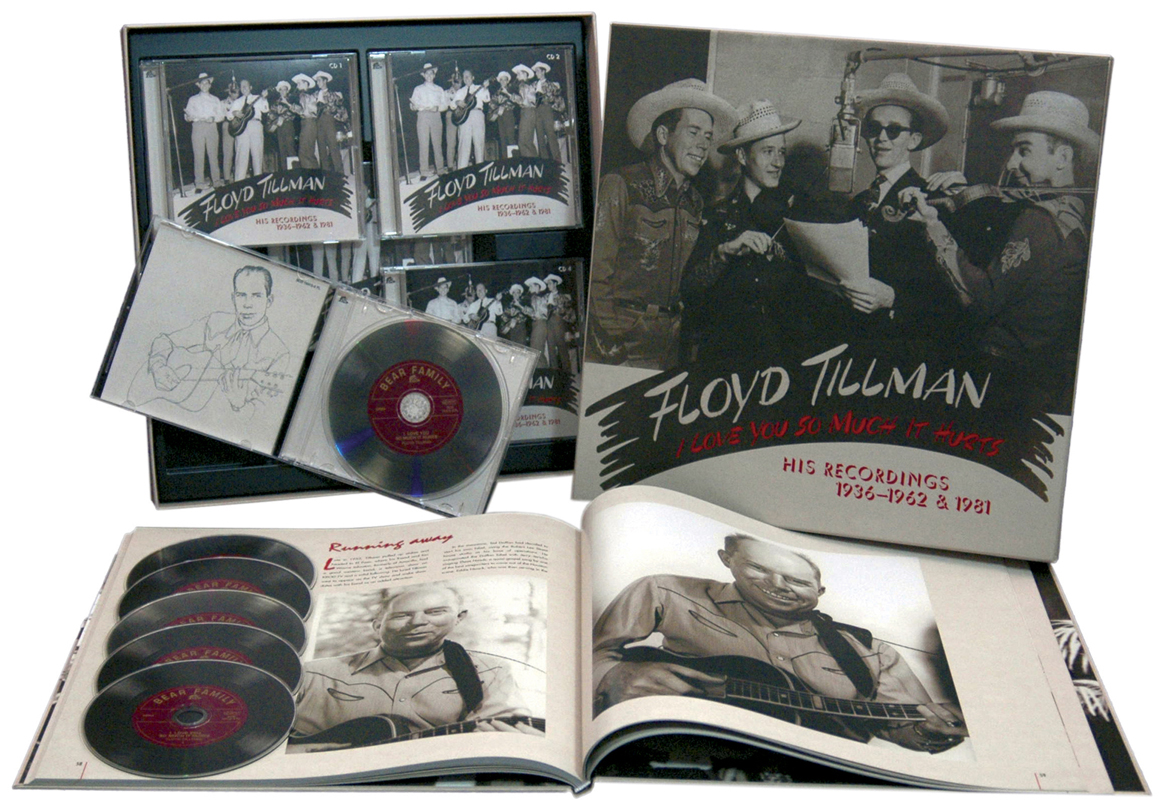 "…[A]mong his contemporaries, only Floyd Tillman and Lefty Frizzell could rival Hank in the critical test of bringing apparently infinite variety to an essentially limited format…Tillman, the least known of the three, was perhaps the most innovative. Originally from rural Oklahoma, he graduated from Texas country swing bands to write standards like 'Slipping Around,' 'It Makes No Difference Now,' 'I Love You So Much It Hurts,' and 'This Cold War With You,' as well as wryly observed non-hits like 'Small Little Town.' His problem was that around 1949 he adopted a new singing style in which the world seemed to be viewed through the bottom of a shot glass. Radio play quickly dried up."
– Colin Escott, Hank Williams.
 "Floyd didn't have a great education – I think he probably went to maybe fifth grade…But I would call him definitely a very well self-educated man…He wrote beautiful things. He did a lot of songs that could not be considered country at all. The people that used to come to the dances, they either loved Floyd's voice or they hated it. They'd say, 'He can't sing, but he sure can write songs.'"
– Marge Tillman in 1994.
"It just sort of come natural to me to sing with a little slur, because I'm not a vibrato singer. So I get around the vibrato by phrasing kind of like I do on the guitar, when I'm stretching the string. I stretch my voice the same way."
– Floyd Tillman in 1985.
Very few discussions of Floyd Tillman ignore that  voice, the unmistakable, much imitated (often lampooned), lazy, slurring drawl -- the "through the bottom of a shot glass"  style that Tillman himself cited to Escott as the reason radio play dried up -- that became more pronounced in the late 1940s, at the height of his performing and writing career.
Perhaps it was Tillman's increasingly overwrought vocals that effectively torpedoed his career, or perhaps it was the simple combination of fickle tastes, a changing marketplace and his own decision, for varied reasons, to scale back his activities around that time. The distinctiveness of his voice nevertheless guaranteed him immortality as much as his equally distinctive songwriting. Everyone sang Floyd Tillman songs, and quite a few those who did also knew they could get a quick, knowing laugh from their audience if they bent and phrased like Tillman.
As Tillman's voice became more stylised it drew attention from other aspects of his considerable talent. It didn't exactly disguise the fact that he was one of country music's great songwriters -- he was among the first crop of writers elected to the Nashville International Songwriters Hall of Fame in 1970 -- but his voice arguably obscured that fact, and drew attention from the songs themselves.
Preoccupation with the voice has also lessened the attention paid to Tillman's pioneering efforts as a lead guitarist and as one of the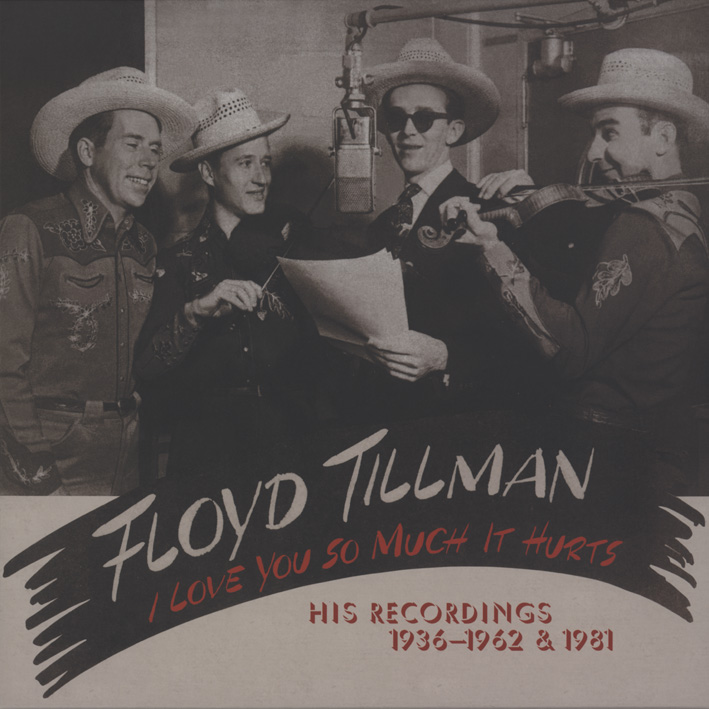 earliest to record with the electric standard guitar. It's not uncommon to see Tillman cited in histories as an early electric guitarist, but what is usually ignored is how good  he really was. Those rare occasions that Tillman featured himself on lead guitar in the years after he chose to concentrate on writing and singing – his 1947 session in Chicago for Columbia, or his 1956 session for his buddy Ted Daffan -- were brief, tantalizing reminders of a talent that had he chosen to develop it could have been as significant as his other achievements.
But he didn't develop it, and it's difficult to tell if he regretted that fact. Almost every feature written about Tillman during his lifetime quoted him as protesting that in the beginning he was just a guitarist -- a leadguitarist, a pretty rare creature in the mid-1930s -- and that he only sang because he had to. There's a hint in these interviews, however, that perhaps Tillman was protesting too much, that deep down he'd wanted to sing all along, but didn't have the confidence in his soft, vibrato-less voice to admit it. True or not, he was a fine guitarist who could well have developed into an even finer one.
from BCD16415 - Floyd Tillman I Love You So Much It Hurts (6-CD)
Read more at: https://www.bear-family.de/tillman-floyd-i-love-you-so-much-it-hurts-6-cd.html
Copyright © Bear Family Records
Bewertungen lesen, schreiben und diskutieren...
mehr
Kundenbewertungen für "I Love You So Much It Hurts (6-CD Deluxe Box Set)"
Bewertung schreiben
Bewertungen werden nach Überprüfung freigeschaltet.
Weitere Artikel von Floyd Tillman
Floyd Tillman & Friends: The Influence (CD)
Art-Nr.: CDHOTR105


nur noch 2 verfügbar
Sofort versandfertig, Lieferzeit** 1-3 Werktage