Der Artikel wurde erfolgreich hinzugefügt.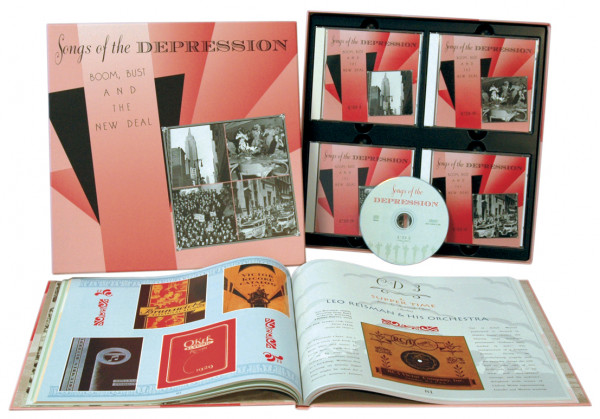 89,95 € *
94,95 € *
(5,27% gespart)
inkl. MwSt. zzgl. Versandkosten
Artikel derzeit nicht verfügbar, Lieferfristen von bis zu 2-3 Wochen sind zu erwarten. (soweit verfügbar beim Lieferanten - kann aber auch schneller gehen)
Artikel-Nr.:

BCD16029

Gewicht in Kg.:

2.35
4-CD Box (LP-Größe) mit 160-seitigem Buch, 88 Einzeltitel. Spieldauer ca. 262 Minuten. Um mit...
mehr
Various - History: Songs Of The Depression (4-CD)
4-CD Box (LP-Größe) mit 160-seitigem Buch, 88 Einzeltitel. Spieldauer ca. 262 Minuten.

Um mit Charles Dickens zu sprechen: 'Es war die schlimmste Zeit; es war die beste Zeit.' In den zwölf Jahren von Oktober 1929 bis Dezember 1941 wurde das Gefüge der amerikanischen Gesellschaft bis aufs Äußerste belastet. Nur die Maßnahmen des 'New Deal'- der mehr aus Verzweiflung als aus Überzeugung ersonnen wurde - bewahrten das Land vor Anarchie und einem totalitären Regime. Und doch entstand, wie eine Oase in der Wüste, inmitten all des Elends und der Entbehrungen etwas Wundervolles. Während die Wirtschaft des Landes am Boden lag, setzte die Kreativität zum Höhenflug an, und die Kunstszene in Amerika reifte. Niemals zuvor, und auch danach nicht wieder, war im Theater, dem Kino und der populären Musik eine derart überwältigende Schaffenskraft spürbar.

'Songs Of The Depression: Boom: Bust And The New Deal' wirft ein Licht auf die Auswirkungen der Wirtschaftskrise auf das Medium des populären Liedes. Es beginnt mit dem wahnwitzigen Höhenflug der Börse in den späten Zwanzigerjahren, reicht von den nebulösen, oftmals an Absurdität grenzenden und von falschem Optimismus geleiteten Maßnahmen der Regierung in den ersten Monaten der Krise, über die düstere Erkenntnis der Menschen, dass sie von ihrer Regierung im Stich gelassen worden waren, bis hin zu der übertriebenen Euphorie und jugendlichen Unverfrorenheit in der Phase des 'New Deals'.

88 Lieder spiegeln die grossen Stimmungsschwankungen dieser Zeit wider, beispielsweise Eddie Cantors Tips On The Stockmarket, Al Jolsons Hallelujah I'm A Bum, Ruth Ettings 10 Cents A Dance,
Vincent Roses There's No Depression In Love, Lee Morses I'm An Unemployed Sweetheart, Gene Kardos If I Ever Get A Job Again, Connee Boswells Boulevard Of Broken Dreams und das
Louis Armstrong/Mills Brothers Duett, WPA. Nicht zu vergessen natürlich das von Bing Crosby gesungene, wohl anrührendste Lied des Zeitalters der Wirtschaftskrise, Brother Can You Spare A Dime. Die Lieder der großen, aber auch der weniger bekannten Stars der Dreißigerjahre des 20. Jahrhunderts fügen sich zu einer facettenreichen Chronik dieser Ära zusammen, wie sie kein Geschichtsbuch besser vermitteln könnte.

Artikeleigenschaften von

Various - History: Songs Of The Depression (4-CD)
Albumtitel:

Songs Of The Depression (4-CD)

Genre

Pop

Preiscode

DK

Edition 2

Deluxe Edition

Artikelart

Box set

EAN:

4000127160294

Gewicht in Kg:

2.35
Various - History - Songs Of The Depression (4-CD)

Box set 1
01
Hittin' The Ceiling
BALLEW ORCHESTRA, Smith
02
I'm In The Market For You
AMBROSE ORCHESTRA
03
Happy Days Are Here Again
CASA LOMA ORCHESTRA
04
Song Of The Bayou
HARDY'S ALABAMIANS, Marlow
05
Eddie Cantor's Tips On The Stockmarket
06
A Cottage For Sale
HOTEL PENNSYLVANIA MUSIC
07
Get Happy
WALLACE, Ted & CAMPUS BOYS
08
Sweeping The Clouds Away
CASA LOMA ORCHESTRA
09
Laughing At Life
McKINNEY'S COTTON PICKERS
10
It's A Great Life (If You Don't Weaken)
LANIN ORCHESTRA, Sam
11
Cheer Up, Good Times Are Coming
HOTEL PENNSYLVANIA MUSIC
12
Cheer Up!
CANTOR, E. & P. Spitalny's
13
Singing A Vagabond Song
LEWIS ORCHESTRA, Ted
14
Son Of The Son
TEAGARDEN ORCHESTRA, Jack
15
Hellelujah! I'm A Bum
JOLSON, Al
16
Big City Blues
HANSHAW, Annette
17
There's A Tear For Every Smile In Hollywood
BLUE STEELE ORCHESTRA
18
Ten Cents A Dance
ETTING, Ruth
19
Cigarettes, Cigars
ETTING, Ruth
20
Just A Gigolo
MARVIN, Johnny
21
Love For Sale
HOLMAN, Libby
22
We Can Live On Love
BALLEW ORCHESTRA, Smith
Various - History - Songs Of The Depression (4-CD)

Box set 2
01
There's No Depression In Love
ROSE ORCHESTRA, Vincent
02
Now's The Time To Fall In Love
YOUNG ORCHESTRA, Victor
03
I'm An Unemployed Sweetheart
MORSE, Lee
04
I Got Five Dollars
COLEMAN ORCHESTRA, Emil
05
I Found A Million Dollar Baby
SPECHT ORCHESTRA, Paul
06
Last Dollar
DROESCH ORCHESTRA, Eddie
07
Here It Is Monday And I've Still Got A Dollar
BULLOCK'S LEVEE LOUNGERS, C.
08
Wrap Your Troubles In Dreams
BAILEY, Mildred
09
Whistling In The Dark
LANIN ORCHESTRA, Sam
10
Dancing In The Dark
SELVIN ORCHESTRA, Ben
11
Alone Together
YOUNG ORCHESTRA, Victor
12
Life Is Just A Bowl Of Cherries
MILLS BROS & BOSWELLS & CROSBY
13
(We've Got To) Put That Sun Back In The Sky
BOSWELL SISTERS
14
Shoo The Hoodoo Away
AMBROSE ORCHESTRA
15
Whistle And Blow Your Blues Away
SELVIN ORCHESTRA, Ben
16
Headin' For Better Times
LEWIS ORCHESTRA, Ted
17
Let's Have Another Cup Of Coffee
MADRIGUERA'S HOTEL BILTMORE OR
18
Sittin' On A Rubbish Can
GERITY, Julia
19
Underneath The Arches
HALL ORCHESTRA, Henry
20
Brother, Can You Sare A Dime?
CROSBY, Bing
21
Remember My Forgotten Man
MARTIN ORCHESTRA, Freddy
22
It Must Be Swell To Be Laying Out Dead
BARTHA'S HOTEL TRAYMORE ORCH.
Various - History - Songs Of The Depression (4-CD)

Box set 3
01
Supper Time
REISMAN ORCHESTRA, Leo
02
Banking On The Weather
CARLSON'S HIGH STEPPERS, Russ
03
A Shanty In Old Shantytown
KARDOS ORCHESTRA, Gene
04
(Here We Are) Rolling In Love
MORRISON, Joe
05
I'd Rather Be A Beggar With You
BULLOCK'S LEVEE LOUNGERS, C.
06
Here You Come With Love
MARTIN ORCHESTRA, Freddy
07
Let's Put Out The Lights And Go To Sleep
CROSBY, Bing
08
The Clouds Will Soon Roll By
PRINCE ORCHESTRA, Graham
09
Rome Wasn't Built In A Day
LYMAN ORCHESTRA, Abe
10
If I Ever Get A Job Again
KARDOS ORCHESTRA, Gene
11
Them Good Old Times Are Coming Back Again
SELVIN ORCHESTRA, Ben
12
Who's Afraid Of The Big Bad Wolf?
BERNIE ORCHESTRA, Ben
13
There's A New Day Coming
LEWIS ORCHESTRA, Ted
14
Buy American!
LEWIS ORCHESTRA, Ted
15
Hey! Young Fella
ETTING, Ruth
16
The Grass Is Getting Greener
YOUNG ORCHESTRA, Victor
17
(I Went Hunting)And The Big Bad Wolf Was Dead
FIO RITO ORCHESTRA, Ted
18
We're Out Of The Red
RAMONA & PARK AVENUE BOYS
19
We're In The Money
BOSWELL SISTERS
20
The Road Is Open Again
POWELL, Dick
21
Let 'em Eat Cake
COLEMAN'S RIVIERA ORCH., Emil
22
In A One Room Flat
MARTIN ORCHESTRA, Freddy
Various - History - Songs Of The Depression (4-CD)

Box set 4
01
What Have We Got To Lose
HARRIS' COCONUT GROVE ORCH.
02
Stringin' Along On A Shoe String
ALLEN, Henry 'Red'
03
When My Ship Comes In
CANTOR, Eddie
04
If I Had A Million Dollars
BOSWELL SISTERS
05
Our Penthouse On Third Avenue
KARDOS ORCHESTRA, Gene
06
Raising The Rent
RAMONA & ROY BARGY
07
Annie Doesn't Live Here Anymore
BULLOCK'S LEVEE LOUNGERS, C.
08
The Boulevard Of Broken Dreams
BOSWELL, Connie
09
Now I'm A Lady
WHITEMAN ORCHESTRA, Paul
10
I Gotta Get Up And Go To Work
ROLLINI ORCHESTRA, Adrian
11
Gotta Go To Work Again
WALLACE ORCHESTRA, Ted
12
Are You Making Any Money?
BULLOCK'S LEVEE LOUNGERS, C.
13
Got The Jitters
NELSON ORCHESTRA, Ozzie
14
Rain
BESTOR ORCHESTRA, Don
15
With Plenty Of Money And You
INK SPOTS
16
I'm Feeling Like A Million
HILL ORCHESTRA, Teddy
17
Slummin' On Park Avenue
NORVO ORCHESTRA, Red
18
Whistle While You Work
SHAW'S NEW MUSIC, Artie
19
WPA
ARMSTRONG, Louis & MILLS BROS
20
Hey Pop! I Don't Wanna Go To Work
KYSER ORCHESTRA, Kay
21
Dawn Of A New Day
HEIDT ORCHESTRA, Horace
22
Happy Days Are Here Again
SELVIN ORCHESTRA, Ben
Bewertungen lesen, schreiben und diskutieren...
mehr
Kundenbewertungen für "Songs Of The Depression (4-CD)"
Von:
Ernst Schulz
Am:
29.05.2017
Sehr interessantes Thema
Klassen Konzept für ein Box Set!
Bewertung schreiben
Bewertungen werden nach Überprüfung freigeschaltet.
Weitere Artikel von Various - History