Wer war/ist

Truckers, Kickers, Cowboy Angels

? - CDs, Vinyl LPs, DVD und mehr
TRUCKERS, KICKERS, COWBOY ANGELS
The Blissed-Out Birth of Country Rock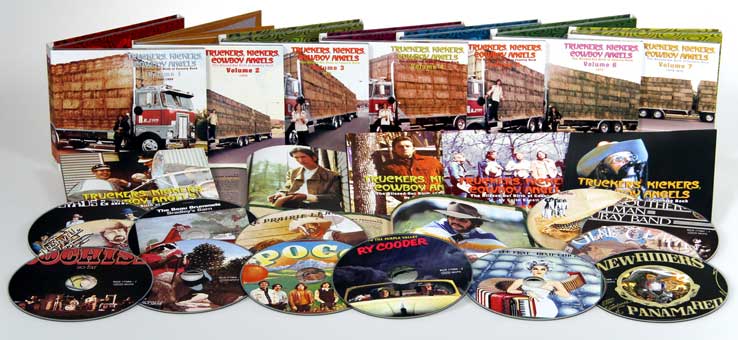 Das lag förmlich in der Luft, fast als wenn etwas in einer Wolke verschwindet. Ich denke diese Musik war das direkte Resultat der chaotisch-la¨rmigen Psychedelia. Die Leute wollten zurück zu der Einfachheit der Country Music – Lieder mit drei Akkorden, Melodien und Geschichten." (Roger McGuinn, the Byrds)
Die Reaktionen von Musikkritikern und Käufern sind überwältigend. Die Mischung macht's: große Hits neben wenig beachteten Klassikern erzählen die Geschichte dieses Genres. Doppel-CDs mit überaus dicken Booklets mit Kommentaren von Colin Escott zu jedem einzelnen Song, seltenen Fotos und weiteren Informationen aus erster Hand. Unsere Serie über Country Rock spiegelt genau das wider, was unsere Fans überall auf der Welt von BEAR FAMILY erwarten: eine Zusammenstellung, die ein Genre exakt beschreibt, randvolle CDs, tiefgründige Linernotes, seltene Fotos und komplette Diskografien.
Mit anderen Worten, eine abschließende musikalische Erfahrung. Versprühen Sie also etwas Patchouli-Öl, zünden Sie eine dieser exotischen Zigaretten an (natürlich nur dort, wo es erlaubt ist!) und wagen Sie sich hinaus in die Zeit der Hippies. Hier er- fahren Sie die gesamte Geschichte von den schwindelerregeden Canyons in den Bergen um Los Angeles bis zu Londons Marble Arch! 1966 begannen Rockgruppen sich von der frühen Psychedelic Rock innewohnenden Genußsucht weg hin zu den durch die Coun- try Music verkörperten zeitlosen Werten zu orientieren, wobei sie allerdings das Empfindungsvermögen der Gegenkultur ein- brachten. Dieser Trend setzte 1966 langsam ein, nahm 1967 mit der Veröffentlichung von Bob Dylans Album 'John Wesley Harding' und der ersten LP der Byrds Fahrt auf und wurde 1968, als die Byrds 'Sweetheart Of The Rodeo' veröffentlichten und das erste Album von Dillard & Clark erschien, zu einem Phänomen. Die Everly Brothers und Rick Nelson mit ihrem starken Bezug zur Musiktradition kamen schon bald hinzu. 1969 erschien schließlich die erste LP der Flying Burrito Brothers, Dylan veröffent- lichte 'Nashville Skyline', und das epochale zweite Album von The Band erschien. Plötzlich war COUNTRY ROCK ein allgemein üblicher Begriff.
Jene Geschichte erzählen wir auf den ersten beiden Ausgaben dieser Serie. Alle großen Namen sind dabei, aber auch die Cor- vettes (eine von Mike Nesmith von den Monkees produzierte Supergroup ohne Erfolg), Doug Sahm mit seiner Fusion von We- stern Swing und Rock, Clarence White, der mit seiner Band Nashville West von Country und Bluegrass zum Rock kam, Hearts And Flowers mit dem späteren Eagles-Gründer Bernie Leadon und die erste Gruppe von Gram Parsons, die International Submarine Band, um nur einige zu nennen. BEAR FAMILY kann die komplette Geschichte des Country Rock erzählen, sind wir doch in der Lage, von großen wie kleinen Plat- tenfirmen zu lizenzieren. Wir erzählen die Geschichte des Country Rock auf unsere Art: herausragende Soundqualität, zuvor unbekannte Fotos sowie Kommentare des Grammy-Gewinners und Autors/Produzenten Colin Escott.
1970: In diesem Jahr war The Band auf dem Cover des 'Time'-Magazins, und Country Rock wurde als eigene Katego- rie wahrgenommen. Zu den Künstlern zählen die Allman Brothers, The Grateful Dead, Delaney & Bonnie, die Flying Burrito Brothers, Jefferson Airplane, Poco, Linda Ronstadt, Janis Joplin und der mittlerweile legendäre Townes Van Zandt. Als Bonusstück haben wir noch eine bislang unveröffentlichte Aufnahme von Townes Van Zandt aus dem Jahr 1970 draufgepackt.
1971: In diesem Jahr wurden die Eagles gegründet. Bevor sie die US-amerikanische Popmusik nachhaltig veränder- ten, hatten sie als Country-Rock-Musiker zunächst Kollegen wie Linda Ronstadt begleitet. Zu den weiteren Musikern dieser Aus- gabe zählen Commander Cody, Link Wray, die Flying Burrito Brothers, The Band, New Riders of the Purple Sage, John Prine, J.J. Cale, Ry Cooder, Little Feat und die ersten beiden britischen Bands, die Country Rock spielten, Head Hands & Feet und Cochise.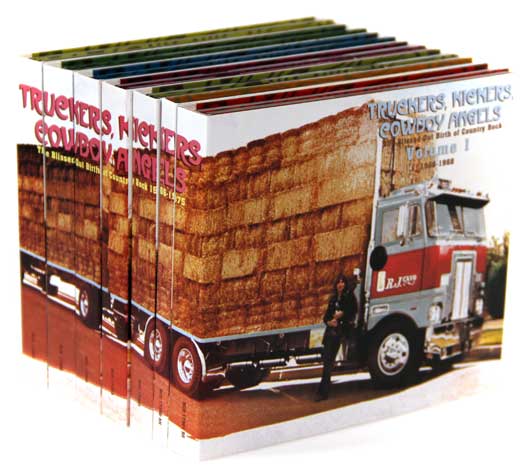 Colin Escott
"There was a shared sense of direction that was in tune with the times. The Band, the Byrds, Poco, Crosby, Stills, Nash & Young, Dylan were all exploring traditional music augmented by the power of rock 'n' roll. Psychedelia had had its moment and we were continuing to evolve what we believed to be the logical next step in American music."
(Robert Hunter, lyricist for the Grateful Dead)
"The winds that were blowing moved us all along. We each had different approaches - different tacks and different sails in the wind - but we mostly headed the same direction, just because of the push. I had no notion of country rock as a possible genre, although we used the phrase among ourselves as First National Band members. This was more to frame up and focus a feeling of playing. We weren't conscious of this being innovative. It was fun to play like that, and there was plenty to say with it, and we enjoyed listening to it, to each other. I listened to all the bands at some point, but not until some time after the form was well under way. We were all immersed in playing it and giving it voice; we only slowly discovered each other over time. Ideas come along like this regularly that push everyone along. No one controls it; no one leads it. Certainly, no one invents it. It is the moment when the songs start to sing the singers, and not the other way round. Everyone who plays and sings knows this when it happens, and it is the most fun you can have playing music. Like flying in your dreams, effortlessly - and especially fun if you find someone up there with you. You wave and smile and acknowledge the forces at work."
(Michael Nesmith)
Copyright © Bear Family Records® Alle Rechte vorbehalten. Nachdruck, auch auszugsweise, oder jede andere Art der Wiedergabe, einschließlich Aufnahme in elektronische Datenbanken und Vervielfältigung auf Datenträgern, in deutscher oder jeder anderen Sprache nur mit schriftlicher Genehmigung der Bear Family Records® GmbH.
Weitere Informationen zu Truckers, Kickers, Cowboy Angels auf de.Wikipedia.org
Für die Filterung wurden keine Ergebnisse gefunden!