Der Artikel wurde erfolgreich hinzugefügt.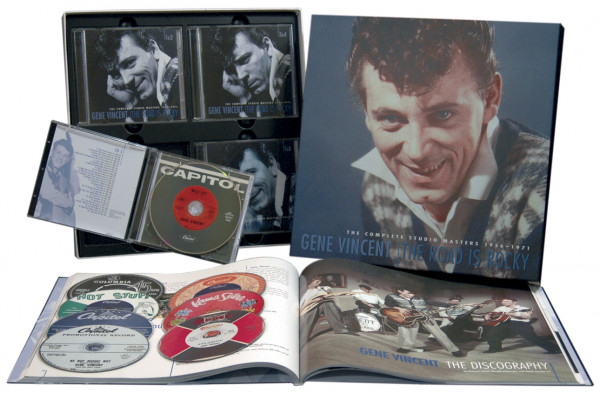 inkl. MwSt. / zzgl. Versandkosten - Abhängig vom Lieferland kann die MwSt. an der Kasse variieren.
Sofort versandfertig, Lieferzeit** 1-3 Werktage
Gene Vincent Box Set (LP-Format) mit 8 CDs plus 132-seitigem gebundenem Buch, 223 Einzeltitel,...
mehr
Gene Vincent: The Road Is Rocky,56-71 (8CD Deluxe Box Set)
Gene Vincent
Box Set (LP-Format) mit 8 CDs plus 132-seitigem gebundenem Buch, 223 Einzeltitel, Spieldauer 549:05 Minuten.
Das Leben von Gene Vincent war der Rock and Roll. Eine der berühmtesten Aufnahmen der gesamten 50er Jahre machte ihn unsterblich,
Be Bop A Lula
. Dieser Song machte ihn zum Star und war zugleich Auftakt für eine unglaubliche Achterbahn-Karriere, die für ein tragisches Ende beinahe vorbestimmt schien. Während dieser Fahrt spielte ,Gene Vincent ,über 200 Songs ein, darunter diverse Rock 'n' Roll-Klassiker wie
Bluejean Bop, Lotta Lovin'
und
Dance To The Bop
.
Besonders in Europa war ,Gene Vincent ,enorm einflußreich – wo seine schwarze Lederkluft, sein irrwitziger Lebensstil und die Brillanz seiner Bühnenshow unvergessen bleiben werden. Erstmals haben wir auf acht CDs ,Gene Vincent ,sämtliche Studioaufnahmen aus den Jahren 1956 bis 1971 als Box Set zusammengefaßt!
In chronologischer Abfolge präsentiert diese CD Box Set die kompletten Einspielungen von Gene Vincent für Capitol, Columbia, Challenge, Forever/Playground, Dandelion, Kama Sutra und B&,C – darunter bislang unveröffentlichte Stereofassungen! Alles in allem ein gewaltiges Lebenswerk und eine phantastische Erinnerung an einen Künstler, mit dem es das Leben nicht immer gut gemeint hat. Natürlich gehört zum Box Set mit 8 CDs ein opulentes gebundenes Buch. Ausserdem enthält es eine detaillierte Discographie und ist großzügig illustriert mit einer wahren Flut seltener, eindrucksvoller Fotos. ,
Fazit: Diese Veröffentlichung als CD Box Set wird dem Leben und Werk eines außergewöhnlichen Künstlers mehr als gerecht. Mehr Rock 'n' Roll geht nicht - ,Gene Vincent.
Video von Gene Vincent - The Road Is Rocky,56-71 (8CD Deluxe Box Set)
Artikeleigenschaften von

Gene Vincent: The Road Is Rocky,56-71 (8CD Deluxe Box Set)
Albumtitel:

The Road Is Rocky,56-71 (8CD Deluxe Box Set)

Genre

Rock'n'Roll

Preiscode

HL

Edition 2

Deluxe Edition

Artikelart

Box set

EAN:

4000127162571

Gewicht in Kg:

2.34
Gene Vincent Eugene Vincent Craddock wurde am 11. Februar 1935 in Norfolk, Virginia...
mehr
"Gene Vincent"
Gene Vincent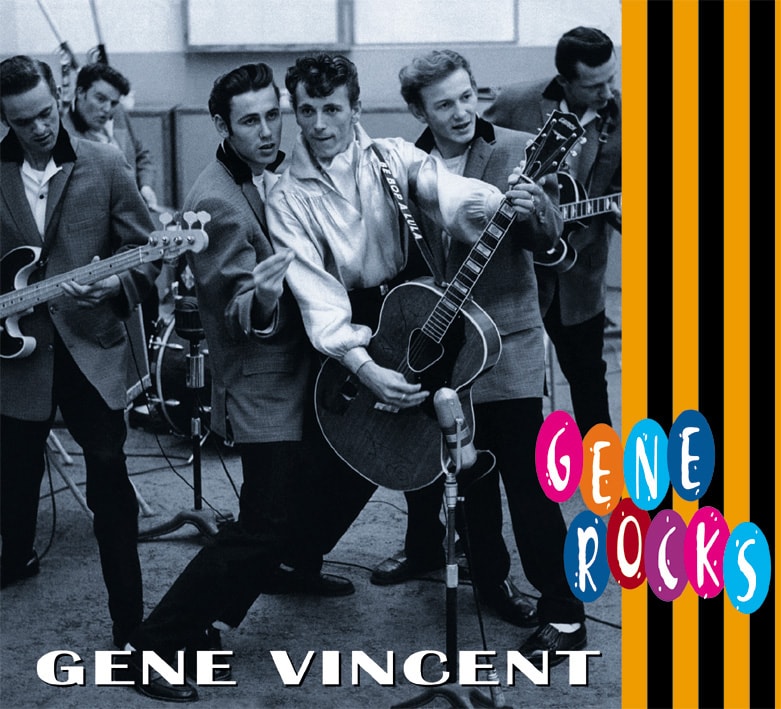 Eugene Vincent Craddock wurde am 11. Februar 1935 in Norfolk, Virginia geboren. Tatsächlich war die genaue Reihenfolge seiner Vornamen im Laufe der Jahre Gegenstand einiger Diskussionen, und als Gene seinen Antrag auf eine Sozialversicherungskarte ausfüllte, gab er seinen Namen als Vincent E. Craddock an, und obwohl der 11. Februar auf seiner Geburtsurkunde erscheint, behauptete seine Mutter immer wieder, er hätte den 17. lesen sollen, während seine Schwester Evelyn den 22. bevorzugte. So war es immer bei Gene. Nichts war so, wie es schien, und selbst die einfachsten Dinge hatten die Angewohnheit, im Streit zu enden.
Er genoss eine unauffällige Kindheit und kam nie über eine Ausbildung in der achten Klasse hinaus. Am 19. Februar 1952, im Alter von 17 Jahren, schied er aus und meldete sich bei der Marine im nahegelegenen Richmond, Virginia, an. Nach der Grundausbildung wurde er als Deckhelfer auf der USS Chuckawan eingesetzt und mit der Zeit zum Kesselmann aufgerüstet. Er füllte die langen Stunden an Bord, indem er sang und klimperte, aber nur zur Entspannung und nie mit Gedanken an Ruhm und Reichtum.
Seine einzige Leidenschaft, außer Mädchen, war das Motorradfahren. Bis Mitte 1955 hatte er von seinem ersten kleinen Fahrrad zu einem mächtigen Triumph aufgerüstet und eine Versetzung an Land vollzogen, wo er als Versender am Marinestützpunkt in Norfolk arbeitete.
Die Episode, die das Leben von Gene Craddock für immer veränderte, fand im Juli 1955 statt, und wie üblich gibt es mehrere verschiedene Versionen des Vorfalls. Es ist jedoch allgemein anerkannt, dass eine Frau, die einen Chrysler fuhr, eine rote Ampel übersprang und eine widerliche Kollision ihn mit einer bleibenden Verletzung an seinem linken Bein zurückließ, die fast über dem Schienbein abgetrennt worden war.
Die Ärzte bevorzugten die Amputation und im Nachhinein wäre dies die beste Option gewesen, aber er kämpfte immer gegen die ultimative Lösung und lebte den Rest seines Lebens in verschiedenen Graden von Schmerzen. Sechs Monate lang war er in und aus dem Portsmouth Naval Hospital und humpelte auf Krücken mit seinem ganzen Bein in Gips. Diese ohnehin schon schwere Verletzung wurde noch verschlimmert, weil er offensichtlich nicht bereit war, die Wunde auszuruhen, und die Ärzte waren mehrmals gezwungen, das Bein neu zu setzen, weil es nicht zufriedenstellend heilte.
In der Zeit seiner Genesung fand ein weiteres Ereignis statt, das die Zukunft von Gene Craddocks Leben prägen sollte. Zwei Nächte lang, am 11. und 12. September 1955, kam Elvis Presley nach Norfolk, und Gene war unter den Zuschauern im Stadtauditorium, als Teenager ihn randalierten und mobbten und buchstäblich seine Kleider für Souvenirs zerrissen. Die Publikumsreaktion auf Presley muss einen dramatischen Effekt auf den Youngster gehabt haben, dessen eigene Karrierechancen nicht mehr sehr vielversprechend waren. Von da an war das Singen von Rock'n' Roll alles, was Gene jemals mit seinem Leben anfangen wollte.
Presleys Auftritt in Norfolk, Virginia, wurde von einem lokalen Radiosender, der WCMS, gesponsert, und als sie im Februar 1956 nach Nachwuchstalenten für eine neue Show "Country Showtime" riefen, überwand Gene seine Schüchternheit und sang Presleys Song "Heartbreak Hotel", was genügend Wirkung hatte, um sich für das Finale zu qualifizieren, das im Carnival Room in Norfolk stattfand. Diesmal spielte er einen unbekannten Song Be-Bop-A-Lula, unterstützt von den Virginians, die die WCMS-Hausband waren und einen, Ervin Williams, in ihr Line-Up auf Rhythmusgitarre nahmen. Gene erregte so viel Aufsehen, dass er und die Virginians schnell zu Stammgästen auf der'Country Showtime' wurden und an den Wochenenden sogar ein paar Live-Shows auf einem lokalen Autoparkplatz spielten.
Es war der WCMS-Discjockey Bill'Sheriff Tex' Davis, der die Weitsicht hatte, die Karriere des jungen Gene Craddock richtig anzukurbeln. Einige Monate zuvor hatte er auf der Disc Jockey Convention in Nashville kurzen Kontakt mit Ken Nelson von Capitol Records aufgenommen. Er rief ihn in Kalifornien an und wurde mit unerwarteter Begeisterung empfangen. RCA hatte vor kurzem Presleys Vertrag von Sun gekauft und mit ihrer größeren Finanzkraft und ihrem überlegenen Vertriebsnetz wurde er schnell zum Star. Capitol hatte keine Rock'n'Roll-Sänger, die mit RCA konkurrieren konnten, und obwohl Ken Nelson kein persönliches Interesse an der Musik hatte, war er klug genug, um zu erkennen, dass sie auf diesen neuesten Zug aufsteigen mussten, und zwar schnell.
Sheriff Tex Davis versammelte eine Gruppe lokaler Musiker, bestehend aus Ervin'Willie' Williams von den Virginians an der Rhythmusgitarre, Leadgitarrist Cliff Gallup, Jack Neal am Kontrabass, sowie dem fünfzehnjährigen Schuljungen Dickie Harrell am Schlagzeug, und am 9. April nahmen sie ein Demo von Be-Bop-A-Lula auf, das ordnungsgemäß nach Nelson am Capitol geschickt wurde. Drei Wochen lang hörten sie nichts, aber als er schließlich anrief, war es ein begeisterter Ken Nelson, der sie nach Nashville einlud, um eine Platte zu machen.
------
Geboren als Vincent Eugene Craddock am 11.2.1935 in Munden Point, Norfolk, im US-Staat Virginia. Mit 15 machte er sich älter, weil er zur Armee wollte und wurde im Korea-Krieg eingesetzt. Bei einem Motorradunfall wurde er 1953 so schwer verletzt, dass er für den Rest seines Lebens immer gehbehindert ist.
Ein Jahr später wurde Gene Vincent deswegen aus der Armee entlassen. Für die nächsten 2 Jahre wirkte er bei verschiedenen lokalen Rundfunksendungen mit. 1956 bekam er seine große Chance, als er den Discjockey Sheriff Tex Davis kennenlernte. Gemeinsam komponierten sie den Song "Be-Bop-A-Lula ". Im August desselben Jahres war die Platte in der ganzen Welt in den Hitparaden. "Race with the Devil ", "Blue-Jean-Bop " und "Jumps Giggles and Shouts " waren seine großen Hits. Außerdem drehte er 2 Filme: "The Girl can 't help it" (1957 mit Little Richard) und "Hot Rod Gang " (1959).

1960 kam Gene Vincent nach England auf Tournee mit seinem Freund Eddie Cochran. Am 17.4.1960 fuhren beide im Taxi zum Flughafen und verunglückten. Eddie Cochran starb dabei, Gene Vincent wurde schwer verletzt ins Krankenhaus eingeliefert. Von diesen Verletzungen hat sich Gene Vincent nie mehr richtig erholt. Zeitweise wurde sogar befürchtet, dass sein linkes Bein amputiert werden müsse. Im Oktober 1971 starb er, ist heute aber immer noch unvergessen. Erst 1974 wurde noch eine Single veröffentlicht: "Roll over Beethoven ".

Original Presse-Info: CBS Schallplatten GmbH
Bewertungen lesen, schreiben und diskutieren...
mehr
Kundenbewertungen für "The Road Is Rocky,56-71 (8CD Deluxe Box Set)"
Von:
Paul Dorey
Am:
07.09.2019
The Road Is Rocky, box set
A great collection, well presented and very good quality. Well worth the money and I would recommend to all fans of Gene. Well packed and delivered in just a few days from ordering.
Von:
Peter
Am:
22.09.2017
Von:
Hermann
Am:
10.05.2017
Rockt
Super Zusammenstelllung
Bewertung schreiben
Bewertungen werden nach Überprüfung freigeschaltet.
Weitere Artikel von Gene Vincent