Der Artikel wurde erfolgreich hinzugefügt.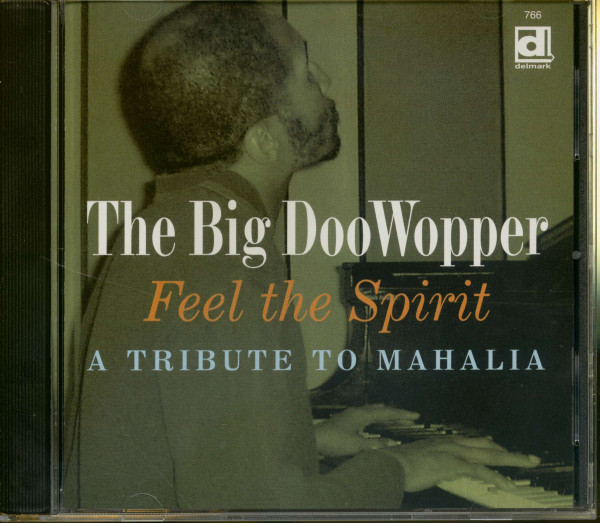 9,95 € *
15,50 € *
(35,81% gespart)
inkl. MwSt. zzgl. Versandkosten
Sofort versandfertig, Lieferzeit** 1-3 Werktage
Artikel-Nr.:

CDDE766

Gewicht in Kg.:

0.1
(2001/02 'Delmark') (67:04/19) Traditioneller Gospel in der Tradition von Mahalia Jackson,...
mehr
BIG DOOWOPPER: Feel The Spirit, A Tribute To Mahalia
(2001/02 'Delmark') (67:04/19) Traditioneller Gospel in der Tradition von Mahalia Jackson, aufgenommen in Delmarks Riverside Studios in Chicago

All In The Joy, The Big DooWopper's first CD (Delmark 742), featured a wonderful blend of Chicago blues, R&B, soul blues, doowop and other related styles. This time the entire program is made up of gospel songs associated with Mahalia Jackson. The Big DooWopper sings all the parts including the harmonies, creating exciting performances in the classic gospel quartet format, like the moving 'Lead Me, Guide Me'.

There's even two songs with twenty voices! And there's solo pieces -- just the DooWopper singing his heart out and wailing on the piano, like the opener 'Dig A Little Deeper'. Another moving musical testament by the sight-impaired, street musician from Chicago.
Artikeleigenschaften von

BIG DOOWOPPER: Feel The Spirit, A Tribute To Mahalia
Albumtitel:

Feel The Spirit, A Tribute To Mahalia

Genre

Blues

Preiscode

VCD3

Artikelart

CD

EAN:

0038153076627

Gewicht in Kg:

0.1
Big Doowopper - Feel The Spirit, A Tribute To Mahalia

CD 1
01
Dig A Little Deeper
02
Everytime I Feel The Spirit
03
Lead Me, Guide Me
04
I'm Going To Walk All Over God's Heaven
05
God Put A Rainbow In The Sky
06
Rusty Ol' Halo
07
These Are They
08
Elijah Rock
09
Let The Church Roll On
10
He Calmed The Ocean
11
Didn't It Rain
12
Soon I Will Be Done With The Troubles Of The World
13
The Answer Came
14
Walkin' To Jerusalem
15
In The Upper Room
16
I'm Getting Nearer My Home
17
Come To Jesus
18
I Wasn't Gonna Tell Nobody
19
Bless This House
The Big DooWopper CORNELL H. WILLIAMS ' Spitzname "The Big DooWopper". Das musikalische...
mehr
"BIG DOOWOPPER"
The Big DooWopper
CORNELL H. WILLIAMS ' Spitzname "The Big DooWopper". Das musikalische Interesse dieses Mannes und sicherlich auch seine extraordi-nären stimmlichen Fähigkeiten umfassen mehr als die Wiederherstellung des einfachen Vergnügens der singenden Flurharmonien. "Ich bin Traditionalist", sagt Big. "Aufgrund meiner starken Verbundenheit mit meinen Wurzeln nimmt meine Musik alle Formen der populären afroamerikanischen Erfahrung an. In meiner Show spiele ich Blues, Doowop, Gospel, R & B und Jazz." In der Tat, nachdem ich 45 Jahre lang auf der Straße Musik gespielt und gesungen habe. Große können alles mas-ter.
Geboren am 13. November 1953 in Grenada, Calhoun County, Mississippi (zwischen den Eisenbahnschienen und den Sümpfen von Grenada, wie er es gerne ausdrückt), wuchs der junge Big in einer Familie auf, die von sakralen und weltlichen Chorgesängen durchdrungen war. Ein Outfit bestehend aus seiner Mutter Elizabeth Louise Pratt. sein Vater Ivory Williams, er selbst und ein Haufen Stiefbrüder und Freunde übten enge Harmo-ny und sangen an Straßenecken. Elizabeth. in der Rolle des Kirchensolisten. als Sängerin und Duellantin mit der verstorbenen großen Mahalia Jackson. Elizabeth tourte auch mit B.B. King, der Ivory's Frau liebevoll als seine eigene "kleine Schwester" ansah. Big wurde mit dem Nachteil geboren, nur mit einem Auge sehen zu können. In der Pubertät hatte ihm der Graue Star den kleinen Anblick genommen, den er noch hatte. B.B. King äußerte sich besorgt über den blinden Jungen, der schon früh im Leben ein enormes Talent zeigte.
King kaufte dem Jungen Kleidung und kümmerte sich um sein allgemeines Wohlergehen, wenn er konnte. King wurde Big's "Spiel-Onkel". 1964 schrieb Big einen Song für B.B. King mit dem Titel "Don't It Make You Feel Bad". (Aber B.B. King hat den Song nie aufgenommen.) Die Charts landeten auf The Big DooWopper's erstem Delmark Release, All In The Joy (DELMARK 742). 1957 zog die Familie Williams nach Chicago. Sie besuchten die Greater Harvest Baptist Church in der 5125 South State Street. dessen Herde unter der Leitung von Elder Louis Drive stand. Der G.H.B.C. ist die Heimat des berühmten Greater Harvest Baptist Radio Choir, der unter der Leitung von Pfarrer Louis Boddie ausgebildet und unterrichtet wird. Big nahm einen Platz im Chor ein. Der bekannte G.H.B. Radiochor nahm 1962 hinter Mary Clay für Savoy Records auf und pflegte im Laufe der Jahre viele gute Sänger. Dazu gehörten Mau-Reis McAllister von den Radianten und Joyce Davis von den Dutones.
Einmal in Chicago, fing Big an, Dee-Jays wie Herb Kent zu hören, der über WVON die staubigen alten Gospel- und R & B-Nuggets der Vergangenheit spielte. Eines Tages kam Mahalia Jackson zu den Williams. Jackson hat das Essen gekocht. "Ich werde mich immer daran erinnern." sagt Big. "Ihre südlichen Gerichte waren die besten, die ein Mann je probiert hat." Ihr Gumbo schmilzt einfach in Ihrem Mund. Sie hat alles durcheinander gebracht und wir haben wie Wölfe gegessen." Nach dem Abendessen sang Jackson ein paar Lieder am Familienklavier. "Das war, als ich ein paar Dinge aufhob", sagt Big, der damals versuchte, sich auf der Tastatur zurechtzufinden. Auf der weltlichen Seite machte Big zwei wichtige Freunde in der Nachbarschaft, den Sänger Duke Savage, bekannt für seine 1959er Single auf Argo namens "Your Love" und John "Stormy Blue" Cooley. Alles begann eines Tages, als die Familie Williams eine Duke Savage-Aufführung im Royal Theatre erlebte. Big wurde Savage durch den Schlagzeuger Cozy Cole vorgestellt, der in Savage's Band war. Big war sehr beeindruckt von Savage's echtem Bebopper Outfit - dicke Hornkanten und eine Gillespie-ähnliche Baskenmütze inklusive. Savage gab Big sein Autogramm und eine Kopie seiner aktuellen Single.
Die beiden wurden Freunde. Es waren Sav-age und Cooley, die Big's Spitzname "The Big DooWopper" erfanden, da Big in der Gewohnheit war, einige seiner alten Gesangsgruppenfavoriten zu summen und zu singen. Bald kamen Big und "Stormy Blue" zusammen, um Songs zu schreiben. Savage hat Big im Club-Circuit mitgenommen. Pep's Lounge war ein regelmäßiger Favorit. Als es für Savage an der Zeit war, auf die Straße zu gehen, wollte Big mit ihm gehen. Aber das passte nicht zu der Familie, die darauf bestand, dass der junge Big in der Schule bleibt. 1961 begann The Big DooWopper, Hammond B3 Orgelunterricht bei Prof. Joseph Henderson und Edward Robinson zu nehmen. Jack McDuff, Jimmy Smith und Earl Grant wurden zu seinen Keyboardinspirationen. Zwischen den Schularbeiten. bewaffnet mit einer Tasse, fing Big an, auf seinem örtlichen Straßencorner aufzustehen und für Münzen zu singen. Nach einer Weile fand er bessere Beute an seinem lokalen Bahnhof in Wilson und am Broadway. Von hier aus absolvierte er ein musikalisches Duett mit Lucky Lopez, einem Straßenmusiker, mit dem er sich einen Lebensraum teilte.
Jetzt mit einer Tastatur ausgestattet, begann er sein Einkommen zu steigern. Er nahm Demo-Kassetten auf und verteilte sie an Leute aus der Musikbranche. Als Mahalia Jackson am 27. Januar 1972 in Chicagos Little Company of Mary Hospi-tal im Evergreen Park starb, schwor Big, dass er eines Tages ein Album zum Gedenken an diese große Queen of Gospel aufnehmen würde, deren großes Werk die Entwicklung aller populären afroamerikanischen Musiken beeinflusste. Er musste dreißig Jahre warten, aber ich konnte nicht warten.
Bewertungen lesen, schreiben und diskutieren...
mehr
Kundenbewertungen für "Feel The Spirit, A Tribute To Mahalia"
Bewertung schreiben
Bewertungen werden nach Überprüfung freigeschaltet.