Der Artikel wurde erfolgreich hinzugefügt.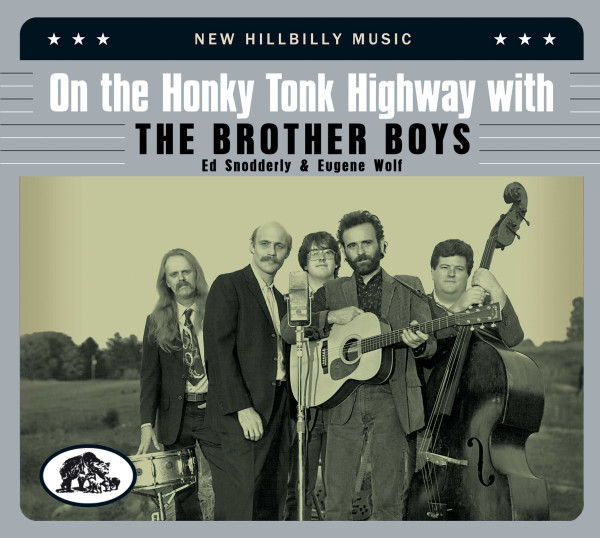 inkl. MwSt. / zzgl. Versandkosten - Abhängig vom Lieferland kann die MwSt. an der Kasse variieren.
Sofort versandfertig, Lieferzeit** 1-3 Werktage
2-CD (Digisleeve) mit 36-seitigem Booklet, 51 Einzeltitel. Gesamtspieldauer ca. 157 Min....
mehr
The Brother Boys: On The Honky Tonk Highway With The Brother Boys (2-CD)
2-CD (Digisleeve) mit 36-seitigem Booklet, 51 Einzeltitel. Gesamtspieldauer ca. 157 Min.
Bear Family Records® präsentiert die Brother Boys, eine seit den späten 1980er Jahren aktive Americana-Formation aus dem Osten Tennessees um die beiden Protagonisten Ed Snodderly und Eugene Wolf.
Der individuelle Stilmix aus Classic Country, Folk, Old-Time, Bluegrass, Blues, Rockabilly, Gospel, und Singer-Songwriter Pop widersetzt sich hartnäckig jeglichem Schubladendenken und klingt auch heute wie seiner Zeit voraus.
Von der Band selbst als 'New Hillbilly Music' beschrieben, transportieren die Brother Boys musikalische Traditionen aus dem letzten Jahrhundert in die Gegenwart.
Das Album umfasst nahezu sämtliche Tracks des ersten Albums von 1988, eine Menge Titel aus den beiden ursprünglich auf Sugar Hill veröffentlichten Alben sowie acht unveröffentlichte Live- und Radioaufnahmen und Ausschnitte aus dem 2021er Comeback-Album.
Das von dem Experten für Musik aus den Appalachen, Ted Olson, zusammengestellte und kommentierte Doppel-Album liefert 51 Songs, ausführliche Interviews und zahlreiche teils erstmalig publizierte Fotos.
Marcus Heumann hat die Aufnahmen mit Fingerspitzengefühl von den Original-Quellen remastert.
Ob bei Konzerten oder im Studio, The Brother Boys - Bandleader Ed Snodderly und Eugene Wolf und ihre verschiedenen Bandkollegen - produzieren seit mehr als drei Jahrzehnten Musik, die den Einfluss verschiedener Roots-Musikstile widerspiegelt und gleichzeitig originell und einem eigenen Sound treu bleibt.
Tief in der Vergangenheit verwurzelt und doch ihrer Zeit voraus, wurden die Brother Boys häufig übersehen, gerade weil sich ihre Musik nicht so leicht kategorisieren lässt.
1988 nahmen Snodderly, Wolf und einige Bandmitglieder das gleichnamige Debütalbum der Gruppe für ihr eigenes Label, New Hillbilly Records, auf. Die Brother Boys sind von der Geschichte verschiedener Musikgenres geprägt, mit einem Repertoire, das sich an klassischem Country, Folk, Oldtime, Bluegrass, Blues, Rockabilly, Gospel und Singer-Songwriter-Pop orientierte, diese aber nicht imitierte.
Was die Musik der Brother Boys so unverwechselbar macht, ist die innovative Mischung der Komponenten: Snodderlys und Wolfs markanter Leadgesang und der experimentelle Harmoniegesang im Stil eines Brüder-Duos; ältere, aber nicht allzu bekannte Standards, gemischt mit Snodderlys bewegenden Originalsongs; sowie Snodderlys raffiniertes und waghalsiges akustisches und elektrisches Gitarrenspiel mit gekonnter instrumentaler Unterstützung durch eine spielfreudige Band von Saiten- und Perkussionszauberern.
'New Hillbilly Music' vereint 51 neu gemasterte Aufnahmen der Brother Boys, die zwischen 1988 und 2022 entstanden, darunter praktisch das gesamte extrem seltene Debütalbum, zahlreiche Brother Boys-Klassiker von zwei erfolgreichen Sugar Hill-Alben, acht bisher unveröffentlichte Radio- und Konzertmitschnitte, mehrere Brother Boys-Kostbarkeiten, die ursprünglich auf anderen Alben zu finden waren, und schließlich wichtige Titel des aktuellen Comeback-Albums 'More Mule'.
Mit seltenen Fotos, die die Geschichte der Brother Boys illustrieren, und einem aufschlussreichen Interview mit Snodderly und Wolf nimmt dieses Album von Bear
Family
Records® (das dritte in der Reihe 'On The Honky Tonk
Highway
') den Hörer mit auf einen turbulenten Trip durch die hügelige und manchmal majestätische Berglandschaft der Appalachen. Indem sie die Musiktraditionen verkörpern, ohne sich an sie zu binden, zeigen diese Aufnahmen, dass The Brother Boys weit mehr sind als eine billige Revival-Band.
Fans amerikanischer Roots-Musik feiern auf der ganzen Welt derzeit den 100. Jahrestag der Entstehung des Genres, das einst als Hillbilly Music (später Country Music) bezeichnet wurde. 'New Hillbilly Music' präsentiert Songs, Sounds und Stile, die in den 1920er Jahren entstanden, während des 20. Jahrhunderts ihre Blüte erlebten und sich im Neuen Jahrtausend weiterentwickeln und Musiker inspirieren.
Video von The Brother Boys - On The Honky Tonk Highway With The Brother Boys (2-CD)
Artikeleigenschaften von

The Brother Boys: On The Honky Tonk Highway With The Brother Boys (2-CD)
Albumtitel:

On The Honky Tonk Highway With The Brother Boys (2-CD)

Genre

Country

Preiscode

AR

Edition 2

Deluxe Edition

Artikelart

CD

EAN:

4000127176851

Gewicht in Kg:

0.115
Brother Boys - On The Honky Tonk Highway With The Brother Boys (2-CD)

CD 1
01
Wanna Wanna Wanna
The Brother Boys
02
Blue From Now On
The Brother Boys
03
The Diamond Stream
The Brother Boys
04
Majestic
The Brother Boys
05
The First Time
The Brother Boys
06
Loose Talk
The Brother Boys
07
(You've Got The Look Of A) Perfect Diamond
The Brother Boys
08
Tango Till They're Sore
The Brother Boys
09
Two Men
The Brother Boys
10
Blue Days, Black Nights
The Brother Boys
11
Town That Never Sleeps
The Brother Boys
12
My Shoes Keep Walking Back To You
The Brother Boys
13
Black Fifty Ford
The Brother Boys
14
Nickel Plate Road
The Brother Boys
15
I'm No Longer In Your Heart
The Brother Boys
16
Joardan Am A Hard Road To Travel
The Brother Boys
17
Small Southern Town
The Brother Boys
18
Pinto Pony
The Brother Boys
19
The Great Atomic Power
The Brother Boys
20
Gonna Row My Boat
The Brother Boys
21
Kiss The Dream Girl
The Brother Boys
22
Alone With You
The Brother Boys
23
Blue Guitar
The Brother Boys
24
Darkest Day
The Brother Boys
25
Satellite Shack
The Brother Boys
26
Come On In (And Make Yourself A Home)
The Brother Boys
27
Crazy Heart
The Brother Boys
28
Heartaches Meet Mr. Blues
The Brother Boys
Brother Boys - On The Honky Tonk Highway With The Brother Boys (2-CD)

CD 2
01
Pearlie Mae
The Brother Boys
02
Band Box
The Brother Boys
03
Moonshine Grin
The Brother Boys
04
What's The Calling For
The Brother Boys
05
Those Two Blue Eyes
The Brother Boys
06
When The Day Is Done
The Brother Boys
07
Tell Me What You Want Me To Do
The Brother Boys
08
Strange
The Brother Boys
09
Let's Shake Loose
The Brother Boys
10
Twist You Up
The Brother Boys
11
I'll Rise When The Rooster Crows
The Brother Boys
12
Then And Only Then
The Brother Boys
13
Everybody Wants To Go To Heaven
The Brother Boys
14
Conversation With Death
The Brother Boys
15
The Ramshackle Shack
The Brother Boys
16
Crazy Arms
The Brother Boys
17
I Just Roll Along
The Brother Boys
18
In The Shadow Of Clinch Mountain
The Brother Boys
19
Memphis Shakedown
The Brother Boys
20
I Can't Tell You Anymore (What I Need)
The Brother Boys
21
Shade And River Time
The Brother Boys
22
Sweet Riverside
The Brother Boys
23
Goodbye
The Brother Boys
Bewertungen lesen, schreiben und diskutieren...
mehr
Kundenbewertungen für "On The Honky Tonk Highway With The Brother Boys (2-CD)"
Von:
Dusty Grooves
Am:
15.09.2023
A level that makes them a perfect group to focus on in this excellent series!
Mighty nice work from The Brother Boys – a contemporary group, but one who've got a sound that's very steeped in older folk and country styles – all at a level that makes them a perfect group to focus on in this excellent series! As you might guess from their image on the cover, the group work heavily with acoustic instrumentation – in ways that move forward from postwar bluegrass and hillbilly styles, but which often have some of the sensitivity of the hipper country-inspired singer/songwriter scene – with echoes of Gene Clark or Gram Parsons from time to time! The double-length package features lots of work from the group's earliest years, and later material too!
Von:
Horst Ru
Am:
25.08.2023
Bewertung schreiben
Bewertungen werden nach Überprüfung freigeschaltet.