Der Artikel wurde erfolgreich hinzugefügt.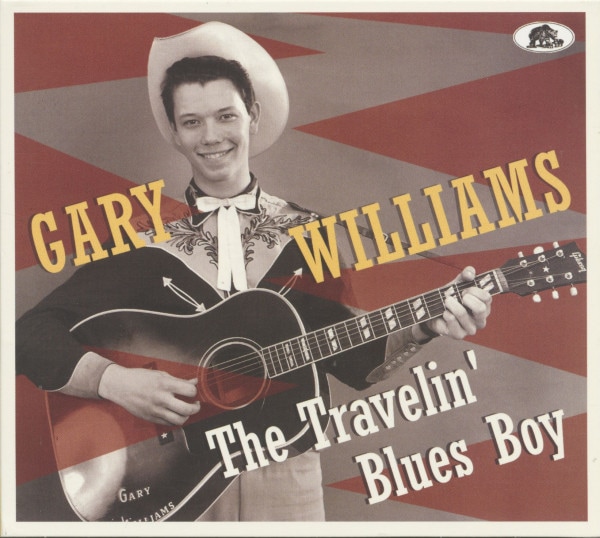 inkl. MwSt. / zzgl. Versandkosten - Abhängig vom Lieferland kann die MwSt. an der Kasse variieren.
Sofort versandfertig, Lieferzeit** 1-3 Werktage
1-CD (Digipak) mit 36-seitigem Booklet, 34 Einzeltitel. Gesamtspieldauer ca. 79 Min....
mehr
Gary Williams: The Travelin' Blues Boy (CD)
1-CD (Digipak) mit 36-seitigem Booklet, 34 Einzeltitel. Gesamtspieldauer ca. 79 Min.
Gary Williams, Jahrgang 1938, aus dem äußersten Nordwesten der USA, hat in seiner nur etwa zehn Jahre währenden Karriere über 600(!) Songs geschrieben.
Bear Family Records® veröffentlicht seine besten Aufnahmen – Rockabilly, Country und Folk – aus den Jahren 1957 bis ´66, veröffentlicht u.a. auf Verve, Panorama, Manito, Connie Sue und Empire.
Zeitlebens stand Gary Williams im Schatten der großen Stars seiner Zeit – gemessen an der Qualität seiner Songs und seiner großartigen Performance hätte er selbst dazuzählen müssen!
Wir haben 34 Aufnahmen für dieses randvolle CD-Album ausgesucht und sorgfältig restaurieren und mastern lassen.
Country-Star Deke Dickerson konnte den Musiker kurz vor dessen Tod interviewen und hat die aufwändig recherchierten Linernotes für das illustrierte Booklet geschrieben.
Gary Williams wurde 1938 in Spokane, Washington, im äußersten Nordwesten der USA geboren. Schon als Kind begeisterte er sich für die Musik des 'Blue Yodelers'
Jimmie Rodgers
.
Mit sechzehn – er spielte mittlerweile gut Gitarre und trat live in Fernsehshows im lokalen Sender KXOI auf – beschloss Williams, die zweite Ausgabe der '
Jimmie Rodgers
Memorial Celebration' in Meridian, Mississippi, zu besuchen.
Nach einem aufregenden Road Trip – der ihm letztlich den Beinamen 'Traveling Blues Boy' einbrachte - bekommt er die Chance, im Rahmen des Festivals aufzutreten, ebenso wie ein noch unbekannter Typ namens
Elvis Presley
.
Zurück in Spokane tritt er weiterhin im Radio auf und wurde im Sommer 1955 von der
Town Hall Party
, der bekanntesten Country-Music-Fernsehshow an der Westküste, unter Vertrag genommen.
Ein Jahr später war er mehrmals in einer ABC-Fernsehshow in Nashville zu sehen, wurde von der Louisiana Hayride und dem Ozark
Mountain
Jubilee eingeladen und sang schließlich ein paar R'n'R-Songs im Rahmen der Ranch Party im Fernsehen.
1957 schließlich machte er erste Aufnahmen für Verve Records. Auf seiner Single Travelin' Blues Boy b/w I'm Gonna Return spielen
Merle Travis
und
Wesley Tuttle
Gitarre. Im selben Jahr veröffentlichte Verve das erfolgreiche LP-Album 'Teen Time' mit u.a.
Ricky Nelson
,
Jeff Allen
und Gary Williams, was seiner Karriere einen weiteren Schub gab.
Von 1957 bis zum Sommer 1960 war Williams ständig auf Tour. Schließlich nahm er einen Job bei Spokanes Radiostation KPEG als Disc-Jockey an und produzierte das Album 'Gary Williams' für das lokale Manito-Label. In den Folgejahren veröffentlichte Williams zahlreiche Platten und tourte intensiv im Nordwesten mit seiner Band, den Travelin' Blues
Boys
.
Im Verlauf seiner Karriere hat Williams wohl mehr als 600 Songs geschrieben, hat bei mindestens 14 Plattenlabels veröffentlicht. Seine Lieder wurden von u.a.
Webb Pierce
, Freddy Hart und
Bobby Wayne
gecovert.
In den späten Sechzigerjahren verabschiedete sich Williams von der weltlichen Musik und nahm fortan eine Vielzahl von Alben mit christlichen Themen und Gospel Music auf.
Für diese CD-Zusammenstellung hat Produzent
Nico
Feuerbach 34 seiner besten Aufnahmen aus den Jahren 1957 bis 1966 ausgewählt, veröffentlicht auf Verve, Panorama, Ed Mosleys Manito Label aus Spokane, WA, Connie Sue und Garys eigenem Empire-Label.
Von der 1960 für Manito produzierten LP 'Gary Williams' stammen sieben herausragende Titel, darunter der Rockabilly-Kracher Walla Walla State Prison. Die CD-Retrospektive 'The Travelin' Blues Boy' bildet erstmals die nur etwa zehn erfolgreiche Jahre währende 'weltliche' Karriere von Gary Williams ab, eine überaus kreative Zeit, in der er erstklassige Rockabilly- und Country-Nummern, aber auch Folksongs schrieb und aufnahm.
Wir haben sehr viel Mühe darauf verwandt, die historischen Aufnahmen zu restaurieren und bestmöglichst klingen zu lassen.
Die längst überfällige Würdigung eines einzigartigen doch unterbewerteten Musikers!
Video von Gary Williams - The Travelin' Blues Boy (CD)
Artikeleigenschaften von

Gary Williams: The Travelin' Blues Boy (CD)
Albumtitel:

The Travelin' Blues Boy (CD)

Genre

Country

Preiscode

AR

Edition 2

Deluxe Edition

Artikelart

CD

EAN:

4000127176981

Gewicht in Kg:

0.115
Bewertungen lesen, schreiben und diskutieren...
mehr
Kundenbewertungen für "The Travelin' Blues Boy (CD)"
A prolific writer of quality rockabilly and country and this collection celebrates his talent!
Gar Williams appears to have moved in the same orbit as the likes of Elvis, Merle Haggard and Rick Nelson during his 10 years on the road before "crossing over' into the world of Christian music. While he never quite enjoyed a similar level of success. He was a prolific writer of quality rockabilly and country and this collection celebrates his talent by presenting 34 of his recordings from a variety of labels between 1957-66 and teaming them up with a hefty and informative booklet by Deke Dickerson.
Von:
Dusty Grooves
Am:
15.09.2023
A wonderfully obscure set of work from Gary Williams
A wonderfully obscure set of work from Gary Williams – not the blues singers you might expect from the title, but a northwest Pacific country singer who drew plenty of inspiration from the Jimmie Rogers blues folk legacy – which he then served up with a tighter postwar flair! Williams recorded for a number of small labels in the late 50s and 60s – Verve Records is the best known, and the most unusual, given that they mostly issued jazz – and this collection brings together 34 tracks from the short but strong legacy of his singles, with a surprising depth that really contrasts with his obscurity.
Von:
Lambert
Am:
01.08.2023
'The Travelin' Blues Boy' is definitely worth buying!
Songwriting talent, a beautiful voice and providing the songs with arrangements that are not only excellent but also timeless, Gary possessed it all. The formidable accompaniment of excellent musicians completes the picture. If one thing is certain after listening to this compilation, it is that Gary Williams should have been among the legendary artists of his time.

Bewertung schreiben
Bewertungen werden nach Überprüfung freigeschaltet.