Der Artikel wurde erfolgreich hinzugefügt.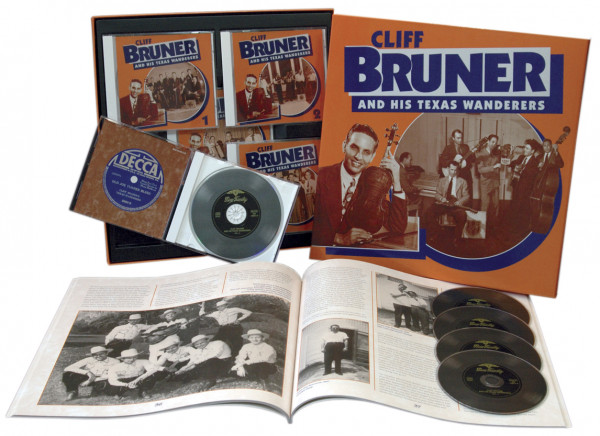 Benachrichtigen Sie mich, sobald der Artikel lieferbar ist.
inkl. MwSt. / zzgl. Versandkosten
Artikel derzeit nicht verfügbar, Lieferfristen von bis zu 2-3 Wochen sind zu erwarten. (soweit verfügbar beim Lieferanten - kann schneller gehen, manchmal aber leider auch nicht)
Artikel-Nr.:

BCD15932

Gewicht in Kg.:

1.6
5-CD Box (LP-Format) mit 60-seitigem Buch, 123 Einzeltitel. Spieldauer ca. 497 Minuten. Cliff...
mehr
Cliff Bruner: & His Texas Wanderers (5-CD)
5-CD Box (LP-Format) mit 60-seitigem Buch, 123 Einzeltitel. Spieldauer ca. 497 Minuten.

Cliff Bruner's Texas Wanderers waren eine der wichtigsten und aufregendsten Bands in der Geschichte des Texas Swing, eine Gruppe, die zahllose andere beeinflusste und die Kluft zwischen dem Sound des Western Swing der 30er und dem Honky Tonk-Sound der 40er schloss. Cliff Bruner hat nicht nur solch zeitlosen Klassiker vorgestellt wie It Makes No Difference Now, I'll Keep On Loving You und
Truck Driver's Blues, er ist auch einer der geachtetsten und einflussreichsten Fiddler in der amerikanischen Musik, ein unverkennbarer, innovativer und stark swingender Spieler, hier festgehalten auf dem Höhepunkt seines Schaffens. Diese 5-CD-Sammlung greift Cliff Bruners sämtliche Aufnahmen als Bandleiter von 1937 bis 1950 auf, 123 Songs, aufgenommen für Decca, Mercury und Ayo. Mit dabei die schon erwähnten Klassiker und andere wie Bruners Erkennungsmelodie Jessie und seine frühe Coverversion von Milk Cow Blues. Die Creme der Instrumentalisten des Texas Western Swing sind dabei, Bob Dunn,
Leo Raley, Link Davis, Dickie McBride und Moon Mullican, der - bei seinen Aufnahmen mit Bruner - seinen Stil verfeinerte, mit dem er zu einem Star der Nachkriegszeit werden sollte. Produziert unter
Cliff Bruners voller Mitwirkung, stellt diese Edition eine großartige Würdigung eines übersehenen Talents dar. Ein aufwendiges 56-Seiten Buch mit einem biografischen Essay und Diskografie von Kevin Coffey ist enthalten.
Artikeleigenschaften von

Cliff Bruner: & His Texas Wanderers (5-CD)
Albumtitel:

& His Texas Wanderers (5-CD)

Genre

Country

Edition 2

Deluxe Edition

Preiscode

EI

Artikelart

Box set

EAN:

4000127159328

Gewicht in Kg:

1.6
Bruner, Cliff - & His Texas Wanderers (5-CD)

Box set 1
01
So Tired
02
Milk Cow Blues
03
The Right Key
04
You Got To Hi De Hi
05
Shine
06
Can't Nobody Truck Like Me
07
Bringin' Home The Bacon
08
Under The Silvery Moon
09
Corrine, Corrina
10
Four Or Five Times
11
In The Blue Of The Night
12
Oh Your Pretty Woman
13
I Ain't Gonna Give Nobody None O'This Jelly..
14
Old Fashioned Love
15
Oh How I Miss You Tonight
16
One Sweet Letter From You
17
Dream Train
18
Sunbonnet Sue
19
To-Night You Belong To Me
20
By A Window At The End Of The Lane
21
Girl Of My Dreams
22
I Saw Your Face In The Moon
23
Red Lips - Kiss My Blues Away
24
You Can Depend On Me
25
In The Blue Of The Night (alt)
26
Shine (alt)
27
Can't Nobody Truck Like Me (alt)
Bruner, Cliff - & His Texas Wanderers (5-CD)

Box set 2
01
Sugar
02
My Daddy, My Mother And Me
03
Truckin' On Down
04
River, Stay Way From My Door
05
Baby Won't You Please Come Home
06
Beaumont Rag
07
Annie Laurie
08
Bring It On Home To Grandma
09
Ease My Wearied Mine
10
Remember
11
It Makes No Difference Now
12
My Bonnie Lies Over The Ocean
13
Over Moonlit Waters
14
Draggin' The Bow
15
Yearning Just For You
16
Old Joe Turner Blues
17
When You're Smiling
18
Sister Kate
19
Sittin' On The Moon
20
Sittin' On The Moon
21
Kangaroo Blues
22
I'll Keep On Loving You
23
I Hate To Lose You
24
Jessie
25
Over The Hill
26
I'll Keep On Smiling
27
Truck Driver's Blues
Bruner, Cliff - & His Texas Wanderers (5-CD)

Box set 3
01
I'm Tired Of You
02
Because
03
I'll Forgive You
04
I'm Still In Love With You
05
Stardust
06
The Other Way
07
Peggy Lou
08
Singin' The Low Down Blues Down Low
09
It's All Over Now
10
Tell Me Why Little Girl Tell Me Why
11
Girl That You Loved Long Ago
12
Little White Lies
13
Little White Lies
14
Kelly Swing
15
San Antonio Rose
16
Take Me Back Again
17
You Don't Love Me But I'll Always Care
18
I'm Headin' For That Ranch In The Sky
19
Over The Trail
20
Ten Pretty Girls
21
Sorry
22
Sorry (alt)
23
Sparkling Blue Eyes
24
New Falling Rain Blues
25
New Falling Rain Blues (alt)
26
I'll Keep Thinking Of You
27
Neath The Purple On The Hills
Bruner, Cliff - & His Texas Wanderers (5-CD)

Box set 4
01
Neath The Purple On The Hills
02
Draft Board Blues
03
I'll Be Faithful
04
Jesse's Sister
05
Let Me Smile My Last Smile At You
06
Tequila Rag
07
Red River Rose
08
My Time Will Come Someday
09
The Sun Has Gone Down On Our Love
10
If It's Wrong To Love You
11
Born To Be Blue
12
Baby What You're Doing To Me
13
Snowflakes
14
That's What I Like About The South
15
You Took Everything
16
My Pretty Blonde
17
You Always Hurt The One You Love
18
Don't Make Me Blue
19
A Mother Gave A Son
20
I'll Try Not To Cry
21
Won't You Mend My Aching Heart
22
Roadhouse Rag
23
Too Wet To Plow
24
Jessie
Bruner, Cliff - & His Texas Wanderers (5-CD)

Box set 5
01
Lucille From Mobile
02
You Were All The World To Me
03
You Took Advantage Of A Lonely Heart
04
Baby What You Doing To Me
05
Santa Fe Waltz
06
Rio Grande Polka
07
Unfaithful One
08
San Antonio Blues
09
Out Of Business
10
Mr. Postman
11
Ouch
12
You Took Advantage Of A Lonely Heart
13
You Better Do Better Baby
14
Hard Luck Blues
15
Sweetest Little Danny
16
I Was A Gambler In Texas
17
You've Got To Give Me What's Mine
18
I'm Dying By Pieces Dear
Cliff Bruner geb. 25. 4. 1915 in Houston - Texas Record Labels: Decca, Ayo, Showtime Cliff...
mehr
"Cliff Bruner"
Cliff Bruner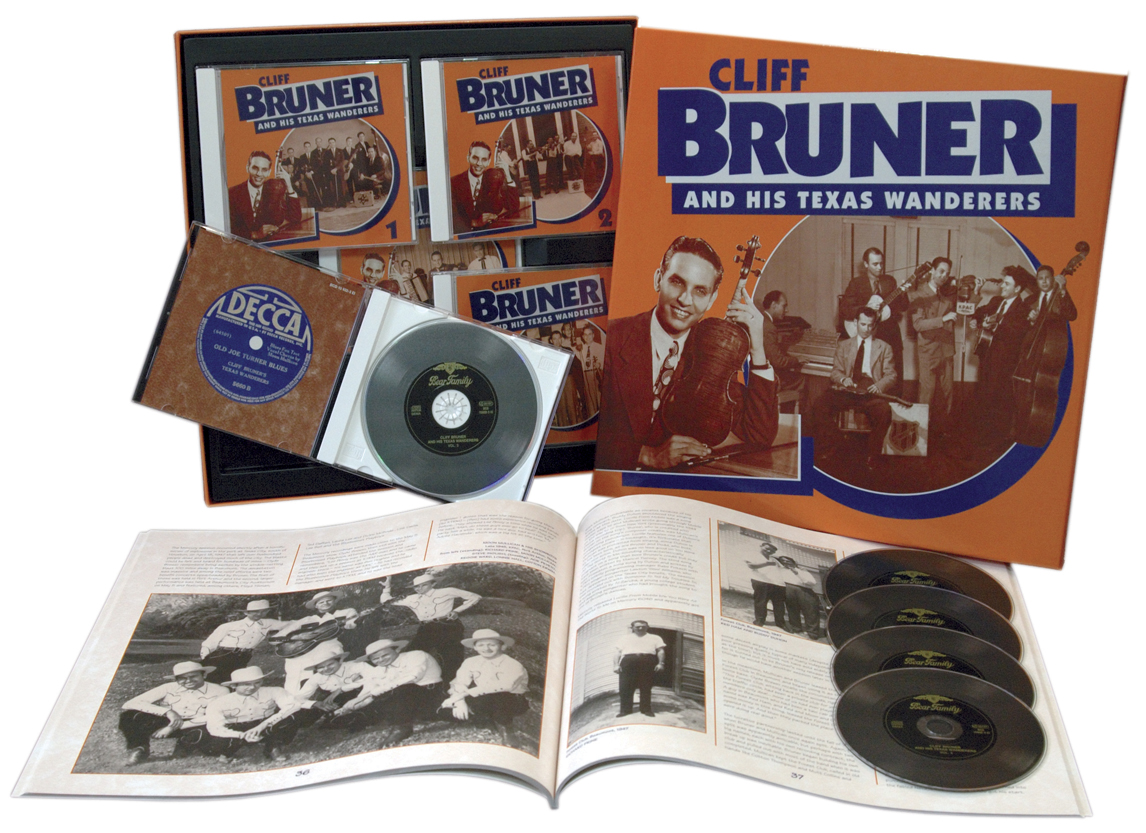 geb. 25. 4. 1915 in Houston - Texas Record Labels: Decca, Ayo, Showtime Cliff Bruner war Chef einer frühen Western Swing Band: "Cliff Bruner's Texas Wanderers". Davor hatte er bei Milton Brown die Fiddle gespielt. Ein Meilenstein in der Geschichte der Country Music war der allererste Truckdriver Song, aufgenommen von Cliff Bruner 1939, der "Truckdriver's Blues", geschrieben von Ted Daffan.
Cliff Bruner
Clifton Lafayette Bruner wurde am 25. April 1915 in Texas City, Texas, als siebtes und letztes Kind von Charlie Lonzo Bruner geboren, das vierte mit seiner zweiten Frau, der ehemaligen Nettie Decker. Beide Eltern waren aus Arkansas und die Familie kehrte dorthin zurück, als Cliff (oder Clif- er hat es in beiden Richtungen über die Jahre geschrieben) sehr klein war. Es war in der Nähe von Prairie Grove, bei "einer kleinen Siedlung in den Hügeln, genannt Strickler, zurück zur Teufelshöhle", als Bruner mit vier Jahren die Geige aufnahm, bevor er mit der Schule anfing und, wie er sagt, "bevor ich überhaupt gut reden konnte".

Was ihn an die Geige gelockt hat, ist eine Vermutung. Nettie Bruner spielte Gitarre und französische Harfe, aber die Bruners waren keine besonders musikalische Familie - vielleicht ein kleines Klavier in der Kirche, aber keine Geiger ("Scheint so, als hätte niemand in diesen Bergen Musik gespielt", beklagt Bruner. "Das war das Problem"). Bruner begann Schule in Arkansas, aber, als er herum acht war, zog Charlie Bruner zurück zu Texas, in dem er vorher ein longshoreman auf den Texas City Docks gewesen war. "Er wollte schon immer eine Farm bauen." Er war ein Farmpächter, aber er ging pleite und ging zurück zu den Docks."

Schließlich bekam Charlie Bruner ein paar Hektar nördlich von Tomhall, nordwestlich von Houston, wo Bruner sagt: "Es waren damals nur ein paar Schotterstraßen in diesem Gebiet." Es war in Tomhall, dass Bruner seine Schulzeit beendete und wo er von einem Fernweh getroffen wurde, das ihn durch den ganzen Staat führte und weniger nach Abenteuer als nach mehr Gelegenheiten suchte, seine Fddle zu spielen. Auch in Tomhall begann er "die alten Landtänze zu spielen, die wir früher hatten, mit dem Maismehl auf dem Boden. Ich habe nie gerne Baumwolle gepflückt oder Wassermelone gezüchtet und ich habe herausgefunden, dass ich mit meiner Geige mehr Geld verdienen konnte, als ich das tun konnte. So wurde mein Herz einfach auf Musik gesetzt und es gab nichts, was ich gegen etwas anderes tun konnte", wollte ich Musik machen. Es war einfach in mich eingebettet."

Bruner kann keinen großen prägenden Einfluss auf sein Tüfteln zitieren, und er wuchs ohne Phonograph, ohne Radio auf. In seinen frühen Teenagern begann er, andere Geiger zu treffen, zu jammen und Licks zu tauschen; er lernte sicher etwas aus diesen Begegnungen - wahrscheinlich aus jeder frühen musikalischen Begegnung - aber Bruners eigentümlicher Anschlag und Klang war sein eigener, ein Stil, der in relativer Isolation entstand. Dass Bruner ein erstaunlich erfinderischer Spieler wurde, ist nicht verwunderlich: Wo die Phantasie nur einem Fiedler nützen könnte, der in viel weniger isolierten Verhältnissen aufwuchs, war es für Bruner eine Notwendigkeit, der Grundstein seines Stils. "Ich habe mich immer gefragt, woher Cliff und Pappy[Selph] und diese Jungs ihren Stil haben", sinniert Veteran Gull' Coast Fiddler Clyde Brewer, eine Generation jünger. "Ich meine, wir hatten sie zum Zuhören. Und Aufzeichnungen. Alles Mögliche. Aber es gab nichts anderes als alte Pannenhelfer, wirklich, wo sie waren. Niemand, von dem man wirklich lernen kann."
Bewertungen lesen, schreiben und diskutieren...
mehr
Kundenbewertungen für "& His Texas Wanderers (5-CD)"
Von:
Harry T.
Am:
10.07.2017
Bewertung schreiben
Bewertungen werden nach Überprüfung freigeschaltet.