Der Artikel wurde erfolgreich hinzugefügt.
Lefty Frizzell
An Article From Life - The Complete Recordings (20-CD Deluxe Box Set)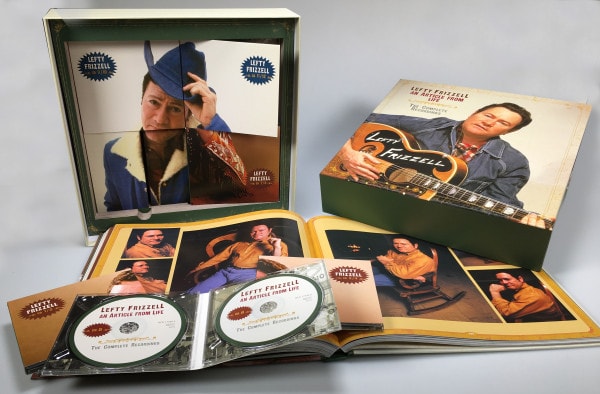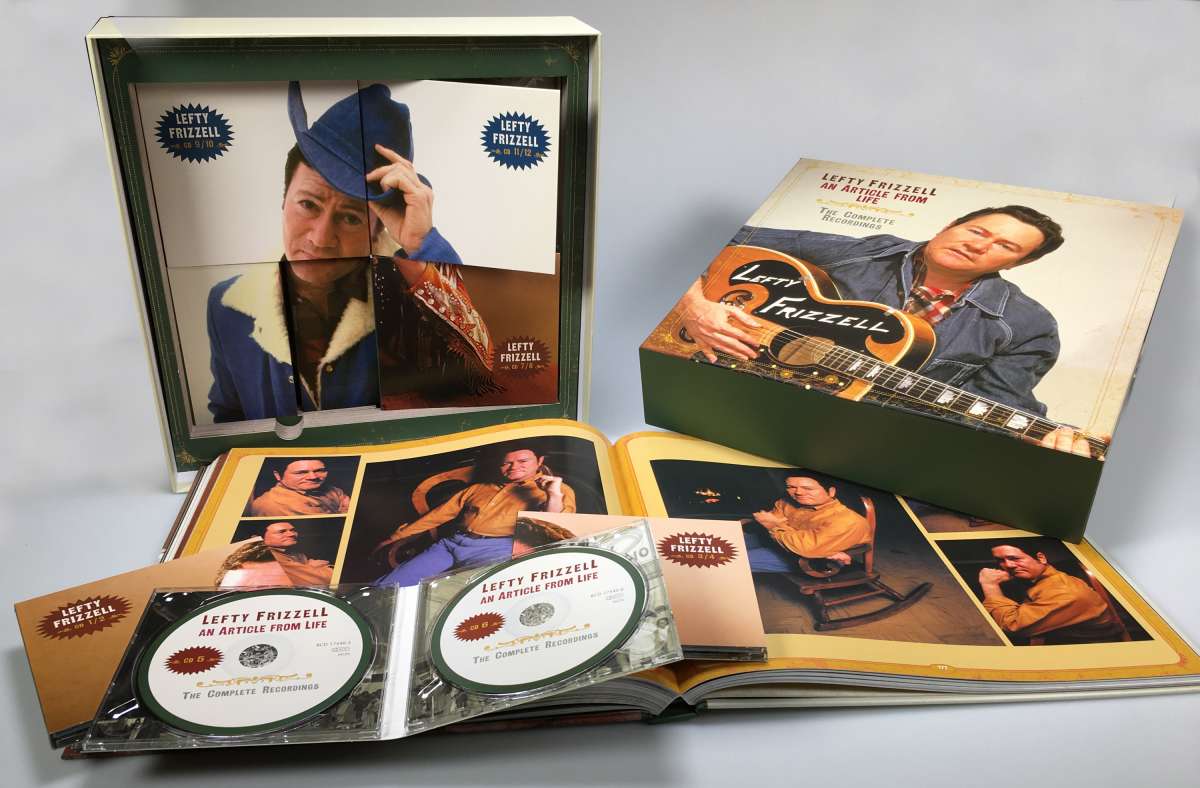 178,95 € *
219,95 € *
(18,64% gespart)
inkl. MwSt. / zzgl. Versandkosten - Abhängig vom Lieferland kann die MwSt. an der Kasse variieren.
Sofort versandfertig, Lieferzeit** 1-3 Werktage
Die Vorliebe von Bear Family für gigantische Boxen war schon immer ein Industriestandard für...
mehr
Lefty Frizzell: An Article From Life - The Complete Recordings (20-CD Deluxe Box Set)
Die Vorliebe von Bear Family für gigantische Boxen war schon immer ein Industriestandard für Wiederveröffentlichungen. In der Tat, auch heute noch, da die Großen Plattenfirmen uns mit ähnlich gewichtigen, karrierelangen Zusammenstellungen bombardieren (Nazareth, Judie Tzuke und Kate Bush sind die neuesten), bleibt der Bär deren Bemühungen noch immer haushoch überlegen.
GOLDMINE 28.
November 2018
- Dave Thompson
HINWEIS: Wenn Du uns ein Bild von Dir und einer der älteren Bear Family Records Lefty Frizzell Box Sets (die Vinyl Box oder die erste CD Box) schickst, erhältst du einen individuellen 20% Rabattcode auf die Box 'An Article From Life - The Complete Recordings'. Wir veröffentlichen dein Foto ( nur mit Erlaubnis) auf unserer Website.
20-CD Box (LP-Format) mit 264-seitigem gebundenem Buch, 361 Einzeltitel. Gesamtspieldauer: 867:41 Min.
•
Das wirklich ultimative Werk zur Geschichte des einflussreichsten Sängers in der Geschichte der Country Music!
•
Alle Hits, einschließlich If You've Got The Money, Always Late, Long Black Veil, I
Love
You A Thousand Ways, und fünfunddreißig weitere!
•
Sämtliche auf Singles, 78ern und LPs veröffentlichte Aufnahmen aus Leftys gesamter Karriere. Jede unveröffentlichte Session-Aufnahme!
•
Neu entdeckte Demos und Aufnahmen, die nicht im Studio entstanden!
•
Neu recherchierte Biographie und Diskografie!
•
Viele bisher unbekannte Fotos aus den privaten Alben der Familie Frizzell!
•
Ein neu gestaltetes 264-seitiges gebundenes-Buch im LP-Format!
•
Komplett neu überarbeitet!
•
Viele bisher unveröffentlichte Aufnahmen!
•
Bonus: Hörbuch auf 8 CDs mit Leftys Lebensgeschichte, geschrieben und gelesen von seinem Bruder David.
Das ist der Grundstein jeder Country-Musiksammlung! -
Colin Escott
, Mai 2018
Wer war der größte Country-Sänger aller Zeiten? Manche mögen sagen,
Merle Haggard
, aber Merle war anderer Meinung. ''Ich kann die Wirkung von Lefty Frizzell nicht beschreiben'', sagte Merle. ''Die Seele von
Hank Williams
, der Reiz von
Johnny Cash
und das
Charisma
von
Elvis Presley
. Er hatte alles. Er war ganz in Weiß gekleidet - Helden sind es normalerweise. Der Einfluss, den er auf die Country-Musik und auf mich hatte, ist nicht einmal messbar.''
George Jones
begann seine Karriere fast als Lefty-Nachahmer. Ein Großteil von Willie Nelsons Phrasierung stammt von Lefty Frizzell. Als
Roy Orbison
zu den
Traveling Wilburys
kam, war es als Lefty Wilbury. Leftys Lieder brachten neu entdeckte Poesie in die Country Music. Lefty Frizzells Einfluss ist unermesslich.
Ein wenig Geschichte. Wir von
Bear Family
haben uns immer für Lefty Frizzell eingesetzt. 1984, als Lefty fast aus der Country-Musikgeschichte herausgeschrieben wurde, haben wir eine umfangreiche 14-LP-Box herausgegeben, die alle seine bekannten Aufnahmen enthält. Das war nicht einer unserer Bestseller, aber es musste getan werden, weil Lefty so wichtig war. Dann begannen Merle Haggards neue Aufnahmen näher an Lefty heranzukommen, ebenso wie
Keith
Whitleys Platten. Die Leute fingen wieder an, über Lefty zu reden.
Willie Nelson
nahm ein Tribute-Album auf, From Willie to Lefty, und Leftys jüngerer Bruder David brachte den Namen Frizzell zurück in die Charts. Lefty wurde schließlich in die Country Music Hall of Fame aufgenommen. Und dann kam die CD-Ära, und so haben wir 1992 unsere LP-Box als 12-CD-Set 'Life's Like Poetry' neu aufgelegt, viele neu entdeckte Nicht-Session-Aufnahmen hinzugefügt und das Buch mit vielen neu gefundenen Fotos neu gestaltet.
Jetzt ist es also mehr als 25 Jahre nach der ersten CD-Edition. Noch mehr Aufnahmen und viele weitere Fotos wurden zusammen mit viel mehr Informationen über Leftys Leben gefunden. Jetzt ist es Zeit für Bear Family, das letzte Wort zum Vornamen in der Country-Musik zu veröffentlichen. Diesmal sind es ZWANZIG CDs, einschließlich David Frizzells Audiobiographie, die nicht auf unserer Original-LP-Box war, und viele, die nicht auf der ersten CD-Box waren! Das Buch ist jetzt im Hardcover-Format und in jeder Hinsicht stark erweitert.
CD 1 Recordings 1950 - 1951
CD 2 Recordings 1952 - 1953
CD 3 Recordings 1953 - 1955
CD 4 Recordings 1955 - 1958
CD 5 Recordings 1958 - 1961
CD 6 Recordings 1962 - 1965
CD 7 Recordings 1965 - 1967
CD 8 Recordings 1967 - 1970
CD 9 Recordings 1971 - 1974
CD 10 Demo & private recordings 1940s/1950s
CD 11 Demo & private recordings 1950s/1960s
Transcriptions: Take Five
CD 12 Transcriptions:
Country Music Time (Navy)
Country Music Time (Navy)
Country Music Time (Airforce)
CD 13-20: Audiobook
I Love You A Thousand Ways: The Lefty Frizzell Story
CD13 - Lefty Frizzell: An Article From
Live
, Audiobook
01. Chapter 1: Mom And Dad's Waltz
02. Chapter 2: I'm Gonna Sing Like Jimmie
03. Chapter 3: Lefty
CD 14 Lefty Frizzell: An Article From Live, Audiobook
01. Chapter 4: Please Be Mine, Dear Blue Eyes
02. Chapter 5: Travelin' Blues
CD 15 Lefty Frizzell: An Article From Live, Audiobook
01. Chapter 6: I Love You A Thousand Ways
02. Chapter 7: Time Changes Things
CD 16 Lefty Frizzell: An Article From Live, Audiobook
01. Chapter 8: If You've Got The Money, I've Got The Time
02. Chapter 9: Hank & Lefty
CD 17 Lefty Frizzell: An Article From Live, Audiobook
01. Chapter 10: Always Late
02. Chapter 11: Lefty Meets Merle
CD 18 Lefty Frizzell: An Article From Live, Audiobook
01. Chapter 12: California Blues
02. Chapter 13: Long Black Veil
CD 19 Lefty Frizzell: An Article From Live, Audiobook
1. Chapter 13: Long Black Veil (continued from disc 6)
02. Chapter 14: Saginaw Michigan
CD 20 Lefty Frizzell: An Article From Live, Audiobook
01. Chapter 15: That's The Way Love Goes
02. Chapter 16: The Last Session
03. Chapter 17: Forever And Always
04. Epilogue
Video von Lefty Frizzell - An Article From Life - The Complete Recordings (20-CD Deluxe Box Set)
Artikeleigenschaften von

Lefty Frizzell: An Article From Life - The Complete Recordings (20-CD Deluxe Box Set)
Albumtitel:

An Article From Life - The Complete Recordings (20-CD Deluxe Box Set)

Genre

Country

Edition 2

Deluxe Edition

Preiscode

LK

Artikelart

Box set

Artikelart

preview_BCD17450

EAN:

5397102175404

Gewicht in Kg:

4.65