Der Artikel wurde erfolgreich hinzugefügt.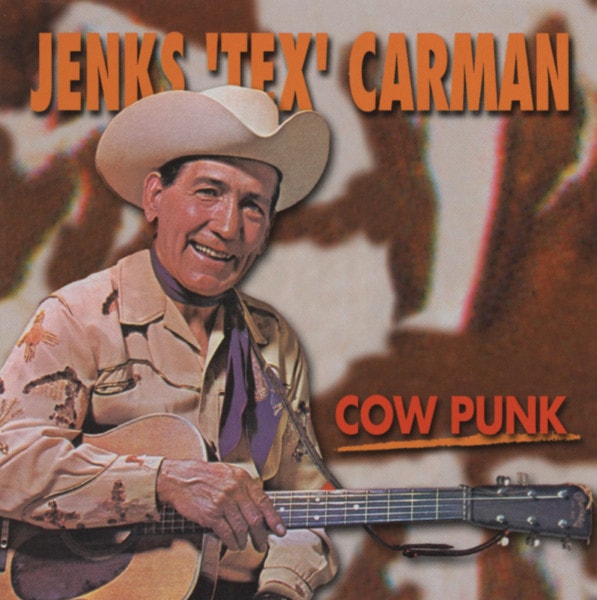 13,95 € *
15,95 € *
(12,54% gespart)
inkl. MwSt. zzgl. Versandkosten
Sofort versandfertig, Lieferzeit** 1-3 Werktage
Artikel-Nr.:

BCD16668

Gewicht in Kg.:

0.115
1-CD mit 16-seitigem Booklet, 32 Einzeltitel, Spieldauer 75:39 Minuten. Jenks Tex Carman...
mehr
Jenks Tex Carman: Cow Punk
1-CD mit 16-seitigem Booklet, 32 Einzeltitel, Spieldauer 75:39 Minuten.

Jenks Tex Carman (1903 – 1968, unsterblich)

So strittig sein Lebenswerk war, so einig waren auch die Journalisten seiner Zeit. Es gibt wohl kaum einen Artikel über Jenks Tex Carman in dem das Wort 'exzentrisch' nicht vorkommt. Wir halten diesen Titel für eine glatte Untertreibung, aber das tat seiner Beliebtheit keinen Abbruch. Man muß sich das einfach bildlich vorstellen. An einem Samstagabend in den 50ern steht ein dunkelhaariger Mann auf der Bühne einer Stadthalle in Kalifornien. Die Show wird live im Fernsehen übertragen – was eigentlich nichts Besonderes ist, denn Aufzeichnungen gibt es noch gar nicht. Und doch ist es auch etwas Besonderes, denn in dieser Sendung treten immer echte Stars auf. Allein der Gastgeber Joe Maphis ist eine Sensation, spielt er doch jedes Saiteninstrument mit einer bis heute nie wieder erreichten Virtuosität und auch damals war Johnny Cash schon ein Star. Das Publikum ist also zu recht gespannt.

Der Mann hat eine Flat Top Guitar. (Wir wissen das klingt besser als 'hat sich die akustische Gitarre waagrecht vor den Bauch geschnallt', ist aber das gleiche). Sein Ruf eilt ihm voraus, so glaubt man ihm diesmal auch ohne seinen indianischen Kopfschmuck, dass er ein waschechter Cherokee ist. Und mit seiner prägnanten Nase und den pechschwarzen Haaren kann man ihn sich selbst in seinem Westernhemd als würdigen Häuptling vorstellen. Doch das Gefühl von Würde endet schon Sekunden nachdem er anfängt zu spielen. Die Gitarre klingt schräg, exotisch. Sein nasaler Gesang ist gelinde gesagt gewöhnungsbedürftig. Die versierten Begleitmusiker schauen etwas irritiert und versuchen mit Jenks Tex Carman Schritt zu halten, der sich offensichtlich nicht um musikalische Konventionen kümmert. Die letzte gezerrte Note verklingt. Man schaut gebannt ins Publikum (hat jemand Eier dabei?) und wartet auf die Reaktion. Und dann kommt tosender Applaus.

So etwas hat man noch nicht gesehen. Die Selbstverliebtheit und Spielfreude Jenks Tex Carmans hat die Herzen der Menschen geöffnet. Und man selbst kann eigentlich auch nur schmunzeln und sich freuen. Vielleicht wurde von diesem Mann eine Art Tür für das geöffnet, was man heute als Weltmusik bezeichnet: Musik verschiedener Kulturen zu verschmelzen und zu etwas Eigenem zu machen. Seinen Gitarrenstil hatte er von einem versierten Hawaii-Gitarristen erlernt, er sang teilweise in Cherokee (oder vielleicht auch nicht, denn wir sprechen kein Cheerokee und an der indianischen Abstammung Jenks Tex Carmans bestehen massive Zweifel), doch im Schwerpunkt ist seine Musik ohnehin Country, der damals ja noch öfter auch mal einen Walzerrhythmus enthielt. Stücke wie Hillbilly Hula und Hilo March machten ihn bekannt und können nun auf zwei CDs entdeckt werden.
Video von Jenks Tex Carman - Cow Punk
Artikeleigenschaften von

Jenks Tex Carman: Cow Punk
Albumtitel:

Cow Punk

Genre

Country

Preiscode

AH

Artikelart

CD

EAN:

4000127166685

Gewicht in Kg:

0.115
Carman, Jenks Tex - Cow Punk

CD 1
01
Hilo March
02
Beverly Ann
03
Wreck Of The Number 9
04
The Wild And Woolly West
05
Pal Of My Heart
06
Wondering
07
Wildwood Flower
08
Wolf Creek
09
Get Along Pony
10
My Baby I'll Be There
11
Bordertown
12
My Hawaii Calls
13
I'm Going Crazy
14
The Wild Rose Of Tennessee
15
My Dog, My Everything
16
Prairie Fire
17
Wholehearted
18
Your Only Love
19
Lonesome Train
20
Make Love To Me Baby
21
My Heart's A Lonely Ghost Town
22
You Didn't Stay
23
Baby, Me Baby
24
Thinking Of You
25
Possum Twist
26
There's No Use Pretending
27
Tickle Foot Rag
28
I'll Never Go On Without You
29
Following The Trail Of The Rainbow
30
Wait For Me, Angelina
31
My Darling Silverbell
32
Sadie, Oh Do
Jenks Tex Carman geb. 14. 5. 1911 in Hardinsburg - Kentucky gest. 6. 2. 1967 Record Labels:...
mehr
"Jenks Tex Carman"
Jenks Tex Carman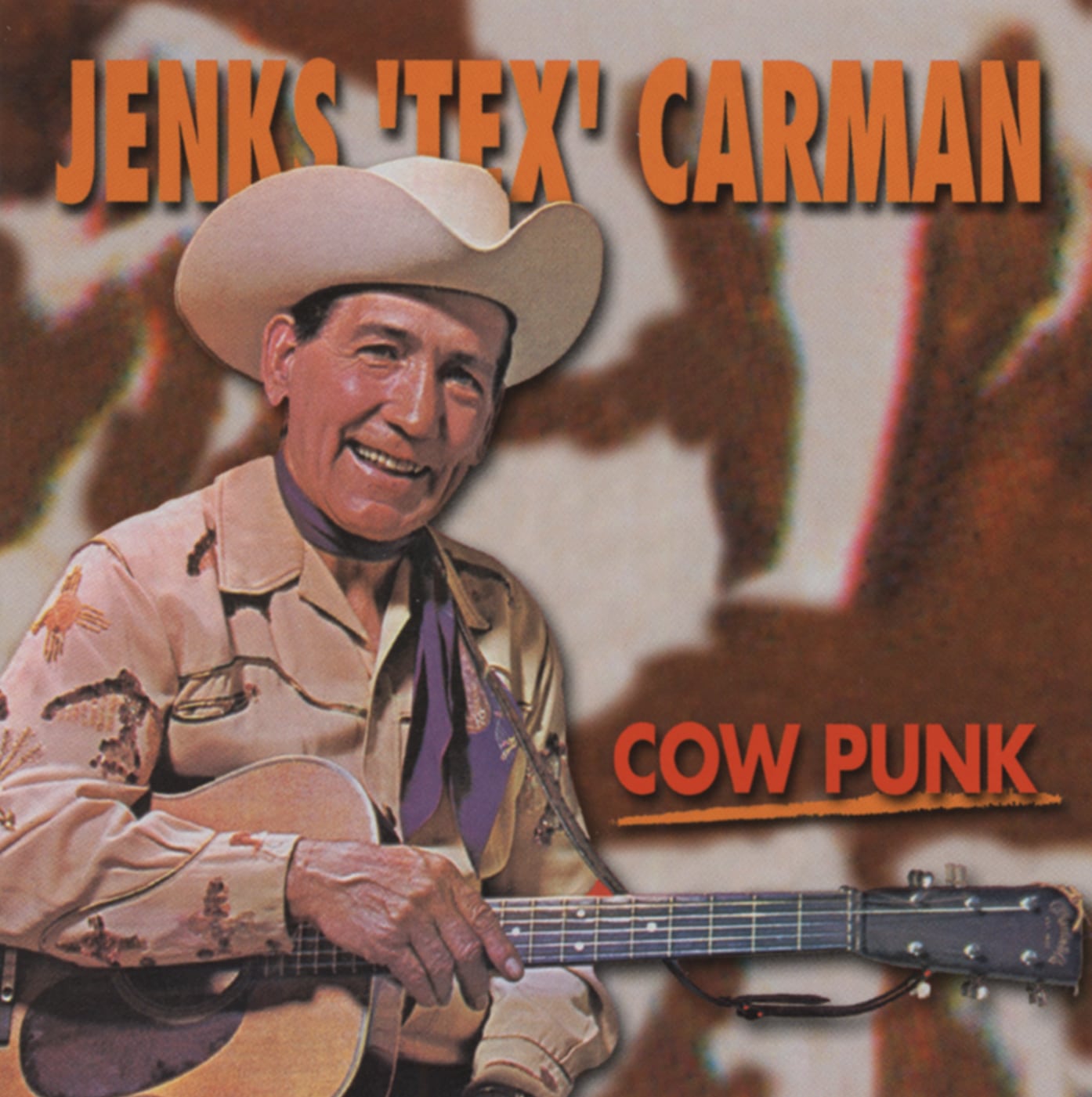 geb. 14. 5. 1911 in Hardinsburg - Kentucky gest. 6. 2. 1967 Record Labels: Four Star, Capitol, Sage & Sand, Crown, Rem Jenks Tex Carman, ,The Dixie Cowboy", ein eigenwilliger Sänger, der als Steel Guitar Spieler einen ganz persönlichen Stil entwickelt hatte, begann seine Karriere in den frühen 30er Jahren bei Vaudeville-Shows und Radiostationen. In den 40er Jahren arbeitete er vor allem an der Westküste. Zu seinen bekanntesten Titeln gehören ,Hillbilly Hula", ,Dixie Cannonball" und ,The Artillery Song". Wahrscheinlich der einzige, der den Gitarrenstil von Jenks Tex Carman heute noch pflegt, ist der Schweizer Peter Gisin.
Jenks Tex Carman
Die Familie Carman geht zumindest auf die revolutionäre Zeit in Amerika zurück, als Elijah und Betsy Carman 1783 in North Carolina einen Sohn, Andrew, zur Welt brachten. Andrew Carman zog nach Breckinridge County, Kentucky, wo die Familie seitdem geblieben ist. Tex wurde am 14. Mai 1903 in Hardinsburg, Kentucky, geboren. Sein Vater Alford war der Enkel von Andrew Carman. Alford und seine Frau gebar acht Kinder, von denen Tex das siebte Kind war. Verschiedene Quellen haben Tex Geburtsjahr als abwechselnd 1911 und 1914 aufgeführt, aber diese Widersprüche wurden höchstwahrscheinlich von Carman selbst verewigt (Als er 1962 zu einem Besuch in seine Heimatstadt zurückkehrte, gab Carman sein Alter als 56 Jahre alt an, aber auch das war eine Erfindung).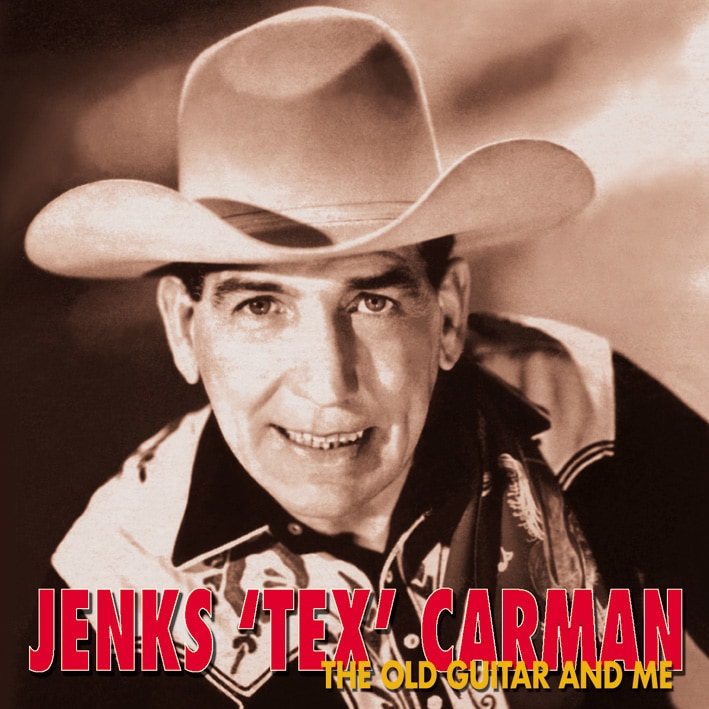 Dies ist nur ein Aspekt von Carmans Leben, der von Mysterien zeugt, da nur wenige Details über sein Leben bekannt sind, außer vereinzelten Anekdoten und Werbeblurbs, die ad nauseum auf Albumcovern dupliziert wurden. Seine Vorliebe für das Tragen indischer Insignien in öffentlichen Auftritten und seine gelegentlichen musikalischen Bezüge zu indischen Themen (insbesondere Cherokee, d.h. Locust Hill Rag) mehr als Hinweise auf Carmans mögliche Abstammung als Ureinwohner (Ein Album von 1962 Sage trägt den Titel'The Old Indian' und zeigt Carman mit einem Cherokee-Kopfschmuck und einem sicher unkriegerischen Gesicht! Anfragen an die Cherokee-Nation in North Carolina zeigen jedoch keine Aufzeichnungen, dass ein Jenkins Carman registriert wurde. Das Breckinridge County Archives stellt fest, dass die erste Frau von Jenks' Urgroßvater behauptete, ein Cherokee-Indianer zu sein.
Die Carmans waren Bauern, aber wie viele ländliche Familien um die Jahrhundertwende liebten sie die Musik und nahmen an informellen musikalischen Aktivitäten in Kirchen und Schulen in Hardinsburg teil. Der junge Jenkins zeigte eine frühe Begabung für Musik; im Alter von zwölf Jahren war er angeblich ein Experte für das Schlagen der alten Familiengitarre. Wahrscheinlich wagte sich Jenkins schon als Teenager von zu Hause weg in die Unterhaltungswelt, zunächst als Leiter des International Clee Club Quartetts mit dem Continental Lyceum Chautauqua Bureau of Louisville, Kentucky. Nach zwei Jahren mit dem Quartett begann er eine Reihe von Varieté-Tourneen, darunter Loew's Time, Bently Theatrical Agency Time of St. Louis, Missouri, und andere. Carman führte die nomadische Existenz eines Varietékünstlers an, verbrachte einen Großteil seiner Karriere unterwegs, ließ sich selten für mehr als eine kurze Zeit an einem Ort nieder und entwickelte nur wenige enge Beziehungen. Selbst diejenigen, die in den 1950er Jahren täglich mit ihm auf dem Rathausfest auftraten, wussten wenig über ihn.
Excerpt from the booklet BCD15574 - Jenks Tex Carman - Hillbilly Hula - Read more at: https://www.bear-family.com/carman-jenks-tex-hillbilly-hula.html
Copyright © Bear Family Records
Read more at: https://www.bear-family.com/carman-jenks-tex/
Copyright © Bear Family Records
Bewertungen lesen, schreiben und diskutieren...
mehr
Kundenbewertungen für "Cow Punk"
Bewertung schreiben
Bewertungen werden nach Überprüfung freigeschaltet.
Weitere Artikel von Jenks Tex Carman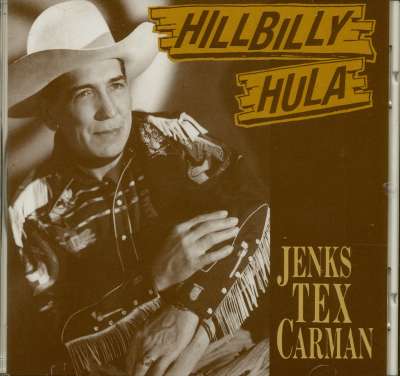 Jenks Tex Carman: Hillbilly Hula
Art-Nr.: BCD15574


Sofort versandfertig, Lieferzeit** 1-3 Werktage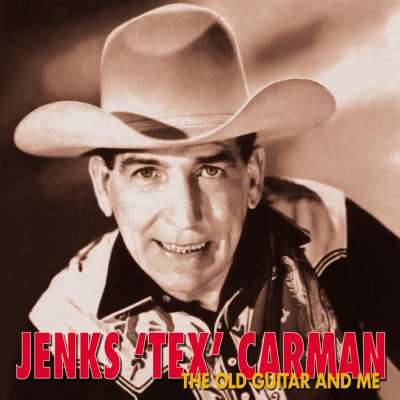 Jenks Tex Carman: The Old Guitar And Me
Art-Nr.: BCD16652


Sofort versandfertig, Lieferzeit** 1-3 Werktage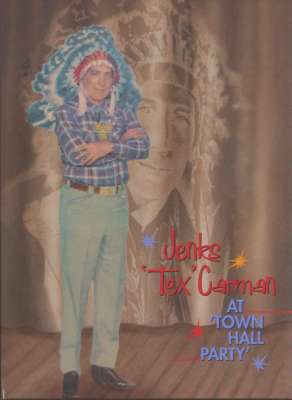 Jenks Tex Carman: Jenks Tex Carman At Town Hall Party (DVD)
Art-Nr.: BVD20006


Sofort versandfertig, Lieferzeit** 1-3 Werktage