Der Artikel wurde erfolgreich hinzugefügt.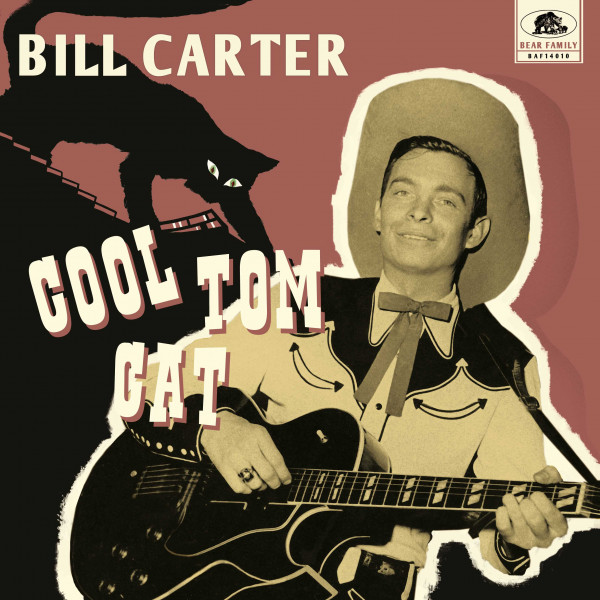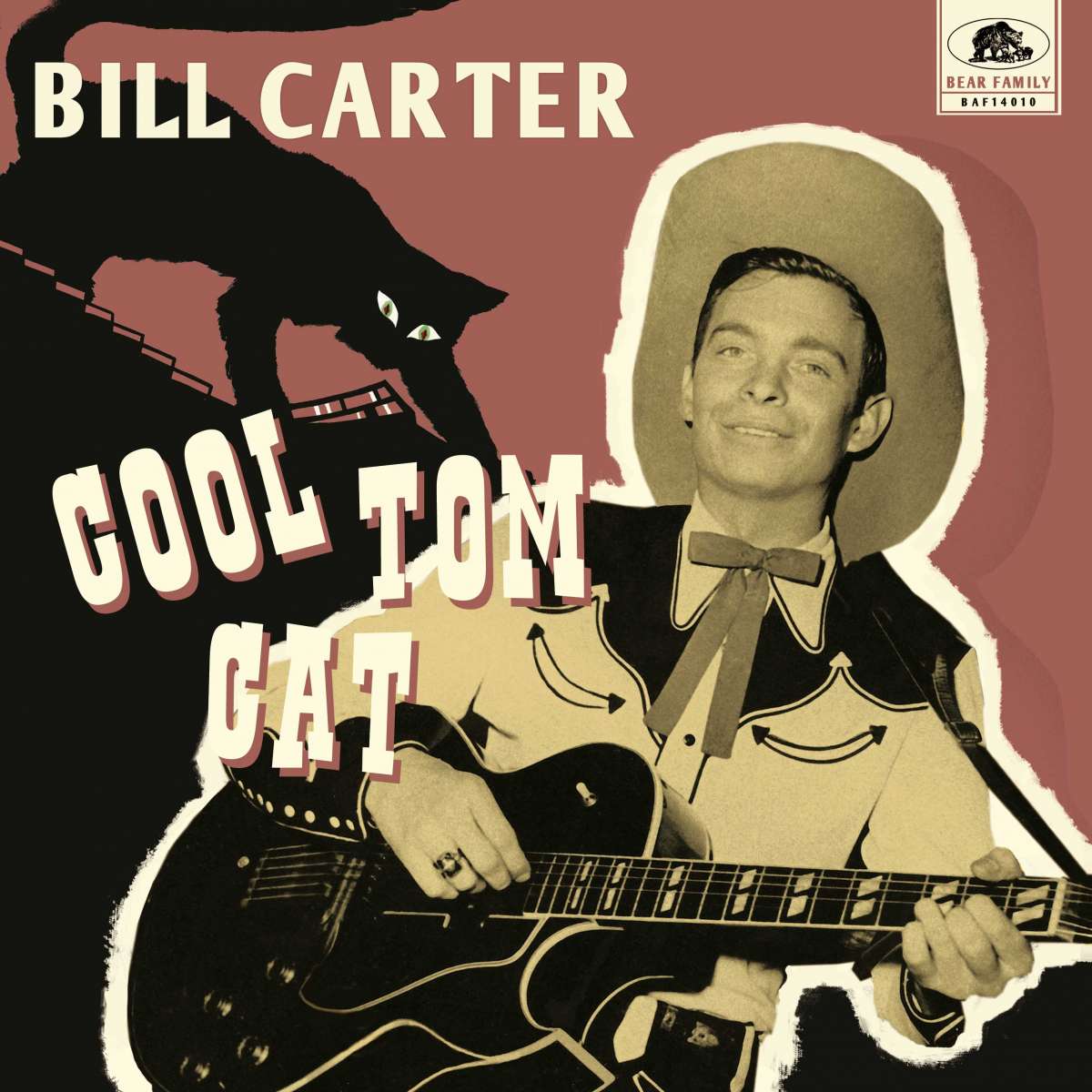 Dieser Artikel ist gestrichen und kann nicht mehr bestellt werden!
Benachrichtigen Sie mich, sobald der Artikel lieferbar ist.
1-LP (10"/25cm) mit 12-seitigem Booklet, Bonus-CD. 12 Einzeltitel (LP), 24 Einzeltitel (CD)....
mehr
Bill Carter: Cool Tom Cat (LP, 10inch & CD, Ltd. 45rpm)
1-LP (10"/25cm) mit 12-seitigem Booklet, Bonus-CD. 12 Einzeltitel (LP), 24 Einzeltitel (CD). Gesamtspieldauer ca. 28 Minuten (LP), 53 Minuten CD.
Die ersten 200 Bestellungen von Kunden (Händler ausgeschlossen) erhalten eine signierte Postkarte von
Bill Carter
!
Bill Carter: großartiger Rocker aus Arkansas!
Aus einer 10" Vinyl-LP plus CD bestehende Luxus-Edition mit Booklet - und all seinen Rockern aus den Jahren 1954 bis 1961!
Zum Beispiel: Aufnahmen für 4 Star Records mit den Carolina Drifters.
Die CD liefert neben Bonustiteln von Bill Carter und den Carolina Drifters sämtliche auf dem Indio-Label erschienenen Rocker von u.a. Clyde Arnold und Ray Smith.
Wiederentdeckt wurde Bill Carter von Mark Lee Allen, der ihn mehrfach interviewte und die Booklet-Einleitung geschrieben hat.
Bill Carter hat unser Projekt persönlich unterstützt!
Roland Heinrich hat die ausführlichen Linernotes geschrieben.
Bill Carter wurde 1929 in Eagleton im Bundesstaat Arkansas geboren, zog 1937 mit seiner Familie nach Oklahoma und sechs Jahre später nach Indio in Kalifornien. Seine Familie förderte früh sein Interesse an Musik und finanzierte Gesangsunterricht, als Bill im Teenageralter war. Lokale Radiosender präsentierten ihn, bevor er 1949 zur US Airforce ging. Während seines Militärdienstes in Kalifornien gründete er erste C&W-Bands und trat in der Gegend um San Francisco und bei einem Rundfunksender in San Antonio, Texas auf.
Nach Beendigung seines Militärdienstes 1953 schloss sich Carter als Sänger der Countryband von Jim DeNoone an und trat u.a. bei der 'California Hayride' in San Francisco auf. Auf den im selben Jahr produzierten Aufnahmen der Band für Gilt-Edge Records ist Bill Carter erstmals als Sänger zu hören. Schließlich formierte er sein eigenes Trio, mit dem er in den kommenden fünf Jahren regelmäßig arbeitete und das Ziel verfolgte, über den lokalen Bereich hinaus bekannt zu werden. Zwischen 1956 bis 1961 machte Carter Aufnahmen unter eigenem Namen für kleinere und mittelgroße Label wie 4-Star, Republic, Tally, Black Jack, Honee B, 'D', Rural Rhythm und Ozark. Die 1957 in Bakersfield, Kalifornien für Tally produzierte Up-
Tempo
-Nummer 'I Wanna Feel Good' wurde zu seinem größten Hit und öffnete ihm die Türen zur 'Louisiana Hayride' und der 'Grand Ole Opry'. 1959 schließlich wagte er sich an Rockabilly heran und nahm 'Cool Tom Cat' auf.
In den folgenden Jahren folgte Carter einer neuen musikalischen Orientierung und produzierte auch gospelorientiertes Material, nicht nur unter eigenem Namen. Er wirkte als Sänger bei anderen Aufnahmesessions mit und betätigte sich als Produzent. In der ersten Hälfte der 1960er Jahre wirkte er bei Aufnahmen für nicht weniger als dreizehn verschiedenen Plattenfirmen mit. In dieser Zeit wurde Bill Carter überzeugter Christ und traf in dem Baptistenprediger Leonard Sipes, der sich früher
Tommy Collins
nannte, einen Bruder im Geiste. Fortan lag Carters Hauptaugenmerk auf christlicher Musik, die er mit seiner eigenen Formation, den 1969 gegründeten Bill Carter Singers, auch auf die Bühne brachte.
Video von Bill Carter - Cool Tom Cat (LP, 10inch & CD, Ltd. 45rpm)
Artikeleigenschaften von

Bill Carter: Cool Tom Cat (LP, 10inch & CD, Ltd. 45rpm)
Albumtitel:

Cool Tom Cat (LP, 10inch & CD, Ltd. 45rpm)

Genre

Rock'n'Roll

Preiscode

BAFX

Record Grading

Mint (M)

Sleeve Grading

Mint (M)

Geschwindigkeit

45 U/min

Plattengröße

LP (10 inch)

Artikelart

LP (10 inch)

EAN:

5397102140105

Gewicht in Kg:

0.3
Carter, Bill - Cool Tom Cat (LP, 10inch & CD, Ltd. 45rpm)

LP (10 inch) 2
01
Cool Tom Cat
Bill Carter
02
I Wanna Feel Good
Bill Carter
03
You Ain't Got My Address
Bill Carter
04
Jailer Man
Bill Carter
05
Shot Four Times And Dyin'
Bill Carter
06
A Woman's Way
Big Jim DeNoone feat. Bill Carter
07
Baby Brother
Bill Carter
08
I used To Love You
Bill Carter
09
Ramblin' Fever
Bill Carter
10
Don't Monkey With My Widder
The Carolina Drifters with Bill Carter
11
Seven Years
Bill Carter
12
Secret Date
Bill Carter
13
Part Of My Heart Is Missing
The Carolina Drifters with Bill Carter
14
I Know Her When
Bill Carter
15
Leavin' Town
Jimmy North
16
You've Heard About Texas
Ray Smith & His Oklahoma Outlaws
17
Froggy Went A' Rockin'
Dave Miller with Joe Richie & The Impossibles
18
With You
Dave Miller with Joe Richie & The Impossibles
19
Livin' For Your Lovin'
Clyde Arnold
20
Black Smoke And Blue Tears
Dave Miller with Joe Richie & The Impossibles
21
I Want A True Love
Larry McGill with The Echo-Tones
22
I Only Wish
Larry McGill with The Echo-Tones
23
Love And Money
Clint Marrs & The Saddle-ites
24
Camille
Stage Hands
Bill Carter I Wanna Feel Good Bill Carter I Wanna Feel Good After he started...
mehr
"Bill Carter"
Bill Carter
I Wanna Feel Good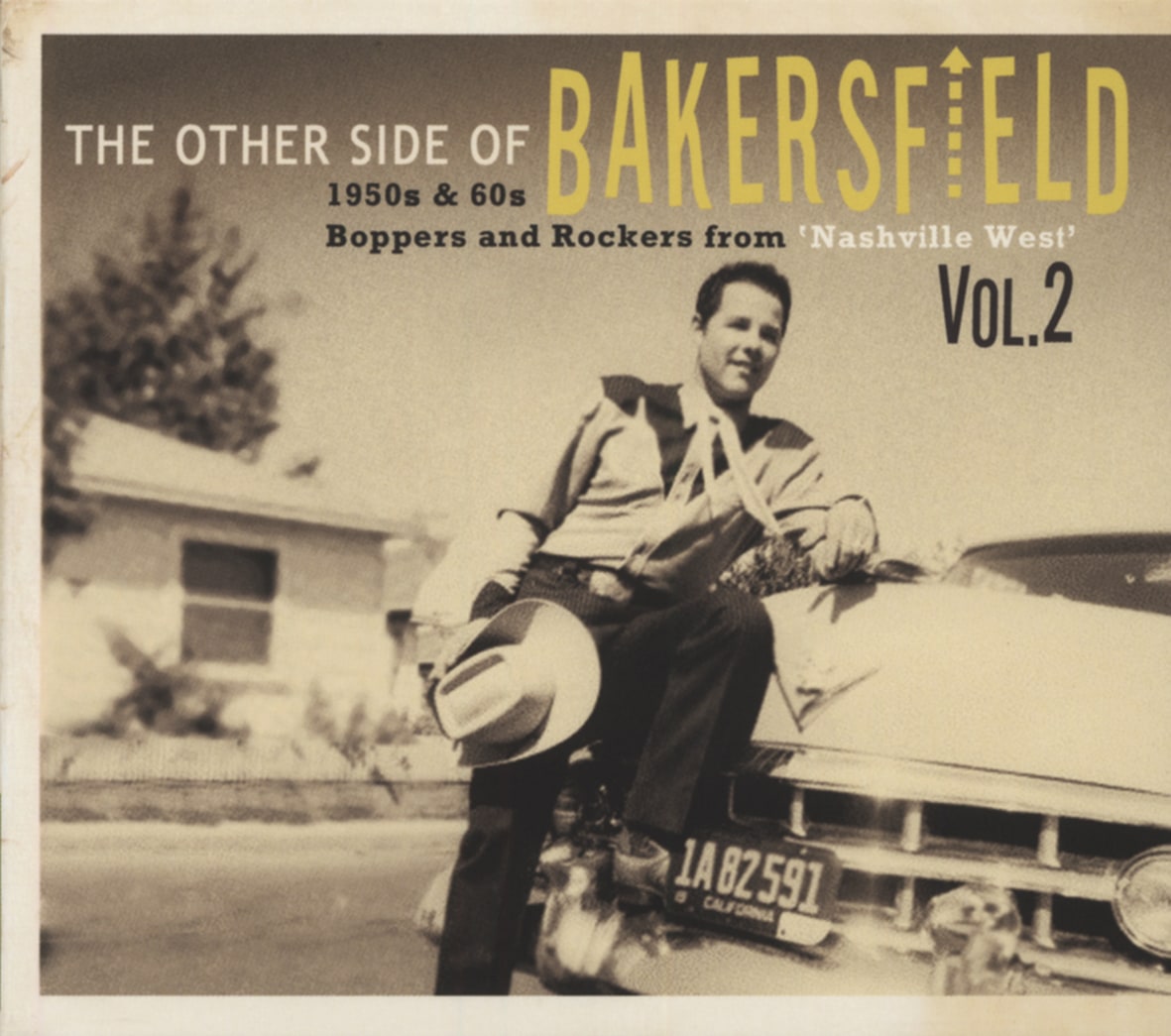 Bill Carter
I Wanna Feel Good
After he started recording for Lewis Talley and Fuzzy Owen's label in the mid-1950s, Cliff Crofford began lending his songwriting talents to other singers on the roster, such as the San Francisco Bay area's Bill Carter. The Crofford-penned I Wanna Feel Good was Bill's first recording for Tally. The heavily percussive teen anthem features tastefully sparse Jordanaires-style vocal accents reminiscent of Elvis' recordings in this era. "Billy Mize and Bonnie Owens and Fuzzy Owen did the background singing," Carter remembered. "Roy Nichols played lead, and Henry Shropshire – who went by Henry Sharpe - played drums.
Henry was really good to me on that session. He really took me under his arm and encouraged me a lot." Owen and Talley were eagerly pursuing national recognition for their tiny outfit, and traveled extensively to promote their rockabilly sounds. "We took a promotional tour, Fuzzy and Louie and myself, to the South," Carter remembered, "and I sang on the Louisiana Hayride as a result of that. Buck went with us. Me and Buck sat in the backseat of the Cadillac. Buck had a spot and I had a spot, too, on the Hayride 'cause of Tally Records. That really opened up a lot of doors for me in country music." Curiously, Bill Carter never met Cliff Crofford in the 1950s, though the two struck up a friendship later in life.
Various - The Other Side Of Bakersfield Vol.2, (CD)
1950's & 60's Boppers and Rockers from 'Nashville West'

Read more at: https://www.bear-family.de/various-the-other-side-of-bakersfield-vol.2.html
Copyright © Bear Family Records
Bewertungen lesen, schreiben und diskutieren...
mehr
Kundenbewertungen für "Cool Tom Cat (LP, 10inch & CD, Ltd. 45rpm)"
Von:
Yolanda
Am:
15.02.2021
Von:
Hillbilly Kitty
Am:
18.01.2021
purr purr
what a nice package this is folks greetz from the bay area
Bewertung schreiben
Bewertungen werden nach Überprüfung freigeschaltet.
Weitere Artikel von Bill Carter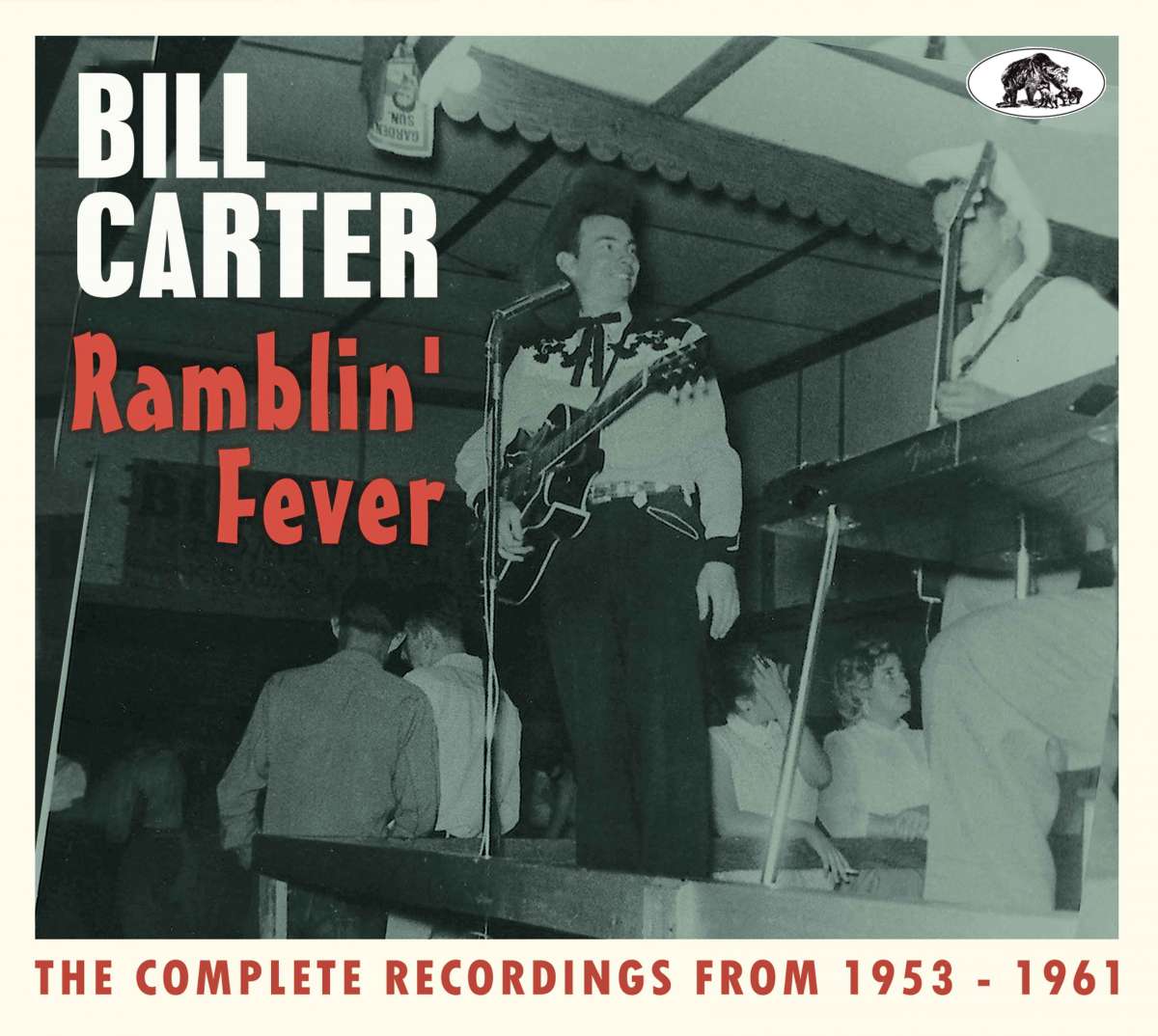 Bill Carter: Ramblin' Fever - The Complete Recordings...
Art-Nr.: BCD17650


Sofort versandfertig, Lieferzeit** 1-3 Werktage