Der Artikel wurde erfolgreich hinzugefügt.
Bill Carter
Ramblin' Fever - The Complete Recordings 1953-61 (2-CD)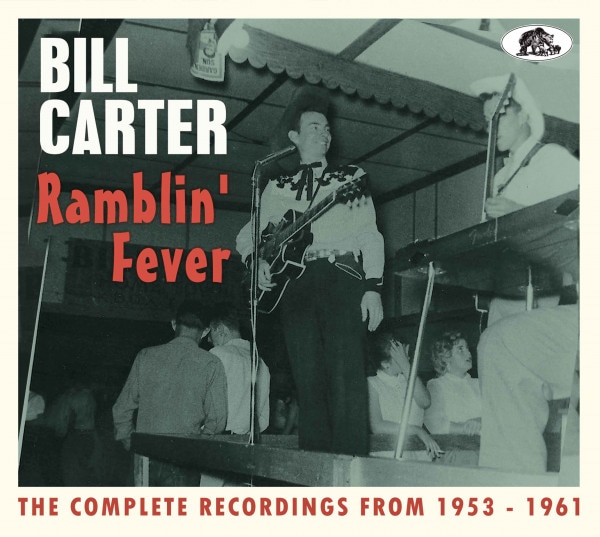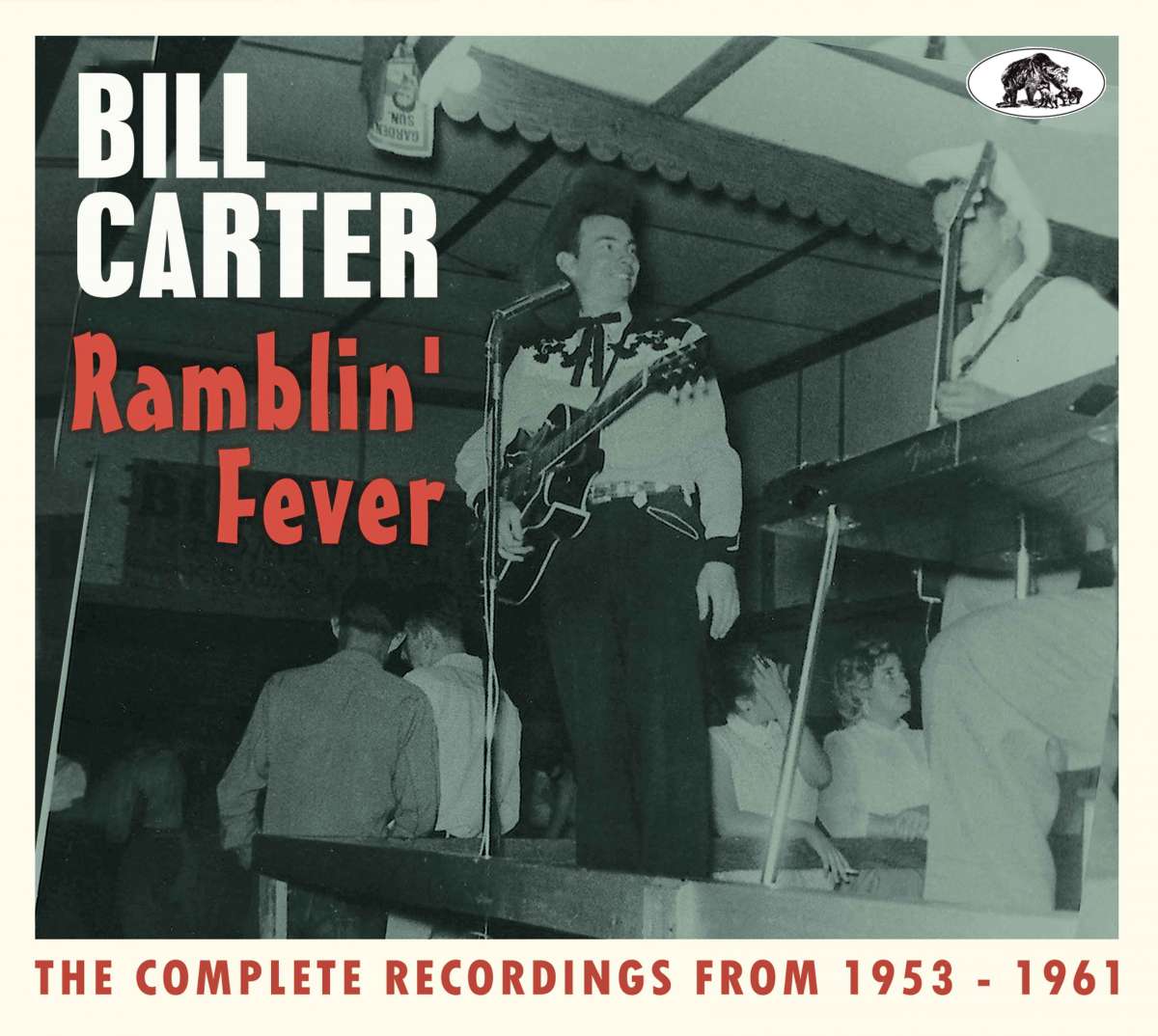 inkl. MwSt. / zzgl. Versandkosten - Abhängig vom Lieferland kann die MwSt. an der Kasse variieren.
Sofort versandfertig, Lieferzeit** 1-3 Werktage
2-CD (Digisleeve, 6-seitig), 36-seitiges Booklet, 67 Einzeltitel. Gesamtspieldauer ca. 155...
mehr
Bill Carter: Ramblin' Fever - The Complete Recordings 1953-61 (2-CD)
2-CD (Digisleeve, 6-seitig), 36-seitiges Booklet, 67 Einzeltitel. Gesamtspieldauer ca. 155 Minuten.
Mit dieser Doppel-CD präsentiert Bear Family Records® als erstes Label sämtliche zwischen 1953 – 1961 veröffentlichten kommerziellen Aufnahmen des großartigen Bill Carter, inkl. der Aufnahmen, die er als Sänger mit dem Western Swing Bandleader Big Jim DeNoone gemacht hat.
Der Musiker aus Arkansas begann mit Country Music und Hillbilly und sprang Mitte der 50er Jahre auf den Rockabilly-Zug auf.
67 Aufnahmen für u.a. 4-Star (mit Big Jim DeNoone), Republic, Tally, Ozark, Rural Rhythm, Honey B und 'D'.
41 Titel erscheinen hiermit erstmals auf CD und 14 Songs davon werden hier zum ersten Mal veröffentlicht.
In den 50er Jahren begleitete er mit seiner Band zahlreiche große Namen der Country Music auf Tour an der Westküste.
Kurz nach Unterzeichnung eines vielversprechenden Vertrags mit M-G-M und vor dem endgültigen Durchbruch zog sich Carter 1961 aus dem Musikgeschäft zurück und verschrieb sich fortan ausschließlich christlicher Country Music.
Ausführliche Linernotes von Michael Hurtt im umfangreichen, illustrierten Booklet.
Sorgfältig restaurierte und neu gemasterte Aufnahmen.
Bill Carter wurde 1929 in Eagleton im Bundesstaat Arkansas geboren, zog 1937 mit seiner Familie nach Oklahoma und sechs Jahre später nach Indio in Kalifornien. Seine Familie förderte das Interesse des Teenagers an Musik und zahlte für seinen Gesangsunterricht. Bevor er 1949 zur US Air Force ging, war er bereits bei verschiedenen lokalen Radiosendern aufgetreten. Während seines Militärdienstes in Kalifornien gründete er erste C&W-Bands und trat in der Gegend um San Francisco und bei einem Rundfunksender in San Antonio, Texas auf.
Nach Beendigung seines Militärdienstes 1953 schloss sich Carter als Sänger der Countryband von Jim DeNoone an und trat u.a. bei der 'California Hayride' in San Francisco auf. Auf den im selben Jahr produzierten Aufnahmen der Band für Gilt-Edge Records ist Bill Carter erstmals als Sänger zu hören. Schließlich formierte er sein eigenes Trio, mit dem er in den kommenden fünf Jahren regelmäßig arbeitete und das Ziel verfolgte, über den lokalen Bereich hinaus bekannt zu werden. In den 1950er Jahren in Kalifornien begleitete er mit seiner Band zahlreiche große Namen der Country Music wie Marvin Rainwater, Lefty Frizzell, Freddie Hart, T-Texas Tyler oder Buck Owens auf Tour an der Westküste.
Zwischen 1956 bis 1961 machte Carter Aufnahmen unter eigenem Namen für kleinere und mittelgroße Label wie 4-Star, Republic, Tally, Black Jack, Honey B, 'D', Rural Rhythm und Ozark. Die 1957 in Bakersfield, Kalifornien für Tally produzierte Up-Tempo-Nummer I Wanna Feel Good wurde zu seinem größten Hit und öffnete ihm die Türen zur 'Louisiana Hayride' und der 'Grand Ole Opry'. I
n den Jahren nach 1961 folgte Carter einer neuen persönlichen Orientierung und produzierte fortan christliche Country Music.
Mit dieser Doppel-CD liefert Bear Family Records® die umfassende Werkschau der Karriere des vielseitigen Bill Carter. Von den insgesamt 67 Einzeltiteln erschienen zuvor lediglich die zehn besten Rocker auf der 25cm LP 'Cool Tom Cat' (BAF14010). Somit sind Carters kompletten kommerziellen Einspielungen
aus den Jahren 1953-61 auf diesem Doppelalbum vereint!
Die ausführlichen Linernotes stammen von Michael Hurtt, der zusammen mit dem vor fünf Jahren verstorbenen Billy Miller das großartige Buch 'Mind Over Matter' zur Geschichte von Detroits Fortune-Label geschrieben hat!
Video von Bill Carter - Ramblin' Fever - The Complete Recordings 1953-61 (2-CD)
Artikeleigenschaften von

Bill Carter: Ramblin' Fever - The Complete Recordings 1953-61 (2-CD)
Albumtitel:

Ramblin' Fever - The Complete Recordings 1953-61 (2-CD)

Genre

Country

Preiscode

AR

Edition 2

Deluxe Edition

Artikelart

CD

EAN:

5397102176500

Gewicht in Kg:

0.115
Bill Carter I Wanna Feel Good Bill Carter I Wanna Feel Good After he started...
mehr
"Bill Carter"
Bill Carter
I Wanna Feel Good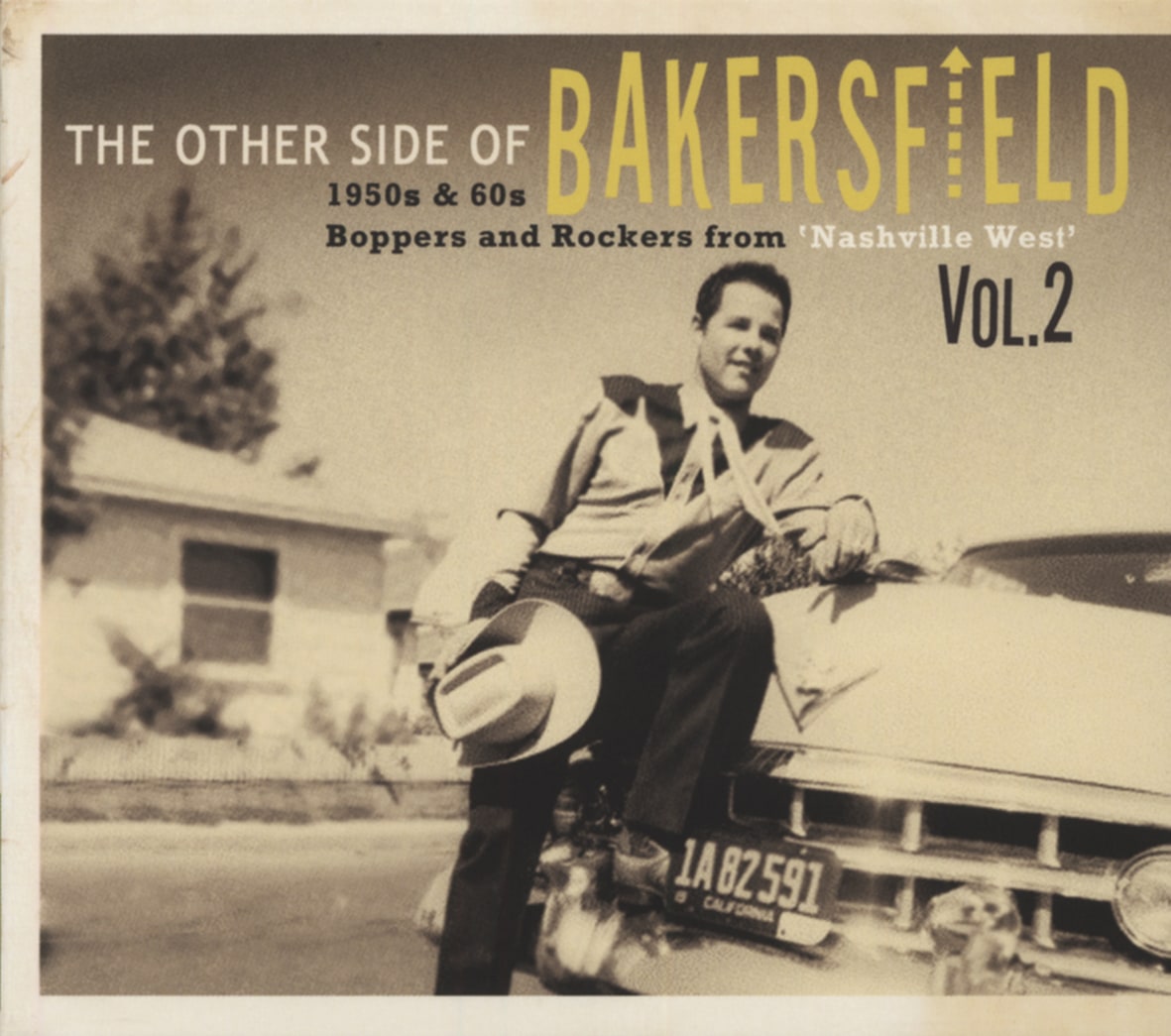 Bill Carter
I Wanna Feel Good
After he started recording for Lewis Talley and Fuzzy Owen's label in the mid-1950s, Cliff Crofford began lending his songwriting talents to other singers on the roster, such as the San Francisco Bay area's Bill Carter. The Crofford-penned I Wanna Feel Good was Bill's first recording for Tally. The heavily percussive teen anthem features tastefully sparse Jordanaires-style vocal accents reminiscent of Elvis' recordings in this era. "Billy Mize and Bonnie Owens and Fuzzy Owen did the background singing," Carter remembered. "Roy Nichols played lead, and Henry Shropshire – who went by Henry Sharpe - played drums.
Henry was really good to me on that session. He really took me under his arm and encouraged me a lot." Owen and Talley were eagerly pursuing national recognition for their tiny outfit, and traveled extensively to promote their rockabilly sounds. "We took a promotional tour, Fuzzy and Louie and myself, to the South," Carter remembered, "and I sang on the Louisiana Hayride as a result of that. Buck went with us. Me and Buck sat in the backseat of the Cadillac. Buck had a spot and I had a spot, too, on the Hayride 'cause of Tally Records. That really opened up a lot of doors for me in country music." Curiously, Bill Carter never met Cliff Crofford in the 1950s, though the two struck up a friendship later in life.
Various - The Other Side Of Bakersfield Vol.2, (CD)
1950's & 60's Boppers and Rockers from 'Nashville West'

Read more at: https://www.bear-family.de/various-the-other-side-of-bakersfield-vol.2.html
Copyright © Bear Family Records
Bewertungen lesen, schreiben und diskutieren...
mehr
Kundenbewertungen für "Ramblin' Fever - The Complete Recordings 1953-61 (2-CD)"
Von:
Promo Bear
Am:
04.07.2023
Ganz heisse Mucke!
"Neben dem Single-Material wurden auch unveröffentlichte Fassungen berücksichtigt, was diese Ausgabe noch attraktiver macht!"
Eclipsed Juli 2023
Von:
Stefan
Am:
17.08.2022
I give it both thumbs up and recommend a purchase
The good Bill has had a number of tracks released in recent years which has created an interest in his name. Last year, the Bear League released a ten-inch LP entitled "Cool Tom Cat" (BAF-14010) and now the same label is issuing a double CD covering his recordings from 1953-61. The recordings were issued on the Blue Ribbon (1953), 4-Star (1953-54), Republic (1956), Tally (1957), Black Jack (1959), Rural Rhythm (1959), Ozark (1959), Honee B (1959), Showboat (1960), Check (1960) and D (1961) labels. The two albums also feature 14 unreleased songs. I have been hunting for a long time for several of these but they are hard to come by and if you find any they leave a hole in your wallet. I can't find a track that doesn't hold up and I am impressed with his productions and quality. But there are always favorites, and among them I count "By The Sweet Of My Brow", "You Ain't Got My Address", "I Wanna Feel Good", "Too Used To Being With You", "I Used To Love You", "Baby Brother", "Ramblin' Fever", "Cool Tom Cat", "Secret Date" and "Colt 45" to name the absolute toppers. But there's much more to discover and browse. The thick booklet is reminiscent of old times and is very well done with nice pictures and of course as complete a session discography as you can get. I give it both thumbs up and recommend a purchase.
Bo Berglind


Von:
Dusty Grooves
Am:
22.07.2022
The lost legacy of the great Bill Carter!
The lost legacy of the great Bill Carter – one of the more obscure figures on the California scene of the postwar years – and an artist who was every bit as much an early rocker as he was a country singer! Like so many of his Cali contemporaries, Carter had roots in the south, but headed west when the time was right – sometimes sporting western cowboy wear, but often sounding a lot more different than that guise might make you think! And different than some of his California contemporaries, Bill didn't record just in Bakersfield and LA – as much of the work here was done up north in the Bay Area, where Carter was a big figure in the clubs providing entertainment for new arrivals from points east. This 2CD set is almost a box set sort of introduction to Bill's work – as it features all his rare recordings, and also a number of early 60s tracks that never made it to vinyl – served up in a massive 67 track package, with cuts that include "Jailer Man", "Cool Tom Cat", "I Knew Her When", "Mama Loves Papa", "Long Lost Girl"- "Wild Strings", "Honeymoon On A Rocket Ship", "Seven Years", "Stowaway", "Secret Date", "Lookin Through The Bars", "Colt 45", and lots lots more!
Von:
Lambert Smith
Am:
09.06.2022
Excellent!
This double CD gives a nice overview of Bill Carter's talent. Whether it was country, hillbilly, rockabilly, rock 'n' roll or gospel, Bill always managed to present these genres with enormous empathy and craftsmanship. If you didn't know Bill Carter, then you are doing a good thing with the purchase of this double album, which offers a very complete overview.
Bewertung schreiben
Bewertungen werden nach Überprüfung freigeschaltet.