Der Artikel wurde erfolgreich hinzugefügt.
The Checkers
Checkmate - Complete King Recordings 192-1955 (CD)
inkl. MwSt. zzgl. Versandkosten
Artikel derzeit nicht verfügbar, Lieferfristen von bis zu 2-3 Wochen sind zu erwarten. (soweit verfügbar beim Lieferanten - kann aber auch schneller gehen)
Artikel-Nr.:

CDCHD1047

Gewicht in Kg.:

0.107
(Ace Records) 26 tracks 1952-55 with 12 page booklet. - The Drifters are usually...
mehr
The Checkers: Checkmate - Complete King Recordings 192-1955 (CD)
(Ace Records) 26 tracks 1952-55 with 12 page booklet.
-
The Drifters are usually considered to be Rhythm & Blues' first supergroup, in terms of the names that passed through their ranks in their 50+ year history. A strong case for that accolade can also be made for Billy Ward's Dominoes, whose membership included not only future Drifter, Clyde McPhatter, but also Jackie Wilson and the great Eugene Mumford, formerly of the Larks. Somewhere in between those two lie the Checkers, one of King Records' greatest-ever groups, with a personnel that included both former members of the Dominoes and future members of the Drifters and Clovers.

Unlike their peers, the Checkers never had a hit worth mentioning, and their ever-changing personnel even more fluid than those of the other two groups has never been fully established. (At various times, they had both a 'Joe' and a 'Teddy' in their ranks, but not one devoted R&B researcher has ever been able to find surnames for either.)

The Checkers might well be the most obscure supergroup of all time. The act had so much going for it, yet little is ever likely to be known about some of its members. Checkers Bill Brown, David Baughan (sometimes spelt Baughn), Charlie White and John Carnegie all died before the major R&B researchers had a chance to do their thing. What we know is largely through the diligent research of noted R&B historian Marv Goldberg, who spoke at length to later member, Perry Heyward during the second half of the 90s, but his few reminiscences were largely limited to his own very brief tenure with the group. However, you don't need to know that much about who's singing here to know that CHECKMATE the first-ever CD reissue of the Checkers' King recordings to be taken directly from the original mastertapes is the real deal, and a true treat for R&B group lovers everywhere.

This CD contains all of the Checkers' issued sides, two takes of the originally-unissued A Friend In Need and several other never-before-heard alternate takes that all display subtle differences to those designated as 'master'. Those unfamiliar with the group's work, and whose tastes do not allow for too much lugubriousness, will be delighted to know that the Checkers' recording sessions were often uptempo affairs. Former Domino Bill Brown's bass voice taked the very groovy leads on jumpin' tunes like You Never Had It So Good, Mama's Daughter and Don't Stop Dan (the sequel to Sixty Minute Man, which Brown also
sang while with the Dominoes!). The more intense affairs are handled by 'Little' David Baughan, twice a member of the Drifters and looking down the line towards soul music on House With No Windows and I Promise You. The group's other lead tenors were no slouches either check out soon-to-be-Clover Charlie White the actual founder of the Checkers on Flame In My Heart and John Carnegie's magnificent rendition of Night's Curtains (a stupendously rare, and expensive, item on the original King 45).

As with last month's Lamplighters release, we are fortunate that King founder Syd Nathan persevered with his best vocal groups even when they were not having any kind of chart success. None of the Checkers 78 and 45rpm releases made any kind of Hot 100, but it didn't stop Syd calling them back to the studios time and time again. Good for him, and even better for us that this superb group left such a formidable body of work behind, instead of the three or four songs that might have been their legacy had they recorded for a major instead of a magnificent indie.

We may know only a little about the Checkers, then. But we also know this much is true: they left little behind a bunch of pretty great records, which are as entertaining in 2005 as they were when they were first put on tape more than 50 years ago. It would be nice to know more about them than we do, but at the end of the day it's still what's in the grooves that counts most. And the Checkers were always very, very groovy, regardless of who made up their membership.

You never heard it so good (Tony Rounce)
Artikeleigenschaften von

The Checkers: Checkmate - Complete King Recordings 192-1955 (CD)
Albumtitel:

Checkmate - Complete King Recordings 192-1955 (CD)

Genre

R&B, Soul

Artikelart

CD

EAN:

0029667008228

Gewicht in Kg:

0.107
Checkers, The - Checkmate - Complete King Recordings 192-1955 (CD)

CD 1
01
You Never had It So Good
02
Oh, Oh, Oh Baby
03
Flame In My Heart
04
Without A Song
05
My Prayer Tonight
06
Don't Stop Dan
07
House With No Windows
08
Let Me Come Back
09
Night's Curtains
10
I Wanna Know
11
Over The Rainbow
12
Love Wasn't There
13
You've Been Fooling Around
14
Ghost Of My Baby
15
White Cliffs Of Dover
16
Friend In Need
17
Mama's Daughter
18
I Promise You
19
Can't Find My Sadie
20
Trying To Hold My Gal
21
I Wasn't Thinking, I Was Drinking
22
House With No Windows
23
Don't Stop Dan
24
You've Been Fooling Around
25
Friend In Need
26
You Never Had It So Good
The Checkers House With No Windows The Checkers were King Records' principal hard-luck...
mehr
"The Checkers"
The Checkers
House With No Windows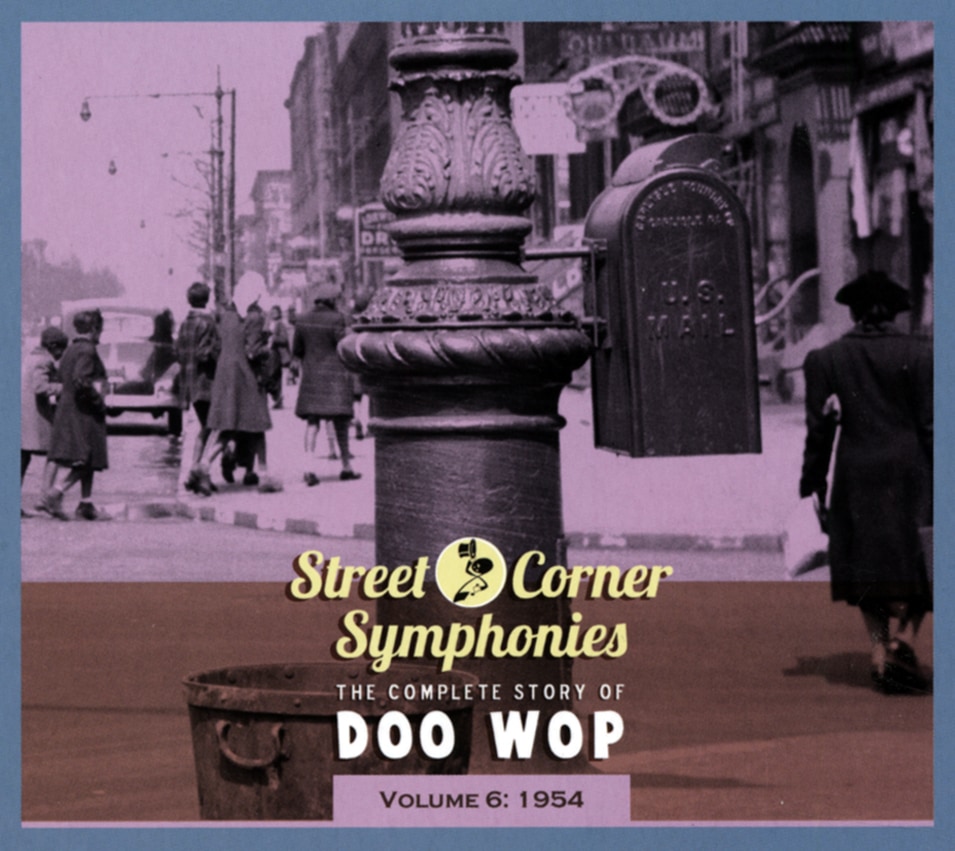 The Checkers were King Records' principal hard-luck group prior to The '5' Royales' arrival. One first-class release after another failed to crease the R&B charts the way their labelmates, The Dominoes, had. Their 10 King singles frequently earned regional success, but a national hit always proved elusive.
The New York group had made its King debut in 1952, constructed around the booming bass of ex-Dominoes lead Bill Brown (who portrayed the lusty 'Lovin' Dan' on their '51 mega-smash Sixty-Minute Man) and another former Domino, tenor Charlie White, who left The Checkers to join The Clovers in early '53. White was initially replaced by ex-Sparrows tenor Perry Heyward, then ex-Drifter Little David Baughan, whose uncanny vocal similarity to Clyde McPhatter would have made it problematical to stay a Drifter for long. Tenor Irvin 'Teddy' Williams, there from the beginning, and a baritone only recalled as 'Joe' or 'Buddy' rounded out The Checkers as they headed into 1954.
The group had come close several times to breaking through with such gems as Flame In My Heart (it's on our '52 disc) and an upbeat treatment of the wartime anthem White Cliffs Of Dover (you'll find it on our 1953 volume). King A&R man Henry Glover had been in charge of The Checkers' output from the outset. He wrote the eerie ballad House With No Windows, a Baughan showcase cut March 12, 1954 that's as accurate a McPhatter knockoff as you're likely to find. It was issued the next month with another track from the same date, the ribald Don't Stop Dan (Brown reviving his horny alter ego), as its flip. Both sides were tabbed as regional sellers, but as usual they didn't quite make the national grade.
This edition of The Checkers was history by late spring. Baughan replaced McPhatter in The Drifters when Clyde was drafted, becoming the first in a never-ending series of Drifters replacement lead tenors. Brown recruited tenor Eddie 'Monkey Man' Harris of The Blue Dots to replace him, adding second tenor David Martin of The Sparrows and baritone James Williams so The Checkers could make a last date for King in October. Neither Mama's Daughter b/w I Wasn't Thinking, I Was Drinking nor Can't Find My Sadie b/w Trying To Hold My Gal changed the quartet's luck, and Brown gave up in 1955. King brought back the Checkers name three times late in the decade to release stuff by totally unrelated groups.
- Bill Dahl -
Various Vol.6, Street Corner Symphonies 1954
Read more at: https://www.bear-family.de/various-vol.6-street-corner-symphonies-1954.html
Copyright © Bear Family Records
Bewertungen lesen, schreiben und diskutieren...
mehr
Kundenbewertungen für "Checkmate - Complete King Recordings 192-1955 (CD)"
Bewertung schreiben
Bewertungen werden nach Überprüfung freigeschaltet.
Weitere Artikel von The Checkers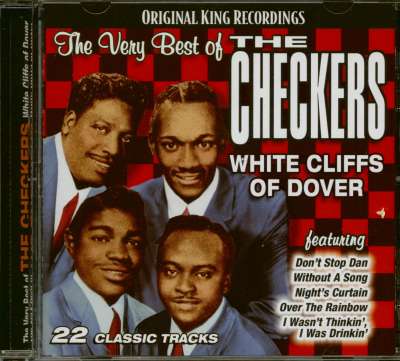 The Checkers: White Cliffs Of Dover - The Very Best Of The...
Art-Nr.: CDCOL2888


Sofort versandfertig, Lieferzeit** 1-3 Werktage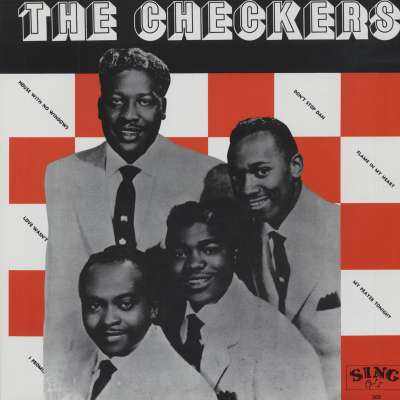 The Checkers: The Checkers
Art-Nr.: LPSING503


Sofort versandfertig, Lieferzeit** 1-3 Werktage