Der Artikel wurde erfolgreich hinzugefügt.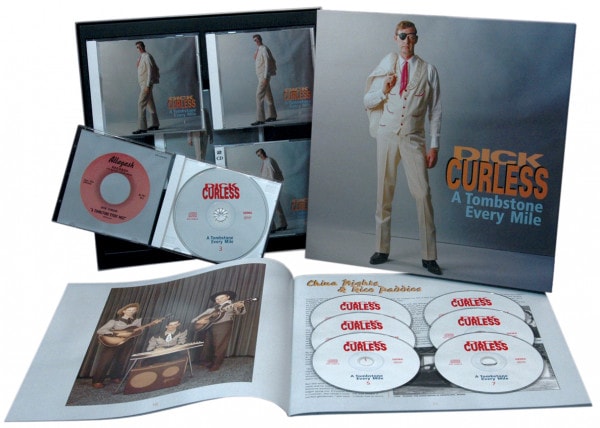 Benachrichtigen Sie mich, sobald der Artikel lieferbar ist.
109,95 € *
119,95 € *
(8,34% gespart)
inkl. MwSt. / zzgl. Versandkosten
Artikel derzeit nicht verfügbar, Lieferfristen von bis zu 2-3 Wochen sind zu erwarten. (soweit verfügbar beim Lieferanten - kann schneller gehen, manchmal aber leider auch nicht)
Artikel-Nr.:

BCD15882

Gewicht in Kg.:

1.5
7-CD Box (LP-Format) mit 48-seitigem Buch, 190 Einzeltitel. Spieldauer ca. 511 Minuten. Obwohl...
mehr
Dick Curless: A Tombstone Every Mile (7-CD)
7-CD Box (LP-Format) mit 48-seitigem Buch, 190 Einzeltitel. Spieldauer ca. 511 Minuten.

Obwohl der Name Dick Curless nicht jedem geläufig ist, besaß er eine der besten Stimmen in der Country Music mit einer riesigen stimmlichen Skala. A Tombstone Every Mile war sein größter Hit und er ist hier enthalten zusammen mit allen anderen Tower Aufnahmen bis 1969. Diese Aufnahmen sind so wie viele Menschen den Künstler in Erinnerung haben aber seine frühen Aufnahmen sind noch schöner. Beginnend mit den 78er Aufnahmen für Standard von 1950 enthält diese Anthologie alle Event und Tiffany Aufnahmen, veröffentlichte und unveröffentlichte. Seine besten Aufnahmen waren die intimen Songs aufgenommen mit spartanischer Begleitmusik mit u.a. Lenny Breau von vor 1960. Sie entstanden in kleinen nicht kommerziellen Studios in Maine und Massachusetts, in denen er arbeitete bevor die Tower Veröffentlichungen entstanden. Wir haben die ersten Übertragungen ausgegraben, die entstanden als er in Korea Militärdienst verrichtete und als The Rice Paddy Ranger auftrat, außerdem bis dahin ungehörte Bänder, mit denen er sich bei Event bewarb. So wenig bekannt er auch sein mag, Sie werden nicht enttäuscht sein von der Musik in dieser Box. Leider ist Dick Curless gestorben, ehe sie fertig gestellt war.
Artikeleigenschaften von

Dick Curless: A Tombstone Every Mile (7-CD)
Albumtitel:

A Tombstone Every Mile (7-CD)

Genre

Country

Edition 2

Deluxe Edition

Preiscode

GI

Artikelart

Box set

EAN:

4000127158826

Gewicht in Kg:

1.5
Curless, Dick - A Tombstone Every Mile (7-CD)

Box set 1
01
Ida Dance (instrumental)
02
Jelly Doughnuts
03
Fiddler's Dance (instrumental)
04
Cottage In The Pines
05
Cupid's Arrow (1)
06
Baby Darling
07
Naponee
08
Rocky Mountain Queen
09
Streets Of Laredo (1)
10
Foggy Foggy Dew
11
China Nights (3)
12
Blues In My Mind (2)
13
Lovin' Dan-Sixty Minute Man
14
Blue Yodel #6 (Midnight Turning Day Blues)
15
Bright Lights And Blonde..(I'm Getting Tired)
16
Travelin' Man
17
I'm Ragged But I'm Right
18
St. James Infirmary
19
You Never Miss The Water (Till The Well...)
20
Rosalita
21
Just A Closer Walk With Thee
22
Please Don't Pass Me By
23
Nine Pound Hammer (1)
24
Rocky Mountain Queen (with overdub)
Curless, Dick - A Tombstone Every Mile (7-CD)

Box set 2
01
I Am A Pilgrim
02
Tuck Me To Sleep In my Old Kentucky Home
03
I Ain't Got Nobody
04
Rainbow In My Heart
05
Something's Wrong With You
06
Evil Hearted Man Blues
07
I Dreamed Of A Hillbilly Heaven
08
Deck Of Cards
09
High Noon
10
Strawberry Roan
11
Red River Valley
12
Cowboy Jack
13
On Top Of Old Smokey
14
Home On The Range
15
Bury Me Not On The Lone Prairie
16
Chisholm Trail
17
I Ride An Old Paint
18
Whoopie Ti Yi Yo
19
Green Grow The Lilacs
20
The Last Roundup
21
The Crawdad Song
22
The Rock Island Line
23
Don't Fence Me In
24
The Big Rock Candy Mountain
25
Rovin' Gambler
26
Molly Darlin'
Curless, Dick - A Tombstone Every Mile (7-CD)

Box set 3
01
Liza Jane
02
Careless Love
03
Buffalo Gal
04
San Antonio Rose
05
Little Brown Jug
06
I've Been Working On The Railroad
07
Silver Threads Among The Gold
08
You Tell Me Your Dream, I'll Tell You Mine
09
I Was Seeing Nellie Home
10
Beautiful Dreamer
11
My Old Kentucky Home
12
Whispering Hope
13
What A Friend We Have In Jesus
14
Rock Of Ages
15
The Church In The Wildwood
16
Bring Them In
17
Onward, Christian Soldiers
18
Nearer My God To Thee
19
In The Garden
20
Jesus Loves Me
21
I Love To Tell The Story
22
The Old Rugged Cross
Curless, Dick - A Tombstone Every Mile (7-CD)

Box set 4
01
Heart Talk (1)
02
Streets Of Laredo (2)
03
King Of The Road
04
Uncle Tom
05
China Nights (4)
06
Six Times A Day
07
Cupid's Arrow (2)
08
Down By The Old River
09
Teardrops In My Heart
10
Nine Pound Hammer (3)
11
Sunny Side Of The Mountain
12
'Tater Raisin' Man
13
The Friend That Makes It Four
14
Mama's Hands
15
Mom And Dad's Waltz
16
Daddy And Home
17
I'm Going Home
18
Buckaroo
19
Little Terry
20
Please Don't Make Me Go
21
You, You, Only You (& KAY ADAMS)
22
Terrible Tangled Web (& KAY ADAMS)
23
A Devil Like Me Needs An Angel...(& K. ADAMS)
24
No Fool Like An Old Fool (& KAY ADAMS)
25
Old Standby (& KAY ADAMS)
26
Too Late (& KAY ADAMS)
27
I Can't Stop (My Lovin' You) (& KAY ADAMS)
28
For Ever And Ever (& KAY ADAMS)
29
Congratulations, You're Absolutely..(& ADAMS)
30
Heart Talk (2) (& KAY ADAMS)
Curless, Dick - A Tombstone Every Mile (7-CD)

Box set 5
01
The Baron
02
Memories, And Old Picture And A Ring
03
A Good Job Hunting And Fishing
04
How Do I Say Goodbye
05
I Didn't Know Love Was This Way
06
House Of Memories
07
All Of Me Belongs To You
08
My Side Of The Night
09
The Game Of Love And Poker
10
Try And Leave Me
11
(Standing) On The Outside Looking In
12
Hello Honey
13
Nobody
14
Hobo
15
Tears Of Saint Ann
16
I Went Bad For A Pretty Girl
17
Tornado Tillie
18
Life Goes On
19
Big Foot
20
Mumble Boogy
21
You Can't Go Back Again
22
Shoes
23
When Dad Was Around
24
End Of The Road
25
Bury The Bottle With Me
26
Wrinkled, Crinkled, Wadded Dollar Bill
27
Just For The Record
28
I'm Worried About Me
Curless, Dick - A Tombstone Every Mile (7-CD)

Box set 6
01
Secret Of Your Heart
02
I Ain't Got Nobody
03
Bummin' On Track E
04
Secret Of Your Heart
05
The Wild Side Of Town
06
Nobody Knows You, When You're Down And Out
07
Things
08
Easy Woman
09
Down On The Corner At Kelly's
10
Tonight's The Night My Angels Halo Fell
11
Maybe I'll Cry Over You
12
It's Nothing To Me
13
The Good Old Days
14
Over The Edge
15
Blue Is A Beautiful Color
16
A Good Year For The Wine
17
Tears Instead Of Cheers
18
All I Need Is You
19
A Brand New Bed Of Roses
20
Be Here To Love Me
21
Kentucky Boy
22
Fanning The Flame
23
The Sun
24
Somebody Else
25
Jamaica Farewell
Curless, Dick - A Tombstone Every Mile (7-CD)

Box set 7
01
The Golden Rocket
02
Just A Closer Walk With Thee
03
I'm In Love Again
04
I Walk The Line
05
Something's Wrong With You
06
China Nights (2)
07
Evil-Hearted Man Blues
08
Marianne
09
Blues In My Mind (1)
10
Down By The Riverside
11
Oh, Lonesome Me!
12
Where Is Your Heart Tonight
13
I Can Get Along Without You Now
14
Nine Pound Hammer (2)
15
What Do I Care
16
There's Been A Change In Me
17
After All I Ain't Got Much To Lose (live)
18
Sunny Side Of The Mountain (live)
19
Monday Night (Arthur Godfrey Show)
20
Nine Pound Hammer (Arthur Godfrey Show)
21
China Nights (Arthur Godfrey Show)
22
Just A Little Lovin' (Arthur Godfrey Show)
23
I Am A Pilgrim (Arthur Godfrey Show)
24
Tuck Me To Sleep (Arthur Godfrey Show)
25
Montreal Express (commercial)
26
Station Breaks
27
The Tumbleweed Kid (BILLY D. HUNTER)
DICK CURLESS Hard, Hard Traveling Man Die ersten 20 Jahre der Karriere von Dick Curless,...
mehr
"Dick Curless"
DICK CURLESS
Hard, Hard Traveling Man
Die ersten 20 Jahre der Karriere von Dick Curless, einschließlich der ersten Aufnahmen von'The Tumbleweed Kid', werden in der 5-CD-Box (BCD 15882) ausführlich vorgestellt. Diese zweite Box knüpft dort an, wo die erste endete, und setzt sich bis zur letzten von Curless' Aufnahmen für Capitol Records im Jahr 1973 fort. Es endet mit einer unerwarteten Sammlung von Heimaufnahmen, die eine Offenbarung für die Fans von Curless sein wird, und eine Visitenkarte für diejenigen, die seine Musik kaum kannten oder verstanden haben.
Mit den Fakten von Dick Curless' Leben und Karriere auf BCD 15882 haben wir mehr Spielraum, um über den Mann selbst und seine Musik nachzudenken. Curless' Stimme hat schon immer Aufmerksamkeit erregt. Schon früh war klar, dass er mehr als nur ein Country-Sänger war. Zum einen war er aus Maine. Das bedeutete kein Country-Drawl; nichts von dem vertrauten Twang, der mit Country-Musik assoziiert wird. Seine Stimme selbst war eine Einladung an Kritiker, die eine Herausforderung liebten. "Denk an Ray Price mit viel mehr Seele", beobachtete der Kritiker Matt Nozzolio. "Stellen Sie sich Johnny Cash mit Merle Haggards Kontrolle und Reichweite vor", schlug Jon Johnson vor. Es gab Elemente der Wahrheit in beiden Vergleichen, und andere auch. In der Tat, je tiefer man sich in Curless' aufgenommenes Werk vertiefte, desto offensichtlicher wurde es, dass dieser Sänger nicht nur ein Ein-Trick-Pony war.
Die Musik auf diesem Set beginnt im Januar 1970, nachdem Curless' Plattenvertrag von Tower Records, der heute nicht mehr existierenden Tochtergesellschaft, auf Capitol, die Muttergesellschaft, übertragen wurde. Die Suche nach dem Zauber des unerwarteten Treffers von Curless aus dem Jahr 1966 ging weiter, ja war bereits seit 1966 im Gange. Wie die meisten Hit-Platten schien der Prozess mühelos, während er stattfand. Erst nachdem sich der Staub gelegt hatte, begann die eigentliche Arbeit - den Erfolg von A Tombstone Every Mile wieder einzufangen.
IN EINEM LASTWAGEN STECKEN GEBLIEBEN
In den fünf Jahren zwischen Curless' Mega-Hit und der letzten Tower-Session 1969 war klar geworden, dass Dick Curless ein von einer Formel gefangener Künstler war. Er wurde fast überall als "Lkw-Fahrer" wahrgenommen, als "Reisender". Das war seine Heimat, sein Weg zum Erfolg und sein zuverlässigster Zahltag.
In den Filmen nennt man es Typ Casting. Die meisten Künstler, die in einer solchen Kraft gefangen sind, genießen eine Hassliebe zu ihrem Image, ebenso wie die Produzenten, die es durchsetzen. Curless war nicht anders, und das aus gutem Grund. Jede Session, die er 1970 machte, und es gab sieben davon, enthielt mindestens ein Lied mit einem direkten Bezug zur Straße, zu Lastwagen oder auf Reisen. Obwohl er sich durch solches Material schlafgewandelt haben mag, hat sich Curless weiterhin wie ein Profi verhalten und selbst das alltäglichste Material mit Würde inspiriert. Zumindest wusste er, dass Hit-Rekorde das Lebenselixier seiner Karriere waren. Zu diesem Zeitpunkt schrieb oder adaptierte Curless nicht sein eigenes Material, so dass sich seine Einnahmen auf Rekordverkäufe und persönliche Auftritte beschränkten. Beide von denen, die Ihren Namen in den Charts haben wollten, und der beste - oder zumindest sicherste - Weg in die Charts war, indem sie sich wieder einmal als der hart reisende Mann ausga
ben, müde von den Interstates und Truckstops, aber dennoch glatt in ihren Wegen.
Und so nahm Dick Curless weiterhin in einem vertrauten Stil auf. Im Gegenzug, die Öffentlichkeit weiterhin ihren Teil zu tun und kaufen seine Singles. Big Wheel Cannonball, von der ersten Session 1970, schaffte es in die Charts und blieb dort für 11 Wochen und erreichte Platz 27. Curless' nächste Single (Hard, Hard Traveling Man), die drei Monate später aufgenommen wurde, fand ebenfalls die Mitte der Charts (#31) und blieb dort für 10 Wochen. Und wie ein Uhrwerk landete die nächste Platte (Drag 'Em Off The Interstate, Sock It To 'Em, J.P. Blues) auf Platz 29 und blieb 9 Wochen auf den Charts. Das Muster setzte sich fort mit seiner nächsten Single, Juke Box Man, aufgenommen im November 1970. Auch sie blieb 9 Wochen lang in den Charts und erreichte Platz 41.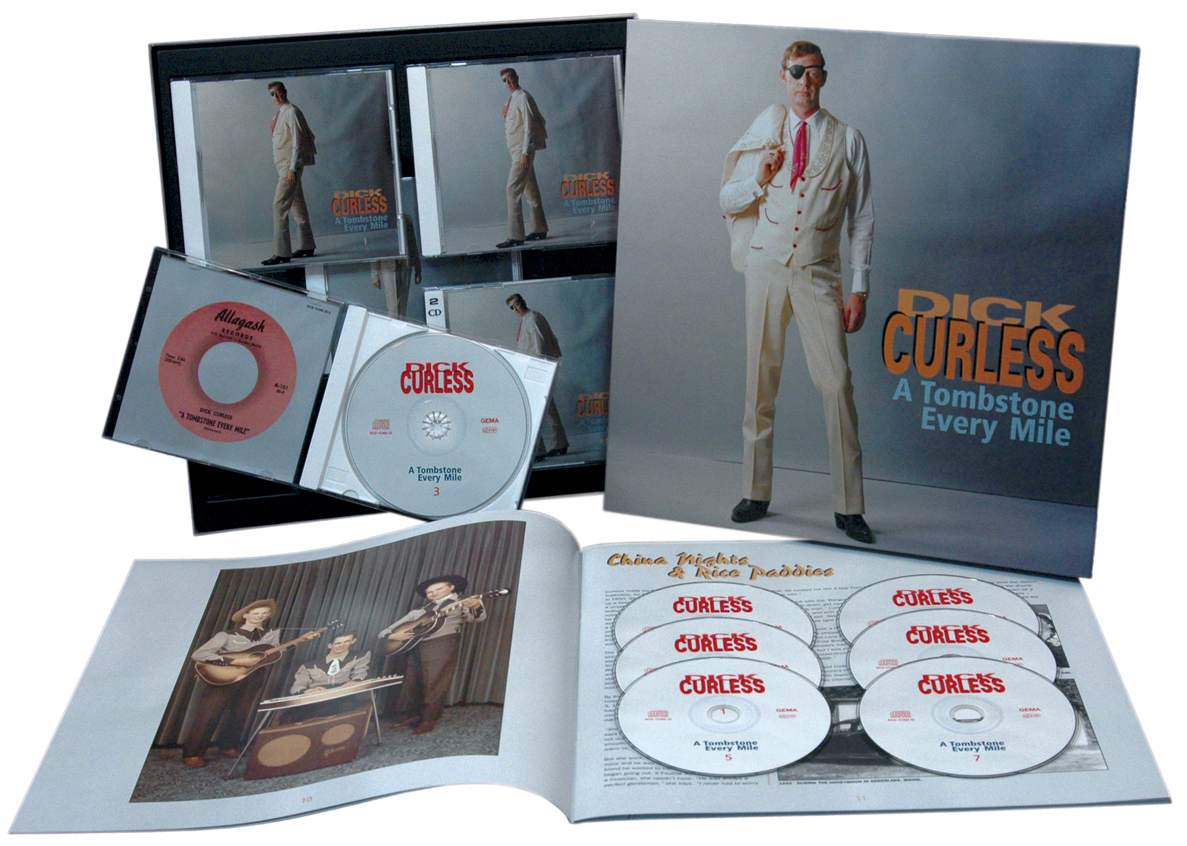 Auch im folgenden Jahr setzte sich das Muster des mittleren Erfolgs fort. 1971 begann mit Curless' nächster Single Loser's Cocktail auf Platz 36 der Charts und 9 Wochen Aufenthalt. (Die gleiche Session produzierte I Gave Up Getting Over You Today, ein vollkommen konventionelles Stück aus den 1970er Jahren, das jeder, ohne Curless' besondere Geschenke, aufgenommen haben könnte. Am folgenden Tag (4. Februar 1971) verwöhnte Curless wieder das Gewöhnliche mit Old Ramblin' Alabama Me, doch schon auf dem nächsten Track in der Session (Sweeter Than Honey) wandte er sich dem Material mit starkem Blues-Effekt zu. Leider wurde das Material als Albumfüller veröffentlicht. Als nächstes war es der alte Joe Henderson R&B Song von 1962 Snap Your Fingers, der auf Platz 40 stand und 10 Wochen in der Nähe blieb. (Während die Ergebnisse für Curless mäßig erfolgreich waren, waren sie nichts im Vergleich zu Randy Travis mehrere Jahre). Das Jahr ging weiter mit zwei weiteren Chart-Singles, Januar, April und ich, die ihren Höhepunkt bei #34 erreichten und 11 Wochen dauerten, und dem easy going, aber letztendlich trite Stonin' Around, das mit einem 9-Wochen-Chartlauf #31 erreichte.
Dick Curless Hard, Hard Traveling Man (4-CD)
Read more at: https://www.bear-family.com/curless-dick-hard-hard-traveling-man-4-cd.html
Copyright © Bear Family Records
Bewertungen lesen, schreiben und diskutieren...
mehr
Kundenbewertungen für "A Tombstone Every Mile (7-CD)"
Bewertung schreiben
Bewertungen werden nach Überprüfung freigeschaltet.
Weitere Artikel von Dick Curless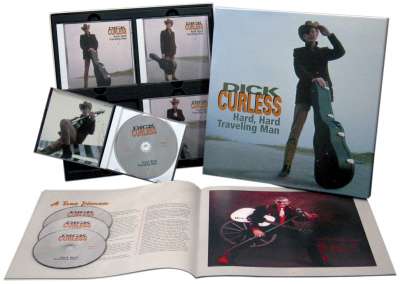 Dick Curless: Hard, Hard Traveling Man (4-CD)
Art-Nr.: BCD16171


Sofort versandfertig, Lieferzeit** 1-3 Werktage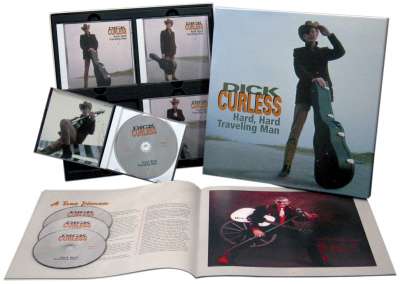 Dick Curless: Hard, Hard Traveling Man (4-CD)
Art-Nr.: BCD16171


Sofort versandfertig, Lieferzeit** 1-3 Werktage