Der Artikel wurde erfolgreich hinzugefügt.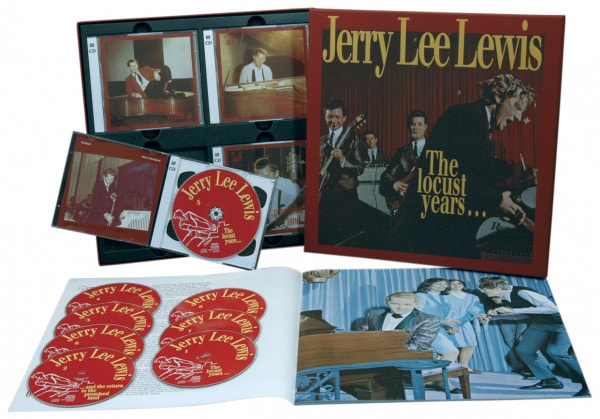 Benachrichtigen Sie mich, sobald der Artikel lieferbar ist.
116,95 € *
139,95 € *
(16,43% gespart)
inkl. MwSt. / zzgl. Versandkosten - Abhängig vom Lieferland kann die MwSt. an der Kasse variieren.
Artikel derzeit nicht verfügbar, Lieferfristen von bis zu 2-3 Wochen sind zu erwarten. (soweit verfügbar beim Lieferanten - kann schneller gehen, manchmal aber leider auch nicht)
Artikel-Nr.:

BCD15783

Gewicht in Kg.:

1.3
8-CD-Album Box Set (LP-Format) einschl. Interview-CD, mit 48-seitigem Buch, 166 Einzeltitel....
mehr
Jerry Lee Lewis: The Locust Years (8-CD Deluxe Box Set)
8-CD-Album Box Set (LP-Format) einschl. Interview-CD, mit 48-seitigem Buch, 166 Einzeltitel. Spieldauer ca. 428 Minuten.
1963 unterschrieb
Jerry Lee Lewis
einen Vertrag bei Smash Records und kämpfte gegen die Britische Invasion, die Teilnahmslosigkeit des Radios und eine allgemeine Ignoranz. Das Resultat war eine Menge guter Musik, die allerdings auf taube Ohren stieß. Hier finden Sie alles aus jenen fünf frustrierenden Jahren von Jerry Lee Lewis, darunter die kompletten großartigen Alben wie 'Memphis Beat', 'Return Of Rock', 'Country Songs For
City
Folks' sowie wunderschöne, jedoch in Vergessenheit geratene vergessene Singles wie
I'm On Fire
und
She Was My Baby He Was My Friend
.
Dieser Rückblick auf die Smash-Jahre 1963 bis 1969 von Jerry Lee Lewis endet mit den Country-Hits von 1968 und 1969, darunter
Another Place Another Time, What's Made Milwaukee Famous
und
She Even Woke Me Up To Say Goodbye
, mit denen die Karriere des Jerry Lee Lewis eine spektakuläre Wiedergeburt in der Country Music erfuhr. Als Bonus gibt es ein komplettes Interview von Jerry Lee Lewis mit Musik aus dem Jahre 1976.
Artikeleigenschaften von

Jerry Lee Lewis: The Locust Years (8-CD Deluxe Box Set)
Albumtitel:

The Locust Years (8-CD Deluxe Box Set)

Genre

Rock'n'Roll

Preiscode

HI

Edition 2

Deluxe Edition

Artikelart

Box set

EAN:

4000127157836

Gewicht in Kg:

1.3
Lewis, Jerry Lee - The Locust Years (8-CD Deluxe Box Set)

Box set 8
01
'Daddy Cool' BOOTH at the Beverly Hills Hotel
Jerry Lee Lewis
02
in January 19, 1976
Jerry Lee Lewis
Jerry Lee Lewis - The Killer Skandale, Familientragödien und unmäßiger...
mehr
"Jerry Lee Lewis"
Jerry Lee Lewis - The Killer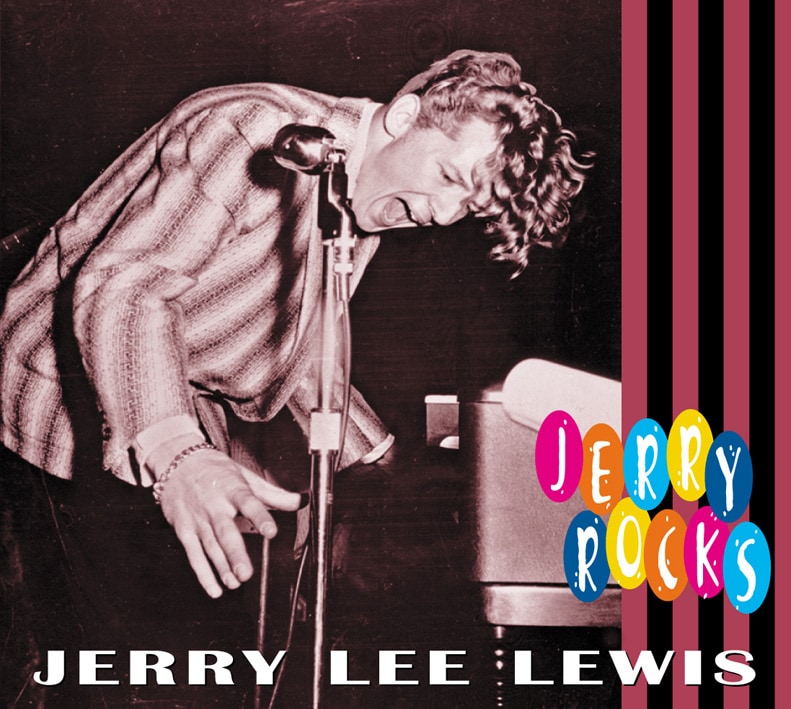 Skandale, Familientragödien und unmäßiger Alkoholkonsum begleiteten die wechselvolle Karriere von Jerry Lee Lewis. Mit seiner Musik, einer ganz eigenen Kombination aus Boogie, Rock'n'Roll und Country, gelangen ihm reihenweise Klassiker des Rock'n'Roll. Seine Auftritte, bei denen er Klaviere demolierte, brachten ihm den Spitznamen 'The Killer' ein. Geboren am 29. 9. 1935 in Ferriday, Louisiana, brachte ihm sein Vater Elmo das Klavierspiel bei. Jerry Lee Lewis begeisterte sich früh für die Rhythm & Blues Musik der schwarzen Community und für die Country Music der weißen Nachbarschaft. Seine Eltern, die andere Pläne mit ihm hatten, schickten ihn in einen Kirchenchor und später auf eine Predigerschule. Jerry Lee hatte seinen eigenen Kopf und brach die Schule nach kurzer Zeit ab, kehrte in seine Heimatstadt zurück, spielte im Schulorchester und trat schon in jungen Jahren in Nachtclubs auf. Im Alter von 16 Jahren heiratete Lewis 1952 Dorothy Barton, von der er nach 18 Monaten wieder geschieden wurde. Als Dorothy Jerry Lee Jr. zur Welt brachte, war er mit Jane Mitchum verheiratet.
Memphis, Tennessee, 1956
1956 spielte Jerry Lee Lewis in den Sun Studios von Sam Phillips vor. Phillips suchte jedoch nach Rockabilly Gitarristen. Aber sein Assistent Jack Clement war von Lewis' Boogie Piano angetan und brachte Lewis auf Rock'n'Roll Kurs. Als erste Single erschien 'Crazy Arms' 1956. Im Sommer 1957 folgte der Millionseller 'Whole Lotta Shakin' Goin' On' (GB #8, US #3), der weltweit sechs Millionen Mal verkauft wurde. Ende des Jahres erschien dann 'Great Balls Of Fire' (GB #1, US #2)!
Breathless!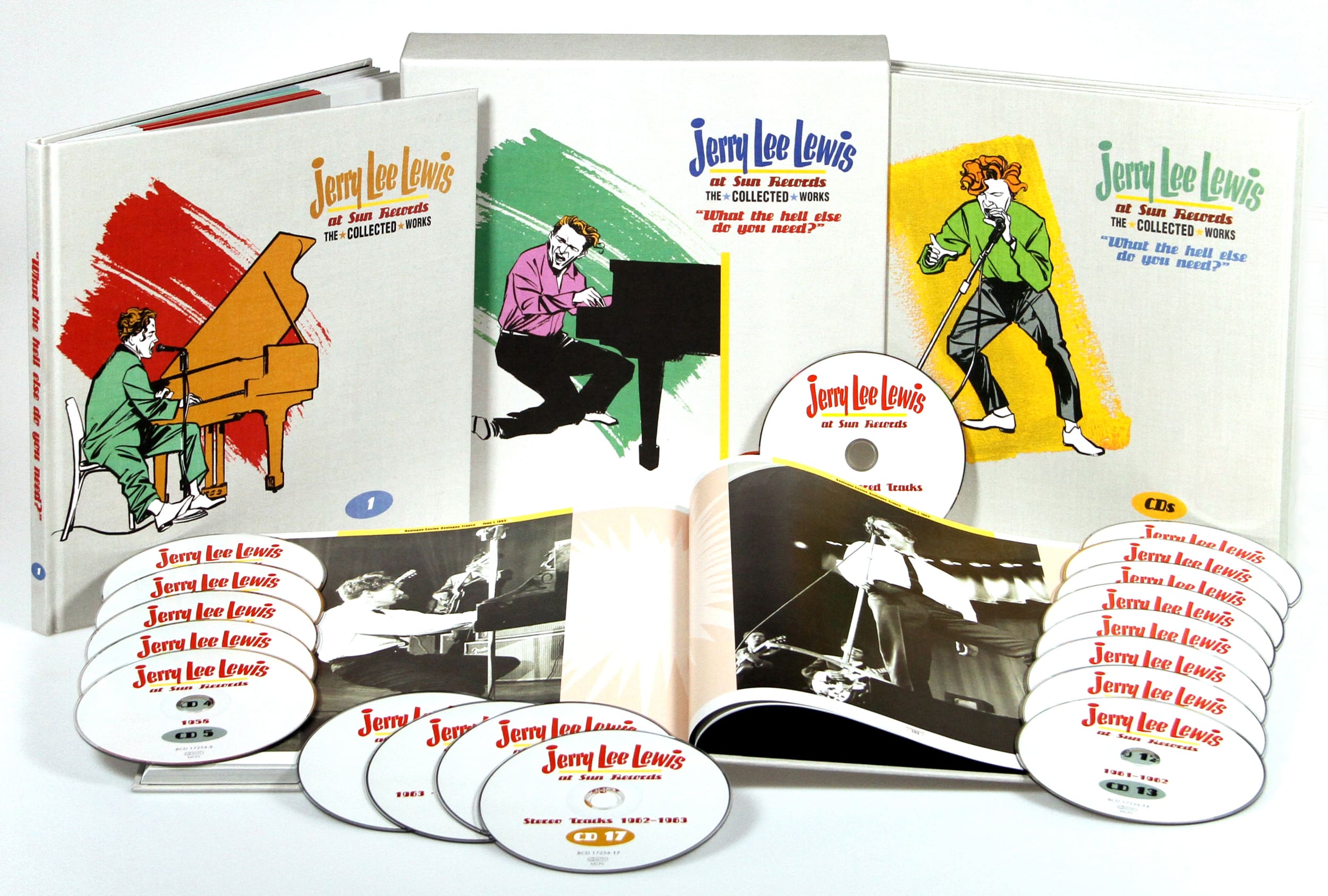 Bei seinen Auftritten kam es häufig zu Tumulten. Lewis verkörperte weit mehr als Elvis Presley den aufmüpfigen jugendlichen Rebellen. Private Eskapaden begleiteten den schnellen Aufstieg von Jerry Lee Lewis, der in den Filmen 'Disc Jockey Jamboree' (1957) und 'High School Confidential' (1958) mitwirkte. Bis 1959 hielt er sich mit den Titeln 'Breathless' (1958, GB #8, US #7), 'High School Confidential' (1958, GB #12, US #21) und 'Lovin' Up A Storm' (1959, GB #28) noch gut in den Charts.
Myra Lewis
Jerry Lee Lewis wurde weitestgehend boykottiert nachdem er 1958 seine erst 13-jährige Kusine Myra Gale heiratete. Nach einer Englandtournee konnte er sich in der ersten Hälfte der 60er Jahre wieder mit einigen Hits zurück melden. 'What'd I Say' kam 1961 (US #9) und 'Good Golly, Miss Molly' 1963 (US #28). 1964 folgte 'I'm On Fire'. Nach seinem Wechsel von der Plattenfirma Sun zum Smash Label, orientierte sich Lewis wieder stärker an der Country Music, was ihm bis 1968 einige Hits in den Country Charts einbrachte, wie 'Another Place, Another Time' und 'What's Made Milwaukee Famous'.
Love and Peace - Die Sixties
Jerry Lee war viel auf Tournee und trat in Clubs auf - das legendäre Konzert im Hamburger Star-Club 1964 ist allgegenwärtig. Aber er hatte auch massive Alkoholprobleme. 1965 war er auf Europatournee, wirkte in dem Film 'Be My Guest' mit und tourte im Sommer 1966 mit Herman's Hermits, Eric Burdon & The Animals und Lou Christie durch die USA. Er widmete sich weiterhin der Country Musik und gab ein Gastspiel in der TV-Serie der Monkees. Nach dem Toronto Live Peace Rock'n'Roll Revival Concert 1969 konnte auch wieder Rock'n'Roll Erfolge feiern. In den Country Charts war er mit 'To Make Love Sweet For You', 'There Must Be More To Love Than This', 'Would You Take Another Chance On Me' und seiner Version des Big Bopper Klassikers 'Chantilly Lace' vertreten. Mit den Singles 'Me And Bobby McGee' (US #48), 'Chantilly Lace' (US #42) und 'Drinkin' Wine Spo-Dee-O-Dee' (US #33) kehrte er zwischen 1971 und 1973 auch in die Pop-Hitlisten zurück.
Die London Sessions
1973 entstand mit englischen und deutschen Musikern, u. a. Rory Gallagher, Alvin Lee und Klaus Voormann, das Album 'The London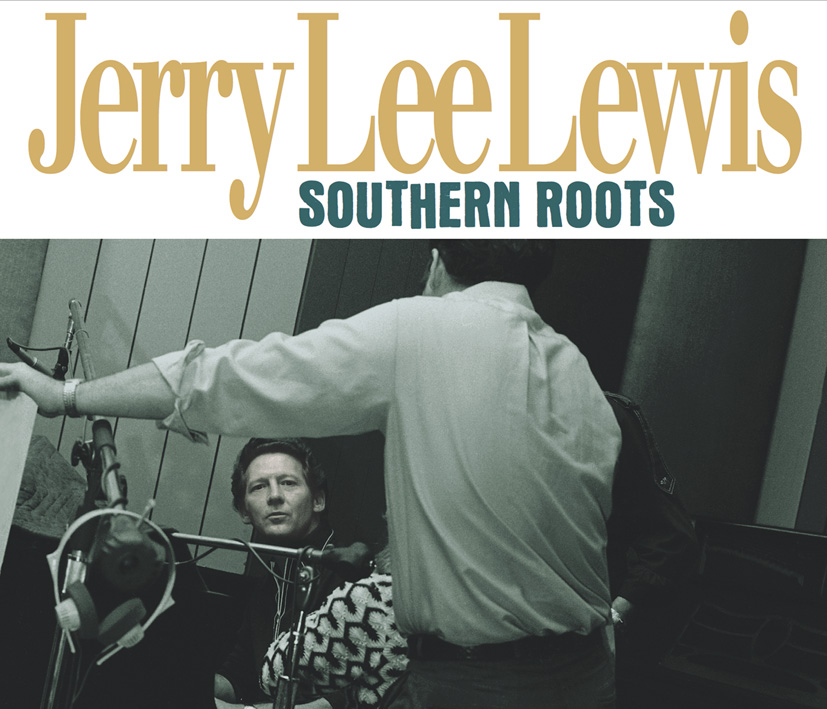 Sessions' (US #27), das Lewis mit einigem Erfolg wieder einem jüngeren Rock-Publikum näher brachte. Der Tod seines Sohnes Jerry Lee jr. hatte das 'Enfant Terrible der Rock'n'Roll Tasten' (Hifi Vision) jedoch völlig aus der Bahn geworfen. Im September 1976 sorgte er wieder für Schlagzeilen, als er an seinem Geburtstag seinen Bassisten Norman Owens versehentlich mit einem Revolver-Schuss verletzte. Acht Wochen später wurde er wegen Trunkenheit am Steuer kurzfristig in Polizeigewahrsam genommen. Zehn Stunden später wurde er erneut von der Polizei abgeführt, als er mit einem Luftgewehr in den Händen lautstark im Garten von Elvis Presleys Anwesen Graceland von sich gab, der wahre König des Rock'n'Roll zu sein. Der Rock'n'Roll Veteran hielt sich mit moderaten Countrysongs einigermaßen über Wasser und profitierte bei sporadischen Tourneen von seiner früheren Popularität. Inzwischen ergraut und etwas fülliger geworden, machte der 'Killer' seinem Namen noch immer alle Ehre und bearbeitete das Klavier mit Händen, Ellenbogen, Knien und Füßen. Im Konzert kam er mit seinen Klassikern noch immer an, aber im Studio wirkte Lewis ausgebrannt und müde.
Hot Damn - I'm A One Woman Man
1981 nahm er für den Soundtrack zu dem Film 'Roadie' den Song '(Hot Damn) I'm A One Woman Man' auf. Im April desselben Jahres beteiligte er sich an dem vom deutschen Fernsehsender SWR in Stuttgart organisierten Treffen der Sun Records Pioniere Johnny Cash und Carl Perkins, welches noch 1981 unter dem Titel 'The Survivors' auf Platte erschien. 1982 veröffentlichte seine in Atlanta lebende Exfrau Myra das Buch 'Great Balls Of Fire'. Am 7. 6. 1983 heiratete Lewis die damals 25-jährige Shawn Michelle Stevens, die am 24. August tot in seinem Haus aufgefunden wurde. Die gerichtliche Untersuchung ergab keine Verdachtsmomente, die gegen Lewis sprachen. 1984 sorgte ein Artikel im Rolling Stone noch einmal für Aufsehen. Die Mutter von Shawn behauptete, es sei zu Handgreiflichkeiten gekommen, als ihre Tochter von Scheidung sprach. Lewis hatte inzwischen die 22jährige Kerrie McCarver als die inzwischen sechste Frau geheiratet.
Great Balls Of Fire - Der Film
Jerry Lee Lewis überstand auch diese Skandale und begann 1985 mit den Arbeiten zu einem neuen Album. Im Januar 1986 wurde er in die 'Rock'n'Roll Hall of Fame' aufgenommen. Im Juni folgte er einer Einladung von Fats Domino zu dessen 'Fats Domino And Friends'-Veranstaltung in Nashville. 1989 wurde ein weiteres entscheidendes Jahr in der Karriere von Jerry Lee Lewis. Sein Leben wurde unter dem Titel 'Great Balls Of Fire' mit Dennis Quaid in der Hauptrolle verfilmt. Im Juli kam der Streifen in die Kinos. Bereits im Juni wurde Jerry Lee Lewis auf dem Hollywood Walk of Fame mit einem Stern geehrt. Und im November stand er dann im Hammersmith Odeon in London mit Van Morrison, Dave Edmunds und Brian May von der berühmten Gruppe Queen auf der Bühne.
It Was The Whiskey Talkin'
1992 war Jerry Lee Lewis mit dem Song 'It Was The Whiskey Talkin' (Not Me)' gleich zwei mal auf dem Soundtrack zum Kinohit 'Dick Tracy' vertreten. Mit einer Country- und einer Rock'n'Roll Version. Im selben Jahr ging er auf eine äußerst erfolgreiche Europa Tournee. Auf dem im Herbst 1994 veröffentlichten Album 'Elvis Aaron Presley: The Tribute' sang er 'See See Rider'. Nach fast 12-jähriger Studio-Abstinenz veröffentlichte der 'graue Wolf des Rock'n'Roll' (Hamburger Morgenpost) 1995 das Album 'Young Blood'. Die positive Aufnahme der CD ermutigte Lewis zu einer Europatournee, mit der er 'zwei Jahrzehnte musikalischer Trübsal beendete' (dt. Rolling Stone).
Bewertungen lesen, schreiben und diskutieren...
mehr
Kundenbewertungen für "The Locust Years (8-CD Deluxe Box Set)"
Bewertung schreiben
Bewertungen werden nach Überprüfung freigeschaltet.
Weitere Artikel von Jerry Lee Lewis
Jerry Lee Lewis: Live At The Star-Club Hamburg (180gram vinyl)
Art-Nr.: BAF18006


Sofort versandfertig, Lieferzeit** 1-3 Werktage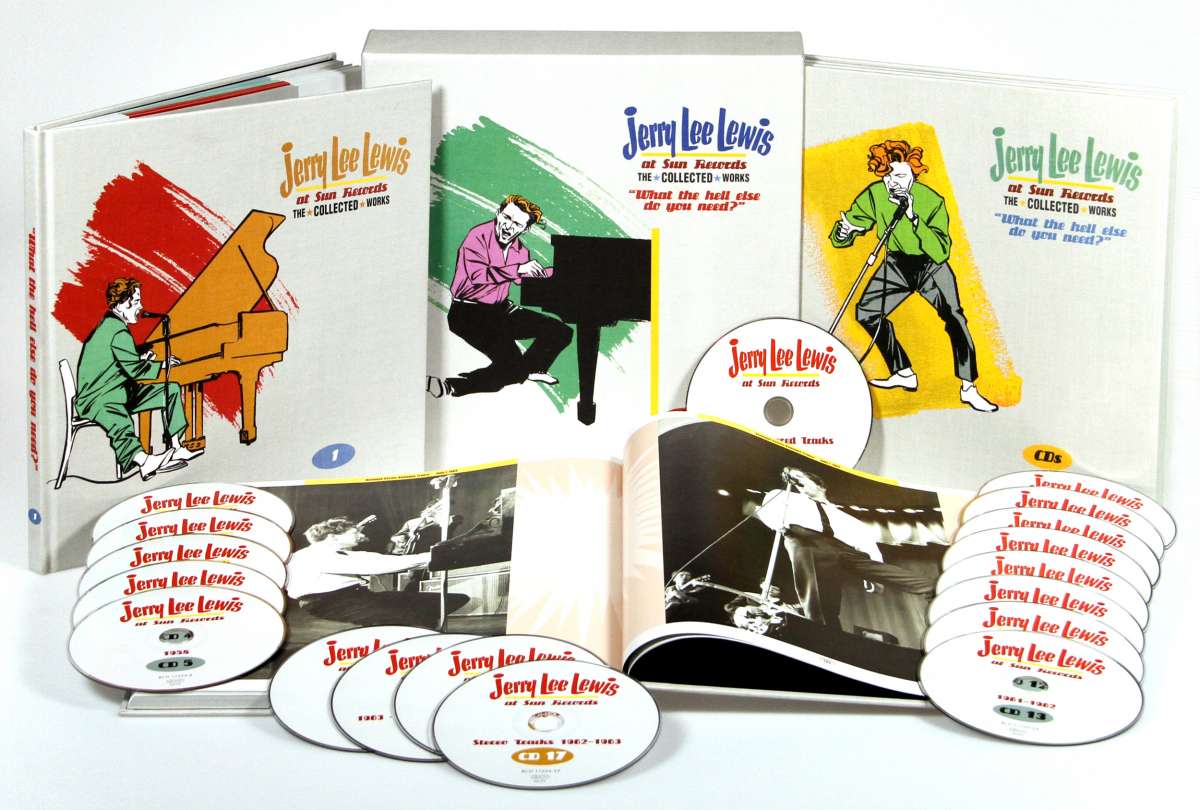 Jerry Lee Lewis: Jerry Lee Lewis At Sun Records The Collected...
Art-Nr.: BCD17254


Sofort versandfertig, Lieferzeit** 1-3 Werktage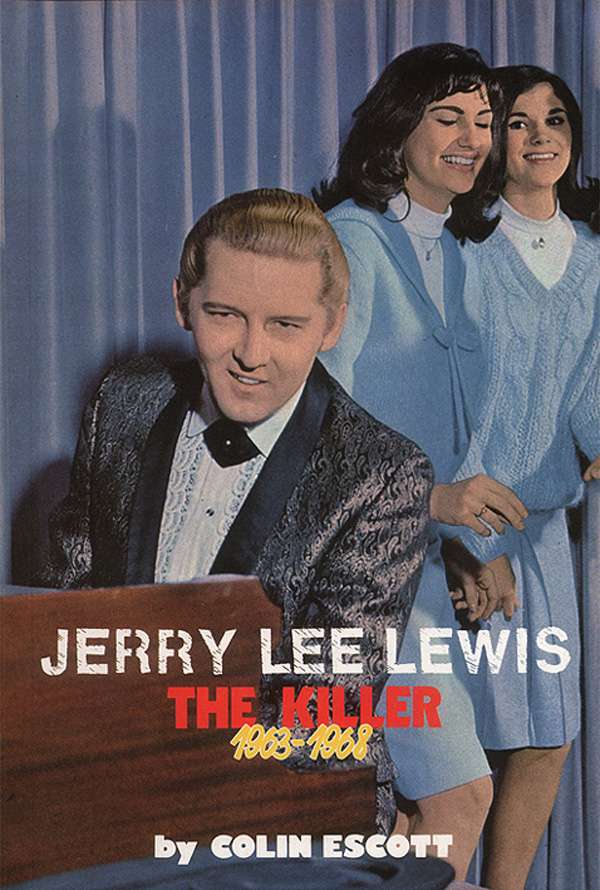 Jerry Lee Lewis: Jerry Lee Lewis - The Killer Vol.1 1963-68 by...
Art-Nr.: BFB10004


Sofort versandfertig, Lieferzeit** 1-3 Werktage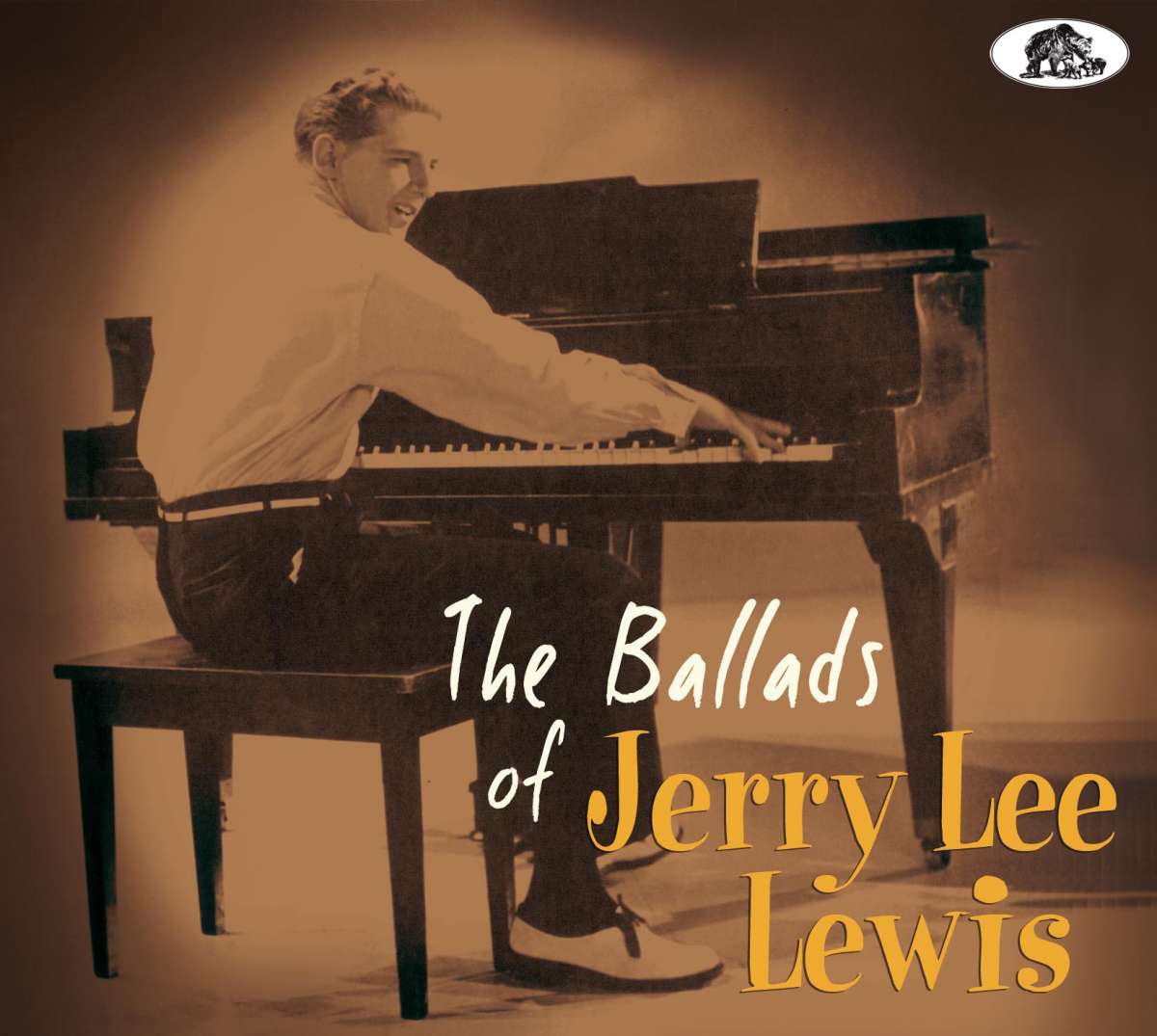 Jerry Lee Lewis: The Ballads Of Jerry Lee Lewis (CD)
Art-Nr.: BCD17544


Sofort versandfertig, Lieferzeit** 1-3 Werktage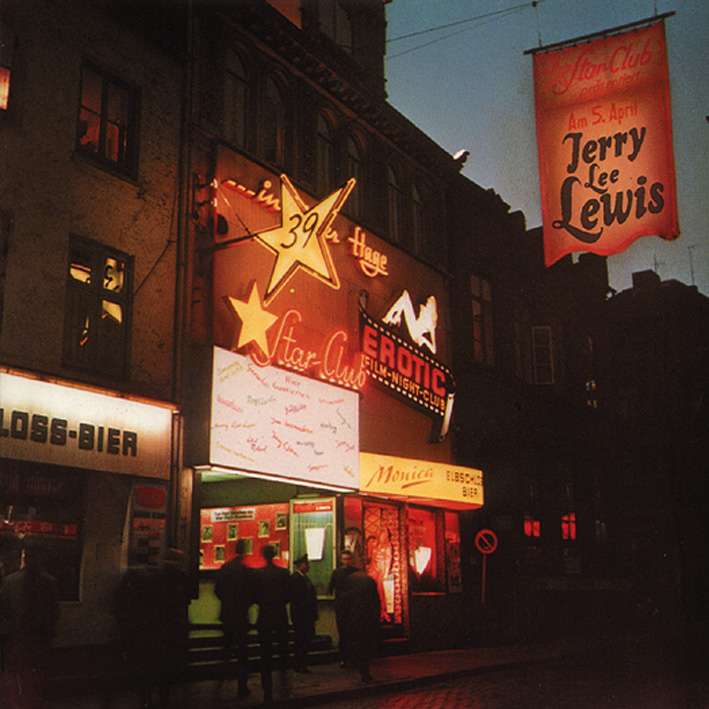 Jerry Lee Lewis: Live At The Star Club Hamburg (CD)
Art-Nr.: BCD15467


Sofort versandfertig, Lieferzeit** 1-3 Werktage