Der Artikel wurde erfolgreich hinzugefügt.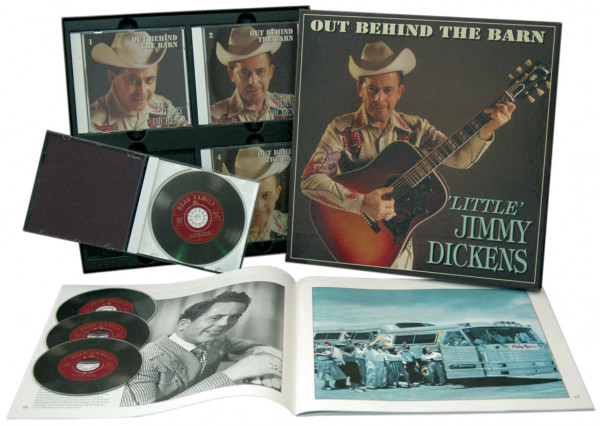 73,95 € *
79,95 € *
(7,5% gespart)
inkl. MwSt. / zzgl. Versandkosten - Abhängig vom Lieferland kann die MwSt. an der Kasse variieren.
Sofort versandfertig, Lieferzeit** 1-3 Werktage
Artikel-Nr.:

BCD16218

Gewicht in Kg.:

1.2
4-CD Box (LP-Format) mit 48-seitigem Buch, 101 Einzeltitel. Spieldauer ca. 245 Minuten. Mit...
mehr
Little Jimmy Dickens: Out Behind The Barn (4-CD Deluxe Box Set)
4-CD Box (LP-Format) mit 48-seitigem Buch, 101 Einzeltitel. Spieldauer ca. 245 Minuten.
Mit 'Out Behind The Barn' schreiben wie die Geschichte unserer ersten
Little Jimmy Dickens
Box fort. Diese Edition enthält alle seine Columbia -ufnahmen von 1957 bis 1966, insgesamt 95 Lieder auf vier CDs, einschließlich der seltenen Alben der Fünfziger- und Sechzigerjahre wie 'Big Songs', 'Handle With Care, 'Big Man In Country Music' und 'Out Behind The Barn'. Natürlich sind die Dickens-Klassiker wie
I Got A Hole In My Pocket, Another Bridge To Burn, When The Ship Hit The Sand, Life Turned Her That Way
und
When Your House Is Not A Home
enthalten.
In diesen Jahren sind auch die klassischen Neuaufnahmen der Hits
We Could
und
Out Behind The Barn
entstanden, sowie der internationale Pop- und Country-Hit
May The Bird Of Paradise Fly Up Your Nose
. Das 44-seitige Buch enthält viele seltene Fotos aus
Little Jimmy Dickens
eigenem Fotoalbum. Seine Erinnerungen an die Aufnahmesitzungen sind Bestandteil des Buches, ebenso wie eine neu-recherchierte Biografie vom WSM-Ansager
Eddie Stubbs
.
Artikeleigenschaften von

Little Jimmy Dickens: Out Behind The Barn (4-CD Deluxe Box Set)
Albumtitel:

Out Behind The Barn (4-CD Deluxe Box Set)

Genre

Country

Preiscode

DI

Edition 2

Deluxe Edition

Artikelart

Box set

EAN:

4000127162182

Gewicht in Kg:

1.2
LITTLE JIMMY DICKENS OUT BEHIND THE BARN Die Karriere von Little Jimmy Dickens umfasst...
mehr
"Little Jimmy Dickens"
LITTLE JIMMY DICKENS
OUT BEHIND THE BARN
Die Karriere von Little Jimmy Dickens umfasst fast sechzig Jahre. Von seinen bescheidenen Anfängen, als er stundenlang Verwandte beobachtete, während er versuchte, die Grundlagen der Rhythmusgitarre zu lernen, bis hin zur ultimativen Auszeichnung, als er in die Country Music Hall of Fame aufgenommen wurde, hat Little Jimmy Dickens alles gesehen und getan. Er erinnert sich noch lebhaft an sein Debüt im Radio, das wie ein Hahn kräht, seine Karriere als Sänger im Radio, der in verschiedene Teile des Landes hüpft, seine Mitgliedschaft in der weltberühmten Grand Ole Opry und die Tatsache, dass er der erste Country-Entertainer war, der die Welt auf einer Tournee komplett umrundet hat. Dabei hat er sich die Bewunderung mehrerer Generationen von Fans sowie seiner Zeitgenossen in der Branche verdient.
Jimmy Dickens begann 1949 mit den Aufnahmen für Columbia Records, und die 104 Aufnahmen, die er bis Januar 1957 machte, sind im ersten Teil unserer Retrospektive "Country Boy" (BCD 15848) enthalten. Diese Veröffentlichung greift die Geschichte auf und geht weiter durch Jimmys verbleibende neun Jahre bei Columbia.
Als diese Box beginnt, eroberte der Rock'n' Roll das Land im Sturm. Obwohl der Rock'n' Roll die Countrymusik, vor allem die traditionelleren Künstler, enorm verletzte, war Dickens davon nicht mehr betroffen als seine Zeitgenossen. Er hatte etwa zwanzig Jahre im Geschäft und hatte schon einige schwere Zeiten erlebt. Glücklicherweise war Dickens 1957 ein etablierter Star in der Countrymusik, um ihn fast ununterbrochen auf der Straße zu halten, in vielen Fällen bis zu dreihundert Tage im Jahr.
Im Laufe der Jahre bis in die 1960er Jahre änderte sich die Countrymusik in rasantem Tempo. Die Musik wurde weniger Country und mehr Pop, mit Begriffen wie'The Nashville Sound' und'Countrypolitan', um eine homogenere Kunstform zu beschreiben. In der Hoffnung, ein größeres Publikum anzulocken, wurden die Geige und die Stahlgitarre weitgehend durch Klavier, Nylonsaiten-Akustikgitarre, Saitenteile und Hintergrundstimmen ersetzt. In Anbetracht all dessen, was in der Branche in den Jahren, die in dieser Sammlung behandelt wurden, geschah, machte Jimmy Dickens einige Kompromisse, um mit der Zeit Schritt zu halten, aber in den meisten Fällen nicht annähernd so viele wie einige seiner Zeitgenossen.
Die meisten der hundert Titel, die in diesem Set aufgenommen wurden, sind mit Fiddle- und Steel-Gitarren-Instrumenten ausgestattet. Neben der Marke Dickens Neuheiten, für die er ursprünglich berühmt wurde, gibt es viele 4/4 Country Shuffles und zahlreiche herzliche Country Balladen - eine Dickens Spezialität. Beliebte Songs für Jimmy und andere aus dieser Sammlung, die von anderen Künstlern aufgenommen wurden, sind Family Reunion, (I Got) A Hole In My Pocket, Me And My Big Loud Mouth, When Your House Is Not A Home, Ich bin einfach blau genug (um das meiste zu tun), Abschiedsparty, das Veilchen und eine Rose, eine weitere Brücke zum Brennen, ich habe mich für dich nach hinten gelehnt, das Leben hat sie so gedreht, möge der Paradiesvogel deine Nase hochfliegen, meine Augen sind eifersüchtig und andere.
UP TO 1957
James Cecil Dickens wurde am 20. Dezember 1920 in der kleinen Gemeinde Bolt in Raleigh County, West Virginia, geboren. Der Älteste einer Familie von dreizehn, sieben Jungen und sechs Mädchen, Jimmy glaubt, dass seine Abstammung Englisch und Irisch ist. Die Gemeinde Bolt, in der Jimmy aufgewachsen ist, liegt achtzehn Meilen westlich von Beckley, wo der legendäre Volksheld John Henry lebte und arbeitete. In diesem Teil von West Virginia ist der Kohleabbau seit Jahren die größte Industrie.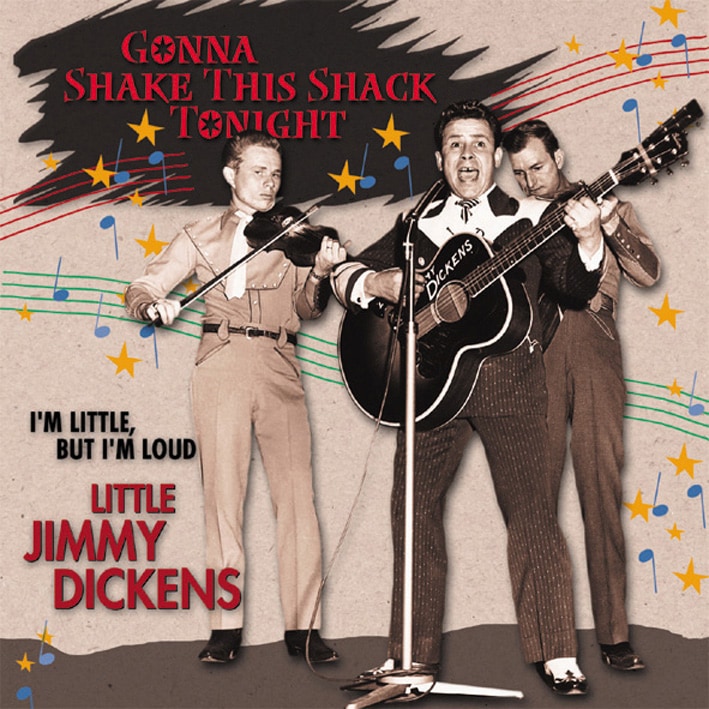 "Alle meine Leute waren Bergleute. Das ist alles, was sie wussten", erinnert sich Jimmy. "Mein Großvater Lewis Calvin Dickens und meine Großmutter Edna Young Dickens nahmen mich von einem Baby und zogen mich auf." Als er aufwuchs, verbrachte Jimmy auch viel Zeit mit seinen Tanten und Onkeln und erinnert sich, dass seine Mutter eher wie eine Tante für ihn war. Musik war bei Dickens' Verwandten im Überfluss vorhanden. "Meine Mutter spielte Gitarre, und drei Brüder meiner Mutter, Onkel Quince, Onkel Prince und Onkel Finley, spielten alle Gitarre und schlugen ein wenig auf einem alten fünfsaitigen Banjo herum."
Radio war auch musikalisch wichtig für Jimmy. "Meine ersten Erinnerungen waren an die Grand Ole Opry. Die Possum Hunters, die Gully Jumper, Onkel Dave Macon, Arthur Smith und die Delmore Brothers waren diejenigen, die ich als Kind in den Bergen von West Virginia hörte. Ich muss ungefähr 15 oder 16 gewesen sein, als ich anfing, wirklich Gitarre spielen zu wollen." Nachdem er seine Verwandten stundenlang intensiv beim Musizieren beobachtet hatte, dauerte es nicht lange, bis Jimmy selbst spielte und seinen ersten Talentwettbewerb in Pineville, West Virginia, gewann.
Jimmy besuchte öffentliche Schulen in Surveyor, West Virginia, etwa acht Meilen von Bolt entfernt. Trotz seiner kurzen Statur bei etwa vier Fuß sechs oder vier Fuß acht und einem Gewicht von 85 Pfund, spielte er drei Jahre lang in der Basketballmannschaft. Er war auch Manager der Fußballmannschaft und Cheerleader. Jimmy nahm aktiv an Schulaufführungen teil und nahm vier Jahre lang an der High School teil...
Little Jimmy Dickens Out Behind The Barn (4-CD)
Read more at: https://www.bear-family.com/dickens-little-jimm
y-out-behind-the-barn-4-cd.html
Copyright © Bear Family Records
Bewertungen lesen, schreiben und diskutieren...
mehr
Kundenbewertungen für "Out Behind The Barn (4-CD Deluxe Box Set)"
Von:
Keith McRobert
Am:
08.10.2020
Real good country music.
Little jimmy is at his peak in this box set. More honky tonk & less novelty numbers make this the box set to listen to.
Von:
Darcy Sullivan
Am:
18.05.2020
Big Box for Little Jimmy
Given how modern country would seem to want to forget Little Jimmy Dickens, it's a thrill to listen to these songs and read the book that comes with them. Some of us Baby Boomers grew up listening to May the Bird of Paradise Fly Up Your Nose!
Von:
Schweder
Am:
04.06.2014
Bewertung schreiben
Bewertungen werden nach Überprüfung freigeschaltet.
Weitere Artikel von Little Jimmy Dickens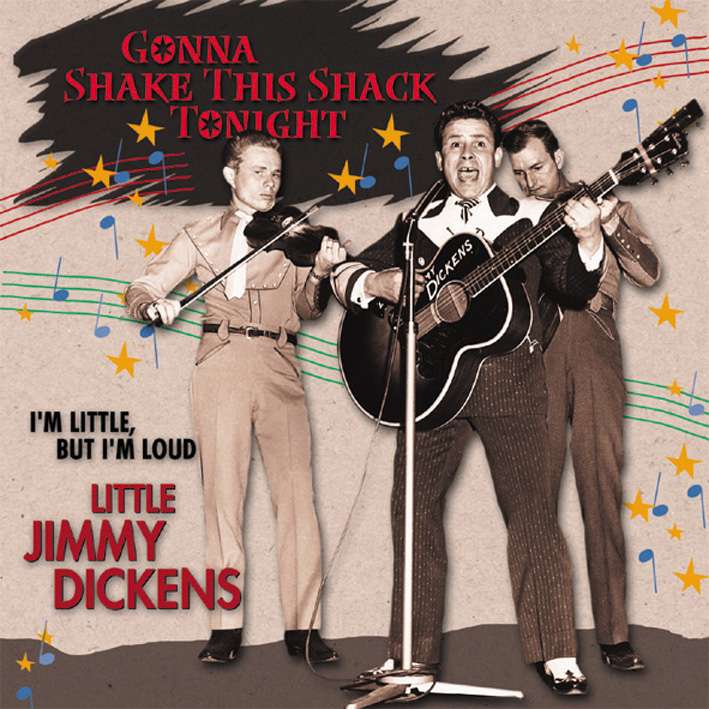 Little Jimmy Dickens: I'm Little But I'm Loud - Gonna Shake This ..
Art-Nr.: BCD16198


Sofort versandfertig, Lieferzeit** 1-3 Werktage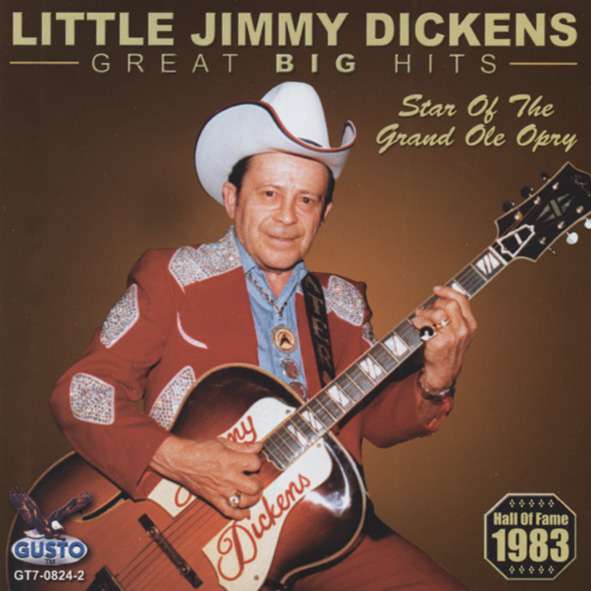 Little Jimmy Dickens: Great Big Hits
Art-Nr.: CDGT0824


Artikel muss bestellt werden