Der Artikel wurde erfolgreich hinzugefügt.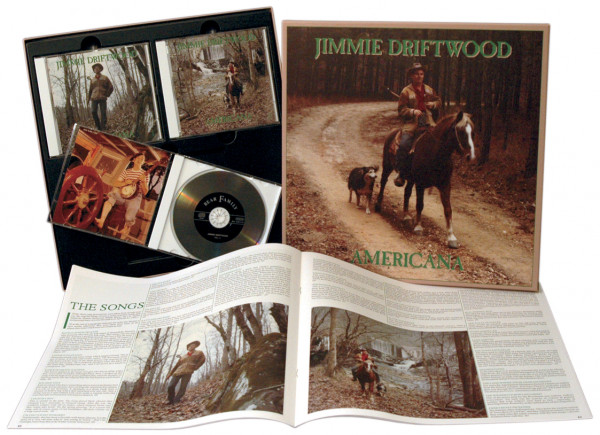 Dieser Artikel ist gestrichen und kann nicht mehr bestellt werden!
Benachrichtigen Sie mich, sobald der Artikel lieferbar ist.
Artikel-Nr.:

BCD15465

Gewicht in Kg.:

1.1
3-CD Box (LP-Format) mit 24-seitigem Buch, 82 Einzeltitel. Spieldauer ca. 205 Minuten. Man kennt...
mehr
Jimmie Driftwood: Americana (3-CD Deluxe Box Set)
3-CD Box (LP-Format) mit 24-seitigem Buch, 82 Einzeltitel. Spieldauer ca. 205 Minuten.
Man kennt
Jimmy Driftwood
als den Autor von 'Battle Of New Orleans'. Der Lehrer aus Arkansas, der Songs für einen anschaulichen Unterricht schrieb, war ein echter Einzelgänger. Er besaß ein ausgeprägtes Wissen über Geschichte und er spielte selbstgebaute Instrumente. Seine 82 Aufnahmen für RCA (hier komplett), nicht selten mit äußerst einprägsamen Melodien, bilden ein Vorratslager für amerikanische Geschichte und Folklore. Zusätzlich zum kompletten und unzensierten
Battle Of New Orleans
sind da solche Folk- und Country-Klassiker wie
Tennessee Stud, Arkansas Traveler, Sal's Got A Sugarlip, Billy Yank And Johnny Reb,
I'm A poor Rebel Soldier
und
First Covered Wagon
. Wenn Geschichtsunterricht doch immer derart unterhaltsam wäre
Artikeleigenschaften von

Jimmie Driftwood: Americana (3-CD Deluxe Box Set)
Albumtitel:

Americana (3-CD Deluxe Box Set)

Genre

Country

Edition 2

Deluxe Edition

Preiscode

CH

Artikelart

Box set

EAN:

4000127154651

Gewicht in Kg:

1.1
Jimmie Driftwood geb. 20. 6. 1907 in Mountain View - Arkansas Record Labels: RCA, United...
mehr
"Jimmie Driftwood"
Jimmie Driftwood
geb. 20. 6. 1907 in Mountain View - Arkansas Record Labels: RCA, United Artists, Monument Erster Hit: The Battle Of New Orleans (1959) James Corbett Morris, bekannt geworden unter dem Namen Jimmie Driftwood, ist Farmer und Lehrer, der sich der traditionellen amerikanischen Musik verschrieben hat. Er organisiert Festivals und schrieb Songs, die er selbst auf Schallplatten einspielte. Einige dieser Titel wurden von großen Country Stars übernommen und zu Hits gemacht.
Jimmie Driftwood
The Battle Of New Orleans
Tennessee Stud
What Color Is The Soul Of A Man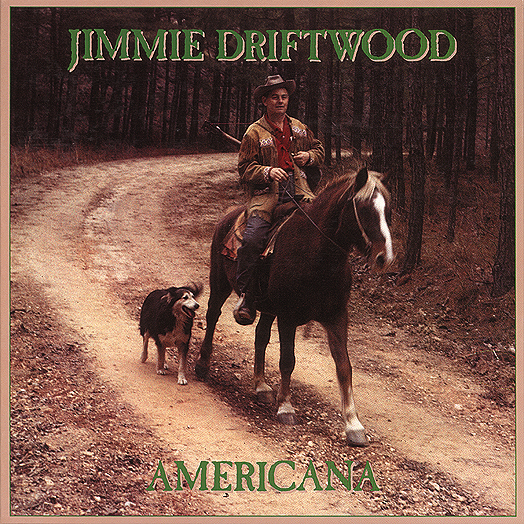 Verwurzelt in der Volksmusik seiner Heimat Ozark Mountains, war Jimmie Driftwood ein fruchtbarer, engagierter Singer-Songwriter. Zwei seiner Songs, The Battle Of New Orleans und Tennessee Stud, wurden zu Standards im amerikanischen Folk- und Country-Repertoire.
James Corbett Morris wurde am 20. Juni 1907 in Richwood, Arkansas, geboren. Er nahm die Volksmärchen und Geschichten der Bergmänner, Gehöfte, Indianer und Bürgerkriegsveteranen auf, die sich in der Region um Mountain View niederließen. Seine Urgroßmutter brachte ihm auch Lieder aus ihrer Carolina-Kindheit bei. Als Jugendlicher bekam er von seinem Großvater eine ungewöhnliche handgefertigte Gitarre geschenkt. Sein Hals war aus einer Zaunlatte, seine Seiten aus einem Ochsenjoch und seine Vorder- und Rückseite aus einem Bettkopfteil. Während es nicht viel Ton hatte, benutzte Driftwood es während seiner gesamten Karriere.
Nach dem Abitur 1928 besuchte er das John Brown College in Siloam Springs. Während der Höhe der Depression verließ er das College und reiste durch den Südwesten und ließ sich in Phoenix, Arizona nieder, wo er in einer wöchentlichen Radiosendung sang. Als er 1935 nach Arkansas zurückkehrte, begann er, Grundschüler in Timbo, 12 Meilen westlich von Mountain View, zu unterrichten. Da seine Schüler Schwierigkeiten hatten, historische Ereignisse zu erfassen, schrieb Driftwood seine Lektionen in Reimen und vertonte sie. Im Jahre 1936 passte er sein Gedicht über die Schlacht von New Orleans zum Geigenlied Achter Januar.
1936 heiratete Driftwood Cleda Johnson. Für folgende zwei Dekaden konzentrierte er sich auf das Unterrichten beim Sorgen der Nachtkategorien an der Arkansas Zustand-Lehrer-Hochschule. 1947 kaufte er einen 150 Morgen großen Bauernhof in Timbo. Nach seinem Abschluss in Erziehung im Jahr 1949 wurde Driftwood Direktor der Schneeballschule in Searcy County.
In diesen Jahren schrieb er mehr als hundert Lieder, meist über historische Ereignisse oder lokale Folklore. Im Jahr 1952 machte er ein Demo-Tape von mehreren Dutzend Songs und drückte privat eine Single, aber er wollte sie nie bei einem Verleger platzieren. Hugh Ashley, ein Freund von Driftwood, der Songs bei Red Foley, Bill Monroe und Porter Wagoner platzierte, ermutigte den Lehrer, seine Songs in Nashville vorzuführen. Als die Schule 1957 für die Sommerferien auslief, trafen sich Driftwood und seine Frau mit Buddy Killen von Tree Publishing. Nachdem er zwei Stanzen von The Battle Of New Orleans gehört hatte, entließ Killen ihn und schlug ihm kühl vor, nach Timbo zurückzukehren.
Unerschrocken besuchte er Don Warden, Wagoners Stahlgitarrist, und gründete dann seinen eigenen Verlag. Warden mochte, was er hörte und kaufte 25 von Driftwoods Kompositionen, darunter Howdy, Neighbor, Howdy, das Wagoners Titelsong wurde. Er überzeugte auch Chet Atkins, Driftwood bei RCA Victor unter Vertrag zu nehmen. Mit Atkins an der Gitarre und Bob Moore am Bass beendete Driftwood sein erstes Album während zwei Sessions im Oktober 1957. Eine Mischung aus traditionellem Material und Driftwood-Originalen,'Newly Discovered Early American Folk Songs' beinhaltet The Battle Of New Orleans. Geschrieben aus der Perspektive eines amerikanischen Freiwilligen, der mit der Armee von Generalmajor Andrew Jackson kämpfte, bot es eine unbeschwerte Geschichte über die britische Niederlage während der letzten Schlacht im Krieg von 1812.
Johnny Horton dachte, der Song hätte Potential und lud Driftwood nach Shreveport ein, um bei The Louisiana Hayride aufzutreten. Auf Wunsch von Horton hat Driftwood den Song für eine radiofreundliche Single getrimmt und leicht desinfiziert. Drei Tage später nahm Horton die überarbeitete The Battle Of New Orleans in Nashville auf. Im April 1959 stieg er in die Pop- und Country-Singles-Charts von Billboard ein. Er hielt sich zehn Wochen lang an Nr. 1 auf der Country-Charts und Nr. 1 Pop für sechs.
Mit Homer & Jethros Parodie The Battle Of Kookamonga platzierte Driftwood 1959 sechs Songs in den Pop- und Country-Charts, darunter Eddy Arnolds Version des Tennessee Stud. Das Lied wurde von einem echten Pferd des Urgroßvaters seiner Frau, John Merriman, inspiriert. "Die großen Taten dieses Pferdes waren Legion", schrieb Driftwood 1966. "Schien, dass John in Schwierigkeiten mit den Leuten seiner Liebsten geriet und in das Arkansas Territorium ritt, anstatt gegen das Volk seiner Lieben zu kämpfen. Doch nachdem er dieses wunderbare Pferd über den ganzen Großen Südwesten und nach Mexiko geritten hatte und nachdem er einen Sack voll Geld aus dem Rennen gemacht und eine oder zwei Kerben auf seine Waffe gelegt hatte, kam der junge Johnny zurück nach Tennessee, schlug seine potentiellen Schwiegereltern und trug das Mädchen nach Arkansas."
Die Ehrungen und Auszeichnungen gingen bis 1959 weiter. Neben Auftritten bei Hayride, The Grand Ole Opry und The Ozark Jubilee sang er in der New Yorker Carnegie Hall, beim Berkeley Folk Festival und bei den Vereinten Nationen in einem Konzert für den sowjetischen Premier Nikita Krushchev. Im August erhielt er die Ehrendoktorwürde der amerikanischen Folklore vom Peabody College in Nashville.
Unter Atkins' Aufsicht nahm Driftwood sechs Alben für RCA Victor auf und steuerte fünf Songs zu einem thematischen Album bei,'How The West Was Won'. Im Jahre 1963 wurde er
Bewertungen lesen, schreiben und diskutieren...
mehr
Kundenbewertungen für "Americana (3-CD Deluxe Box Set)"
Bewertung schreiben
Bewertungen werden nach Überprüfung freigeschaltet.
Weitere Artikel von Jimmie Driftwood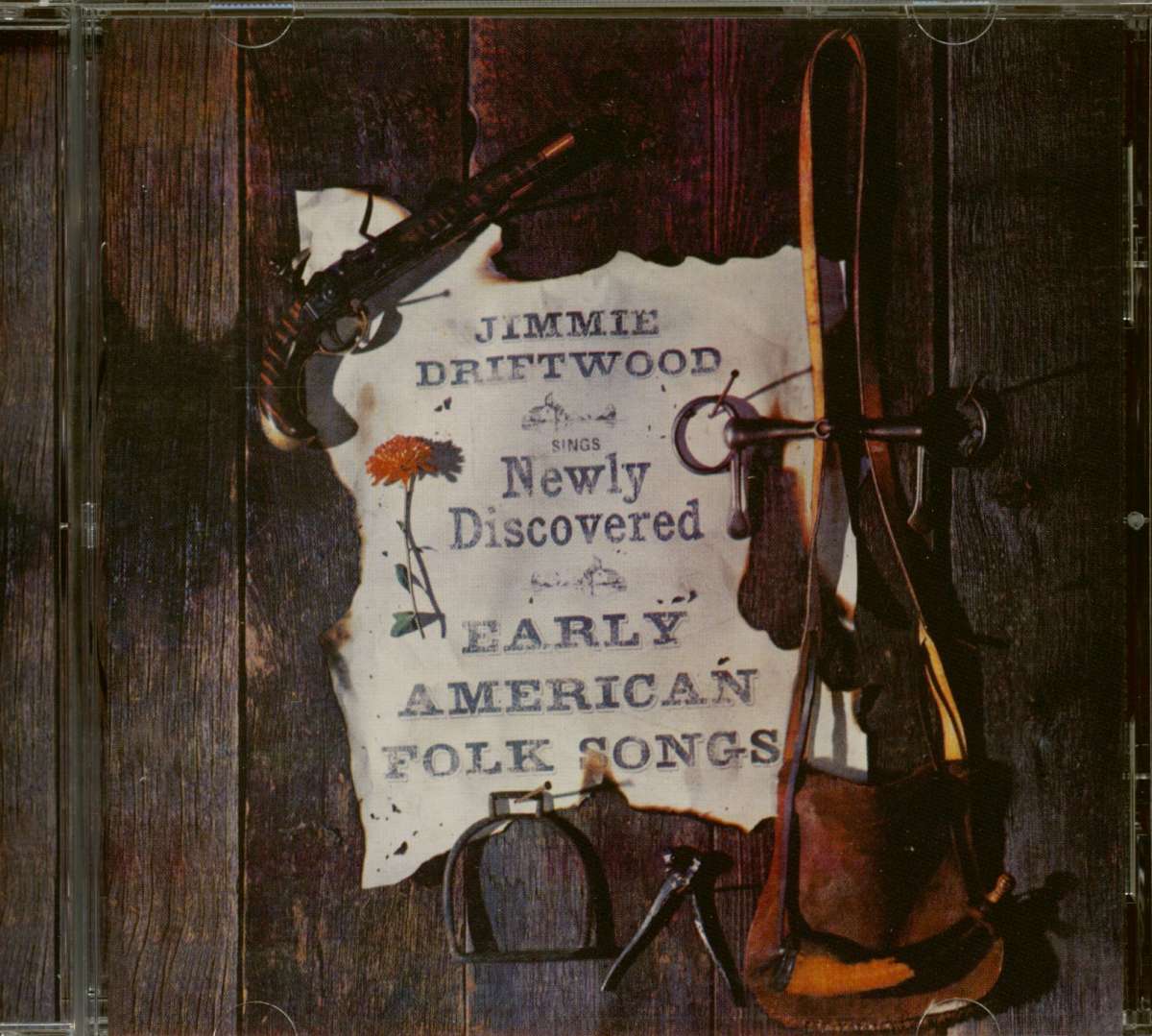 Jimmie Driftwood: Sings Newly Discovered Early American Folk...
Art-Nr.: CDOMNI174


Artikel muss bestellt werden