Der Artikel wurde erfolgreich hinzugefügt.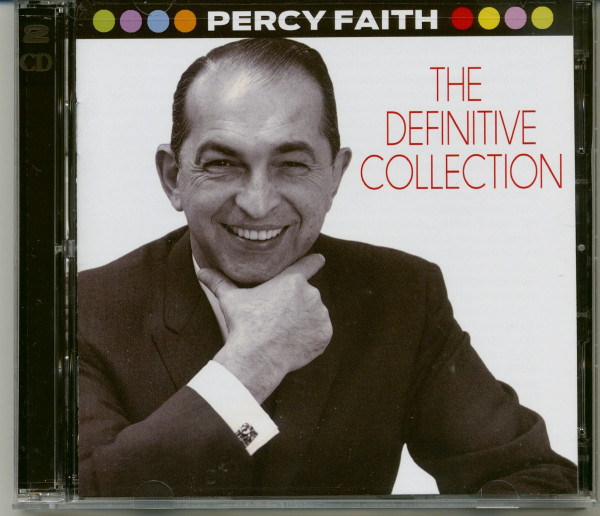 Dieser Artikel ist gestrichen und kann nicht mehr bestellt werden!
Benachrichtigen Sie mich, sobald der Artikel lieferbar ist.
Artikel-Nr.:

CDRGM0512

Gewicht in Kg.:

0.12
(2016/Real Gone) 32 tracks. Percy Faith - zusammen mit Mantovani einer der Vorreiter der Easy...
mehr
Percy Faith: The Definitive Collection (2-CD)
(2016/Real Gone) 32 tracks.
Percy Faith
- zusammen mit
Mantovani
einer der Vorreiter der Easy Listening Musik, die die populäre Musik in den 40er Jahren dominiert haben. Mit dieser Doppel-CD zahlt Real Gone Tribut an einen der großen Arrangeure und Komponisten in der Geschichte der Popmusik mit einem 32 Tracks, aufgenommen zwischen 1952 und 1974. Liner Notes von Joe Marchese etliche Fotos aus dem Columbia Archiv plus Cover-Abbildungen. Remastered von Maria Triana in den Battery Studios in New York.
Artikeleigenschaften von

Percy Faith: The Definitive Collection (2-CD)
Albumtitel:

The Definitive Collection (2-CD)

Genre

Pop

Artikelart

CD

EAN:

0848064005124

Gewicht in Kg:

0.12
Faith, Percy - The Definitive Collection (2-CD)

CD 2
01
Brazil (Aquarela Do Brasil))
Percy Faith
02
Under Paris Skies (Sous Le Ciel de Paris)
Percy Faith
03
Camelot (From the Broadway Musical "Camelot")
Percy Faith
04
Tammy Tell Me True (From the Universal Film "Tammy Tell Me True")
Percy Faith
05
Stella By Starlight
Percy Faith
06
Moonlight in Vermont
Percy Faith
07
The Virginian (From the NBC-TV Series "The Virginian")
Percy Faith
08
The Love Goddess (From the Paramount Film "The Love Goddesses")
Percy Faith
09
How Insensitive (Insensataez)
Percy Faith
10
The "In" Crowd
Percy Faith
11
Song from "The Oscar (Maybe September) (From the Embassy Film "The Oscar")
Percy Faith
12
The Glass Mountain (From the Embassy Film "The Oscar")
Percy Faith
13
Bim Bam Boom
Percy Faith
14
Samba de Orfeu (From the Film "Black Orpheus")
Percy Faith
15
Love Theme from "Romeo and Juliet" (From the Paramount Film "Romeo & Juliet")
Percy Faith
16
Theme from "Chinatown" (From the Paramount Film "Chinatown")
Percy Faith
Percy Faith - A Master Of Show Music - Percy Faith bewies bei vielen Gelegenheiten,...
mehr
"Percy Faith"
Percy Faith
- A Master Of Show Music -
Percy Faith bewies bei vielen Gelegenheiten, während seiner langen und ausgeprägten Karriere als Arrangeur und Dirigent, dass er der absolute Meister war, als es um die Interpretation der Lieder des amerikanischen Musiktheaters ging. Seine besonderen Fähigkeiten bei der Organisation und Durchführung der vielen wunderbaren Melodien, die im Show-Musik-Repertoire reichlich waren, brachten ihm auf dem Gebiet der Orchestermusik einen großartigen Erfolg, ein Bereich, in dem er eine führende Persönlichkeit war. Faith war leidenschaftlich gewidmet, die ursprüngliche Melodie in all seinen orchestralen Arrangements zu behalten, und seine vielen Alben der Showmusik veranschaulichen perfekt, wie das "Herz eines Liedes" behandelt werden sollte. Ein Großteil des "wahren Goldes" der Qualität der populären Musik findet man in den Broadway-Theateraufführungen und in den fürsorglichen Händen von Percy Faith, dass dieses wunderbare Erbe erhalten geblieben ist.

Percy Faith wurde am 7. April 1908 in Toronto, Ontario, Kanada geboren. Er spielte Violine und Klavier, als er ein Kind war und in verschiedenen Theatern und der Massey Hall in Toronto auftrat. Er musste zu arrangieren und zu leiten, nachdem er seine Hände in einem Unfallfeuer verbrannt hatte. 1931 führte er sein erstes Orchester und wurde zum führenden Arrangeur und Dirigenten des Canadian Broadcasting System CBC. 1940 zog Percy Faith nach Chicago, Illinois, USA. Er wurde schließlich U.S. Bürger im Jahr 1945. Er arbeitete für Voice Of America und Decca Records, aber seine erfolgreichste Zeit begann, als er Columbia Records unterzeichnete. Zuerst arbeitete er mit Mitch Miller und Tony Bennett. Bennetts erste Zusammenarbeit mit Faith war der einzige "Blue Velvet", der in den folgenden Jahren zu einem Instant-Klassiker auf der Pop-Strecke wurde.

Faith machte Dutzende von Alben für Kolumbien und lieferte Tonnen von Arrangements mit Columbias Pop-Ikonen Doris Day, Johnny Mathis, Guy Mitchell ua. Er schrieb 'My Heart Cries For You', die eine Million Verkäufer für Guy Mitchell wurde. Percy Faiths klassischste Melodien in jedermanns Ohr ist 'Delicado' von 1952, 'Theme From Moulin Rouge' (1953), und sein Grammy verlieh 'Theme From A Summer Place' aus dem Jahr 1960. Das machte ihn zum einzigen Orchesterführer und Arrangeur Die Charts in beiden, die Pop-Sänger-Ära und die Rock-Ära und er ist einer von nur drei Künstlern, die die meistverkauften Single der Jahre zweimal haben - die beiden anderen sind Elvis Presley und The Beatles. Faith arbeitete mit Columbia in den sechziger Jahren und siebziger Jahren produzierte hervorragende großartige Pop-Instrumental-Alben, die Rock und Pop-Musik mit Exotica, Soundtrack-Musik und leicht zuhören. Alben wie 'Themes For Young Lovers' (1962), 'Love Theme From Romeo And Juliet' (1969, Zweiter Grammy Award) und "Leaving On A Jet Plane" (1970) wurden Allzeitklassiker. Mitte der 1970er Jahre wurde Faiths Klang weniger populär, als die Charts von Hard Rock- und Glam Rock-Künstlern dominiert wurden. Er setzte fort, Alben wie "Jesus Christ Superstar" und seine Disco Remake von 'Theme From A Summer Place', die 'Summer Place' 76 'wurde. Percy Faith starb an Krebs in Encino, Kalifornien, am 9. Februar 1976.
Bewertungen lesen, schreiben und diskutieren...
mehr
Kundenbewertungen für "The Definitive Collection (2-CD)"
Bewertung schreiben
Bewertungen werden nach Überprüfung freigeschaltet.
Weitere Artikel von Percy Faith