Der Artikel wurde erfolgreich hinzugefügt.
Lester Flatt
Flatt On Victor Plus More (6-CD Deluxe Box Set)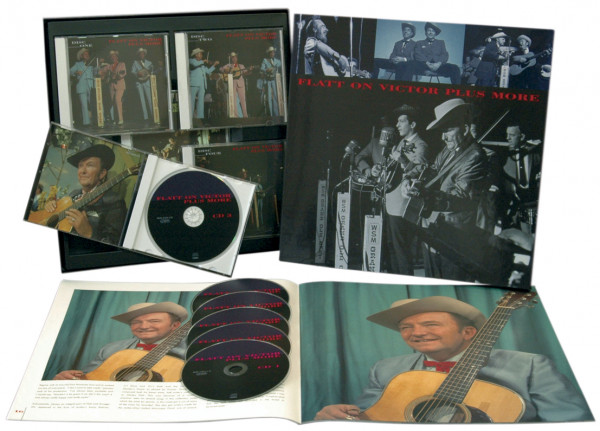 99,95 € *
109,95 € *
(9,1% gespart)
inkl. MwSt. / zzgl. Versandkosten - Abhängig vom Lieferland kann die MwSt. an der Kasse variieren.
Sofort versandfertig, Lieferzeit** 1-3 Werktage
Artikel-Nr.:

BCD15975

Gewicht in Kg.:

1.3
6-CD Box (LP-Format) mit 52-seitigem Buch, 148 Einzeltitel. Spieldauer ca. 388 Minuten. Lester...
mehr
Lester Flatt: Flatt On Victor Plus More (6-CD Deluxe Box Set)
6-CD Box (LP-Format) mit 52-seitigem Buch, 148 Einzeltitel. Spieldauer ca. 388 Minuten.
Lester Flatt
s RCA-Aufnahmen gehören zu den besten Aufnahmen des
Bluegrass
, werden jedoch oftmals unterbewertet. Lester war jahrelang unglücklich über die Richtung, in die sich die Musik von

Flatt & Scruggs
entwickelte. 1968 schließlich trennten sich die beiden, und
Lester Flatt
konnte 1970 zur traditionellen Musik zurückkehren. Er übernahm die
Foggy Mountain Boys
, machte klassische Aufnahmen mit hervorragenden Musikern wie
Roland White
oder
Bobby Osborne
und gab
Marty Stuart
seine Chance. Er spielte wieder in kleineren Hallen. Diese 6-CD Box enthält die kompletten Soloaufnahmen für Columbia und RCA von 1969 bis 1974, seine Duette mit
Mac Wiseman
, sowie 18
Flatt & Scruggs
-Titel, die wir vorher nicht finden konnten, und außerdem das komplette Vanderbilt Konzert vom 19. März 1974 mit
Bill Monroe
. Insgesamt enthält die Box 148 Songs.
Artikeleigenschaften von

Lester Flatt: Flatt On Victor Plus More (6-CD Deluxe Box Set)
Albumtitel:

Flatt On Victor Plus More (6-CD Deluxe Box Set)

Genre

Country

Edition 2

Deluxe Edition

Preiscode

FI

Artikelart

Box set

EAN:

4000127159755

Gewicht in Kg:

1.3
LESTER FLATT FLATT ON VICTOR, PLUS ... Es waren die späten 60er Jahre und Lester...
mehr
"Lester Flatt"
LESTER FLATT
FLATT ON VICTOR, PLUS ...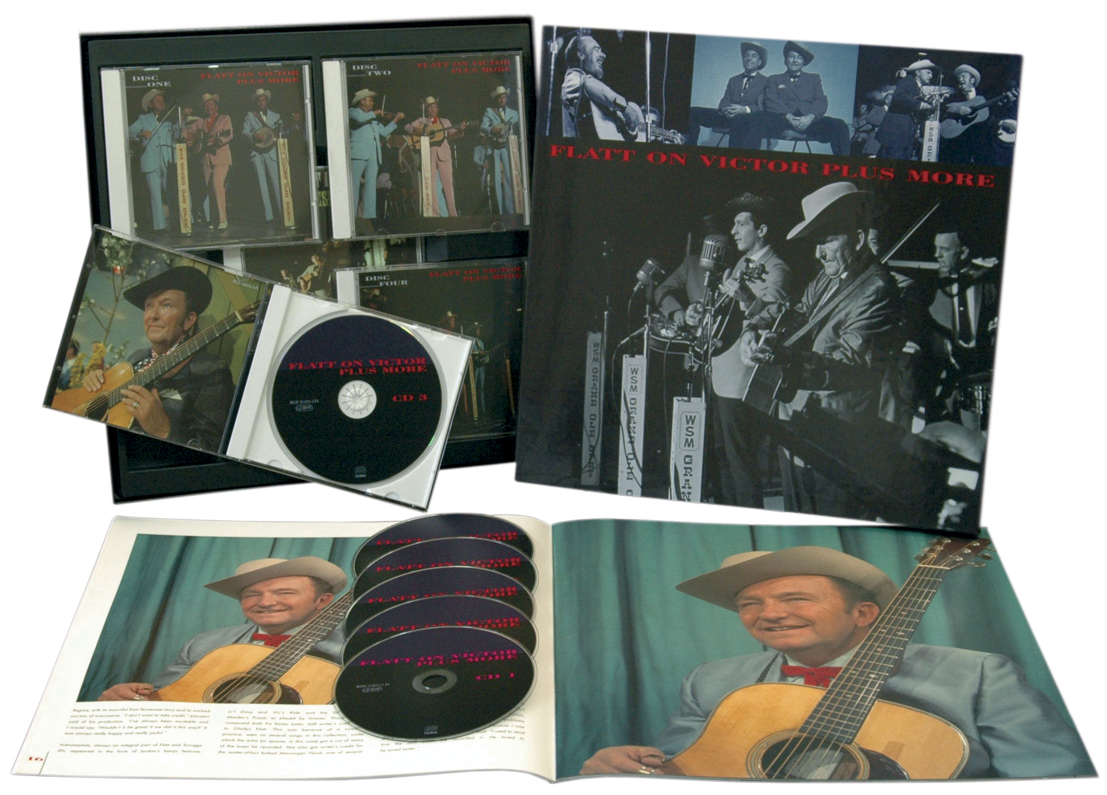 Es waren die späten 60er Jahre und Lester Flatt war, wie viele Amerikaner, an einen Scheideweg gekommen. Seine mehr als 20-jährige Partnerschaft mit Earl Scruggs war seit vielen Monaten zerfallen. Es war klar, dass sie sich musikalisch und persönlich auseinander gelebt hatten. Flatt hatte sich als großer Sänger, unübertroffene Bühnenpersönlichkeit und Bluegrass-Loyalist einen Namen gemacht. Er stand im Streit mit Scruggs, dem Banjomeister, der den Wettbewerb um das alte Minnesänger-Show-Instrument in die Nachkriegszeit getrieben hatte. Ihre musikalische und persönliche Trennung hatte tiefere Wurzeln, wie es scheint. Das heißt, ihre Unterschiede spiegeln die Generationsspaltung des Landes in Vietnam wider. Beide Männer kamen aus dem Land, aber Scruggs, der jugendliche Söhne hatte, lehnte sich an die Musik und den Stil der Gegenkultur der sechziger Jahre an. Flatt, mit 55 Jahren fast 10 Jahre älter, klammerte sich an die traditionellen Klänge und Country-Stile, die für das Duo so lange gut funktioniert hatten.
Der Umbruch und die Spaltung, die sich schließlich im Februar 1969 ereignete, waren für die Musikfans von großer Bedeutung. Schon die Namen Lester Flatt und Earl Scruggs verkörperten authentisches Country-Twang und hatten für eine Generation. Und ihr Image gehörte zu den bekanntesten in der amerikanischen Musikgeschichte: Als die Country Music Foundation 1985 den wegweisenden Band Country: The Music And The Musicians" herausgab, diente das Coverbild von Lester und Earl und ihrer Band Foggy Mountain Boys als Stenographie für die lange Geschichte der Musik. Im Rückblick war ihr Duo ungewöhnlich. Es ist selten, dass ein Leadsänger und ein Lead-Instrumentalist anstelle von zwei Sängern einen beliebten Act bilden. Aber ihr jahrelanger Erfolg zollte der spezifischen Alchemie von Scruggs' instrumentalem Können und Flatts warmer Gesangspräsenz, Songwriting und MC-Arbeit Tribut. Dreißig Jahre später erinnern sich Freunde und Mitarbeiter von Flatt daran, dass seine bodenständige Art zu singen und zu unterhalten nie ausrutschte, weil sie den Mann selbst so rein repräsentierten. "Es ist banal, es so auszudrücken, aber sie brachen die Form, als sie Lester machten", sagte mir sein alter Freund Mac Wiseman 1999. "Er war ein Mann der Berge und er hatte Bergwege." Flatt's Gesang spiegelt seine Herkunft wider. Seine Stimme, tiefer als die der meisten Bluegrass-Sänger, vermittelte das Herz der Lieder mit einer sanft anspielenden Qualität, getragen von kleinen Segelflügen und Abwärtsdrehungen.
Eine leichte Zischlaute und seine Gewohnheit, manchmal bis zur Tonhöhe zu rutschen, trugen zur Besonderheit seines Stils bei. Flatt benutzte auch den Geist eines Jodlers an den Enden der Sätze und eine tief ländliche Art, seine Worte zu sagen. "Er hatte die beste Phrasierung", sagte Bob Johnston, der die letzten Sessions von Flatt und Scruggs sowie eine Solo-LP von Flatt produzierte. "Und er hat nie darüber nachgedacht. Er hielt die Gitarre hoch, hatte ein breites Lächeln im Gesicht und die Liebe des Lebens." Flatts beständiges Rhythmusgitarrenspiel enthielt einen der wenigen Country-Instrumental-Licks, der nach einer Person benannt wurde, den'Lester Flatt G-run'. Die schnelle, daumengetriebene Bassfigur, die er entwickelte, um mit Bill Monroes fliegender Mandoline Schritt zu halten, wurde zu einem der charakteristischen Klänge des Bluegrass. Und seine starken, herz-direkten Songs füllen viele Seiten im Bluegrass-Standard-Songbuch. Aber es ist die Persönlichkeit von Flatt, auf der seine Legende am stärksten ruhen mag. "Neben seinem Gesang war eines seiner größten Attribute seine MC-Arbeit", sagte Wiseman. "Er sprach nicht mit Menschen und er sprach nicht mit Menschen, er war nur er selbst." Er musste nicht daran arbeiten." Er erinnerte sich an Vic Jordan, der nach der Trennung mit Flatt Banjo-Aufgaben übernahm: "Wenn er sprach und sang und wie er sich benahm, war er das."
So war es, dass in den 60er Jahren, als sich alles änderte, Flatt es nicht tat. Nach Fotografien und Aufnahmen im Laufe der Jahre zu urteilen, schien Flatt 1944 auf die nationale Bühne gekommen zu sein, als er sich Bill Monroe anschloss, der als Musiker und Mensch voll ausgebildet war. Auch sein Aussehen - irgendwie wohnlich und gutaussehend, mit einem Hauch von Mund und den Augen eines zeitlosen Berggeistes - blieb über die Jahre gleich. Scruggs hingegen ging einen anderen Weg, um sich selbst in Zeiten des Wandels treu zu bleiben. Seine Söhne waren tief in die Klänge der Rock-Ära eingetaucht, besonders die von Bob Dylan. Scruggs genoss es, mit seinen Jungs im Haus herumzuspielen und die Musik, die sie zusammen spielten, begann den Sound des Duos zu beeinflussen. Flatt- und Scruggs-Alben wie'Folk Songs Of Our Land' und'Hard Traveling' hatten bereits begonnen, die Musik des frühen 60er-Jahre-Folkbooms zu reflektieren. Als das Jahrzehnt weiterging und Produzent Johnston die Betreuung der Alben des Duos übernahm, kamen Songs von Gegenkulturen wie Donovan, Pete Seeger und Buffy Ste hinzu. Marie, sowie eine gehörige Portion Dylan-Stücke. Fast allen Berichten zufolge hat Flatt die neue Richtung nicht gemocht. "Ich glaube, er mochte das Dylan-Zeug nicht", sagte Josh Graves, der 14 Jahre lang mit dem Duo spielte und dann mit beiden Männern in ihrer Solokarriere arbeitete. "Einiges davon mochte er, einiges davon mochte er nicht." Aber er hat es trotzdem getan."
Flatt sagte es dem Journalisten Don Rhodes, dessen ausführliches, aufschlussreiches'Pickin'-Interview mit Flatt nur wenige Monate vor dem Tod des Sängers am 11. Mai 1979 kam. "Diese Bob-Dylan-Songs aufzunehmen hat genauso viel damit zu tun, dass ich mit Scruggs aufhören wollte, wie alles andere", sagte Flatt zu Rhodes. (Persönliche und geschäftliche Unterschiede spielten auch bei der Auflösung eine Rolle, wie die Gerichtsanmeldungen im Laufe des Jahres 1969 zeigten. Eine Einigung in diesem Jahr beendete die Anzüge, bedeutete aber, dass keiner der beiden den Namen der Foggy Mountain Boys für seine Band verwenden konnte. Obwohl sich Flatt und Scruggs Alben wie'Changing Times' und'Nashville Airplane' durchweg gut verkauften, betrachtete Flatt die Musik als Verrat an ihren langjährigen Fans. Scruggs hat die Chancen, über vergangene Differenzen zu sprechen, konsequent abgelehnt. Aber er stimmte zu, über die Beiträge seines langjährigen Partners zu Musik und Unterhaltung zu sprechen. "Wir hatten die größte Verbindung zueinander und ich dachte, er sei einer der besten Schausteller überhaupt", sagte Scruggs im September 1999 und protestierte, dass seine Worte seinen Gefühlen für Flatt nicht gerecht werden könnten. "Er war ein guter Sänger und ein guter MC und kam gut auf die Bühne." Die hier enthaltene Musik zeigt eine klare Progression: von den letzten Tagen von Flatt und Scruggs, über einen experimentellen letzten Seitensprung mit Columbia und Flatt als Solist, über die Rückkehr zu einem Mainstream-Bluegrass-Sound auf RCA und die Zusammenarbeit mit den Gesangspartnern Mac Wiseman und Bill Monroe aus den 40er Jahren. (Flatt nahm für verschiedene Labels auf, darunter Canaan, CMH und Flying Fish, nachdem er Mitte der 70er Jahre RCA verlassen hatte.
Die Lampe der Geschichte hat sich größtenteils auf das Duo konzentriert. Das ist verständlich. Die Namen Flatt und Scruggs passen immer noch zusammen: wie Abbott und Costello, wie Lennon und McCartney, als Basis eine Combo wie Speck und Eier. "Niemand erwähnte jemals das Wort'Lester', niemand erwähnte Earl: Es waren immer nur Flatt und Scruggs", erinnert sich Johnston, der Produzent, der in seiner Karriere eine so kontroverse Rolle spielte. Wenn ein Partner ausgewählt wurde, war es in der Regel Scruggs. (Die geschätzte'Enzyklopädie der südlichen Kultur' hat einen eigenen Eintrag für Scruggs, in dem Flatt erwähnt wird. Das ist auch verständlich. Scruggs hat seinen früheren Partner um viele Jahre überlebt. Und seine Beiträge als Instrumentalist sind leichter zu definieren und nachzuvollziehen als die von Flatt als Sänger. Die Musik auf diesem Set bietet die erste Gelegenheit seit vielen Jahren, Flatt als Person vollwertig und eigenständig zu betrachten und ihm als Musiker zuzuhören, dessen Einfluss unterbewertet ist.
Als Principal der Nashville Bluegrass Band war Alan O'Bryant ein Schlüsselspieler bei der Wiederbelebung der Art von traditionellem Bluegrass, die von Bill Monroe und Flatt und Scruggs entwickelt wurde. "Ich war ein großer Fan von Lester und hielt seinen Gesang immer für die definitive Version von vielem, was ich hörte: viele Bluegrass-Songs, viele Standards, sogar Songs, die ich später als Cover herausfand", sagte O'Bryant, der Flatt zum ersten Mal hörte, als O'Bryant in den frühen 70ern ein North Carolina Teenager war. "Und das war mein erster Eindruck davon, wie sich die Leute auf der Bühne verhalten sollten. Lester fühlte sich wirklich wohl und hatte einen Weg, die Leute für sich zu gewinnen, der nicht zu formell war. Ich denke, diese allgemeine Einstellung durchdringt unsere Präsentation bis heute."
Als das Jahrtausend zu Ende ging, gab es viele Menschen, die in den Jahren 1966 bis 1974 in Flatts Leben eine Rolle spielten, als er die Aufnahmen in diesem Set sang und spielte. In getrennten Interviews mit den Freunden und Mitarbeitern von Flatt entstand ein Bild des Sängers in den späten 60er und frühen 70er Jahren als genial, oft voller Spaß, musikbegeistert und selbstbewusst in seiner Professionalität. Nach seinem jahrzehntelangen Ruhm kam Flatt nie "über seine Rosinen" hinaus, auch nicht in den Jobs, die er zu spielen bereit war. "Wir machten ein paar Autokinos, als ich mit Lester zusammen war", sagte Vic Jordan. "Du würdest auf dem Konzessionsstand spielen." Du hättest ein paar Mikrofone und sie würden den Sound direkt in die Lautsprecher in den Autos der Leute leiten. Anstatt zu applaudieren, blies das Volk die Hörner. Das war eine Erfahrung, die ich nie mit jemand anderem gemacht habe."
Lester Flatt Flatt On Victor Plus More (6-CD)
Read more at: https://www.bear-family.com/flatt-lester-flatt-on-victor-plus-more-6-cd.html
Copyright © Bear Family Records
Bewertungen lesen, schreiben und diskutieren...
mehr
Kundenbewertungen für "Flatt On Victor Plus More (6-CD Deluxe Box Set)"
Bewertung schreiben
Bewertungen werden nach Überprüfung freigeschaltet.