Der Artikel wurde erfolgreich hinzugefügt.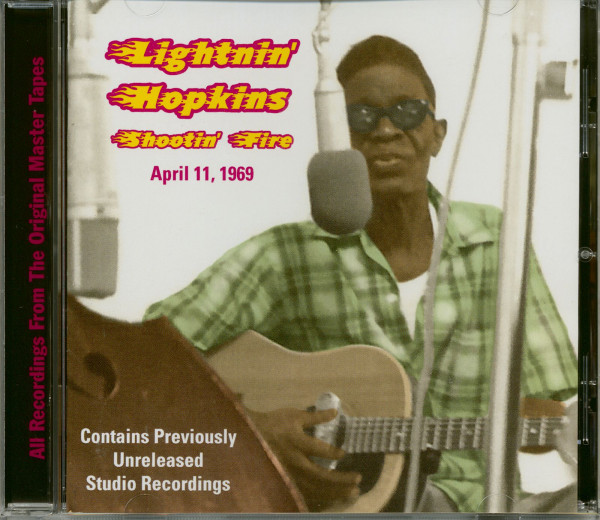 Artikel-Nr.:

CDCI41169

Gewicht in Kg.:

0.1
(2015/Cicadelic) 20 tracks. Alles Aufnahmen von 11. April 1969 für Clarity. Diese Aufnahmen...
mehr
Lightnin' Hopkins: Shootin' Fire (CD)
(2015/Cicadelic) 20 tracks.
Alles Aufnahmen von 11. April 1969 für Clarity. Diese Aufnahmen wurden in den 70er Jahren zwar auf einigen Samplern veröffentlicht, allerdings wurden die Aufnahmen nachträglich bearbeitet und dem jeweils gerade modischen Sound angepasst. Her sind sie zum ersten Mal in der Orginalfassung zu hören. Die Tracks 18 und 19 sind Aufnahmen von 1961. Lightin' Hopkins - - gtr,voc, Cedric Hayword - pno, Lawrence Evans - bass, Ben Turner - drums.
Artikeleigenschaften von

Lightnin' Hopkins: Shootin' Fire (CD)
Albumtitel:

Shootin' Fire (CD)

Genre

Blues

Artikelart

CD

EAN:

0845121091830

Gewicht in Kg:

0.1
Hopkins, Lightnin' - Shootin' Fire (CD)

CD 1
01
Born in the Bottom
02
Rainy Day in Houston
03
A Man Like Me Is Hard to Find
04
Got a Letter This Morning
05
Moving On Out
06
Shinin' Moon
07
Feel Like Ballin' the Jack
08
Stinking Foot
09
December 7, 1941
10
My Baby Ain't Got No Shoes
11
My Baby Was Crying for Bread
12
My Little Darling
13
Battle Hymn of the Republic
Go Ahead
14
Shake That Thing
15
Mistrust My Baby and She Mistrust Me
16
Moving on Out When the Saints March In
17
Old House Torn Down
18
Baby Please Don't do Me Wrong
19
Good as Old Time Religion
20
I'm Shootin' Fire
Lightnin' Hopkins Niemand konnte Lightnin' Hopkins etwas vormachen, wenn es darum ging,...
mehr
"Lightnin' Hopkins"
Lightnin' Hopkins
Niemand konnte Lightnin' Hopkins etwas vormachen, wenn es darum ging, gigantisch loszurocken. Auch Little Richard nicht. Jedenfalls gibt es keinen Beleg dafür, dass Richard jemals ein schnelleres Tempo angezählt hätte als Lightnin' auf Hopkins' Sky Hop.
Aufgenommen wurde das Instrumentalstück in seiner Heimatstadt Houston im April 1954 während äußerst produktiver Sessions, bei denen eine Menge Masteraufnahmen entstanden. Herald Records in New York konnte mehrere Jahre davon zehren. Die unglaublich schnelle Nummer spielte Hopkins mit zwei lokalen Musikern ein, die seinen unvorhersehbaren Timing- und Akkordwechseln traumwandlerisch folgen konnten: Bassist Donald Cooks und Drummer Ben Turner. Lightnin' kam mit seiner elektrischen Gitarre bestens klar; es machte ihm offensichtlich einen Heidenspaß, hier einige der toughesten Gitarrenlicks in der Geschichte des texanischen Blues abzufeuern.
Doch die Zeit überholte den altgedienten Texas-Bluesmann. Sessions für TNT und Chart Mitte der 50er Jahre blieben offensichtlich seine letzten Chancen auf dem R&B-Markt. Dann kam Anfang 1959 der Musikwissenschaftler Sam Charters vorbei und nahm Lightnin' mit einem Mikro in seinem Zimmer für eine Folkways-LP auf, die dem Blues-Veteranen ein ganz neues Publikum erschloss. Viele weitere Aufnahmen folgten für eine große Anzahl von Firmen, und bald steckte Hopkins voll im Folkblues-Boom, durch den längst vergessene Bluesmänner aus dem Süden zum Teil nach Jahrzehnten wiederentdeckt wurden. Lightnin' hatte mit Sonnenbrille und gestylten Haaren eine coolere Bühnenpräsenz als die meisten anderen. Seine 1960er-Session für Bobby Robinson in Harlem verschaffte ihm mit Mojo Hand auf dem Fire-Label sogar noch einen letzten Jukebox-Hit.
Lightnin' spielte über die gesamte Dauer seiner weiteren Karriere eine große Menge Platten ein. So lange ein Produzent ein Bündel Geldscheine für ihn hatte, machte er für ihn Aufnahmen, wobei es immer nur einen Versuch pro Titel gab. Zu Stan Lewis' Jewel Records stand er loyaler als zu den meisten anderen und reiste 1969 für eine Jewel-Session in die Muscle Shoals Studios. Hopkins starb am 30. Januar 1982 in Houston. Er war der ultimative Texas-Bluestroubadour, egal ob er seine Boogies und beseelten langsameren Bluestitel auf einer elektrischen oder akustischen Gitarre spielte.
Bill Dahl
Chicago, Illinois
PLUG IT IN! TURN IT UP!
Electric Blues 1939-2005. - The Definitive Collection!
Bewertungen lesen, schreiben und diskutieren...
mehr
Kundenbewertungen für "Shootin' Fire (CD)"
Bewertung schreiben
Bewertungen werden nach Überprüfung freigeschaltet.
Weitere Artikel von Lightnin' Hopkins