Der Artikel wurde erfolgreich hinzugefügt.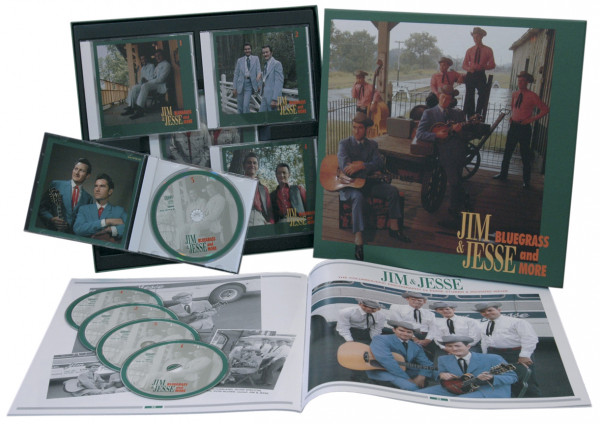 Dieser Artikel ist gestrichen und kann nicht mehr bestellt werden!
89,95 € *
94,95 € *
(5,27% gespart)
inkl. MwSt. zzgl. Versandkosten
Artikel derzeit nicht verfügbar, Lieferfristen von bis zu 2-3 Wochen sind zu erwarten. (soweit verfügbar beim Lieferanten - kann aber auch schneller gehen)
Artikel-Nr.:

BCD15716

Gewicht in Kg.:

1.4
5-CD Box (LP-Format) mit 32-seitigem Buch, 136 Einzeltitel. Spieldauer ca. 341 Minuten. Im...
mehr
JIM & JESSE: Bluegrass And More (5-CD)
5-CD Box (LP-Format) mit 32-seitigem Buch, 136 Einzeltitel. Spieldauer ca. 341 Minuten.

Im Verlauf der Sechzigerjahre begannen jüngere Musiker, mit Bluegrass zu experimentieren. Jim & Jesse zählten zu den ersten, die Grenzen ausweiteten. Von 1960 bis 1969 standen sie bei Epic Records unter Vertrag und machten insgesamt 136 Aufnahmen, die allesamt auf diesen 5-CDs enthalten sind. Neben zwei traditionellen Gospelalben liefert diese Edition überraschend gute Bluegrass-Fassungen von Titeln, die Chuck Berry geschrieben hat und etliche großartige Truck-Driving-Songs wie z.B. ihren Hit, Diesel On My Tail.
Artikeleigenschaften von

JIM & JESSE: Bluegrass And More (5-CD)
Albumtitel:

Bluegrass And More (5-CD)

Genre

Country

Edition 2

Deluxe Edition

Preiscode

EI

Artikelart

Box set

EAN:

4000127157164

Gewicht in Kg:

1.4
Jim & Jesse - Bluegrass And More (5-CD)

Box set 1
01
Gosh, I Miss You All The Time
02
The Flame Of Love
03
Beautiful Moon Of Kentucky
04
My Empty Arms
05
Diesel Train
06
The Voice Of My Darling
07
Uncle Will Played The Fiddle
08
Fireball
09
Heartaches And Flowers
10
Sweet Little Miss Blue Eyes
11
Somebody Loves You, Darling
12
She Left Me Standing On The Mountain
13
Don't Say Goodbye If You Love Me
14
I Wish You Knew
15
When It's Time For The Whippoorwill To Sing
16
Grave In The Valley
17
Blue Bonnet Lane
18
Are You Missing Me
19
Congratulations, Anyway!
20
Pickin' And A-Grinnin'
21
Stoney Creek
22
Sixteen Hundred Miles From Home
23
The South Bound Train
24
Ballad Of Thunder Road
25
Uncle Jimmy Lee
Jim & Jesse - Bluegrass And More (5-CD)

Box set 2
01
When My Blue Moon Turns To Gold Again
02
Nine Pound Hammer
03
The Little Paper Boy
04
I Wonder Where You Are Tonight
05
Just When I Needed You
06
Las Cassas, Tennessee
07
Drifting And Dreaming Of You
08
The Grass Is Greener (In The Mountains)
09
The Violet And The Rose
10
Take My Ring From Your Finger
11
Why Not Confess
12
Better Times A-Coming
13
Wild Georgia Boys
14
Cotton Mill Man
15
(It's A Long, Long Way) To The Top Of The...
16
The Old Time Religion
17
The Old Camp Meeting Days
18
The Old Country Church
19
Are You Washed In The Blood
20
It's A Lonesome Road
21
Swing Low, Sweet Chariot
22
Kneel At The Cross
23
Rock Of Ages
24
Where The Roses Never Fade
25
Lord, I'm Coming Home
26
This World Is Not My Home
27
Where The Soul Never Dies
Jim & Jesse - Bluegrass And More (5-CD)

Box set 3
01
Sleepy Eyed John
02
Tell Her Lies And Feed Her Candy
03
Y'all Come
04
Company's Coming
05
Stay A Little Longer
06
Rabbit In The Log
07
Salty Dog Blues
08
Alabam
09
Good Bunch Of Biscuits
10
Blue Grass Banjo
11
Don't Let Nobody Tie You Down
12
Big Hands
13
Dancing Molly
14
If You've Seen One You've Seen Them All
15
Memphis
16
Maybelline
17
Johnny B. Goode
18
Sweet Little Sixteen
19
Roll Over, Beethoven
20
Reelin' And Rockin'
21
Brown Eyed Handsome Man
22
Too Much Monkey Business
23
Bye, Bye Johnny
24
Back In The U.S.A.
Jim & Jesse - Bluegrass And More (5-CD)

Box set 4
01
I'll Wear The Banner
02
The Weapon Of Prayer
03
Angel Mother
04
Sing Unto Him A New Song
05
In God's Eyes
06
Who Did? Jesus Did
07
How Much Are You Worth
08
He Walks On The Water
09
The River Of Jordan
10
Where The Chilly Winds Don't Blow
11
All For The Love Of A Girl
12
Diesel On My Tail
13
Truck Driving Man
14
Six Days On The Road
15
Sam's Place
16
Ballad Of Thunder Road
17
Lovin' Machine
18
Hot Rod Race
19
Girl On The Billboard
20
Give Me Forty Acres
21
Tijuana Taxi
22
Greenwich Village Folksong Salesman
23
Pretty Girls (In Mini Skirts)
24
Yonder Comes A Freight Train
25
Rose City Chimes
26
Wildwood Flower
Jim & Jesse - Bluegrass And More (5-CD)

Box set 5
01
Buckaroo
02
Remington Ride
03
Sugar-Foot Rag
04
Maiden's Prayer
05
Down Yonder
06
Banderilla
07
We'll Build A Bridge
08
When The Snow Is On The Roses
09
Then I'll Stop Goin' For You
10
Big Job
11
Are You Teasing Me
12
I Don't Believe You've Met My Baby
13
My Baby's Gone
14
Cash On The Barrel Head
15
Childish Love
16
Must You Throw Dirt In My Face
17
When I Stop Dreaming
18
Knoxville Girl
19
I Take The Chance
20
I'm Hoping That You're Hoping
21
Fire Ball Mail
22
Streamlined Cannon Ball
23
Tennessee Central 9
24
(I Heard That) Lonesome Whistle
25
Pan American
26
The Golden Rocket
27
A Freight Train In My Mind
28
I Like Trains
29
Wabash Cannon Ball
Jim & Jesse Jim McReynolds, der Ältere des Duos Jim & Jesse, starb am 31....
mehr
"JIM & JESSE"
Jim & Jesse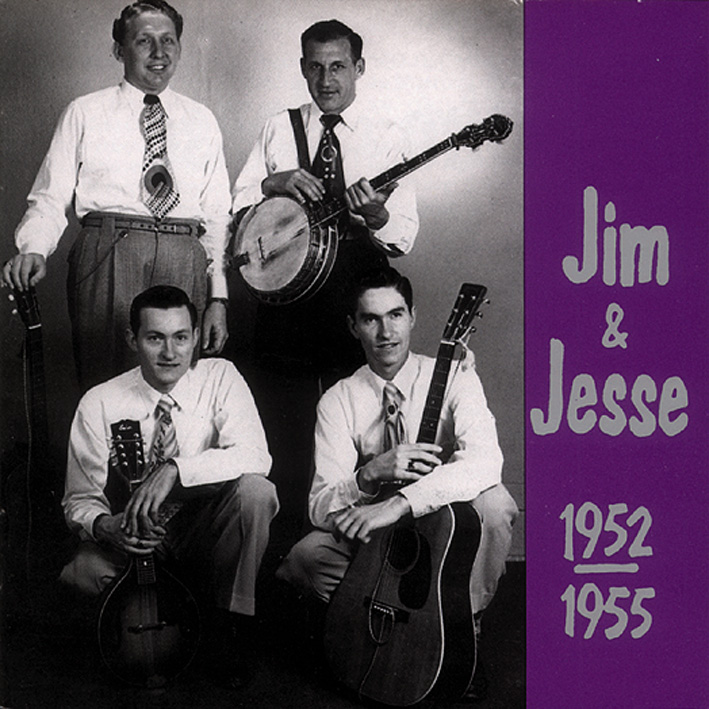 Jim McReynolds, der Ältere des Duos Jim & Jesse, starb am 31. Dezember 2002 in Gallatin, Tennessee, an Krebs. Dort fand am 4. Januar 2003 auch ein Gedenkgottesdienst statt, begraben wurde der Leichnam des Musikers allerdings in Virginia. Jim McReynolds ist 75 Jahre alt geworden. Durch seinen Tod ist nun also auch endgültig Schluß für eines der langlebigsten und einflußreichsten Gesangsduos in der Bluegrass- und Country-Musik.
James Monroe McReynolds wurde am 13. Februar 1927 in Carfax im US-Bundesstaat Virginia geboren. Sein Bruder Jesse kam zwei Jahre später zur Welt. Charles McReynolds, der Großvater der beiden Brüder, war Geiger. Er hatte mit den Bull Mountain Moonshiners für Victor Records bei den berühmten Bristol-Sessions mitgespielt hatte, die einst die Karrieren von Jimmie Rodgers und der Carter Family ins Rollen brachten.
Nachdem er zwei Jahre lang in der Armee gedient hatte, kehrte Jim McReynolds 1947 zurück nach Virginia und ließ zusammen mit seinem Bruder in einer täglichen Radiosendung von sich hören. In den folgenden fünf Jahren arbeiteten die beiden bei diversen Radiostationen im Süden der USA und im Mittleren Westen. Ihre erste Schallplattenaufnahme machten sie 1951 in Middletown, wo sie zusammen mit dem Sänger Larry Roll als Virginia Trio in Erscheinung traten. Im Jahr darauf begannen sie ihre Aufnahmen bei Capitol Records – unterstützt von einer Studioband, zu der auch der später im Alleingang als Sonny James bekannt gewordene James Loden gehörte. Einer ihrer ersten Songs für Capitol war Are You Missing Me. Auch wenn dieser Titel niemals die Charts erreichte, entwickelte er sich zu einem Bluegrass-Klassiker und über Jahre zu einem der Hauptsongs ihres Bühnenprogramm.
Ihren ersten Charthit erzielten Jim & Jesse 1964 – mittlerweile Künstler bei Epic Records – mit ihrem Song über den Cotton Mill Man. Im selben Jahr wurden sie Mitglieder der Grand Ole Opry in Nashville. Zwar konnten sie bis 1986 immer wieder Charterfolge verbuchen (zuletzt mit dem kleineren Hit Oh Louisiana), doch den größten Treffer hatten sie schon 1967 gelandet, als Diesel On My Tail veröffentlicht wurde. Die Single schraubte sich bis auf den 18. Platz der Hitliste hoch.
Auch wenn das Duo vollkommen zu recht als Bluegrass-Vertreter eingeordnet wird, waren Jim & Jesse immer für ihre musikalische Offenheit bekannt. So nahmen die Brüder beispielsweise 1965 ein ganzes Album mit Chuck-Berry-Songs auf, 'Berry Pickin' in the Country'. 1993 wurden Jim & Jesse in die Hall of Honor, die Ehrenhalle der internationalen Bluegrass Music Association, aufgenommen. Mit dem National Heritage Fellowship Award, einem Preis der US-amerikanischen Kunststiftung, wurden sie im Jahre 1997 ausgezeichnet.
Alle Capitol-Aufnahmen von Jim & Jesse befinden sich auf der CD '1952 – 1955', die kompletten Aufnahmen aus ihrer Zeit bei Epic sind in einer 5-CD-Box zusammengestellt, die 'Bluegrass and More' heißt
Bewertungen lesen, schreiben und diskutieren...
mehr
Kundenbewertungen für "Bluegrass And More (5-CD)"
Bewertung schreiben
Bewertungen werden nach Überprüfung freigeschaltet.
Weitere Artikel von JIM & JESSE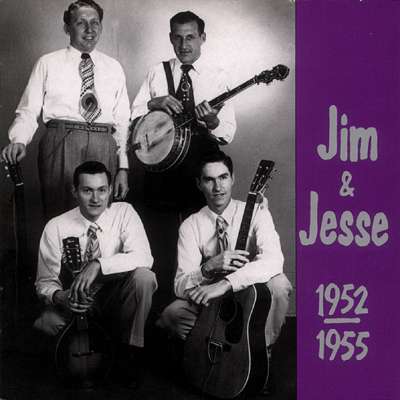 JIM & JESSE: Jim & Jesse 1952-1955 (CD)
Art-Nr.: BCD15635


Sofort versandfertig, Lieferzeit** 1-3 Werktage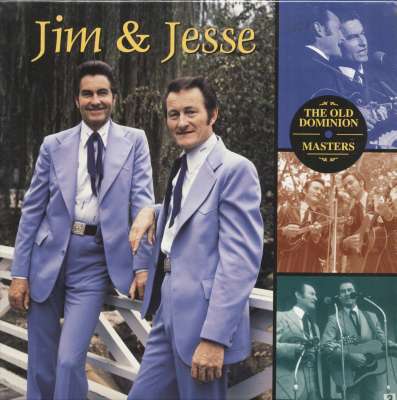 JIM & JESSE: The Old Dominion Masters (4-CD)
Art-Nr.: CDPCR9001


Sofort versandfertig, Lieferzeit** 1-3 Werktage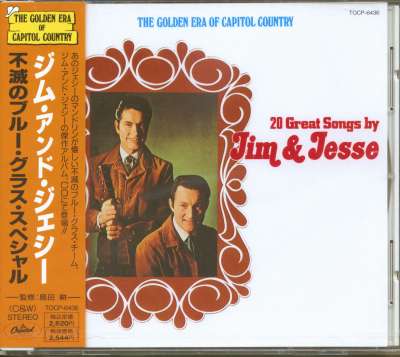 JIM & JESSE: 20 Great Songs By Jim & Jesse (CD Japan)
Art-Nr.: CDTOCP6436


Sofort versandfertig, Lieferzeit** 1-3 Werktage