Der Artikel wurde erfolgreich hinzugefügt.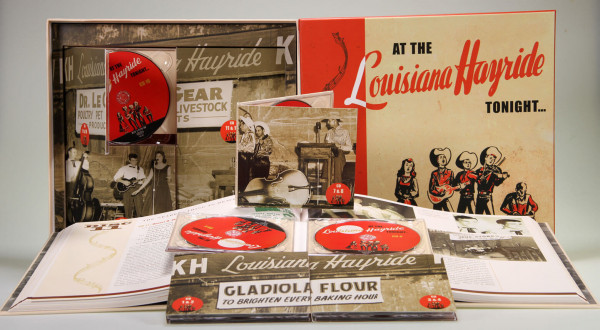 184,95 € *
194,95 € *
(5,13% gespart)
inkl. MwSt. / zzgl. Versandkosten - Abhängig vom Lieferland kann die MwSt. an der Kasse variieren.
Sofort versandfertig, Lieferzeit** 1-3 Werktage
Grammy Awards Nominierung 2019 'Bestes historisches Album' 20-CD Box (LP-Größe) mit...
mehr
Various: At The Louisiana Hayride Tonight (20-CD Deluxe Box Set)
Grammy Awards Nominierung 2019 'Bestes historisches Album'
20-CD Box (LP-Größe) mit 224-seitigem gebundenem Buch (LP-Größe), 559 Einzeltitel. Gesamtspieldauer 1.506:37 Minuten.
Unveröffentlichte Aufnahme von Hank Williams ' I'm A Long Gone Daddy' On New Bear Family Records Box Set -At The Louisiana Hayride Tonight (CD-2/track3)


HEUTE ABEND BEIM LOUISIANA HAYRIDE –
HANK WILLIAMS, ELVIS PRESLEY, JOHNNY CASH, JIM REEVES, JOHNNY HORTON, GEORGE JONES, WEBB PIERCE, JUNE CARTER, FRANKIE MILLER, FARON YOUNG und viele andere.
Die legendären 'Louisiana Hayride'-Radioübertragungen von KWKH aus den 1940er, 50er und 60er Jahren, insgesamt mehr als 25 Stunden Musik auf 20 CDs. Das Hayride wurde live von der Bühne in Shreveport gesendet und präsentierte die bekanntesten Stars der Country Music, spätere Legenden, regionale Größen und talentierte Newcomer.
Der Großteil dieser Musik, konnte seit der Originalübertragung nicht gehört werden!
EIN ERSTAUNLICHES HÖR-ERLEBNIS NACH SORGFÄLTIGER SOUND-BEARBEITUNG!
•
529 seltene Liveaufnahmen einschließlich zuvor unbekannter
I'm A Long Gone Daddy-V
ersion von Hank Williams.
•
11 live im Studio eingespielte Transcriptions von u.a.
Kitty Wells
, Johnnie and Jack, Hank Williams und
Curley Williams
.
•
19 reguläre Studioaufnahmen, darunter Hits von
Slim Whitman
, den Browns,
Mitchell Torok
,
Jim Reeves
,
Mac Wiseman
und Carolyn Bradshaw.
•
Insgesamt 167 verschiedene Künstler wie Hank Williams,
Elvis Presley
,
Johnny Horton
,
Webb Pierce
,
Faron Young
, Jim Reeves,
George Jones
,
Johnny Cash
,
Rose Maddox
,
Frankie Miller
,
Cousin Emmy
,
June Carter
,
Roy Acuff
, die Bailes Brothers, die
Oklahoma Wranglers
,
Norma Jean
, die Browns, die Carlisles, die
Louvin Brothers
, Jimmy Newman,
Ray Price
,
Roger Miller
,
Ferlin Husky
,
Warren Smith
,
Wynn Stewart
,
Grandpa Jones
, Rusty and
Doug Kershaw
, Slim Whitman und die
Wilburn Brothers
.
•
Zu den Stammgästen des Hayride zählen u.a. James O'Gwynn, Curley Williams,
Red Sovine
,
Betty Amos
, Harmie Smith, Buddy Attaway,
Margie Singleton
,
Tony
Douglas, Jack Ford,
Werly Fairburn
, Jeanette Hicks,
Goldie Hill
,
Tibby Edwards
, Hoot and Curley, Martha Lynn,
Claude King
,
David Houston
, Jerry Jericho,
Bob Luman
, Jimmy and Johnny,
Merle Kilgore
,
Jimmy Martin
,
Johnny Mathis
,
Jimmy Lee
,
Charlie Walker
,
Billy Walker
und Dee Mullin.
•
Sämtliche Künstler wurde von den ultra talentierten Hayride Haus-Bands mit u.a. Felton Pruett,
Jimmy Day
,
Floyd Cramer
, Sonny Trammell,
James Burton
, D. J. Fontana,
Shot Jackson
, Sonny Harville, Dobber Johnson, Buffalo Yount,
Don Davis
und Tillman Franks begleitet.
Video von Various - At The Louisiana Hayride Tonight (20-CD Deluxe Box Set)
Artikeleigenschaften von

Various: At The Louisiana Hayride Tonight (20-CD Deluxe Box Set)
Albumtitel:

At The Louisiana Hayride Tonight (20-CD Deluxe Box Set)

Genre

Country

Edition 2

Deluxe Edition

Preiscode

MS

Artikelart

Box set

EAN:

5397102173707

Gewicht in Kg:

4.3
Various Artists - At The Louisiana Hayride Tonight (20-CD Deluxe Box Set)

Box set 2
01
Mind Your Own Business
Hank Williams
02
Listen To The Mockingbird
Johnnie & Jack and Paul Warren
03
I'm A Long Gone Daddy
Hank Williams
04
He Will Set Your Fields On Fire
The Bailes Brothers
05
Milk Cow Blues
Zeke Clements
06
Georgia Steel Guitar
Curley Williams
07
I'll Step Aside
Harmie Smith
08
Signed, Sealed, Delivered
Red Sovine
09
I Wish I Was A Single Girl Again
Cousin Emmy
10
Comedy Routine /
Johnnie & Jack (as Nimrod and his Duck)
11
Jolly Blacksmith
Paul Warren
12
Shortnin' Bread
Cousin Emmy
13
Mountain Dew
Cousin Emmy's Kinfolks String Band
14
One Sided Affair
Curley Williams' Georgia Peach Pickers
15
China Boy
Curley Williams' Georgia Peach Pickers
16
Game for audience members – Beat The Band
Various
17
Sweeter Than The Flowers
Brother Homer (Bailes Brothers)
18
You Go To Your Church And I'll Go To Mine
The Bailes Brothers
19
Station identification
Various
20
Whipporwill Yodel
Slim Whitman
21
Somebody's Been Beating My Time
Oklahoma Wranglers
22
Wrangler Boogie
Oklahoma Wranglers
23
Irma
T Texas Tyler
24
Wondering
Webb Pierce
25
Water Baby Blues
Lucky Bob Davis
26
The Good Lord Must Have Sent You
Faron Young
Various Artists - At The Louisiana Hayride Tonight (20-CD Deluxe Box Set)

Box set 4
01
Red Eyed And Rowdy
Jim Reeves
02
Tweedlee Dee (& Talk and outro)
Elvis Presley
03
Blue Darling
Jimmy Newman
04
Just Like In The Movies
Jeanette Hicks
05
Yes Ma'am, Ma
Betty Amos
06
I'm Left, You're Right, She's Gone
Elvis Presley
07
Ida Red
Bill Peters
08
Which One Of Us Is To Blame
Billy Walker & Jeanette Hicks
09
Gone With The Wind This Morning
Johnny Horton
10
You Get What You Pay For (& Talk about future shows)
Hoot & Curley
11
Lucky Strike Ad /
Jeanette Hicks and Hoot & Curley
12
Ain't That A Shame
Jeanette Hicks
13
Baby Let's Play House
Elvis Presley
14
Maybellene
Elvis Presley
15
Floyd And Jimmy Boogie
Floyd Cramer & Jimmy Day
16
Yonder Comes A Sucker
Jim Reeves
17
Squaws Along The Yukon
David Houston
18
I Can't Keep The Girls Away
Billy Walker
19
Hey Porter
Johnny Cash
20
Luther Played The Boogie
Johnny Cash
21
Stay Close To Me (& Theme and Logan 'genial' talk)
Werly Fairburn
22
Ivory Tower
Betty Amos
23
Honky Tonk Man (& Talk about state fair)
Johnny Horton
24
Standing At The Station
Hoot & Curley and Jack Ford
25
Loose Talk
Gary Bryant
26
Slippin' And Slidin'
Jeanette Hicks
27
Talk and Outro
Various
28
Bill Cheatham (& Talk about fiddle tunes)
Dobber Johnson
29
I Want To Tell All The World
Jimmy Newman
Various Artists - At The Louisiana Hayride Tonight (20-CD Deluxe Box Set)

Box set 5
01
San Antonio Rose
Sonny Trammell
02
I Want To Be Loved (& Talk about Louisiana Hayride and state fair)
Betty Amos
03
So Doggone Lonesome
Johnny Cash
04
You Gotta Be My Baby (& Theme and Frank Page)
George Jones
05
My Blue Heaven
Jeanette Hicks
06
I Walk The Line
Johnny Cash
07
Dear Mary
Slim Whitman
08
Old Time Religion
Hoot & Curley and Jack Ford
09
Come Back To Me
Jimmy Newman
10
The Waltz Of The Angels
Benny Barnes
11
The Next Voice You Hear
Benny Barnes
12
Why Baby Why
George Jones
13
Tall Men
Rose Maddox
14
It's Heaven (& Theme and talk about Ark-La-Tex show)
Werly Fairburn
15
As Long As I'm Moving
Betty Amos
16
Mansion In The Sky
Hoot & Curley and Jack Ford
17
One Woman Man
Johnny Horton
18
Beautiful Brown Eyes
Jeanette Hicks & Jack Ford
19
Y'All Come
Buddy Attaway
20
Searching
Jeanette Hicks
21
Hasta Luego
David Houston
22
I'm Goin' Huntin' Tonight
Martha Lynn
23
Seasons Of My Heart (& Intro about 9th year)
Jimmy Newman
24
Bo Weevil
Jeanette Hicks
25
Muleskinner Blues
Buzz Busby
26
Poor Man's Riches
Benny Barnes
Various Artists - At The Louisiana Hayride Tonight (20-CD Deluxe Box Set)

Box set 6
01
Everybody's Rocking
Werly Fairburn
02
Outro and theme
Various
03
Since I Met You Baby (& Intro Logan)
Jack Ford
04
I Dreamed
Betty Amos
05
Billboard Song
The Geezinslaw Brothers
06
Singin' The Blues
The Geezinslaw Brothers
07
Yearning
Jeanette Hicks & James O'Gwynn
08
I'm Tired
Rusty & Lita Carson
09
My Heart's On Fire
Werly Fairburn
10
Speak To Me Baby
Werly Fairburn
11
We'll Never Say Goodbye, Just So Long
Bob Gallion
12
Hey Mr Bartender
Bob Gallion
13
Walking And Crying With The Blues
Tibby Edwards
14
Live And Let Live
Johnny Mathis
15
What Will Your Answer Be?
King Sterling
16
You're Still Mine
Jack Ford
17
Not Sure Of You
Jack Ford
18
Playing Dominoes And Shooting Dice
James O'Gwynn
19
I Guess I'm Crazy
Werly Fairburn
20
Sweet Love On My Mind
Jimmy & Johnny
21
I'm Coming Home
Johnny Horton
22
Not Like I Did Before
Johnny Horton
23
You Gotta Have A Heartbreak (& Outro)
Bob Gallion
24
Working On A Building
The Jordanaires
25
Heartbreak Hotel
Elvis Presley
26
I Was The One
Elvis Presley
Various Artists - At The Louisiana Hayride Tonight (20-CD Deluxe Box Set)

Box set 7
01
Don't Be Cruel
Elvis Presley
02
When My Blue Moon Turns To Gold Again
Elvis Presley
03
Long Tall Sally
Elvis Presley
04
Horace Logan announcements (and Elvis has left the building)
Various
05
Orange Blossom Special
The Geezinslaw Brothers
06
Bile 'Em Cabbage Down (& Intro)
Buffalo Yount
07
I'll Do It Every Time
Jimmy & Johnny
08
Lonely Street
Carl Belew
09
Lonesome Letter Blues
Jack Ford
10
Little Maggie (& Talk and theme out)
Hayriders
11
I'll Do It Every Time
Johnny Horton
12
I Can't Live Without Love
Martha Lynn
13
Do You Miss Me?
James O'Gwynn
14
Loose Talk
Betty Amos
15
Heaven's Just A Prayer Away
Jack Ford & the Four B's
16
What You Doin' To Me?
Jimmy & Johnny
17
Outro and theme
Various
18
I Cry (& Intro theme)
James O'Gwynn
19
Devil's Dream
Buffalo Yount
20
Let Me Talk To You
Martha Lynn
21
I'll Be Lonesome When You're Gone
Linda Brannon
22
That'll Be The Day (& Intro and theme)
The Four B's
23
Take The Long Way Home Tonight
Johnny Horton
24
Sugar Time
Charlie Phillips
25
Flatfoot Sam
Tommy Blake
26
Outro and theme
Various
27
You Are The One
Carl Smith
28
Honeycomb (& Intro & Frank Page)
Johnny Mathis
29
John Henry
Johnny Horton
30
Love Bug Crawl
Jimmy Edwards
31
Outro & Theme
Various