Der Artikel wurde erfolgreich hinzugefügt.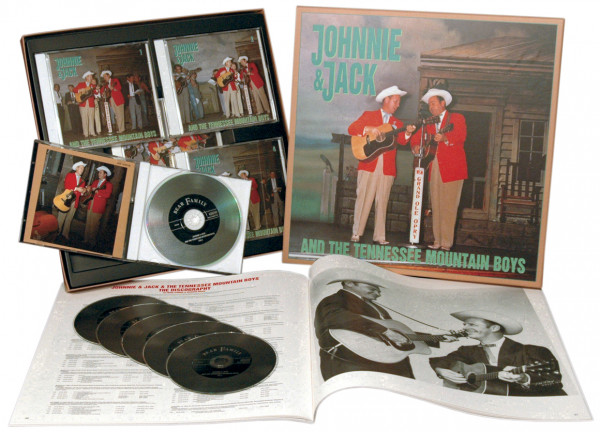 Dieser Artikel ist gestrichen und kann nicht mehr bestellt werden!
99,95 € *
109,95 € *
(9,1% gespart)
inkl. MwSt. zzgl. Versandkosten
Artikel derzeit nicht verfügbar, Lieferfristen von bis zu 2-3 Wochen sind zu erwarten. (soweit verfügbar beim Lieferanten - kann aber auch schneller gehen)
Artikel-Nr.:

BCD15553

Gewicht in Kg.:

1.6
6-CD Box (LP-Format) mit 68-seitigem Buch, 180 Einzeltitel. Spieldauer ca. 438 Minuten. Eines...
mehr
JOHNNIE & JACK: & The Tennessee Mountain Boys (6-CD)
6-CD Box (LP-Format) mit 68-seitigem Buch, 180 Einzeltitel. Spieldauer ca. 438 Minuten.

Eines der wirklich beeindrucken und besten Duos in der Geschichte der Country Music waren Johnnie & Jack, deren Gesamtwerk wir in dieser Box zusammenfassen. Diese sechs CDs enthalten ihre sämtlichen Aufnahmen für Apollo, King, RCA und Decca aus den Jahren 1947 bis zu Jacks Tod 1963. Im Begleitbuch listet Johnnie Wright penibel jede einzelne ihrer Sessions auf, sein Gedächtnis ist phänomenal und seine Aufzeichnungen kommen der Beschreibung von 15 Jahren Country-Music-Geschichte gleich. Außerdem hat er fürs Begleitbuch faszinierende Fotos aus seinem Privatbestand zur Verfügung gestellt. Zusätzlich liefert Grand-Ole-Opry-Ansager Eddie Stubbs einen sensationell detaillierten Begleittext.
Artikeleigenschaften von

JOHNNIE & JACK: & The Tennessee Mountain Boys (6-CD)
Albumtitel:

& The Tennessee Mountain Boys (6-CD)

Genre

Country

Edition 2

Deluxe Edition

Preiscode

FI

Artikelart

Box set

EAN:

4000127155535

Gewicht in Kg:

1.6
Johnnie & Jack - & The Tennessee Mountain Boys (6-CD)

Box set 1
01
There's No Housing Shortage In Heaven
02
Love In The First Degree
03
Too Many Blues
04
This Is The End
05
Paper Boy
06
Sing Tom Kitty
07
Jole Blon
08
I'll Be Listening
09
This World Can't Stand Long
10
The Old Country Church
11
I Heard My Name On The Radio
12
Turn Your Radio On
13
He Will Set Your Fields On Fire
14
What About You?
15
For Old Times Sake
16
Just When I Needed You
17
She Went With A Smile
18
Trials And Tribulations
19
Buried Alive
20
I Heard My Savior Call
21
Pray Together And We'll Stay Together
22
Shout
23
You Better Get Down On Your Knees And Pray
24
Too Much Sinning
25
Jesus Hits Like An Atom Bomb
26
Too Far From God
Johnnie & Jack - & The Tennessee Mountain Boys (6-CD)

Box set 2
01
Poison Love
02
Lonesome
03
I'm Gonna Love You One More Time
04
A Smile On My Lips
05
Take My Ring From Your Finger
06
I Can't Tell My Heart That
07
Cryin' Heart Blues
08
Let Your Conscience Be Your Guide
09
Humming Bird
10
How Can I Believe In You
11
You Tried To Ruin My Name
12
Ashes Of Love
13
Three Ways Of Knowing
14
When You Want A Little Lovin'
15
You Can't Fool God
16
Precious Memories
17
Shake My Mother's Hand For Me
18
When The Savior Reached Down For Me
19
Slow Poison
20
But I Love You Just The Same
21
Just For Tonight
22
Don't Show Off
23
Heart Trouble
24
Two Timing Blues
25
I've Gone And Done It Again
26
Don't Let The Stars Get In Your Eyes
27
The Only One I Ever Loved I Lost
28
Borrowed Diamonds
29
Private Property
Johnnie & Jack - & The Tennessee Mountain Boys (6-CD)

Box set 3
01
Called From Potter's Field
02
I'll Live With God (To Die No More)
03
Angels Rock Me To Sleep
04
The Eastern Gate
05
Hank Williams Will Live Forever
06
South Of New Oreans
07
You're My Downfall
08
The Winner Of Your Heart
09
Don't Say Goodbye If You Love Me
10
The Pig Latin Serenade
11
Love Trap
12
Cheated Out Of Love
13
From The Manger To The Cross
14
I'm Ready To Go
15
God Put A Rainbow In The Clouds
16
Don't Give Away Your Bible
17
Crazy Worried Mind
18
Love's A Pleasure Not A Habit In Mexico
19
You've Got Me In Your Power
20
Dynamite Kisses
21
I Loved You Better Than Ever You Knew
22
Pickup Date
23
Borrowed Diamonds
24
Private Property
25
S.O.S.
26
(Oh Baby Mine) I Get So Lonely
27
You're Just What The Doctor Ordered
28
I Ain't Got Time
29
All The Time
30
Goodnight, Sweetheart, Goodnight
31
Honey, I Need You
Johnnie & Jack - & The Tennessee Mountain Boys (6-CD)

Box set 4
01
Beware Of It
02
Sincerely
03
Carry On
04
No One Dear But You
05
We Live In Two Different Worlds
06
So Lovely Baby
07
Look Out
08
Don't Waste Your Tears
09
Weary Moments
10
Dream When You're Lonely
11
Tom Cat's Kitten
12
Feet Of Clay
13
I Want To Be Loved
14
You Can't Divorce My Heart
15
Baby, It's In The Making
16
I Loved You Better Than You Knew
17
I Wonder Why You Say Goodbye
18
Love, Love, Love
19
What's The Reason, I'm Not Pleasing You
20
Love Fever
21
Live And Let Live
22
When My Blue Moon Turns To Gold Again
23
Why Not Confess
24
The Banana Boat Song
25
Mister Clock
26
Love Me Now
27
If Tears Would Bring You Back
28
That's Why I'm Leavin'
29
Oh Boy, I Love Her
Johnnie & Jack - & The Tennessee Mountain Boys (6-CD)

Box set 5
01
Nothing But Sweet Lies
02
Move It On Over
03
No One Will Ever Know
04
I Don't Mean To Cry
05
I Wonder Where You Are Tonight
06
Slowly
07
Wedding Bells
08
I Never Can Come Back To You
09
You Are My Sunshine
10
Stop The World (And Let Me Off)
11
Camel Walk Stroll
12
I've Seen This Movie Before
13
Yeah
14
Poison Love
15
Leave Our Moon Alone
16
Lonely Island Pearl
17
That's The Way The Cookie Crumbles
18
Ashes Of Love
19
What About You
20
Cryin' Heart Blues
21
South In New Orleans
22
Just When I Needed You
23
I Can't Tell My Heart That
24
Lonesome
25
Three Ways Of Knowing
26
No One Dear But You
27
(Oh Baby Mine) I Get So Lonely
28
Goodnight, Sweetheart, Goodnight
29
With A Smile On My Lips
Johnnie & Jack - & The Tennessee Mountain Boys (6-CD)

Box set 6
01
I Wonder If You Know
02
It's Just The Idea
03
It's Just The Idea
04
Sailor Man
05
Wild And Wicked World
06
Sweetie Pie
07
Happy, Lucky Love
08
Just Like You
09
Dreams Come True
10
She Loves Me No More
11
Country Music Has Gone To Town
12
Talkin' Eyes
13
Lonesome Night Wind
14
Love Problems
15
I'm Always By Myself When I'm Alone
16
Smiles And Tears
17
Uncle John's Bongos
18
Let My Heart Be Broken
19
Sweet Baby
20
The Moon Is High And So Am I
21
Thirty Six, Twenty Two, Thirty Six
22
What Do You Think Of Her Now
23
Poison Love
24
Bye Bye Love
25
Slow Poison
26
Foolin' Around
27
Waterloo
28
A Little Bitty Tear
29
I Overlooked An Orchid
30
You'll Never Get A Better Chance Than This
Johnnie & Jack So Lovely Baby- Move It On Over " I had never been to...
mehr
"JOHNNIE & JACK"
Johnnie & Jack
So Lovely Baby- Move It On Over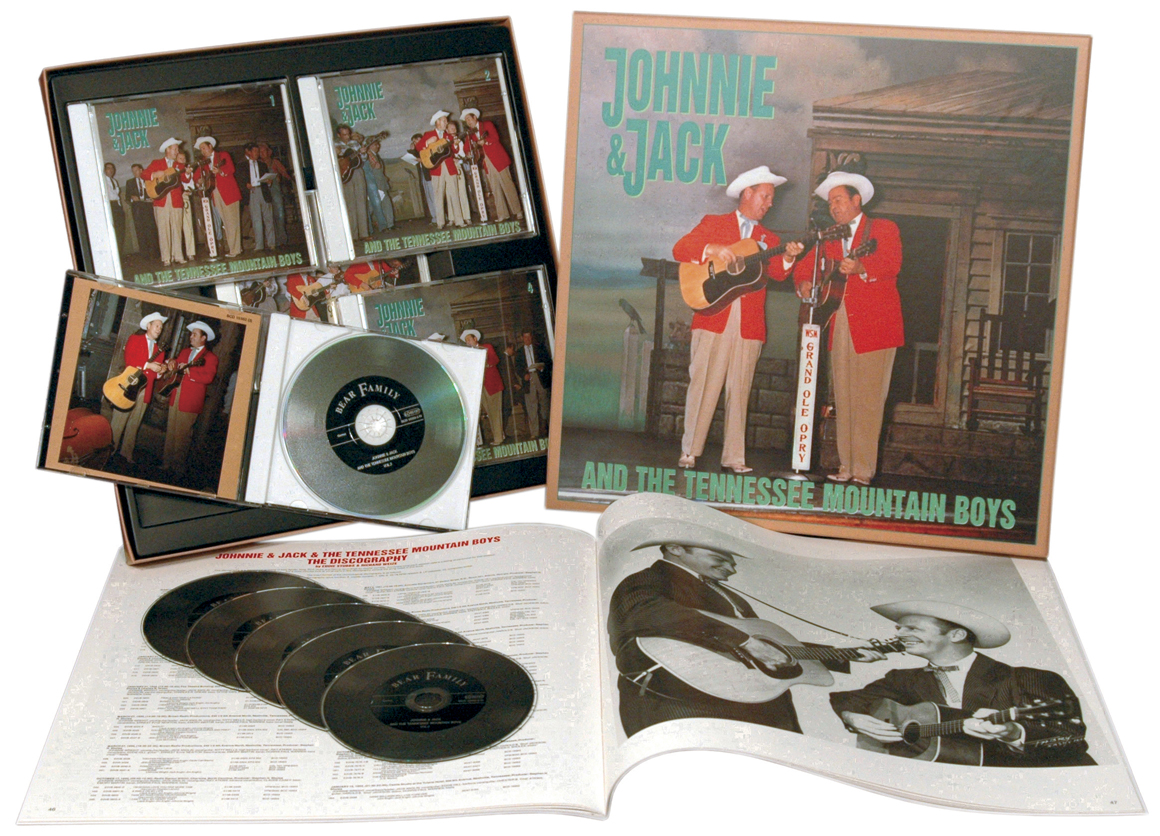 " I had never been to Nashville," wrote Doug Kershaw, "so I jumped at the chance when this fellow from Crowley [songwriter/producer Jay Miller] asked if I would help him drive. I said, 'Hell Yes.' Sure enough two days later I find myself scared to death sitting in a corner of a (closet sized) studio while this fellow from Crowley he's rapping to Mr. Wesley Rose and Mr. Joe Lucus about this great group he'd discovered and this great hit record he had just recorded on his very local label in Crowley. So this fellow from Crowley punched the old Ampex. Mr. Rose was smiling. Mr. Lucus was smiling. The fellow from Crowley was smiling, but the old Ampex wasn't. It took the tape and stretched it and the fellow from Crowley cried and yelled, 'My only tape of this hit!' Mr. Rose said, 'Good, I'll take 'em.' Then Doug Kershaw smiled." The song was So Lovely Baby, a wonderfully spirited and engaging disc, due in no small measure to Wiley Barkdull's bass vocal weaving in and out of the song. The Hickory logs tell us that it was recorded on May 24, 1955, and six weeks later Johnnie and Jack recorded it with Culley Holt singing Barkdull's part.
Johnnie and Jack would have been one of the great brother duets …if they'd been brothers. They first sang together in 1938, at the height of the craze for singing brother duos, and they stayed together until 1963. Both Johnnie Wright and Jack Anglin were born on May 13; Johnnie in 1914, and Jack two years later. They were one of the few major Nashville acts actually from the Nashville area. Their sometime guitarist, Chet Atkins, persuaded Steve Sholes that they should be on RCA, and their first RCA record appeared in 1949. In 1957, they revived Hank Williams' first hit from ten years earlier, Move It On Over. At the session, Johnnie Wright remembered that steel guitarist Harold Morrison's stool fell out from underneath him, but he carried on playing.
A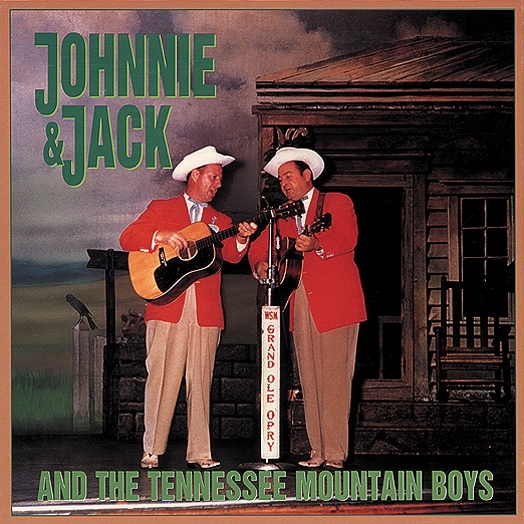 fter a session in August 1960, Johnnie & Jack parted company from RCA after eleven years. They moved on to Decca Records, and their revival of an old RCA recording, Slow Poison, gave them their last chart entry in 1962. On March 7, 1963, Johnnie and Jack drove from their homes in Madison to a memorial service for Patsy Cline, Hawkshaw Hawkins, and Cowboy Copas who'd been killed two days earlier. Jack was by himself in his car and was running late when he turned too fast onto Due West Avenue. His car went off the road, and the impact fractured his skull, killing him. Johnnie Wright continued working with his wife, Kitty Wells.
JOHNNIE & JACK & The Tennessee Mountain Boys (6-CD)
Read more at: https://www.bear-family.com/johnnie-und-jack-the-tennessee-mountain-boys-6-cd.html
Copyright © Bear Family Records
Bewertungen lesen, schreiben und diskutieren...
mehr
Kundenbewertungen für "& The Tennessee Mountain Boys (6-CD)"
Bewertung schreiben
Bewertungen werden nach Überprüfung freigeschaltet.