Der Artikel wurde erfolgreich hinzugefügt.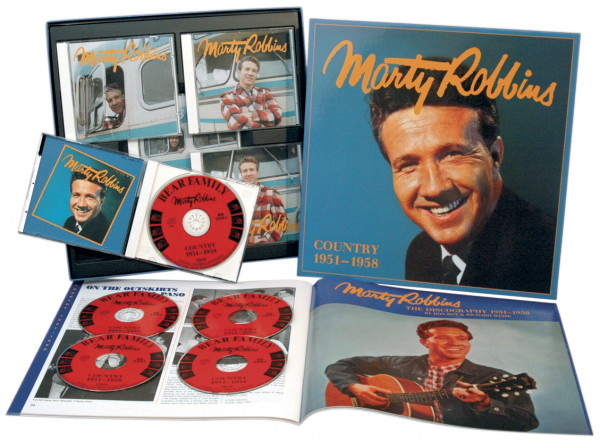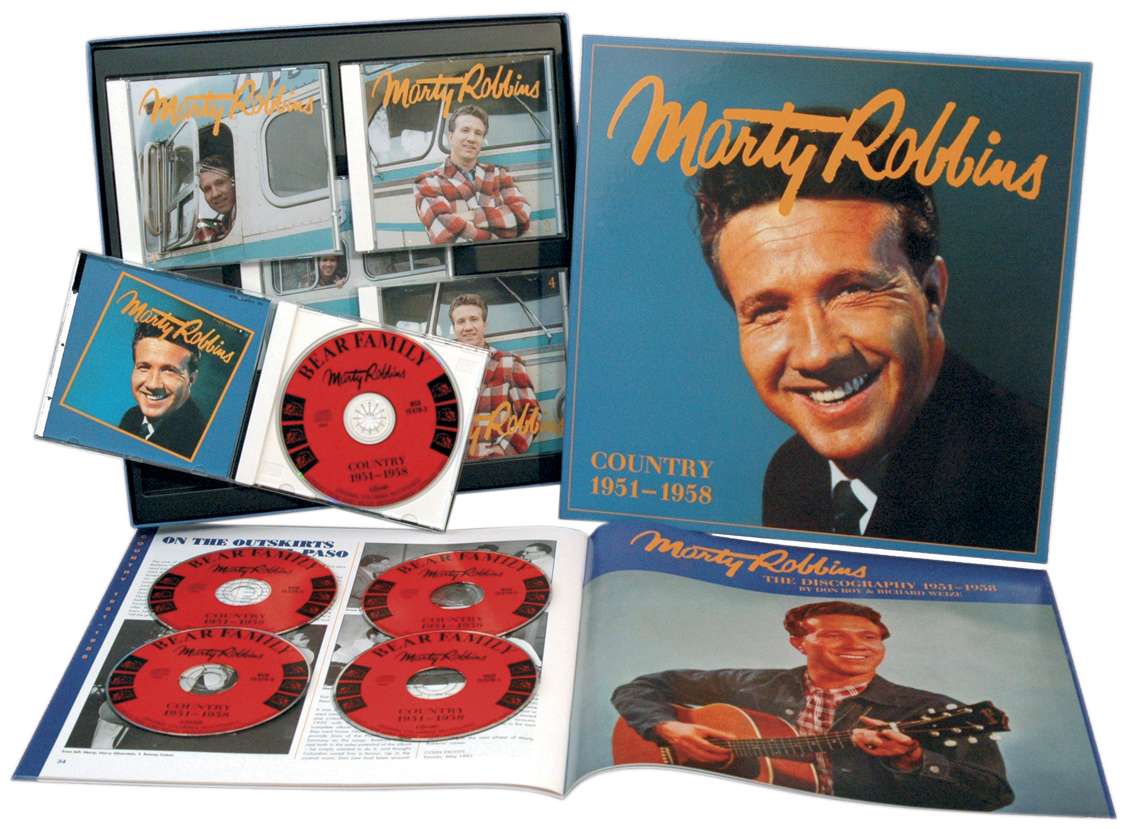 74,95 € *
79,95 € *
(6,25% gespart)
inkl. MwSt. / zzgl. Versandkosten - Abhängig vom Lieferland kann die MwSt. an der Kasse variieren.
Sofort versandfertig, Lieferzeit** 1-3 Werktage
Artikel-Nr.:

BCD15570

Gewicht in Kg.:

1.5
5-CD Box (LP-Format) mit 45-seitigem Buch, 151 Einzeltitel. Spieldauer ca. 362 Minuten. Hier...
mehr
Marty Robbins: Country 1951-1958 (5-CD Deluxe Box Set)
5-CD Box (LP-Format) mit 45-seitigem Buch, 151 Einzeltitel. Spieldauer ca. 362 Minuten.
Hier wird erstaunliche Vielfalt geboten, von Hillbilly String Band Music, Folk und Rockabilly bis
Western
Music und Aufnahmen im Hawaii-Stil:
Marty Robbins
drückt allem seinen eigenen Stempel auf. Die umfassende Retrospektive enthält seine frühen und ersten Hits wie
I'll Go On Alone, That's All Right, Mean Mama Blues, Maybelline, Tennessee Toddy, Mister Teardrop, Singing The Blues, Knee Deep In The Blues
und
I Can't Quit
. Bei einer kompletten Session mit Folk Songs und traditioneller Musik wird er nur von einer Gitarre begleitet. Die Box liefert darüber hinaus seine erste Hawaii-LP, seine Rock 'n' Roll-Aufnahmen und die Duette. Eine fünfte CD schließlich liefert Einblick in die Aufnahmesessions mit unvollendeten Fassungen, abgebrochenen Aufnahmeversuchen und alternativen Fassungen. Eine wahrlich lebensnotwendige Zusammenstellung.
Artikeleigenschaften von

Marty Robbins: Country 1951-1958 (5-CD Deluxe Box Set)
Albumtitel:

Country 1951-1958 (5-CD Deluxe Box Set)

Genre

Country

Edition 2

Deluxe Edition

Preiscode

EH

Artikelart

Box set

EAN:

4000127155702

Gewicht in Kg:

1.5
Marty Robbins Geb. 26. 9. 1925 in Glendale - Arizona gest. 8. 12. 1982 Record Labels:...
mehr
"Marty Robbins"
Marty Robbins
Geb. 26. 9. 1925 in Glendale - Arizona gest. 8. 12. 1982
Record Labels: Columbia, Embassy, Hallmark, MCA, Bear Family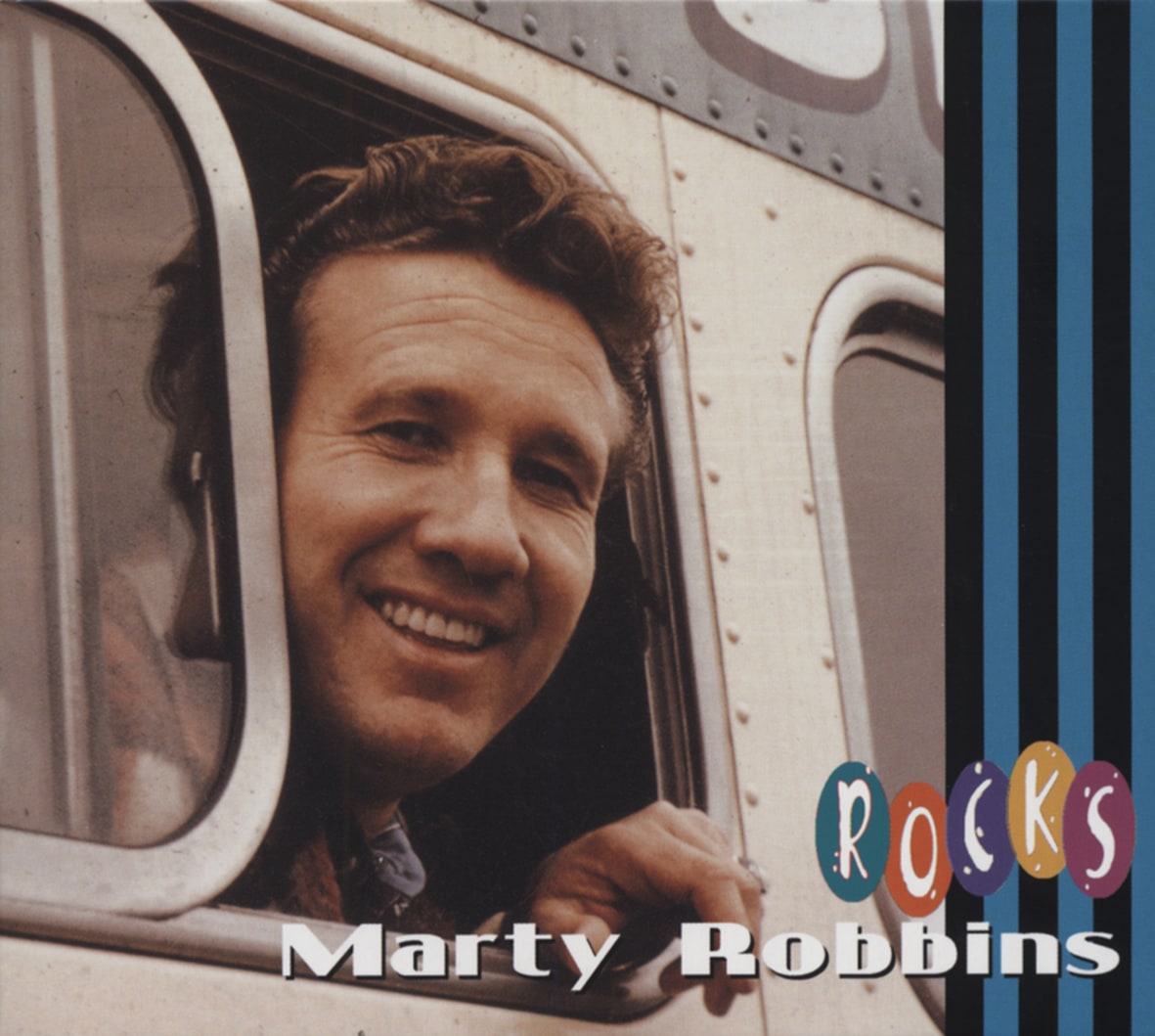 Obwohl das als Rock'n' Roll bekannte Kind schon eine ganze Weile vor Elvis Presley's Schnitt That's All Right an einem Sommerabend im Juli 1954 in Amerika herumtorkelte, war es der Durchbruch dieser Platte, der die Aufmerksamkeit der Hillbilly-Musikindustrie auf diesen vermeintlich'neuen Sound' lenkte. Bis 1955 war das, was auf den ersten Blick ein Neuheitserfolg zu sein schien, offensichtlich ein wachsender Trend. Und obwohl sich niemand sicher war, dass der Rock'n' Roll hier bleiben würde, begann er mit Sicherheit das Einkommen vieler etablierter Country-Stars zu kürzen.
Mit der Begeisterung für diesen neuen Beat machte es für Country-Sänger einfach Sinn, sich ein Stück vom Rock'n' Roll-Kuchen zu schnappen. Einige Interpreten waren von der Musik verblüfft und es zeigte sich in ihren Versuchen. Andere nahmen den neuen Sound instinktiv an - die Verbindung zum Hillbilly-Boogie und dem'Sockenrhythmus' von Hank Williams und der jüngeren Rasse der Honky-Tonkers, die ihm gefolgt waren. Obwohl diese Künstler eine Handvoll großartiger Rockabilly-Platten produzierten, wateten sie immer noch am flachen Ende des Rock'n' Roll Pools, anstatt ganz ins kalte Wasser zu springen.
Und dann gab es ein paar Sänger, die die Countrymusik für eine Rock-'n'Roll- oder Popkarriere sehr wohl aufgegeben hätten, wenn es etwas anders gelaufen wäre. Das ist sicherlich der Fall für Marty Robbins, der etwa ein Jahr lang seine Karriere in eine Rock'n'Roll-Richtung zeigte, ohne jemals als Poser oder Heuchler aufzutreten. Aber Robbins war nie einer, der sich auf einen einzigen Stil verlassen konnte, egal wie viel Erfolg er in diesem Bereich hatte. Wie er dem Journalisten Bob Allen 1981 sagte: "Ich will nicht in irgendeine Kategorie eingeordnet werden. Ich will nicht in einen Trott verfallen." Es war Robbins' Weigerung, sich einordnen zu lassen und sein musikalischer Eklektizismus, der es ihm ermöglichte, große Rock'n' Roll- und Rockabilly-Platten aufzunehmen, führte ihn aber auch in viele andere Bereiche.
Wenn Rock der Soundtrack der Teenager-Rebellion war, hatte Robbins sicherlich Erfahrung. Geboren am 26. September 1925 in der Nähe von Glendale, Arizona, als Martin David Robinson, verbrachte er seine ersten Jahre in einem armseligen Haushalt mit einem alkoholabhängigen Vater, der seine Wut häufig an seiner Frau und seinen neun Kindern ausließ. Obwohl sich seine Eltern im Alter von zwölf Jahren scheiden ließen, trug es wenig zur finanziellen Situation der Familie bei. Als er seine Teenager betrat, fand Robbins eine Rebellion, um seinen Ärger und seine Frustrationen auszudrücken - er beteiligte sich an kleinen Verbrechen, die zu mehreren Begegnungen mit dem Gesetz führten. Seine Rehabilitation erfolgte schließlich durch die U.S. Navy. Er meldete sich im Mai 1943 und diente im Pazifik, wo er während der blutigen Kämpfe für die Salomon-Inseln Landungsboote steuerte.
Aber die Navy hat ihn nicht nur aus einem kriminellen Leben reformiert.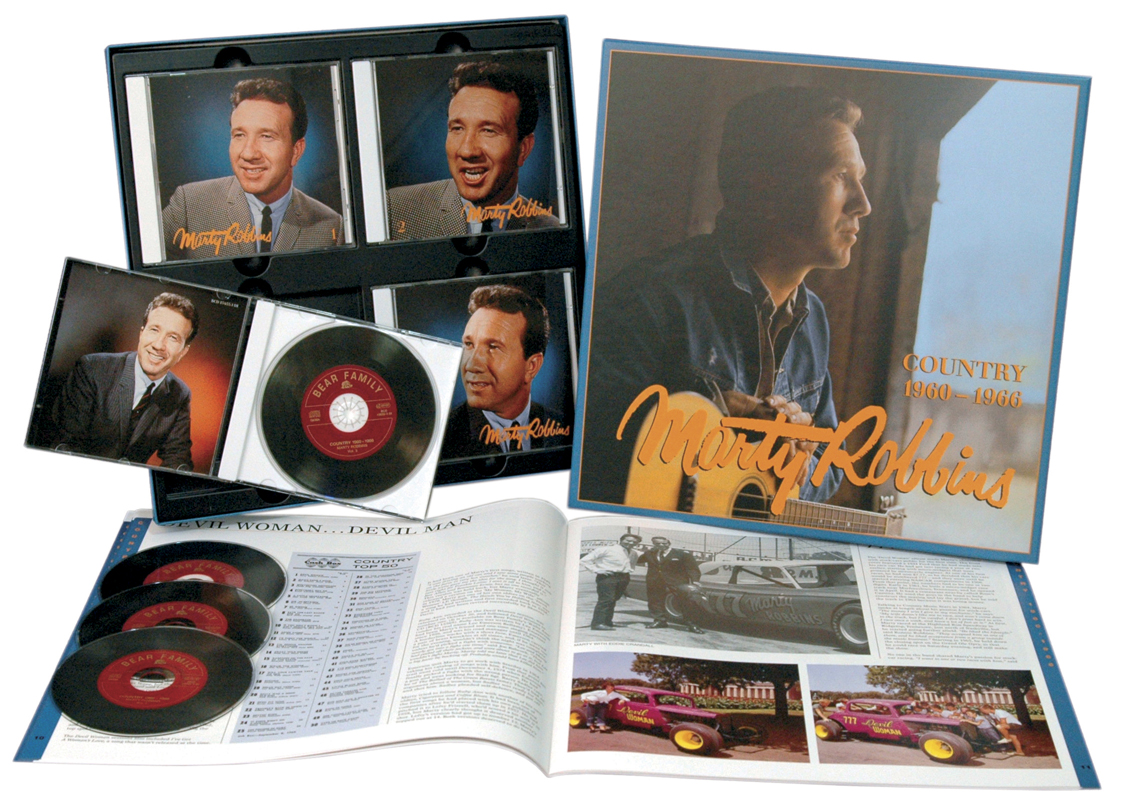 Es war, während er im Dienst war, als er anfing, sich für das Spiel zu interessieren und das Gitarrenspiel zu erlernen. Obwohl Hillbilly-Musik war sehr häufig in Arizona, Robbins' wichtigste Exposition gegenüber Musik als Kind war Radio-Crooners und die singenden Cowboys in den westlichen Filmen, die er liebte. Viele seiner Mitsegler waren Südstaatler, und von ihnen lernte Robbins die Hillbilly-Musik zu schätzen.
Als er nach dem Krieg nach Glendale, Arizona, zurückkehrte, trieb Robbins in eine Karriere als Hillbilly-Sänger und änderte schließlich seinen Namen in den kürzeren und eingängigeren'Marty Robbins'. Teil des Grundes für seine Berufswahl war einfach, weil er wenig Geduld für die 8 bis 5 Schleifen eines normalen Jobs hatte, und mit vielen honky tonks und hillbilly Radiosendungen, die über dem Südwesten zerstreut wurden, war das hillbilly Feld eher als Knall crooning, wo die meisten Gelegenheiten für das Brechen in das Geschäft lagen. Schon früh zeigte Robbins einen ausgeprägten Geschäftssinn und die Bereitschaft, hart an seiner Karriere zu arbeiten. Während der späten 1940er Jahre und bis in die 50er Jahre hielt Robbins einen vollen Terminkalender in Radio und Fernsehen, zusammen mit persönlichen Auftritten, die von Texas bis Kalifornien reichten. Es war diese harte Arbeit, das Erlernen des Geschäfts und die Entwicklung seiner Fähigkeiten als vollendeter Entertainer, die zu seiner Unterzeichnung bei Columbia Records im Jahr 1951 führte.
Beginnend mit Robbins' erster Session für Columbia im November 1951, begann er den sanften, melancholischen Stil zu entwickeln, der zu dem Spitznamen "Herr" führte. "Teardrop." Es war eine Variation der Eddy Arnold Country-Crooner-Formel von Heartbreak-Balladen, die sich auf das Zusammenspiel von sanftem Gesang und dem Schrei der Steelgitarre stützte. Diese Formel führte zu Robbins' ersten beiden Hits, I'll Go On Alone, die im Januar 1953 für eine Woche die Nummer eins auf der'Billboard' Country Single-Charts erreichten, und I Couldn't Keep From Crying, das im März 1952 die Nummer fünf erreichte.
Excerpt from BCD17245 - Marty Robbins Marty Robbins - RocksRead more at: https://www.bear-family.de/robbins-marty-marty-robbins-rocks.html
Copyright © Bear Family Records
Bewertungen lesen, schreiben und diskutieren...
mehr
Kundenbewertungen für "Country 1951-1958 (5-CD Deluxe Box Set)"
Von:
Sabine
Am:
22.09.2017
Großartig
Ganz tolles Box Set
Bewertung schreiben
Bewertungen werden nach Überprüfung freigeschaltet.
Weitere Artikel von Marty Robbins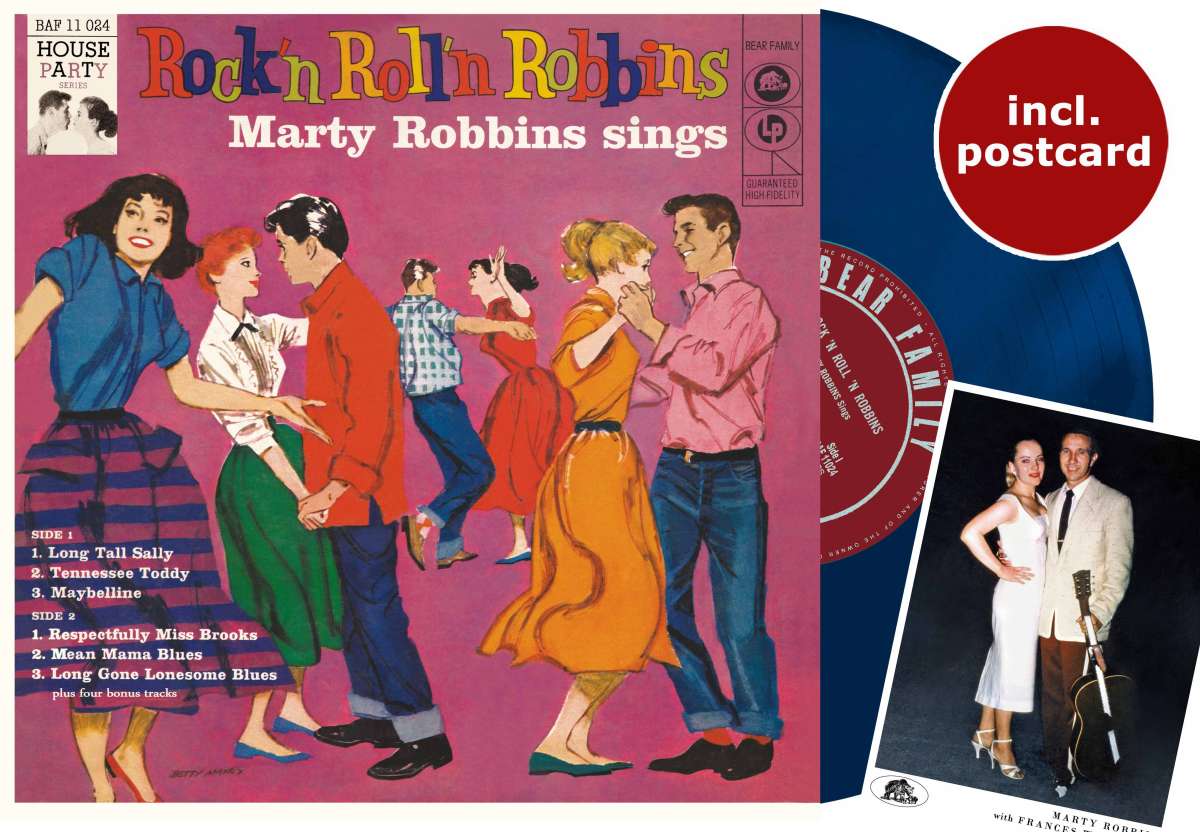 Marty Robbins: Rock'n Roll'n Robbins (LP, 10inch, Ltd.)
Art-Nr.: BAF11024


Sofort versandfertig, Lieferzeit** 1-3 Werktage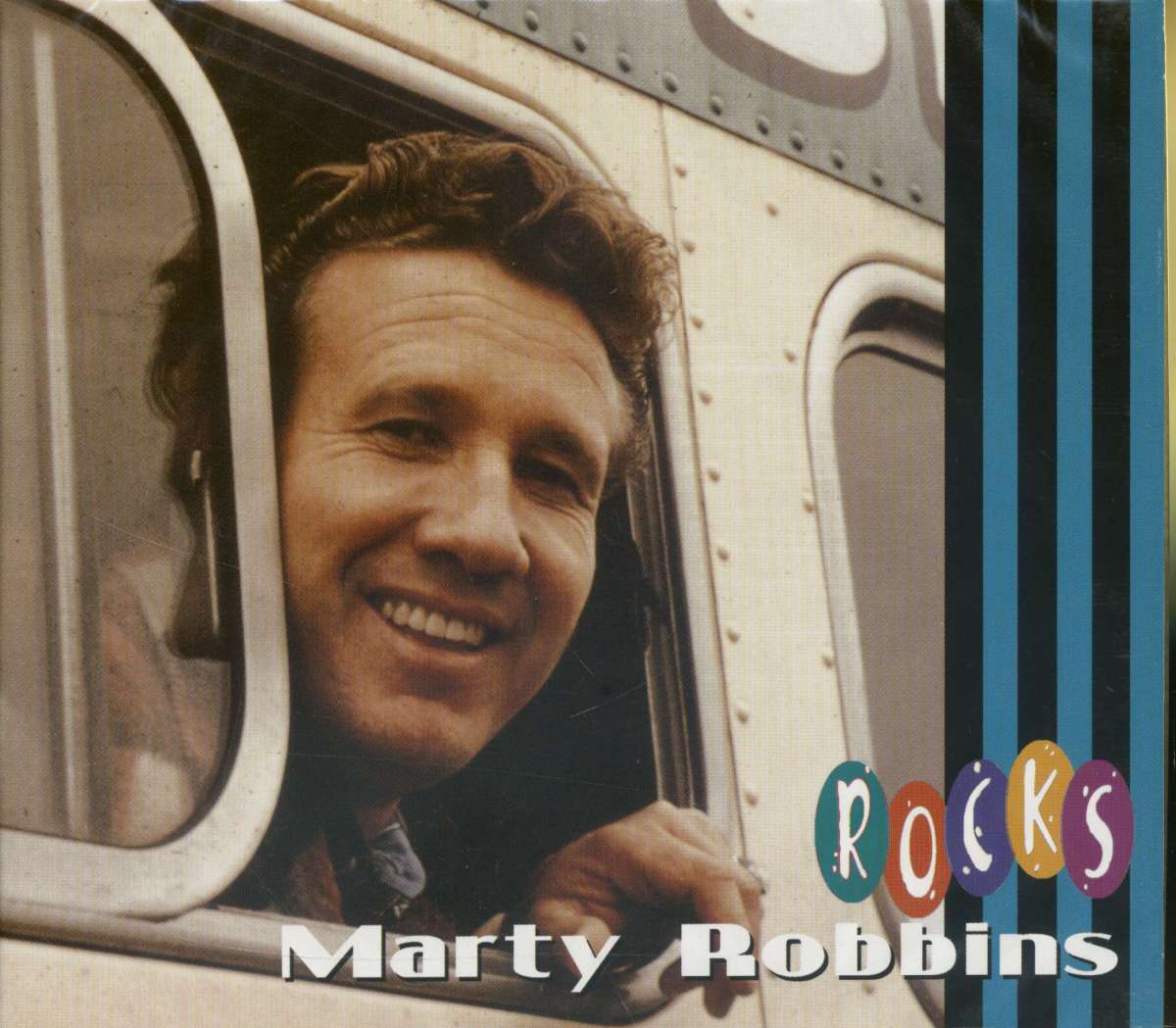 Marty Robbins: Marty Robbins - Rocks (CD)
Art-Nr.: BCD17245


Sofort versandfertig, Lieferzeit** 1-3 Werktage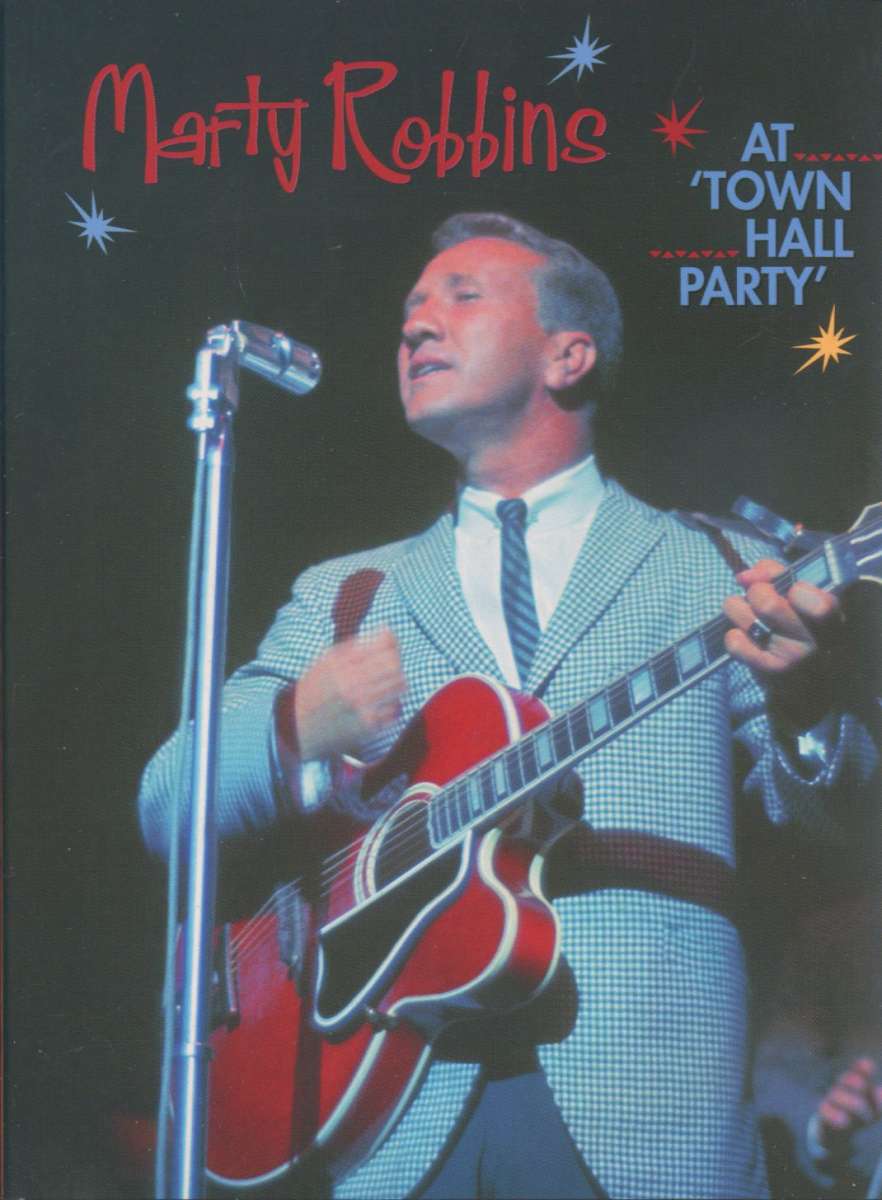 Marty Robbins: Marty Robbins - At Town Hall Party (DVD)
Art-Nr.: BVD20007


Sofort versandfertig, Lieferzeit** 1-3 Werktage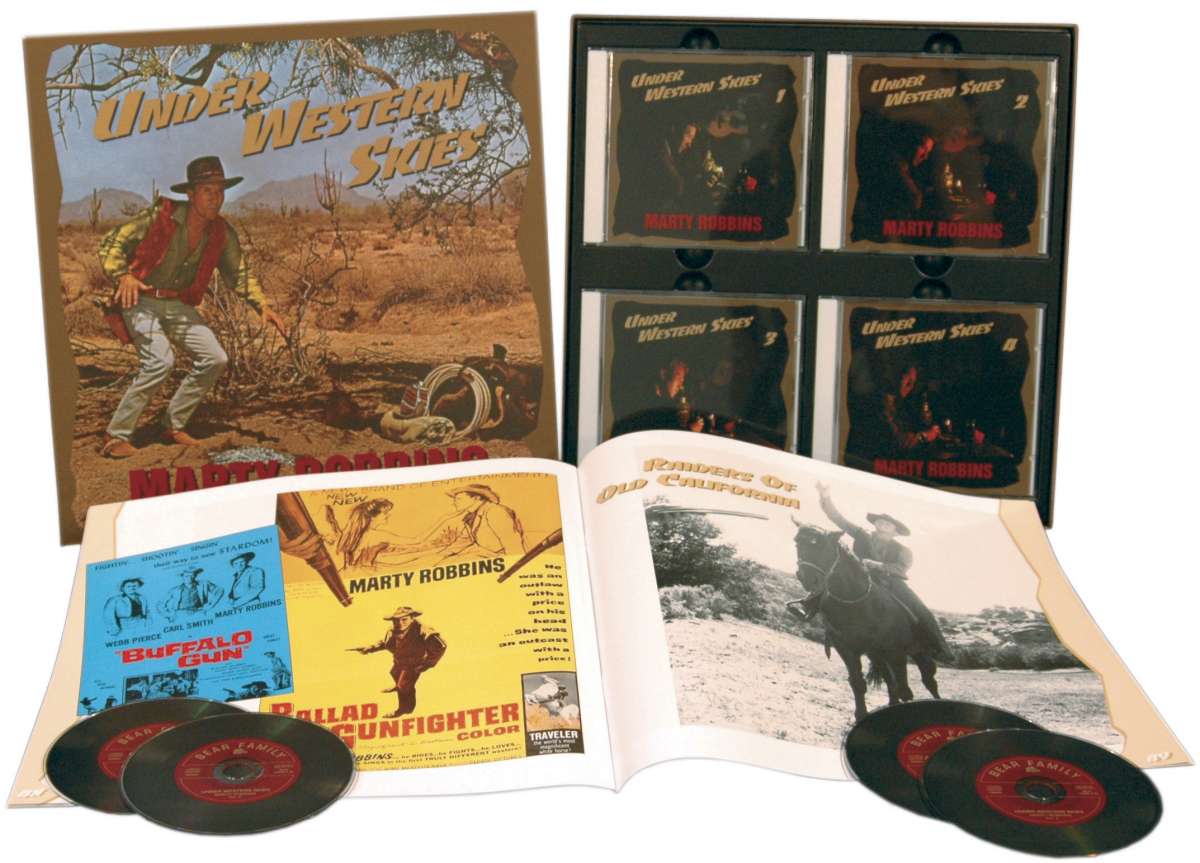 Marty Robbins: Under Western Skies (4-CD Deluxe Box Set)
Art-Nr.: BCD15646


Sofort versandfertig, Lieferzeit** 1-3 Werktage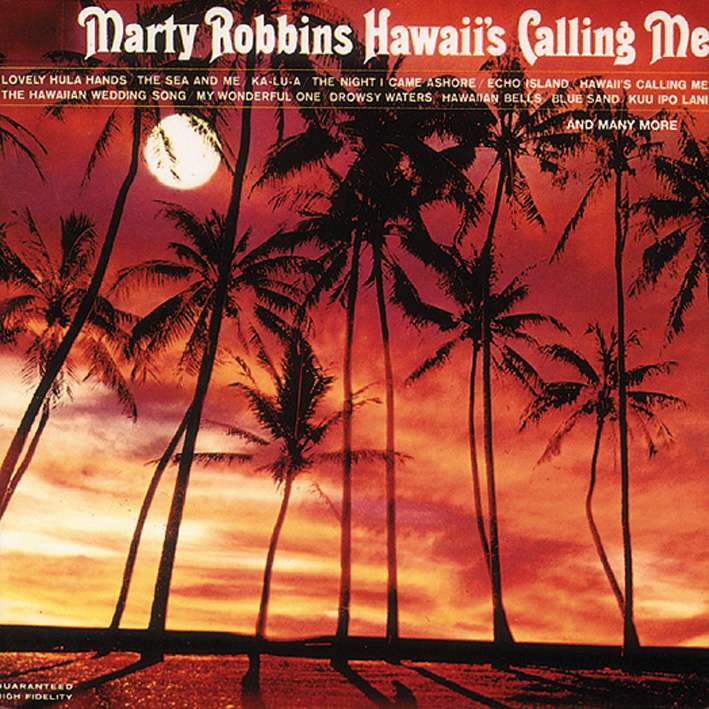 Marty Robbins: Hawaii's Calling Me
Art-Nr.: BCD15568


Sofort versandfertig, Lieferzeit** 1-3 Werktage