Der Artikel wurde erfolgreich hinzugefügt.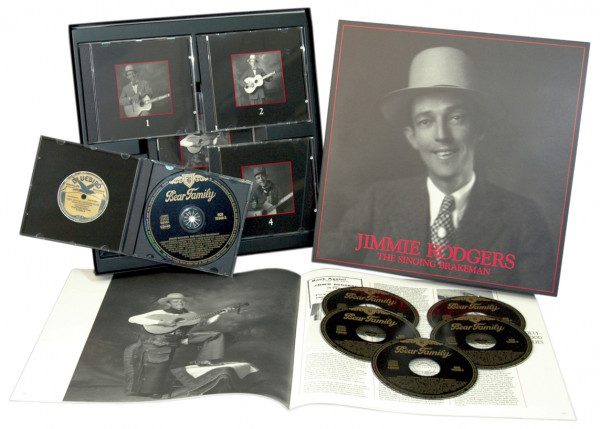 inkl. MwSt. / zzgl. Versandkosten - Abhängig vom Lieferland kann die MwSt. an der Kasse variieren.
die letzten 2 verfügbar
Sofort versandfertig, Lieferzeit** 1-3 Werktage
Artikel-Nr.:

BCD15540

Gewicht in Kg.:

1.6
6-CD Box (LP-Format) mit 59-seitigem Buch, 145 Einzeltitel. Spieldauer ca. 445 Minuten. Jimmie...
mehr
Jimmie Rodgers: The Singing Brakeman (6-CD Deluxe Box Set)
6-CD Box (LP-Format) mit 59-seitigem Buch, 145 Einzeltitel. Spieldauer ca. 445 Minuten.
Jimmie Rodgers
war der erste Superstar der Country Music! Vor dem Zweiten Weltkrieg beeinflusste er die Musik und seine Kollegen ebenso wie es nach dem Krieg
Lefty Frizzell
und
Hank Williams
taten. Man kann die Country Musik nicht wirklich verstehen und erfassen, ohne
Jimmie Rodgers
nicht in- und auswendig zu kennen. Wenn sie wissen wollen, welch unterschiedliche musikalische Elemente den unverkennbaren Jimmy-Rodgers-Stil ausmachen, kommen Sie an dieser CD-Box nicht vorbei. Diese Aufnahmen revolutionierten seinerzeit die Country Music:
In The Jailhouse Now, T For Texas
(und alle
Blue Yodels
),
Waiting For A Train, Never No Mo' Blues, Desert Blues, Carolina Sunshine Girl, Any Old Time, High Powered Mama, My Rough And Rowdy Ways, Moonlight And Skies, Gambling Polka Dot Blues, When The Cactus Is In Bloom, Peach Pickin' Time In Georgia
sowie Jimmie Rodgers' Songs über die Krankheit, die ihn schließlich umbrachte,
T.B. Blues
und
Whippin' That Old T.B.
Wir präsentieren die einzige vollständige Sammlung der Arbeit von Jimmie Rodgers und die einzige Zusammenstellung, die sorgfältig von den original Metall-Mastern übernommen wurde. Sie enthält die Filmmusik, einige zuvor unveröffentlichte Fassungen und die Hank-Snow-Overdubs. Die Musik wird begleitet von einer neue recherchierten Biographie mit unveröffentlichten Fotos. Hiermit begann Country Music. Die Ausgabe muss man haben.
Artikeleigenschaften von

Jimmie Rodgers: The Singing Brakeman (6-CD Deluxe Box Set)
Albumtitel:

The Singing Brakeman (6-CD Deluxe Box Set)

Genre

Country

Edition 2

Deluxe Edition

Preiscode

FI

Artikelart

Box set

EAN:

4000127155405

Gewicht in Kg:

1.6
Jimmie Rodgers Die Bedeutung von Jimmie Rodgers (1897-1933) für die Geschichte der...
mehr
"Jimmie Rodgers"
Jimmie Rodgers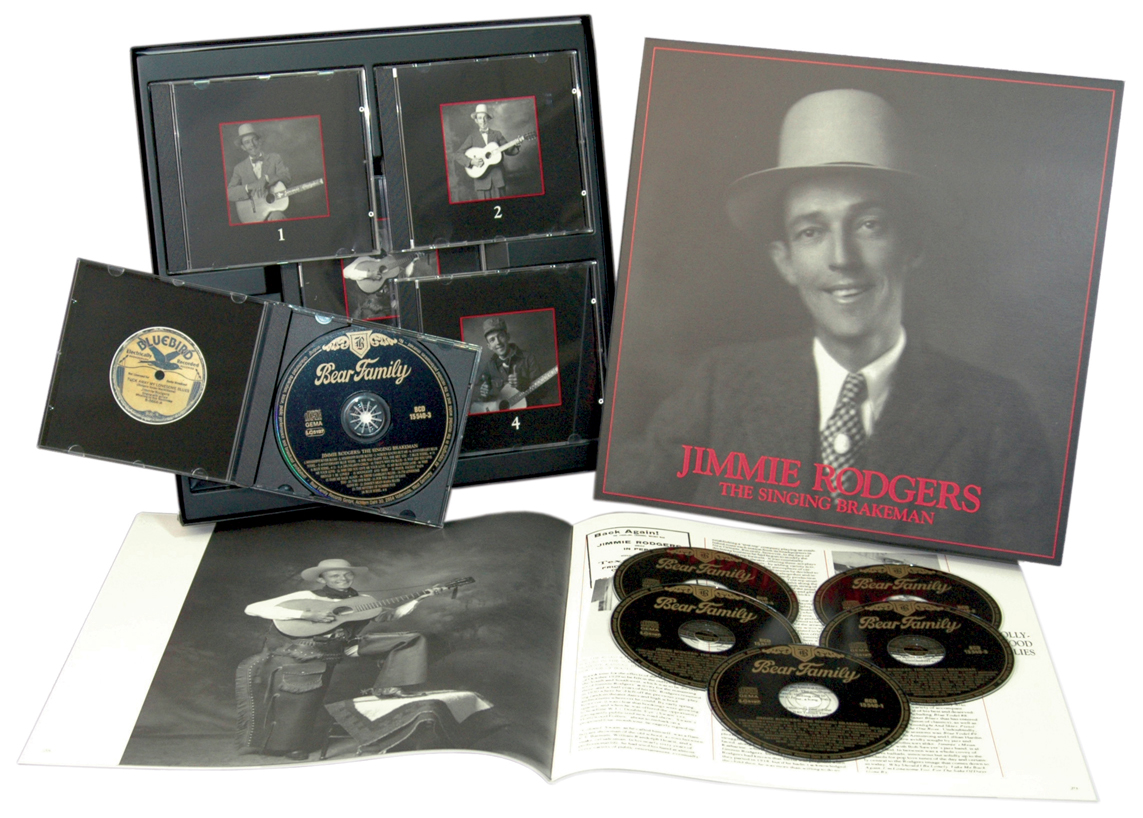 Die Bedeutung von Jimmie Rodgers (1897-1933) für die Geschichte der Countrymusik ist ein Thema, das in den mehr als 70 Jahren seit seinem Tod 1933 umfassend analysiert wurde. Das wahre Merkmal einer dauerhaften Musikform ist ihre Fähigkeit, sich zu verändern und zu entwickeln, und, im Guten wie im Bösen, die Countrymusik überlebt immer noch, wenn auch in einer ganz anderen Form, als Rodgers oder jemand anderes aus seiner Zeit sich das vorstellen konnte. Es ist jedoch schwer zu erkennen, welchen Einfluss Rodgers auf eine Performance eines der heutigen Stars wie Big and Rich, Toby Keith oder Carrie Underwood hat, aber dennoch ist sie da. Ab und zu singt einer dieser Künstler ein Rodgers-Lied, meist eines von Jimmies beliebtesten, wie z.B. Waiting For A Train oder T For Texas, und die flackernde Flamme erstrahlt etwas heller.
Rodgers' Feuer wird nie wirklich erlöschen, denn die Countrymusik wuchs aus seinem Vorbild, nicht nur aus dem Katalog der von ihm gesungenen Lieder, sondern auch aus seiner Persönlichkeit, seinen Einstellungen und seiner Hingabe an Aspekte des Lebens, die immer noch von Amerikanern und Liebhabern der Countrymusik aus der ganzen Welt angenommen werden. Rodgers sang von vielen Dingen. Seine Lieder beschäftigten sich mit der Hingabe an die Familie, der Höllenfahrt, der Arbeit, der Krankheit, dem Geschichtenerzählen, der Tragödie und der Liebe zur Familie, vieles davon kommt aus seinen eigenen persönlichen Erfahrungen. Alle diese Themen werden von den heutigen Country-Performern noch immer verwendet. Obwohl die Songs vielleicht nicht die gleichen sind und die Instrumentierung sich in eine Form verwandelt hat, die für die frühen Fans der Country-Musik unkenntlich gewesen wäre, ist der Einfluss immer noch vorhanden, und alles lässt sich auf Rodgers zurückführen.
Jimmie Rodgers war der erste Star der Country-Musik. Bevor er auftauchte, wurde die Hillbilly-Musik, wie sie damals genannt wurde, selten professionell aufgeführt. Seine Lieferanten waren gewöhnliche Leute, musikalisch ungebildet, mit einem Lebensstil, der sich auf andere Berufe konzentrierte. Es gab einige Ausnahmen davon. Onkel Dave Macon war seit Jahren im Varieté tätig und war ein erfahrener Entertainer, als er 1924 mit der Aufnahme begann. Vernon Dalhart war durch seine Aufnahme von The Prisoner's Song, ebenfalls 1924, zu einem Star geworden, aber Dalharts Ruhm basierte auf seiner Interpretation dessen, wie ein Volkskünstler klingen sollte. Seine Persönlichkeit, wie die jedes anderen populären Sängers seiner Zeit, blieb verborgen und undefiniert.
Abgesehen von diesen wenigen Künstlern wurden die frühen Hillbilly-Performer vor allem in einer anderen Art von Arbeit eingesetzt. Rodgers selbst war ein Bremser, bevor die Tuberkulose ihn zwang, einen anderen, weniger anstrengenden Weg zu finden, seinen Lebensunterhalt zu verdienen. Das Einzige, was er sonst noch konnte, war Singen, und so wurde das Spielen zu seiner Berufung. Obwohl Rodgers bei weitem nicht die erste Person war, die Country-Musik aufnehmen würde, wurde das Genre mit seiner ersten Session im August 1927 geboren. Vor Rodgers spielte es keine Rolle, wer ein Volkslied sang, denn das Lied war entscheidend, nicht der Sänger.
Rodgers' Liederkatalog stammte aus einer Vielzahl von Quellen: traditionelle Volkslieder, Tin Pan Alley-Kompositionen, Lieder von Varieté, Blues, Jazz, riskante Neuheiten und Rodgers' eigene Kompositionen. Rodgers durchdrang jedes dieser Lieder so wirkungsvoll mit seiner eigenen Persönlichkeit, dass seine Fans dachten, er hätte alles geschrieben, was er sang, und dass sein Leben voller Pistolenverpackungspapas, gemeiner Mamas, Begrenzungen und Schützen war. In Wahrheit hatten nur eine Handvoll seiner Lieder direkt mit seinem eigenen Leben zu tun: vor allem die Zuglieder (Waiting For A Train) und Lieder über seine Krankheit (T.B. Blues). Aber Jimmie Rodgers veränderte die Country-Musik von einem song-orientierten Genre zu einem Genre, das sich auf die Persönlichkeit des Interpreten konzentrierte. Die Carter Family, die ihr Plattendebüt zur gleichen Zeit wie Rodgers, die berühmten Victor-Sessions in Bristol, Virginia, gab, waren einflussreicher für die Lieder, die sie sangen, als von ihrer eigenen Persönlichkeit. Obwohl ihr jeweiliger Einfluss auf ihrem eigenen Gebiet beträchtlich war, war es Rodgers, der ein Star wurde.
Jimmie Rodgers The Singing Brakeman (6-CD)
Read more at: https://www.bear-family.de/rodgers-jimmie-the-singing-brakeman-6-cd.html
Copyright © Bear Family Records
Bewertungen lesen, schreiben und diskutieren...
mehr
Kundenbewertungen für "The Singing Brakeman (6-CD Deluxe Box Set)"
Bewertung schreiben
Bewertungen werden nach Überprüfung freigeschaltet.
Weitere Artikel von Jimmie Rodgers