Für die Filterung wurden keine Ergebnisse gefunden!
Wer war/ist

Flatt & Scruggs

? - CDs, Vinyl LPs, DVD und mehr
Flatt & Scruggs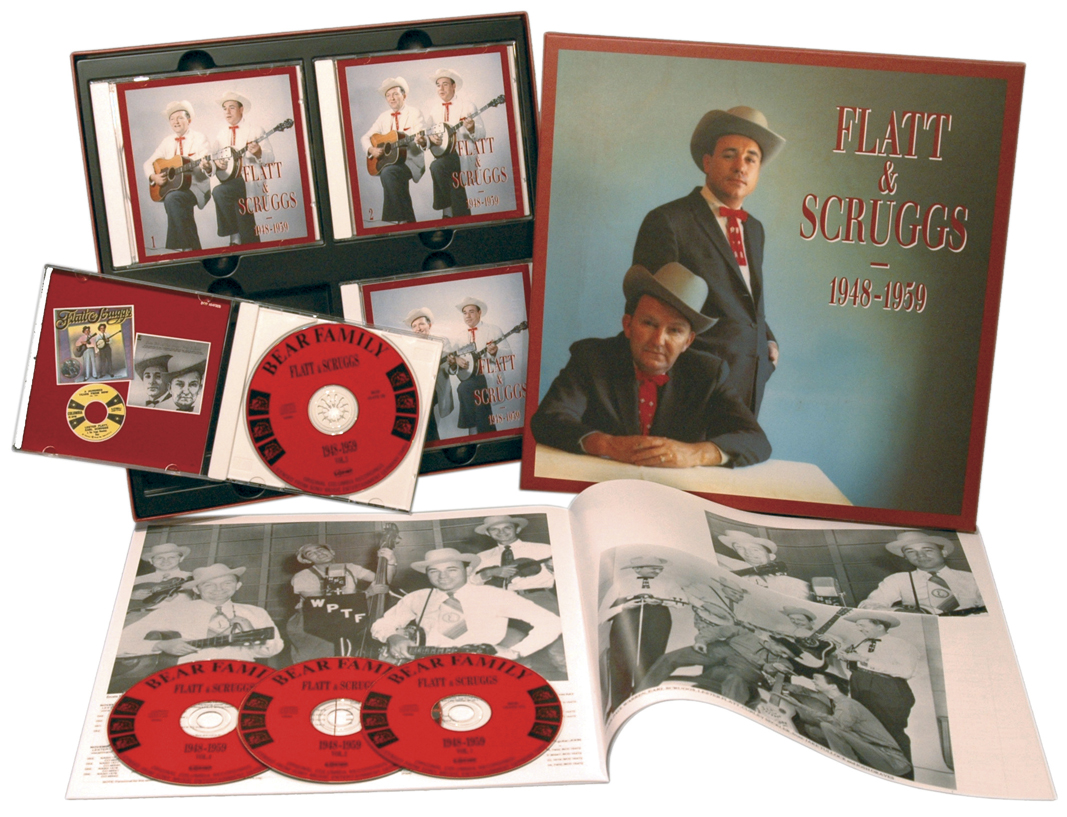 Das war es also, was nötig war, um Bluegrass zur Prime Time zu bringen. Zwischen 1962 und 1971 waren die "Beverly Hillbillies" fast unvermeidlich. In der Top-Sitcom entdeckt Familienpatriarch Jed Clampett Öl auf seinem Land irgendwo im Süden, verkauft sich und zieht mit seinem Ragtag-Clan nach Beverly Hills. Serienschöpfer Paul Henning benutzte viele Ortsnamen aus den Ozarks, weil er von dort kam. Er schrieb auch den Titelsong, und nachdem er Flatt & Scruggs im Ash Grove in Hollywood gesehen hatte, beschloss er, dass sie die Jungs sein würden, die ihn singen würden. Musikbetreuer Perry Botkin wandte sich an Flatt & Scruggs' Geschäftsführerin Louise Scruggs, aber sie war misstrauisch, weil sie dachte, dass sie sich über ihr Publikum (oder einen Teil ihres Publikums....
Flatt & Scruggs fingen an, Campusse und Spots wie den Ash Grove zu spielen). Botkin und Henning zeigten Louise eine Pilotin und versicherten ihr, dass die Hinterwäldler die Stadt jedes Mal überlistet hätten. Earl Scruggs war immer noch misstrauisch und sagte später: "Wir haben so hart gearbeitet, um von dem zu entkommen, was man das Hillbilly-Image nennen könnte." Als wir den Song später vorstellten, sagte Flatt: "Hier ist einer, nach dem wir nicht so verrückt waren, als wir ihn aufgenommen haben, aber nachdem er sich hunderttausend Mal verkauft hatte, haben wir ihn einfach lieben gelernt." Bevor die Serie ausgestrahlt wurde, wurde der Titelsong von Jerry Scoggins, früher von den Cass County Boys, die Gene Autry auf seinen Melody Ranch-Shows in den 1940ern unterstützt hatten, neu aufgenommen. 1962 arbeitete Scoggins als Börsenmakler und sang nur am Wochenende.
Flatt & Scruggs unterstützte Scoggins und spielte auf Werbespots für zwei der Sponsoren, Kellogg's und Winston Zigaretten. Später machten sie ein paar Gastaufnahmen in der Show. Hennings Melodie war generisch und verdankte wahrscheinlich mehr dem sprechenden Blues von Woody Guthrie als irgendetwas im Bluegrass-Kanon. Die Show begann am 26. September 1962 und Louise Scruggs setzte Don Law unter Druck, die Ballade von Jed Clampett zu veröffentlichen, als klar war, dass die Show ein Hit war. Am 8. Dezember, dem Tag, an dem Flatt & Scruggs in der Carnegie Hall auftraten, wurde es der erste Bluegrass-Song, der jemals die Country-Charts anführte. Für all die großartige Musik, die sie aufgenommen haben, waren die beiden größten Hits von Flatt & Scruggs The Ballad Of Jed Clampett und ein Spinoff-Song, Pearl, Pearl, Pearl, Pearl.
FLATT & SCRUGGS 1948-1959 (4-CD)
Read more at: https://www.bear-family.de/flatt-und-scruggs-1948-1959-4-cd.html
Copyright © Bear Family Records
FLATT & SCRUGGS 1959-1963 (5-CD)
Read more at: https://www.bear-family.de/flatt-und-scruggs-1959-1963-5-cd.html
Copyright © Bear Family Records
Weitere Informationen zu Flatt & Scruggs auf de.Wikipedia.org