Wer war/ist

Joe Turner

? - CDs, Vinyl LPs, DVD und mehr
Joe Turner and His Blues Kings
Joe Turner and His Blues Kings
T.V. Mama
(Lou Willie Turner)
Atlantic 1016
Der stimmgewaltige Blues-Shouter Big Joe Turner begann eine groß angelegte Renaissance seiner Karriere, als er 1951 bei Atlantic unterschrieb. Turner gewöhnte es sich an, seine Aufnahmen zu machen, während er auf Tournee war. Am 7. Oktober 1953 war er gerade in Chicago, wo ihm für die Einspielung des deftigen Titels TV Mama der große Elmore James mit seiner beißenden Slidegitarre zur Verfügung stand. Zu den Blues Kings gehörten vorübergehend noch der Pianist Johnny Jones, Bassist Jimmy Richardson, der Drummer Red Saunders und drei Bläser. Joe hatte den #6 R&B-Hit selbst komponiert, aber das Copyright unter dem Namen seiner Frau angemeldet.
Die Kansas-City-Schule des kräftigen Bluesgesangs beginnt mit Big Joe. Er wurde am 18. Mai 1911 dort geboren; sein mächtiger Körper ermöglichte ihm schon als Teenager, sich in die örtlichen Gin-Kneipen hineinzumogeln, um einen saftigen Blues zu singen (seine Stimmbänder waren so kraftvoll, dass ein Mikrofon nicht gebraucht wurde). Turner ging eine musikalische Partnerschaft mit dem Pianisten Pete Johnson ein (Joe arbeitete in den Clubs manchmal auch gleichzeitig als Türsteher oder Barkeeper), ihr Bekanntheitsgrad erhöhte sich und 1936 sah John Hammond einen ihrer Auftritte im Sunset, einem der swingendsten Läden in K.C. Er lud die beiden ein, bei seinem berühmten 'Spirituals To Swing'-Konzert in der Carnegie Hall im December 1938 mitzuwirken. Dies führte zu ihren ersten Aufnahmen für Vocalion im folgenden Jahr und einem langfristigen Engagement in Barney Josephsons Café Society in Greenwich Village, wo sie mit ihren Pianokollegen Albert Ammons und Meade Lux Lewis die Boogie-Woogie-Begeisterung auslösten.
Obwohl er viele hervorragende Nachkriegsaufnahmen für National (My Gal's A Jockey war 1946 ein Hit), Freedom (ebenso Still In The Dark 1950) und eine Reihe weiterer großer und kleiner Firmen machte, war Big Joe kommerziell nicht mehr so erfolgreich. Er arbeitete als Sänger von Count Basie, als Ahmet Ertegun ihm 1951 mit einem Atlantic-Vertrag zu Hilfe kam. Turner traf von Beginn an mit Erteguns Chains Of Love ins Schwarze, dann mit The Chill Is On und Sweet Sixteen. Er war in New Orleans, als er 1953 seinen jumpenden Tophit Honey Hush aufnahm, danach kam sein Gastspiel in Chicago, wo die Session von Ahmet und Jerry Wexler überwacht wurde.
Als Turner jedoch 1954seine unwahrscheinliche Verwandlung in einen Rock'n'Roll-Pionier mit dem epochalen Shake, Rattle And Roll und den Nachfolgern Flip, Flop And Fly und Corrine, Corrina erfuhr, war er wieder zurück in New York und nahm dort im Atlantic-Hauptquartier auf. Big Joe war schon über 40 und hatte einen unvergessenen Auftritt in einem der ersten schnell abgedrehten Rock'n'Roll-Kinofilme, 'Shake, Rattle & Rock!', und er röhrte mit voller Kraft bis zum Ende der 50er-Jahre weiter auf Atlantic. In den folgenden Jahrzehnten büßte sein mächtiges Gesangsorgan nur wenig von seiner Urgewalt ein. Er starb am 24. November 1985 in L.A.
- Bill Dahl -
Chicago, Illinois
Für die Filterung wurden keine Ergebnisse gefunden!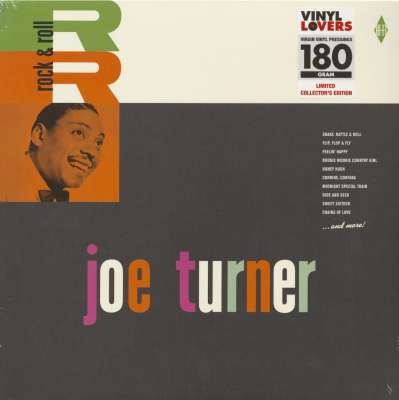 Joe Turner: Rock & Roll (LP, 180g Vinyl)
Art-Nr.: LP6785459

(2016/Vinyl Lovers) 16 tracks - Limited Edition
Joe Turner: I Don't Dig It (1940-49)
Art-Nr.: JB618


Sofort versandfertig, Lieferzeit** 1-3 Werktage
-I Don't Dig It (1940-49) Jukebox Lil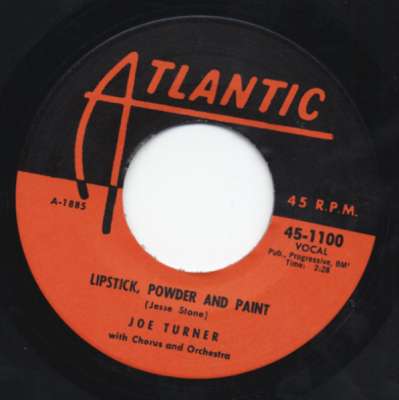 Joe Turner: Lipstick, Powder & Paint - Rock Awhile 7inch,...
Art-Nr.: REP20035

Classic R&B Jiver! Club Hit!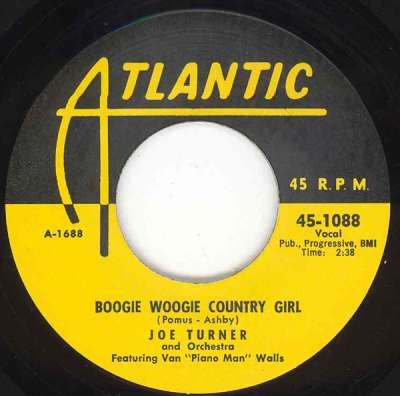 Joe Turner: Chicken & The Hawk - Boogie Woogie C... 7inch,...
Art-Nr.: REP20021

Two of Big Joe's classic rockin' R&B CLUB JIVERS!!!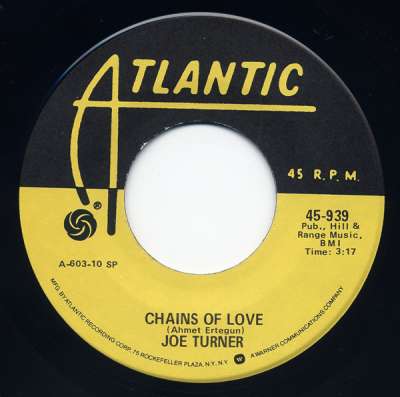 Joe Turner: Chains Of Love - After My Laughter... 7inch, 45rpm
Art-Nr.: ATL45939

Joe Turner: Presenting...7inch, 45rpm, EP, PS
Art-Nr.: EPPAMA4110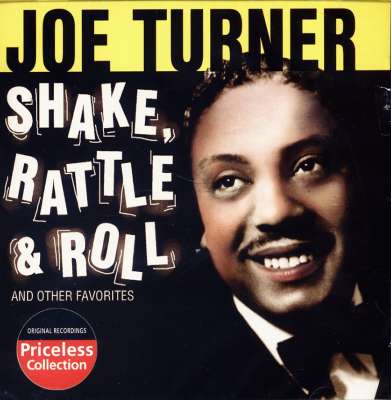 Joe Turner: Shake, Rattle & Rol & Other Favorites
Art-Nr.: CDCOL9535

CD auf COLLECTABLE RECORDS von Joe Turner - Shake, Rattle & Rol & andere Favoriten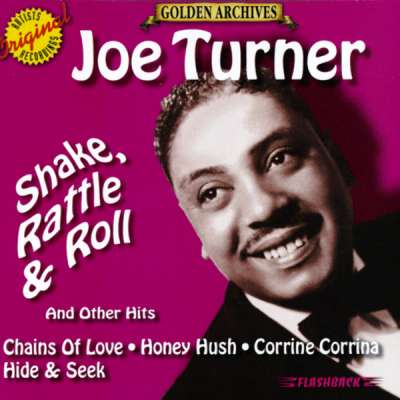 Joe Turner: Flashback - Golden Archives
Art-Nr.: CDRN72707


Sofort versandfertig, Lieferzeit** 1-3 Werktage
(RHINO) 10 Songs (Atlantic Masters 1950er Jahre)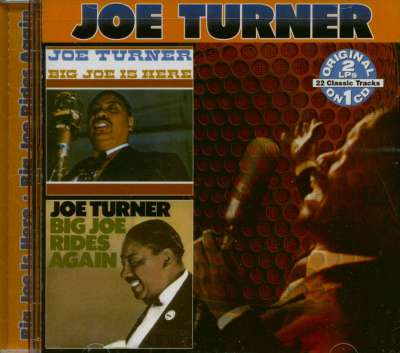 Joe Turner: Is Here - Rides Again (CD)
Art-Nr.: CDCOL6886


Sofort versandfertig, Lieferzeit** 1-3 Werktage
CD auf COLLECTABLE RECORDS von Joe Turner - Is Here - Rides Again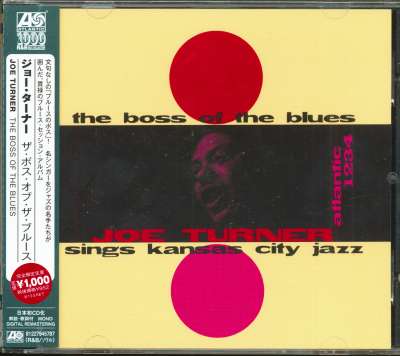 Joe Turner: The Boss Of The Blues (CD, Japan)
Art-Nr.: CDATL5787


Sofort versandfertig, Lieferzeit** 1-3 Werktage
(Atlantic-Japan) 10 Tracks - Neuauflage des Original-Atlantic-Albums von 1956!