Wer war/ist

Champion Jack Dupree

? - CDs, Vinyl LPs, DVD und mehr
Champion Jack Dupree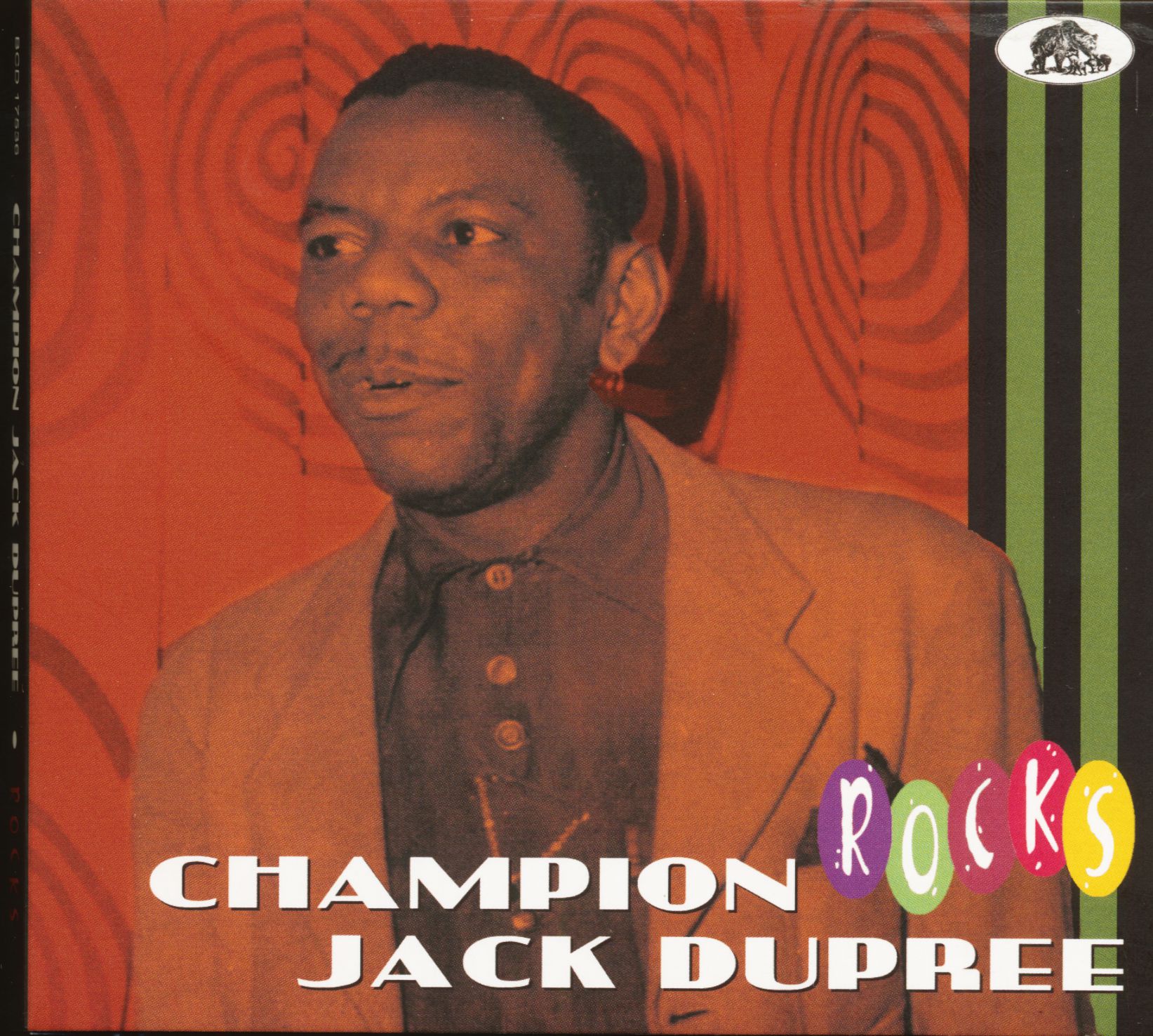 Champion Jack Dupree
Shim Sham Shimmy
(Robinson-Robinson)
Red Robin 130
Seit er 1940 für OKeh erstmals auf Schallplatte auftauchte (sein Junker Blues von 1941 war der direkte Vorläufer von Fats Dominos The Fat Man fast ein Jahrzehnt später), hatte der aus New Orleans stammende Champion Jack Dupree die Klaviertasten mit einer Wildheit traktiert, die den Rock'n'Roll vorwegnahm.
Auf Shim Sham Shimmy, 1953 für das New Yorker Red Robin Label von Bobby und Danny Robinson aufgenommen, wurde sein donnernder Boogie durch Brownie McGhees krachende verzerrte Leadgitarre zusätzlich angeheizt (Brownies Bruder Stick war ebenfalls an Bord, mit dem Bassisten Bob Harris und Schlagzeuger Willie Jones). Dupree stellte einen neuen Tanz vor, den es aber schon ewig gab, und brüllte seinen Text mit Barrelhouse-erprobtem Übermut.
Als William Thomas Dupree am 4. Juli 1910 (oder an einem anderen der vielen Tage, die er über die Jahre angegeben hat) geboren, verbrachte er einen Großteil seiner Kindheit in New Orleans im Home for Colored Waifs – dem Waisenhaus für Schwarze, das auch Louis Armstrong gut kannte. Er lernte das Klavierspielen zum Teil, indem er lokale Piano-Asse wie Drive 'Em Down und Tuts Washington beobachtete. Dupree ging in den frühen 30er-Jahren nach Norden und erwarb sich seinen Namen 'Champion Jack' als Preisboxer. Er begann seine Plattenkarriere in Chicago für den allgegenwärtigen Lester Melrose auf OKeh, dann diente er während des Zweiten Weltkriegs in der Navy als Koch (und verbrachte zwei Jahre in japanischer Kriegsgefangenschaft).
Nach dem Krieg zurück in den Staaten, etablierte sich Dupree auf der Bluesszene von New York und war als Plattenkünstler äußerst gefragt, wenn man den Umfang seiner Diskografie in diesen Jahren als Maßstab nimmt (u. a. für die Labels Joe Davis, Continental, Lenox, Alert, Apollo, Abbey, Apex, Gotham, Derby, King und Harlem). Dank McGhees kochend heißer E-Gitarre gehören Jacks drei Singles auf Red Robin zu den härtesten Aufnahmen, die er während dieser wechselhaften Phase machte. 1953 begann Dupree eine regelmäßigere Zusammenarbeit mit King Records, danach mit den RCA-Unterlabels Groove und Vik (1956-57). Der Pianomann machte 1958 eine herausragende LP für Atlantic, 'Blues From The Gutter', und verabschiedete sich bald darauf aus den USA, um nach Europa zu gehen, wo er in den folgenden drei Jahrzehnten erfolgreich aktiv war.
Dupree kehrte schließlich nach New Orleans zurück, um 1990 beim Jazz & Heritage Festival aufzutreten und eine CD für Bullseye Blues aufzunehmen. Im Jahr darauf wurde bei ihm Krebs diagnostiziert, er starb am 21. Januar 1992 in seiner deutschen Wahlheimat Hannover.
- Bill Dahl -
Chicago, Illinois
Weitere Informationen zu Champion Jack Dupree auf de.Wikipedia.org
Für die Filterung wurden keine Ergebnisse gefunden!